We're excited to announce the release of our latest feature to our employee advocacy solution – Team Leaderboards.
Having Team Leaderboards will increase the ability to gamify PostBeyond for your employees and partners and increase end-user engagement. You can now create smaller, more localized and targeted leaderboards to increase their relevance for a team or a campaign. Creating contests just got a lot easier as well with the new ability to add end dates to leaderboards.
How we got here…
As PostBeyond has continued to grow and help larger and more complex teams, we have worked with our customers to assess how we can expand the value of what PostBeyond's employee advocacy solution offers to be more relevant to everyone. We wanted to understand what pain points need to be addressed in order to help facilitate the use of PosBeyond on the enterprise level. After extensive consultations with a wide variety of customers, we determined two main pain points to target and how to address them:
More relevant leaderboards
Better gamification features
Highly relevant leaderboards
One leaderboard may be relevant to some but not to others. On a global team, some users may be interested in seeing how they're doing compared to all users while others might find that type of competition too broad. With Team Leaderboards, you can create additional group-based leaderboards on top of your organization-wide one. Each leaderboard can have a variety of different settings:
Leaderboards can have different point systems
Not all actions and networks carry the same weight for each team at all times. If you want to emphasize sharing for one team, and clicks for another, or feel like one team should have more focus on LinkedIn instead of Twitter, you can set the point values for each of those differently for each leaderboard.
Each leaderboard can focus on different subsets of users
While it may be interesting to see how people in different business units across the world might be doing, it is often more exciting to compare how you are doing with your own teammates who you work with every day. Now you can add groups that are more connected to each other to one leaderboard, in addition to having that global leaderboard for every user on your team. And with the flexibility of having the leaderboards be group-based, you don't have to delineate leaderboards by geography. You can have all of your sales teams in one group competing against each other.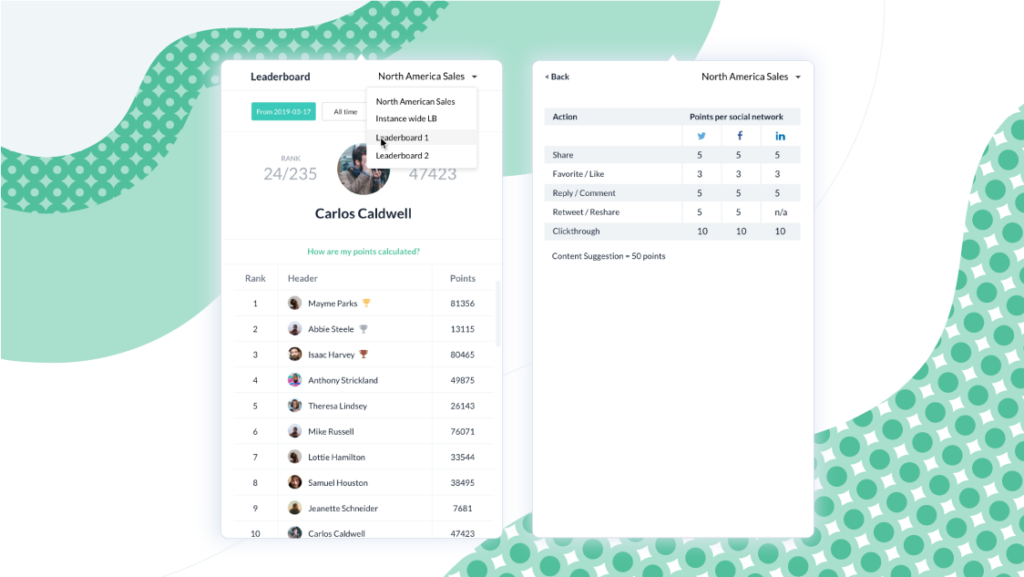 Leaderboards can be reset at different times (or not at all!)
If you would like to engage with one group by resetting a leaderboard, all while another is in the middle of a contest, that's not a problem! With Team Leaderboards, you can reset each leaderboard's score at any point, without it affecting the scores on the other leaderboards.
Improved gamification features
One of the main benefits of having leaderboards is that they allow for the improved gamification of PostBeyond. Users like seeing how they compare to other people on their team and the more competitive employees will often further engage their networks in order to challenge the leaders on the leaderboards. There are many different ways to gamify PostBeyond through the leaderboards by fostering healthy competition and running contests. With Team Leaderboards, we've made gamification easier:
Leaderboards can have end dates
While you might want to have a continually active leaderboard for your team, we recognize that most contests have an end date. With the new ability to add end dates to your leaderboards, you can really create a contest that people feel more urgency to participate in. Once the end date passes, the leaderboard is still accessible but points can no longer be earned on that particular leaderboard.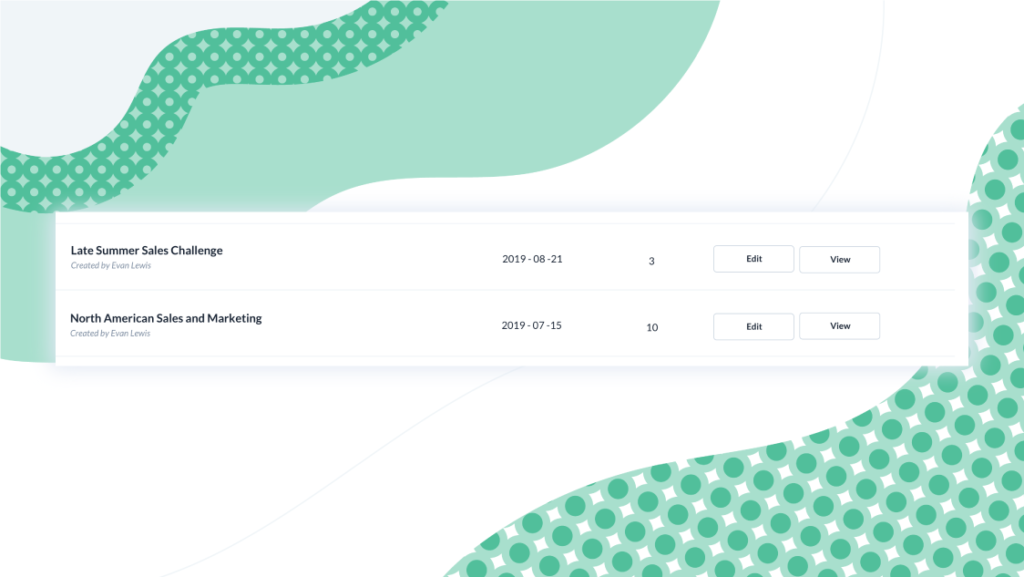 Leaderboards are more targeted
Being able to have whichever groups you want and whatever scoring system you want in a given leaderboard allows you really tailor a leaderboard to the particular action you want that selected group of employees to take.
If you'd like to get your salespeople sharing more, create a leaderboard for your sales teams and add a higher point value to shares. If you think users should be suggesting more content, create a contest where you emphasize suggestions in the point values of that leaderboard.
The flexibility of having multiple leaderboards with different user sets and scoring systems really allows you to find the format of a contest that applies to your company's needs.
What's next?
Our vision at PostBeyond is to unlock the potential for influence within everyone. A part of achieving our vision involves instilling social sharing and building an employee's social brand as a habit. We believe that the new leaderboards will help our customers drive employees to complete the actions they see as most important to their business goals.
As we move forward into 2020, we plan on evolving the product further to help enable our customers' employees, partners, and customers intelligently share content through their trusted networks to reach, engage and influence, driving measurable business results.
If you would like to explore the possibilities of how PostBeyond can impact your social media and content strategy, contact us and let's discuss how we can help you scale your employee advocacy program.