It's more important than ever to optimize your LinkedIn profile — whether you're interested in building a personal brand, standing out as a thought leader, or simply capturing the attention of potential clients and coworkers.
Why? There are over 740 million LinkedIn users worldwide. That's 740 million opportunities to build an audience, land a new customer and share what you're doing in public.
If you're wondering how to optimize your Linkedin profile, you're in the right place.
LinkedIn profile optimization is no small task, so we've done the dirty work for you, scouring the web to gather the tips and tricks for best practice in how to optimize LinkedIn profiles. This comprehensive LinkedIn profile cheat sheet serves as a guide to anyone wanting to use their LinkedIn profile to its full potential.
Why Optimize Your LinkedIn Profile?
Let's face it: LinkedIn isn't for everyone. But most professionals know that a well-maintained Linkedin profile is an imperative part of positioning oneself as a knowledgeable player within their industry.
LinkedIn profile optimization makes it easier for users to find and connect with other thought leaders or experts in their field. In the case of a job change, it also makes it easier to stay top-of-mind amongst potential employers or team members.
If you're searching for how to optimize your LinkedIn profile, you probably already recognize that there's a large prospective audience waiting for you on the platform. Recruiters, clients, peers, and others can get a full view of your professional life and qualifications with the click of a button—if you've done the work.
Perfecting Your Profile: the Basics
The first step in how to optimize your LinkedIn profile is knowing what is available to you. The platform can be overwhelming and confusing if you don't know the ropes, so we break it down below into a checklist of the parts of a LinkedIn profile and what you can do to optimize each.
Remember that a big part of LinkedIn profile optimization is completing your profile and ensuring no blank or incomplete spaces. Simply providing all of your information correctly is a vital part of how to optimize LinkedIn profiles.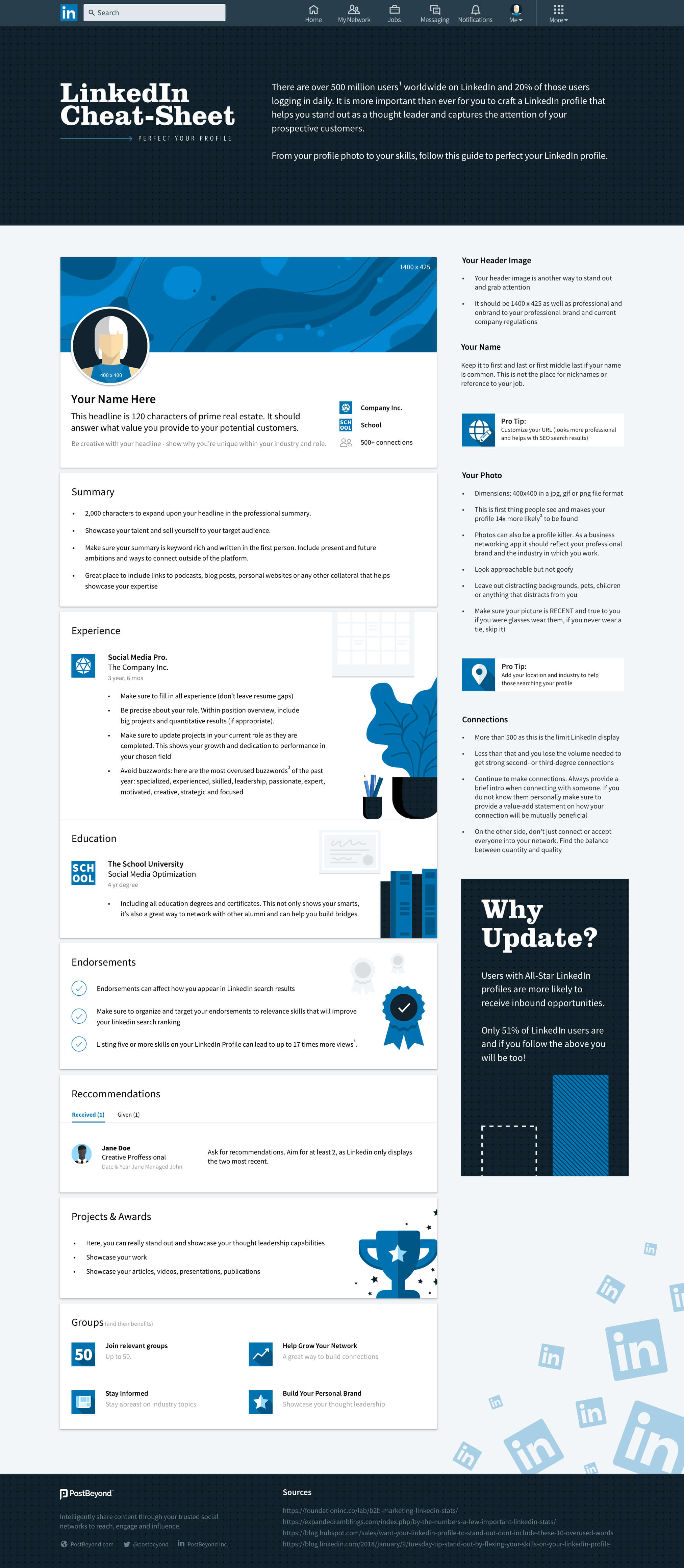 1. Header Image
Your header image is an easy way to stand out. It should measure 1400×425 and be professional, on-brand, and following any company regulations. While many use photographs for their header images, others opt for graphics or company logos.
2. Name
The name on your profile should be what you go by in professional settings. The default should be first and last names, though including a middle name is fine if your full name is widespread.
This is not the place to list your job title or any nicknames (unless they're just shortened forms of your name that you use in the professional world).
3. Photo
Because your profile photo will appear as a circle on the site, the original image should be a 400×400 square. This photo is the first part of your profile that others will view, and the mere presence of a profile photo makes it 21x as likely that someone will view your profile and 9x as likely that they will request to connect.
Your profile picture should be a clear and professional picture that includes a full front view of your face and does not include other people. Ideally, this picture represents how you look in the workplace, making you recognizable and keeping your image consistent across contexts.
Anyone seeking advice on optimizing LinkedIn profiles should use common sense first: as the first thing someone sees when they look at your profile, your profile photo carries a lot of weight.
4. Headline
Your headline is 120 characters of prime real estate — the first thing viewers will read when they reach your profile. LinkedIn profile optimization should include changing this headline to reflect what value you bring to potential customers or employers. Be creative and show why you stand out in your field.
5. Summary
Your summary is made up of 2,000 characters worth of space to expand on the personal description you include in your headline. The description here should showcase your talents and skills and market you to potential viewers.
Your summary should be written in the first person and include goals for the present and the future. This is also an ideal place to drop in searchable keywords related to your position. It's also the space to provide alternate communication options or personal projects that showcase your skills, such as podcasts or blogs.
6. Experience
This section of your profile must be complete. Don't leave gaps in your resume without explaining why.
Be precise about roles you've filled, and give more information by explaining projects you worked on or teams you were a part of. Updating your current role to include projects as you complete them shows viewers that you're committed to accuracy.
To really stand out, avoid buzzwords. As of 2018, the most overused buzzwords on LinkedIn included specialized, leadership, passionate, expert, and focused.
7. Education
In the education section, include all degrees, certificates, and specializations. These let prospects know that you know what you're doing and allow you to connect with classmates and alumni. In thinking of how to optimize LinkedIn profiles, properly displaying your qualifications should be top of mind.
8. Connections
Ideally, you should have 500 strong connections. These increase the likelihood that your recommended connections are actually people with whom you want to connect.
Quality is still more important than quantity. Don't bother requesting or accepting connections from those with whom you don't have a true link — you're in the same field, work for similar companies, or attend similar events, for example. This is an essential part of how to optimize your LinkedIn profile, because your content won't matter unless it makes its way in front of the right eyes.
9. Endorsements
Endorsements affect how you appear in other users' search results. Only focus on endorsements for skills related to your space in the professional world, and list them in order of importance.
10. Recommendations
Your LinkedIn profile will only display the two most recent recommendations, so there's no reason to have more than two unless your job or role changes. Don't be afraid to ask those you work or have worked with for a recommendation.
11. Projects & Awards
This section is another great place to show how you stand apart from others in your field. This section should be updated as frequently as necessary to show that you are consistently at the top of your industry.
12. Groups
Joining up to 50 relevant groups can help you build your network, stay informed, and show off your own knowledge and thought leadership.
Perfecting Your Profile: Advanced Tips
Perhaps you already know the basics of how to optimize your LinkedIn profile.
You may be ready for the more advanced tips for LinkedIn profile optimization. These include:
Edit your URL. Simplifying the URL to your profile makes it easier to find in searches.
Add a voice recording of your name if your name is unusual, hard to pronounce, or based in a language or culture other than that you work.
Create profiles in multiple languages if you know, use, or work with different languages. They're separate pages, but the site will lead viewers to the alternate if they prefer that language.
If your industry calls for it, add your location so that viewers know if you're a good fit based on geographic location.
Track your social selling index score. LinkedIn provides this data as a way to measure your impact on the platform. You can find yours here.
Be active, engaged, and engaging. It's no use having an optimized LinkedIn profile if you aren't going to use it!