Remember January — when 2020 looked like it was going to be a strong year?
Your marketing team's event lineup was solid. You felt great about the events you sponsored, the booths you reserved and the workshops you were about to lead. But then COVID-19.
In March, your first response was to quickly readjust, well, your whole life. Not to mention your team's processes, workflows, tools and immediate course of action.
As things calmed down, you realized that travel, in-person events, and restaurant dining were out the window for the foreseeable future. There may have been plenty of questions flying through your mind:
Where are the thousands, or hundreds of thousands, of dollars you allocated to events going to go?
How is your team going to recoup from the loss of personal connections — not to mention the sales?
How are you going to expand your reach and brand awareness without that face-to-face time?
How are you going to educate your audience in new ways?
These are all valid questions. After all, the monetary value of annual trade show sponsorships is estimated to hover around $63 billion. With that many dollars at stake, what is your team going to do?
You've got to work with what you've got — and the good news is that you have an arsenal of digital channels.
With that in mind, here are some ideas to consider as you create a new budget and plan your marketing playbook this year.
Before strategy comes acceptance and empathy
In a survey conducted by Bizzabo of 1,000 mid-to senior-level marketers, 41% of participants believed in-person events to be "the single most effective marketing channel."
In-person events are the most effective channel because humans simply love social connection.
Marketers love the emotional buzz that propels teams forward, gets executives thinking bigger and makes educational moments stick (plus the parties and food don't hurt).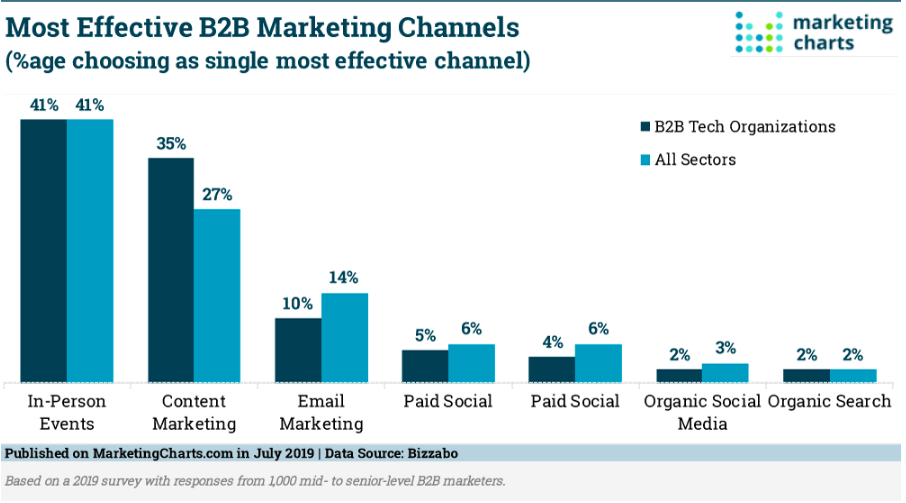 (Source)
But what happens when your most effective channel is wiped out?
You may be tempted to jump into a new campaign right away — or to pull back spending altogether. While a quick response is important, it is essential to take a moment to pause, evaluate and empathize with stakeholders first.
"Starting up a tone-deaf marketing campaign too soon could trigger customer backlash," explains SEO Manager at Terakeet Jonas Sickler. Being pushy or insensitive can harm your brand for years to come. Instead, consider what your buyer personas are experiencing in their personal and professional lives right now — and try to make an authentic emotional connection with them.
But what does that really look like — especially in a time of crisis?
"While there is no playbook for this," says North American president of FutureBrand Simon Hill, "the brands demonstrating empathy, acknowledging how they're adapting their business, and transparent about how they're taking care of their team are the most successful."
Your best action plan is largely unique to your brand. It depends on your previous channels, customer relationships and your long-term marketing strategy.
But when it comes down to it: no matter where you reallocate your dollars, you must be human first.
Weighing Your Digital Options
It is essential to take time to examine pre-existing content and digital channels of communication to determine how to reallocate event dollars. On top of your own internal reevaluation, listen to leaders in your industry via social media, private Slack channels or email to make informed decisions.
There is no clear plan of when full social 'normalcy' will begin again — so you can count on your budget going to a few primary digital strategies.
SEO and Organic Content
Now is the time to re-examine your content strategy and calendar. One survey conducted by B2B Marketing Zone and Webbiquity LLC found that 43% of respondents said they would reallocate their event marketing dollars to creating more content.
But simply creating more content isn't what helps your brand achieve business goals. Take time to use the tools you have to analyze, assess and brainstorm with your team what is your best course of action.
Use your social listening tool of choice to listen to your customers. Consider:
What problems are your customers experiencing?
What keywords are trending?
What value can you offer customers and new leads?
Use your SEO analysis and keyword research tools like Ahrefs or SEMrush to see what terms are trending, which content is performing best and other influential metrics that will shape your new content calendar.
This is the time to establish what percent of your new content will be timely, evergreen, entertainment, problem-solving, industry news or thought-leadership. Some of your content will be SEO driven, while other content will need to deliver high-value insights for leads further down the funnel or current customers.
If your event participation was primarily used to capture new leads, then consider putting more budget into SEO. Remember that SEO is a long game, so you aren't likely to see immediate results as you would from events. However, when done well (which is tricky), the value of the content can drive sustainable growth in traffic and conversions for your business.
Many companies have shifted their blog to being COVID-oriented. For some brands, this makes sense because they have something relevant and truly valuable to offer.
Basecamp, for example, had already been a remote company for more than 20 years and had a published book titled REMOTE: Office Not Required.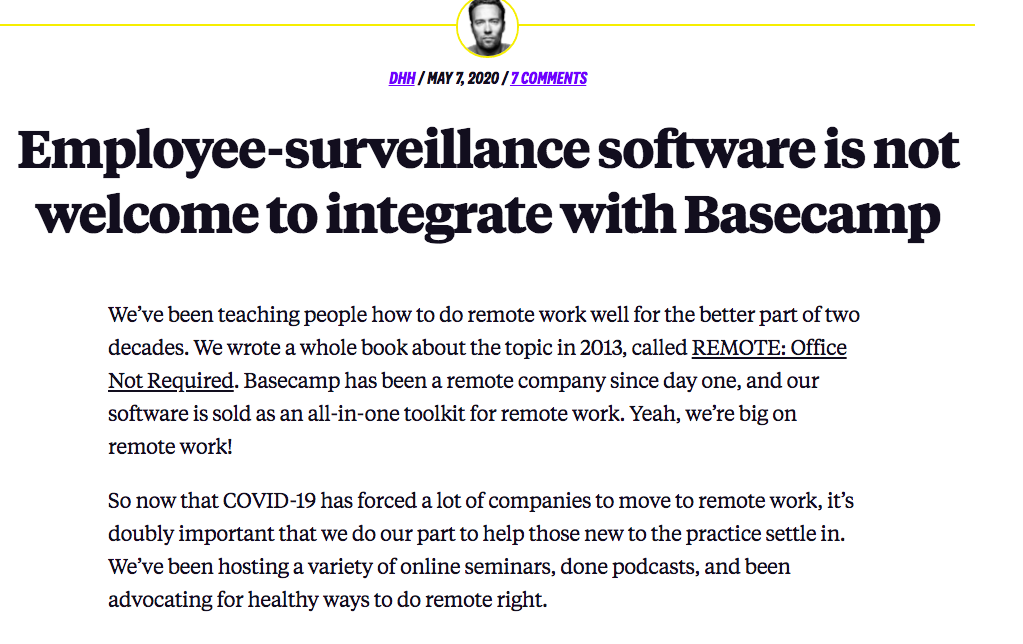 This brand was already a respected thought authority on remote work. They aren't stuffing the internet with more poor-quality WFH content — their blog is written in a helpful and human way.
This is great organic content that new leads and fans alike will be interested in reading.
But for others, this may not be the best strategy. This might be the time to focus on evergreen content that will work long-term.
Again, tap first into your empathy. This is key for deciding on the blend of SEO and human-friendly organic content that makes the most sense for your brand. Go for it, and don't forget to use analytics tools to measure your KPIs afterward.
Social Media
The same B2B marketing zone survey found that other marketers planned on reallocating their event dollars to social media marketing, paid (27%) and organic (15%).
Social media is one of the most effective places to increase brand awareness during this time of crisis. The element that sets social media apart from static content is the engagement factor.
Unlike blogs and new pages on your site, posts on social media receive more reactions, shares and comments. It is inherently more visual and gives you a chance to put that human face or connection to your brand.
The Digital Marketing Institute and Avocado Social put out together a brief handbook on social media during COVID-19. Many of your followers will want to see posts of reassurance and how your company is responding. You want to put out a good image — be careful not to oversell yourself or ignore hard questions.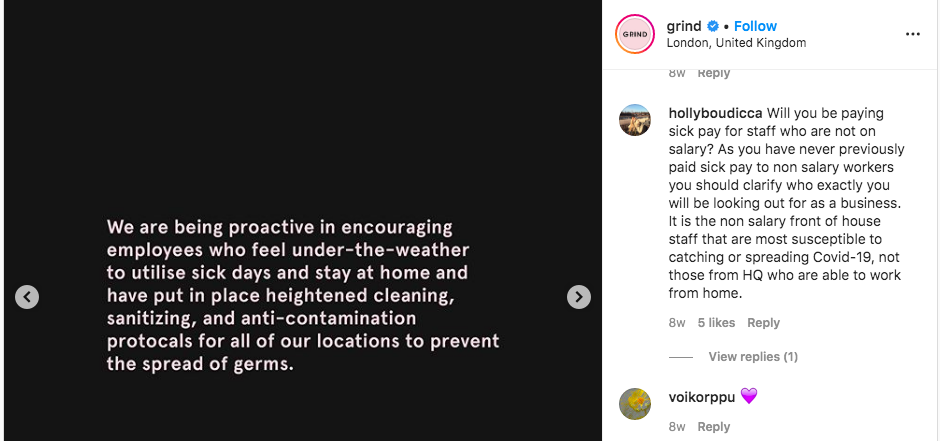 B2B companies can focus on boosting their LinkedIn pages or creating engaging LinkedIn videos.
Since people started working from home, LinkedIn has become a space where you can add more humor and personal touch to your professional posts. Everyone is in this COVID crisis together — use this opportunity to be vulnerable with your colleagues. It will foster more trust and engagement with followers and new connections.
Digital Advertising
There's an old saying that goes, "When times are good you should advertise. When times are bad you must advertise." And the research backs it up.
For B2C brands, now is as good a time as any considering eCommerce spiked 49% between March 12 and April 11 and programmatic ad prices are low.
If you are considering digital advertising as a B2B brand, you are not alone. Supply chains are all over the place, IT service companies are in demand and WFH tech companies want to be your vendor. The race is on to capture attention from new leads, and leads who need to make decisions quickly.
Digital advertising can be one of the most effective ways to gather new leads quickly — and to outpace your competitors.
According to ad sales intelligence company MediaRadar, the B2B industries that saw the biggest increase in the number of brands investing in digital advertising between March and April were:
Analytics Services (+45%)
Online Education (+38%)
Financial Consulting (+31%)
The benefit of digital advertising vs organic content is that you can better track your ROI. The downside, however, is that ads aren't as long-lasting. If you stop your campaign, your ads are done. Organic content is on your site to stay.
If you are looking at your options through the lens of fostering personal connections — as you would during events — ads don't offer the same amount of engagement as social media.
When you determine the ratio of where your dollars go, remember what you'd hoped to get out of events. If conversions and sales are your primary goal, advertisements may be a viable option. If relationships are more important, social media will make more sense.
Webinars and virtual events
Webinars were already the preferred type of content among 91% of B2B professionals even before COVID-19 — and now they are more important than ever.
They offer the most similar experience of trade shows or conferences. They let professionals connect in a personal way, learn from each other and promote products.
"Many B2B marketers expect online events and other digital programs to replace the lead generation they were counting on from live events," explains CEO of Aggregage Robert Flynn. 65% of the B2B professionals in the B2B Marketing Zone survey planned to reallocate some or all of their live event budget to online events.
Data from Redback Connect shows that there was already a 71% spike in webinars, event live streams and video conferencing among Australian businesses. These types of events can be effectively used for lead generation, customer engagement or customer retention.
Webinars don't have to be dry and stuffy — with COVID-19, virtual events have evolved in their fun factor, akin to in-person events. We have even seen the rise of 'virtual happy hours.'
Turning your event into a virtual event has its benefits and replicates the experience most to live-events, but can be a challenge for many brands who do not already have the software in place.
Showing your brand's humanity online will drive your brand forward
While the disruption to events was probably disheartening at first, it can now be seen as a time of opportunity.
This is a time to reconsider your content strategy, take advantage of increased online activity and remind your audience that there are humans — with their own struggles and victories — behind your brand.
This can be through sharing employee voices, creating meaningful ads or connecting with fellow professionals on social media. While digital marketing may not fully replace the value of your in-person events, it will fill some of the void and show how your brand cares.
Learn how you can integrate digital and social media into your plans this year by registering for our next webinar, From In-Person to Social-First: Activating Your Sales Team on Social Media. Simply click here to register and the banner below.