A culture of content exists when the importance of content is evangelized enterprise-wide, content is shared and made accessible, creation and creativity are encouraged, and content flows up and downstream, as well as across various divisions.

-A Culture of Content Report, December 3, 2014, Altimeter Group
There's no denying that content marketing has become an important part of how businesses operate today. Companies who embrace the culture of content at its purest form are more competitive, both in attracting new clients and better quality employee referrals. There are so many key stats that show the value of enabling content distribution through employee networks:
But the big question everyone is asking: What the heck am I supposed to share?!?
Brand content vs. curated content vs. aggregated content
So there's this big fuss going around the social web about what should you share on your social networks that will help build up your personal brand and paint a beautiful picture of your organization. Most marketing and executive teams would love it if all of their employees would only share brand content, all the time. But lets face it, that would become stale pretty fast, unless you have an awesome corporate blog with extremely diversified content.
So, what you're left with is a mix of brand content, curated content, and aggregated content (say WHAT?!?). Yeah, I threw that last one in as a curve ball, stay with me.
Brand content is any content that's produced by the company. This includes corporate blogs, videos, images, infographics, resources, job ads, etc.
Aggregated content is what most people actually mean when they say curated content. This is any third party content, meaning content that's not produced by your company. This could include industry news, helpful resources, reports, funny videos, a GIF of a bunny dancing on a stripper pole (that was a great easter present from Evan Lewis, one of our Business Development team members). This content is shared as-is, with no edits.
Curated content is any third party content that you've strategically chosen to editorialize and share. This means that you don't share the content as-is – you highlight the key points of the content and add your own commentary to it. This is way more powerful and personalized than just aggregated content.
So to keep your social media feeds interesting and attract a great network, you need a good mix of all three.
But why should I curate when our brand has plenty of content?
GREAT question. One that many have.
If you're lucky, and your brand creates so much diversified content that you can't even keep up with reading all of it, then you might not need to curate (emphasize MIGHT).
But realistically, most brands don't create enough content or diversity in their content. So if you end up just sharing the same ol' press releases, product updates, or industry reports your brand creates over and over again, your social media feeds will become quite boring (to put it politely).
And you wouldn't want that now would you? Boring feeds means little new connections, meaning not as many leads. Not cool.
So, in order to diversify your feeds, and make yourself look like a thought leader that keeps up with the industry, you should aggregate and curate content. Sometimes just post it as is, because the title of the content is strong enough to elicit reactions from your connections.
But once in a while, add your own flare to it. Ohhhh yes, this is where the magic happens. Comment on industry articles, add your opinion, and editorialize. THIS is what makes your feeds stand out, and develops true thought leadership.
Ok, I'm starting to get sold on curation. What are the pros and cons?
Pros: Curated content helps fill in the gaps. In order to create consistent quality connections on social, you need to publish at a high enough frequency to be seen and cut through the noise. If your brand doesn't create enough content, you still need to fill in the gaps in your schedule. This is where curated content comes in.
It also helps create thought leadership. By showing that you're keeping up with industry news and sharing what's relevant to your company, you're setting yourself up as a valuable source of information to your network. This helps keep you top-of-mind, and develops stronger relationships through content.
Cons: The biggest con of curated content is that none of the traffic from clicks is going to your site. You're generating targeted traffic to someone else's property. But traffic is not the only reasons to share content, so it doesn't really matter.
It can be time-consuming to find the right content, and sift through it to make sure that it's quality, unless you have the proper systems in place.
Ok, that makes sense. So what's the ideal content curation mix?
Some people use the 80/20 rule, or even 90/10 rule, meaning 80% of your content is curated and only 20% of your content comes from your brand. THIS IS ABSOLUTE BS! I repeat. ABSOLUTE BS!
Curation-to-brand content ratios completely vary based on how diversified and how much content your brand can actually produce. If you're a media company, like Forbes, you probably never have to curate. There's enough diversified content that exists on Forbes to tweet your little heart away 20 times a day without your feeds getting boring!
If you don't produce a lot of content or don't have a lot of resources, then curation becomes more important.
You're the only one that knows what the ideal mix is, though. Assess your content, look at your resources, and your scheduling times. Is there enough content from your brand? No? Then start setting up some curation tools that will help source articles.
One of our clients, Molson Coors has a great mix of content in their PostBeyond portal called 'Beer Post'. It features updates, articles and videos, including how to register for 'Ice Bar' launch events, how to make a BBQ sauce with dark ale, and snapshots of historic breweries around the world. Employees love it.
A few of our favourite content aggregation/curation tools
We like to share a whole mix of different content here at PostBeyond, and we use a few different tools to make it happen:
Bundlepost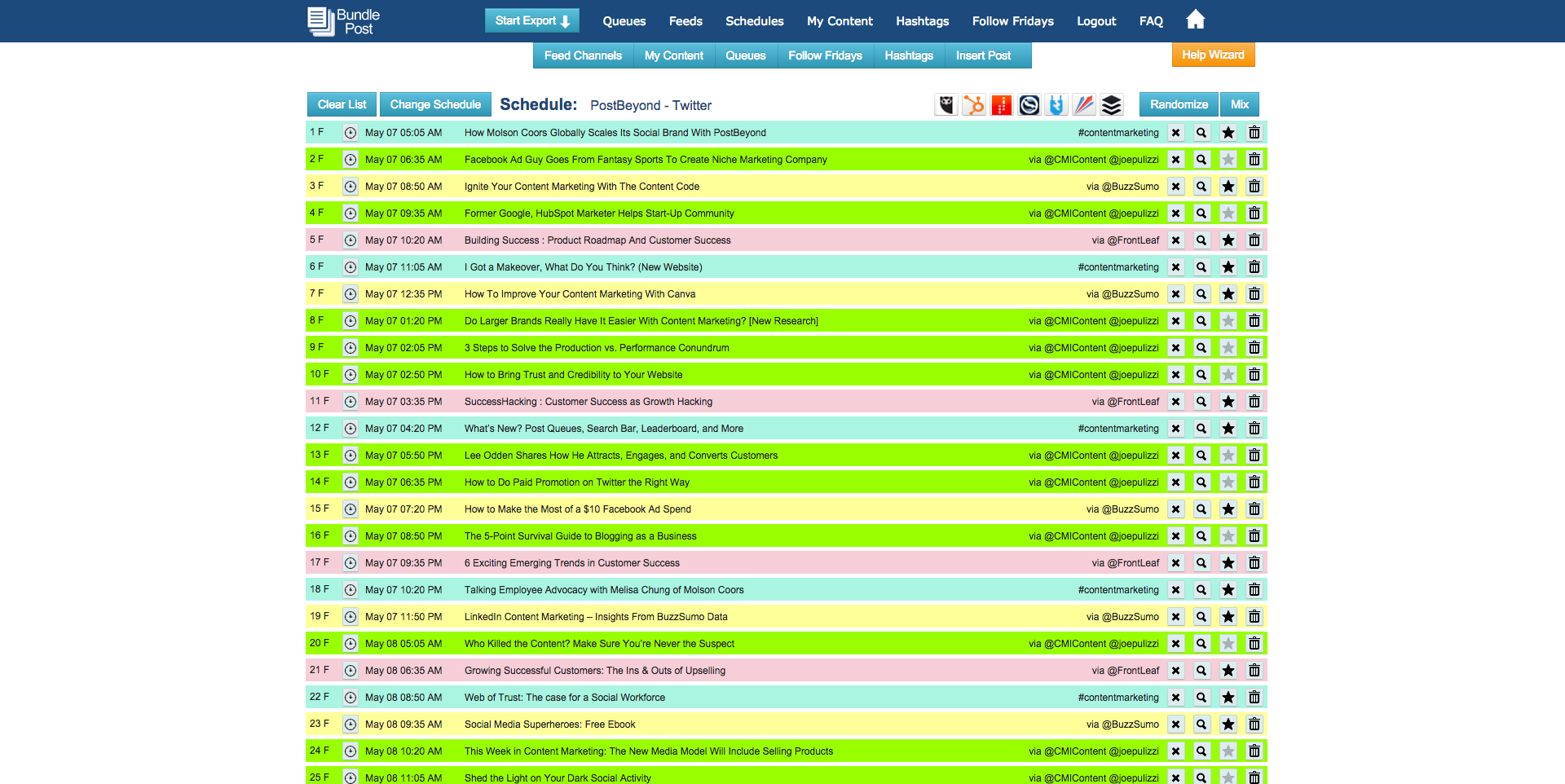 First up, my favourite curation tool of all time, Bundlepost. I first got introduced to Bundlepost when Google Reader shut down, and needed to come up with an alternative quickly. The CEO, Robert Caruso, who's also a good friend of mine showed me a demo of the tool, and my jaw hit the floor.
The tool is more of a content management system (CMS) for social media content. You can aggregate posts from various RSS feeds, create your own social media post and save them for re-use (evergreen content), automatically hashtag your tweets at a click of a button, and automatically via @mention people in your content.
Then, at a click of a button, you can export the content in .csv format to upload to your favourite bulk-upload/schedule tool (PostBeyond has a bulk-upload feature, but the Bundlepost files need a bit of formatting before uploading).
I went from spending about 3 hours a day curating content using my old system, to about 30-60 minutes a week to fully schedule 100 social media posts for the week.
BuzzSumo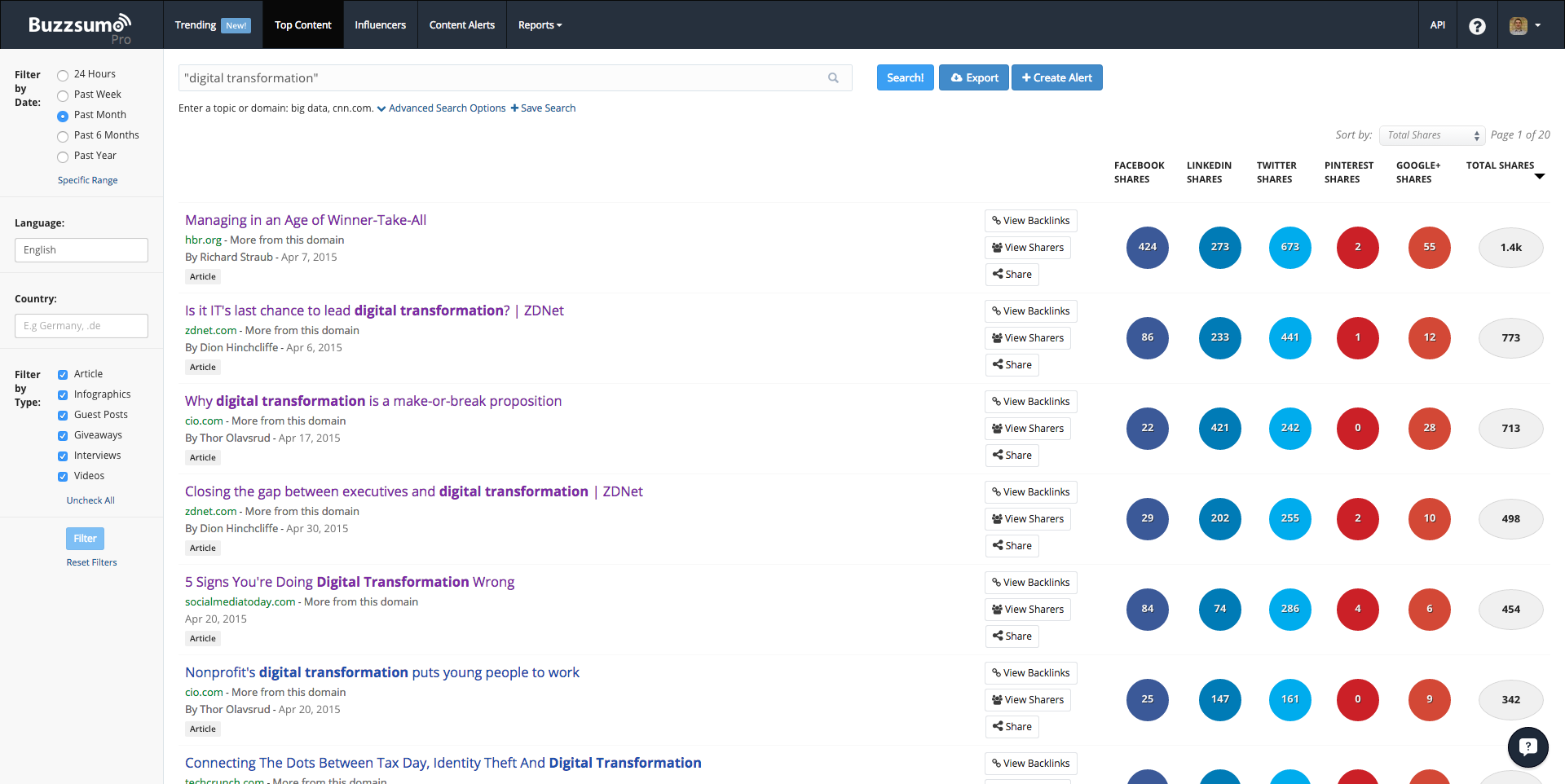 The great thing about Google is that you can find a lot of different content from a ton of sources. But you don't really know, at a glance, if the content resonates with people. Enter BuzzSumo.
BuzzSumo is like a search engine for top performing social media content. You can enter any keyword (and some boolean), limit your search to certain types of content, language, or publication date, and it will spit out a list of top socially shared articles for your keyword search.
So not only do you get a good mix of articles, you get content that's almost pre-proven in the social sphere. Very cool.
It also has a search engine for industry influencers. One of my favourite trick is to search for influencers based on key topics in BuzzSumo, find their RSS feeds, then add it to Bundlepost. The combo is so powerful!
ContentGems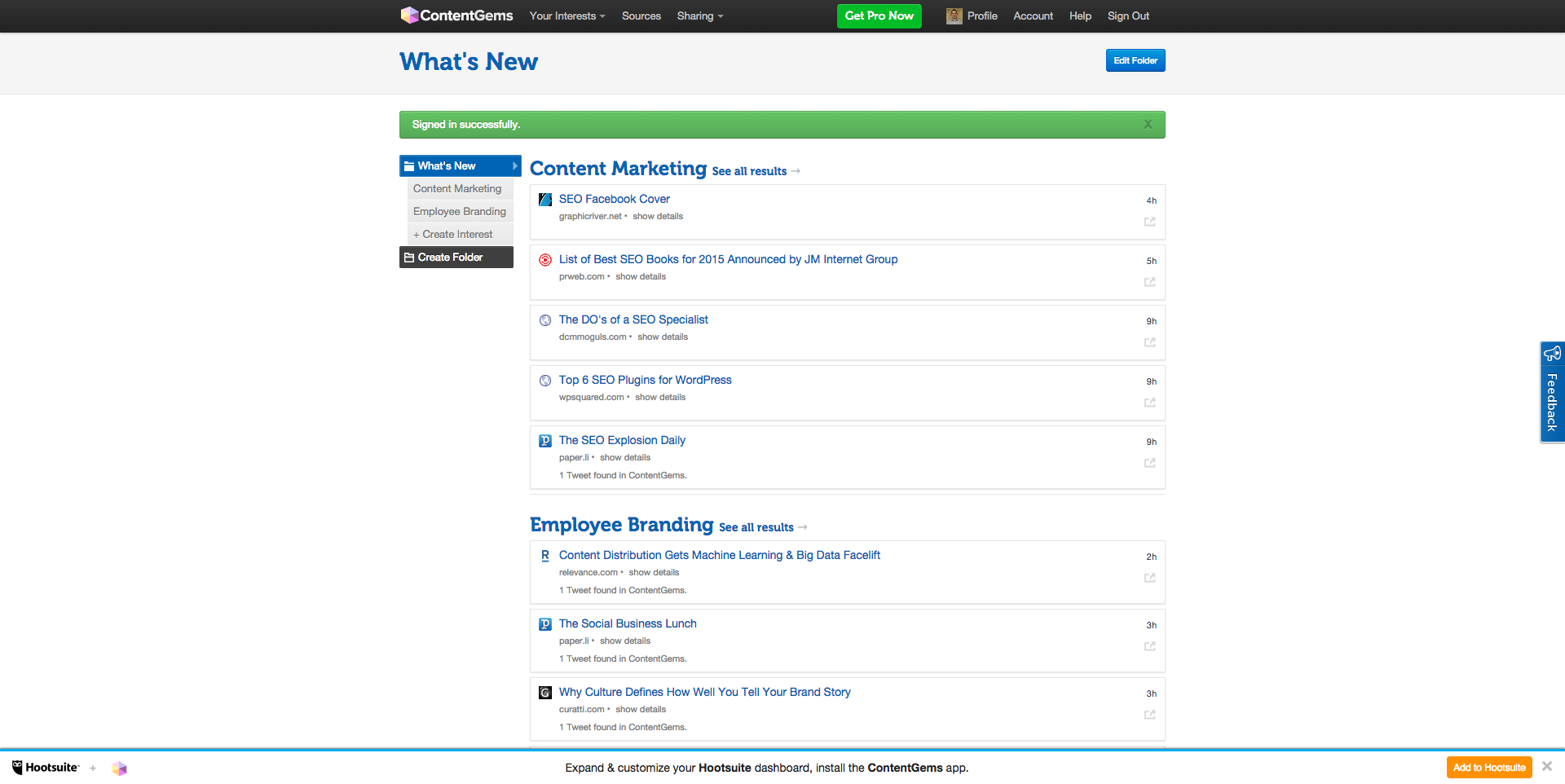 I really like what ContentGems has going. It's like a tailored email newsletter, based on your keywords. With the free version, you can have up to two different keyword groups.
Based on the keywords you set-up, ContentGems finds relevant articles that have either been just published, or popular during the last 24 hours, and emails you a daily summary of tailored (sometimes hard to find) content right in your email inbox, first thing in the morning.
What's even better is that you can set it up as an RSS feed, and then plug it into your Bundlepost CMS.
I'm ready to go!
There, equipped with this knowledge of brand vs. curated content, and these awesome content curation tools, you should be able to keep your feeds steady with interesting social media posts that drive meaningful connections.
If you're a PostBeyond admin user, you can use these tools to help fill out the dashboard, and give your employees a great mix of content to share!
Content curation is something that can really help with building trust, credibility, and thought leadership with your networks, all resulting back in better referrals for you and your company. So don't be shy, next time you find a good industry related report, or even a funny cat video, go ahead and share it!
What's your ideal content curation mix? Do you use content curation? Why or why not? Please leave your thoughts in the comment section below, and share with your networks!