Teen Vogue and Facebook started off the year in a tight spot when Teen Vogue posted a glowing article about Facebook's political safeguards heading into the 2020 election.
Considering Facebook had recently been hit hard with harsh criticism for its political ad policies, the article (which had no byline or "sponsored content" tag) certainly seemed out of place to many and straight-up fishy to some.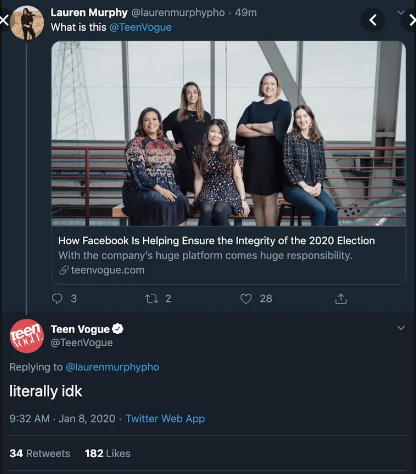 When one critic asked Teen Vogue what this article was, the Teen Vogue account responded, "literally idk."
After a few hours of floundering, Teen Vogue eventually took down the article.
Why? Because it was listening.
Teen Vogue has worked hard to transform its brand from a magazine about lip gloss shades and eyebrow waxing to a magazine full of woke perspectives. And this Facebook flop was certainly a crisis.
When brands face a disaster, they lean into their social listening tools. Social listening tools detect when consumers are broadcasting negative brand sentiment and send you alerts when it is time to put out fires.
On good days, social listening tools serve more purpose than minimizing public mishaps. They can help empower brands to better understand and engage with audiences.
Social media listening is a non-stop job for your brand, so it is important that you choose the best tool on the market. Here's our roundup of all the best social listening tools for large companies.
8 of the Best Social Listening Tools
1. Zoho Social
Zoho Social is a social media management platform that offers a range of social management, listening and collaboration tools.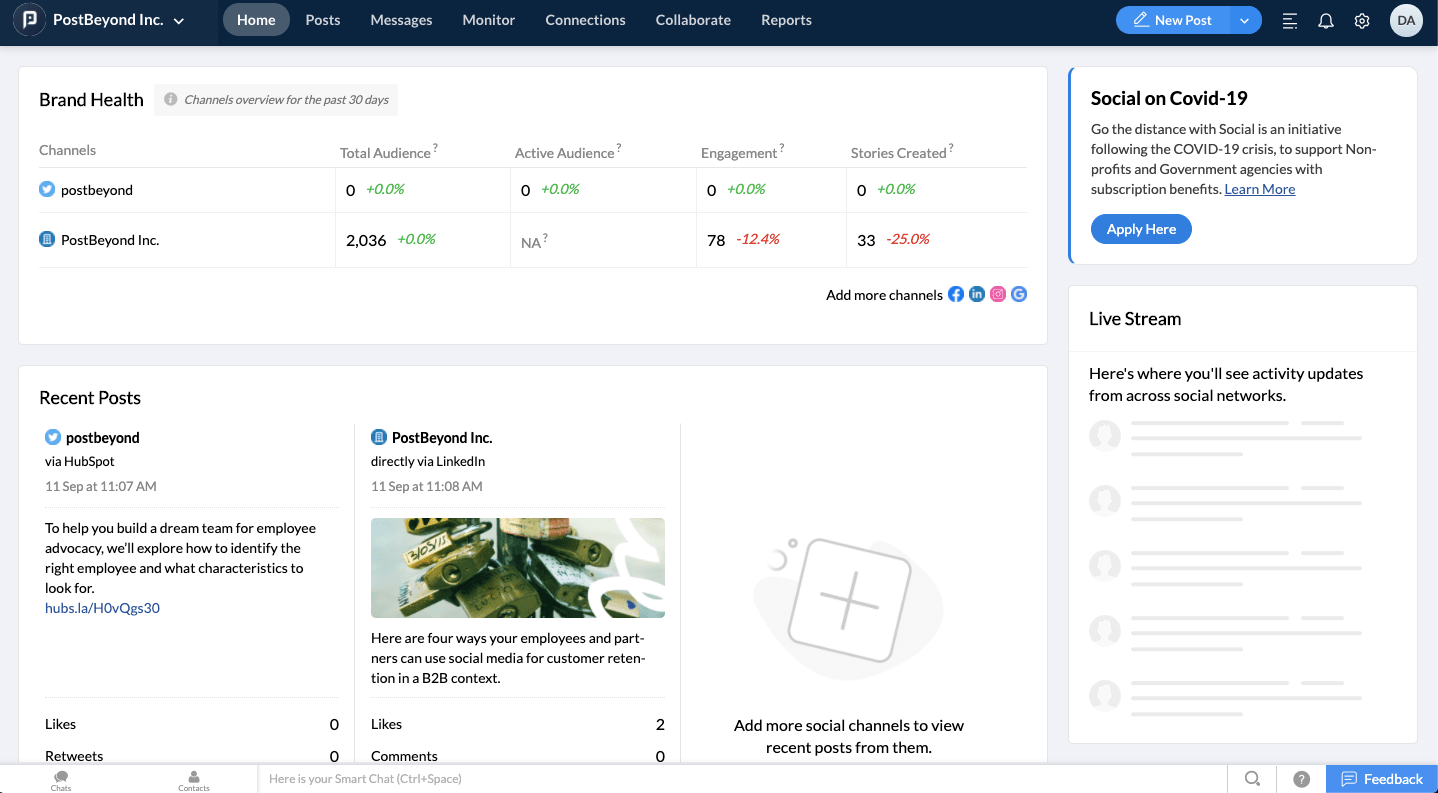 When it comes to social listening, Zoho Social features a real-time stream of interactions your audience is having with your brand. Brands can respond to engaged users immediately on the platform. They can also set up a custom monitoring dashboard that best suits their social media strategy.
Main benefits:
Live updates
Columns for every social activity
Strong team collaboration tools – each team member can customize their view of the monitoring that matters to them
Discover key users and conversations
Manage questions and reviews
Mobile friendly
This tool can be used for small to large businesses. It can also be used for digital agencies with multiple clients. Pricing for individual brands ranges from $10-$25 per month. Zoho Social for agencies ranges from $100-$200. For agencies with more than 50 clients, ask Zoho directly for a quote.
2. NetBase
NetBase is a social analytics platform used by global brands and agencies. Powered by AI, NetBase uses machine learning, expert systems and machine learning to gather and analyze data at scale.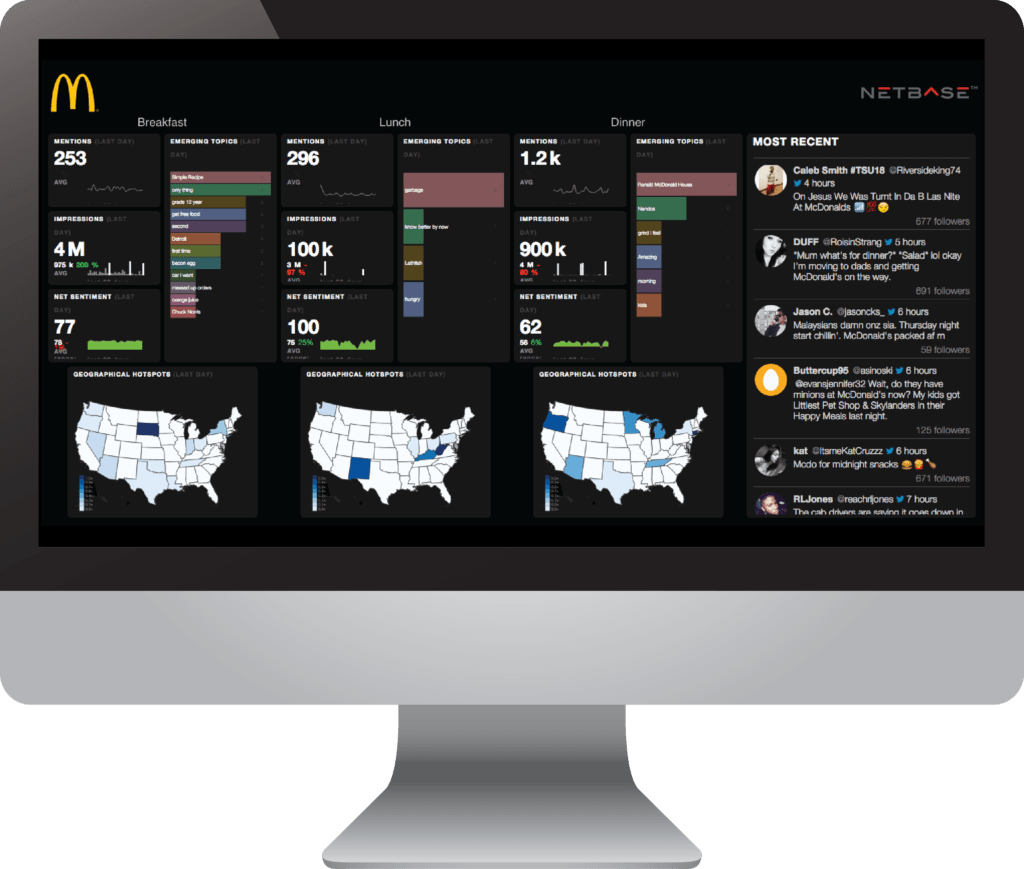 With NetBase a brand can listen to trillions of conversations to power their brand, boost social campaigns and manage crises.
Main benefits:
Accurate sentiment analysis
Monitor across 300+ social media sources
Monitor across blogs, forums and review sites
Monitor across 99+ countries and 199 languages
Compare owned vs earned content performance
Visual brand analytics
This tool is best for large, global enterprises, but can be used by small to mid-sized businesses.
3. Brandwatch
Brandwatch is a digital consumer intelligence solution that helps you better understand your brand's audience. This tool lets you find people that fit your buyer personas at a granular level. Features include social targeting, popular content relevant to your audience, audience comparisons and influencer grading.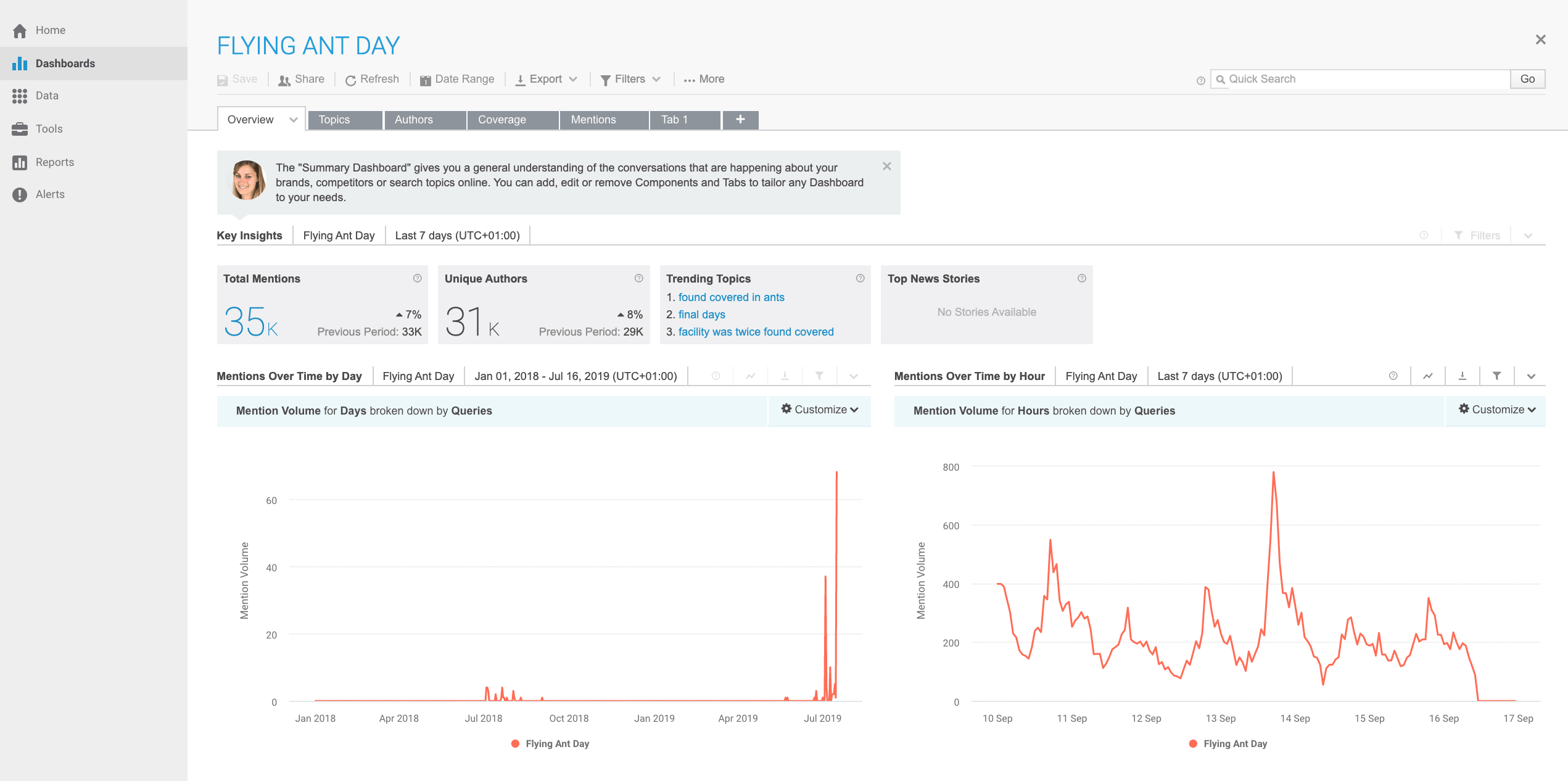 Main benefits include:
Brand health tracking
Trend analysis around your business
Customer journey mapping
Data integration and visualization
Audience content affinity discovery
Competitor analysis
Influencer identification
Brandwatch is great for enterprises or agencies.
4. Critical Mention
Critical Mention is a media monitoring vendor that offers tools that track a range of online content, including social media. This company's social media monitoring solution features social media tracking in real-time, social metrics monitoring, and sentiment analysis.
Main benefits include:
Real-time monitoring
Measuring audience values, share of voice, social mentions
Reporting
Integration with other media formats (radio, news, etc.)
Critical Mention is used by companies big and small. It is used by marketers, as well as PR professionals. Pricing is available upon request.
5. Brand24
Brand24 is a media monitoring tool built to protect brand reputations. It allows brands to see mentions across social media, blogs, forums, review platforms, video, news and more.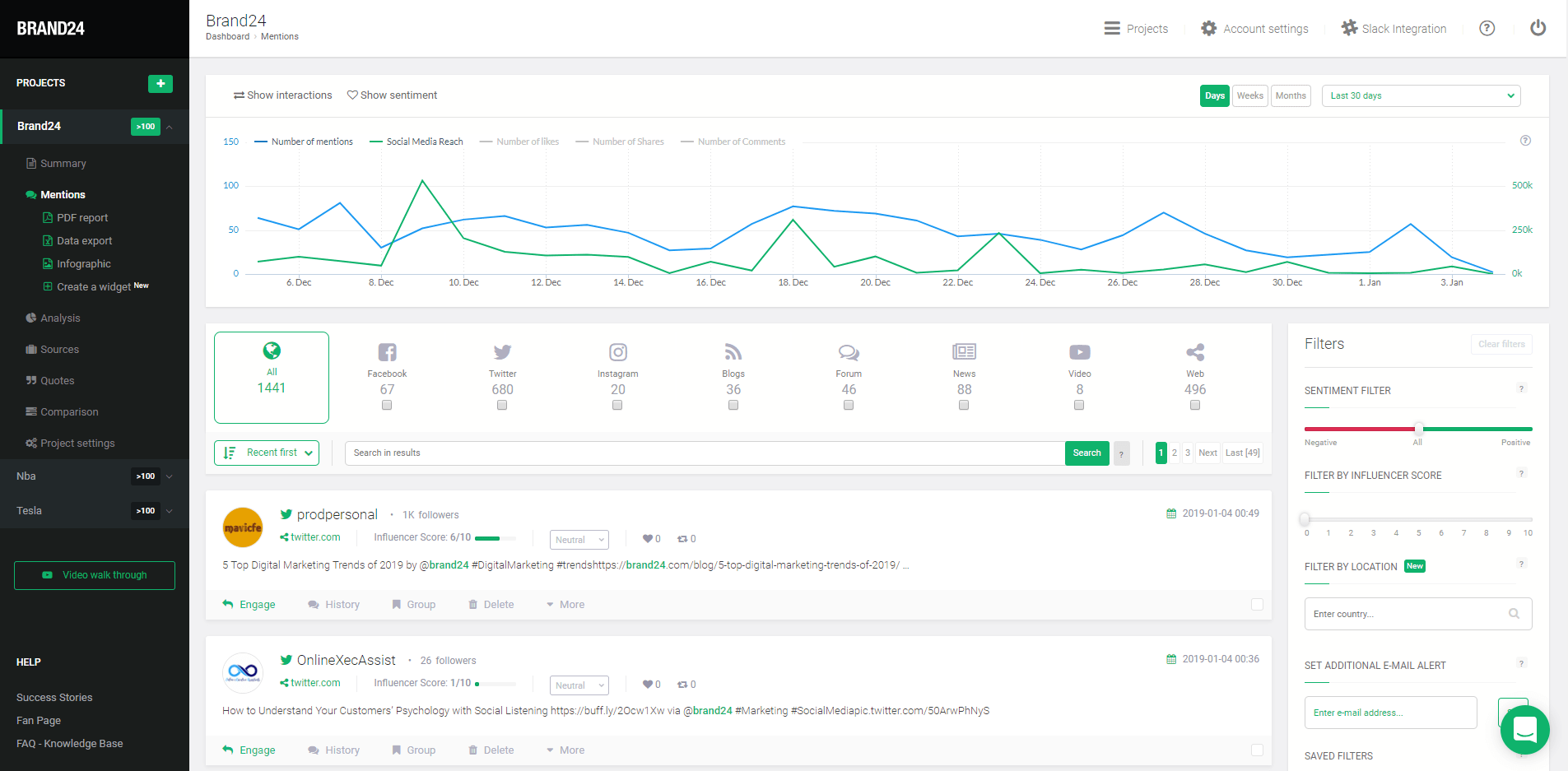 This solution features sentiment analysis, instant notifications for negative mentions, and direct engagement with customers.
Main benefits include:
Sentiment analysis
Responding to customers on social media
Automated reports
Hashtag tracking
Slack integration
Mobile App
Brand24 is suitable for businesses of all sizes and agencies. Pricing ranges from $49 per month for individuals to $199 per month for large teams and agencies.
6. AgoraPulse
AgoraPulse is a social media management tool that lets social media managers do all their tasks in one place. Among its many features, AgoraPulse offers users a strong social listening solution.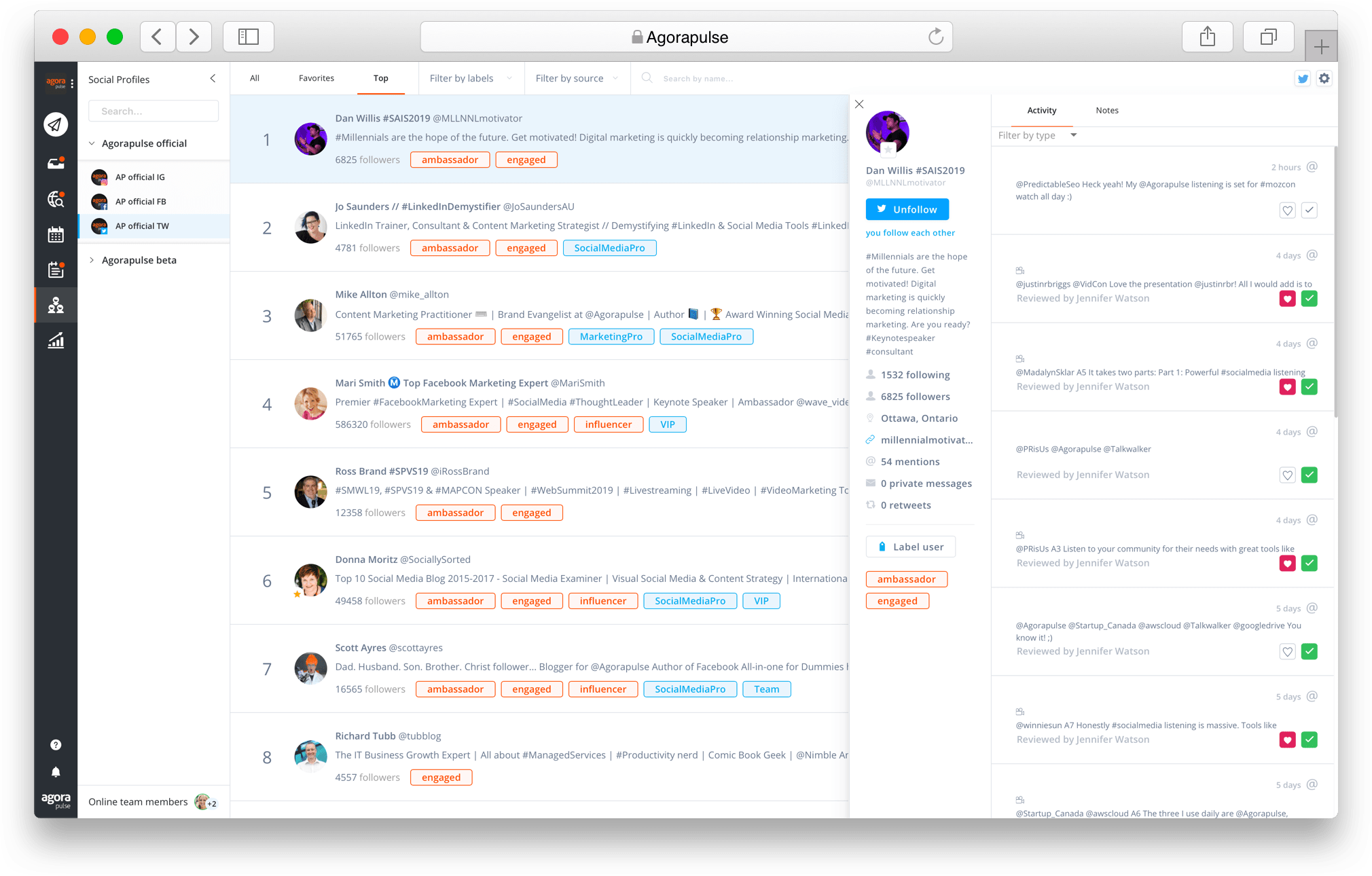 Main benefits include:
Monitor trends, hashtags, influencers, and ambassadors
Search content with parameters (Boolean, location, language, etc.)
Label content
Saved searches
Engage and respond to conversations
Mobile friendly
AgoraPulse is best for medium to enterprise-sized companies and agencies. Pricing starts at $79 per month for medium-sized companies and goes up to $399 for enterprises with many profiles.
7. Nuvi
Nuvi is a social media management and analytics platform. Nuvi offers real-time social media monitoring for marketers to boost and protect their brand.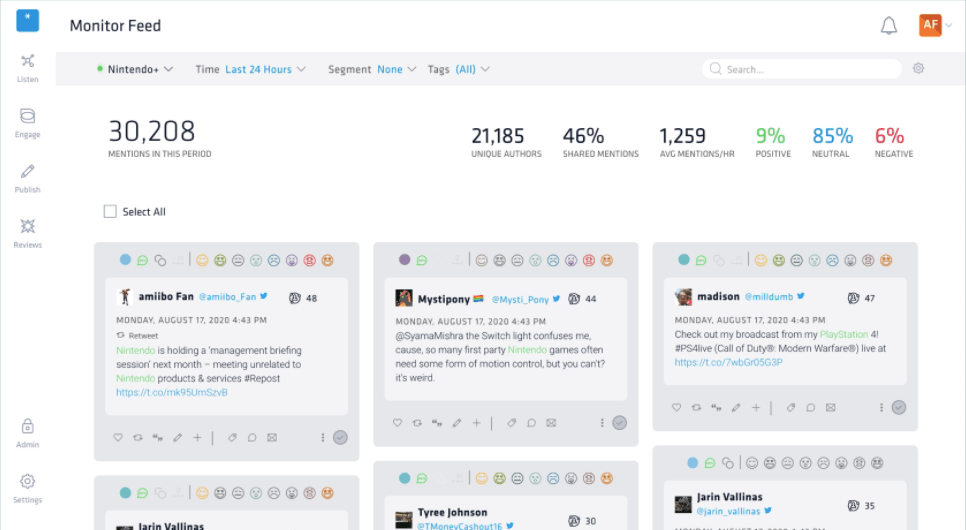 Main benefits include:
Sentiment analysis
Identify influencers and potential advocates
Monitor campaigns
Real-time crisis alerts
Instant alerts around brand, keywords or phrases
Automated reporting
Nuvi is suitable for small to enterprise-level companies.
8. Falcon.io
Falcon.io is a social media management platform that offers a wide array of capabilities. On the social listening front, Falcon.io allows users to tap into 2.7 million online sources to identify opportunities and potential crises.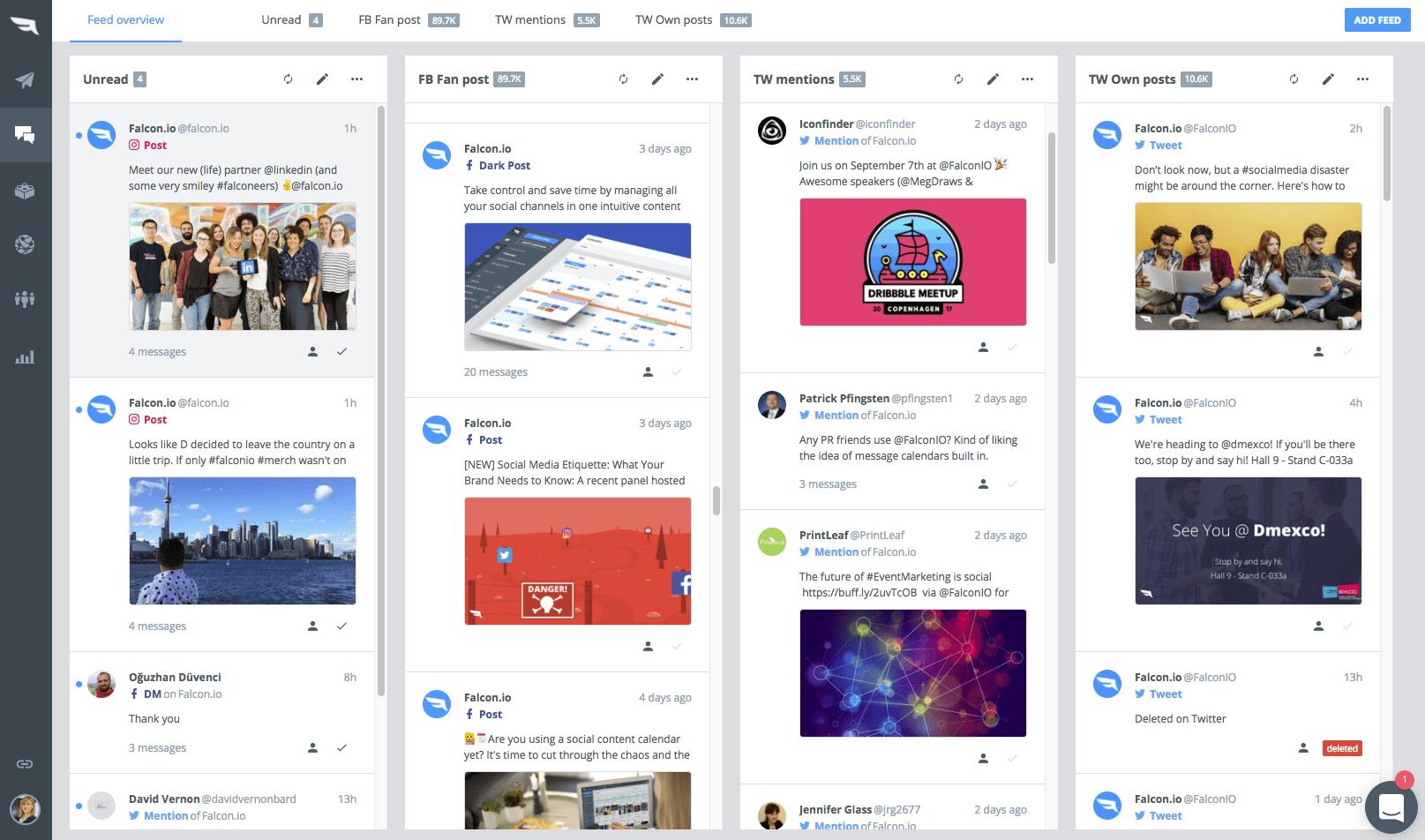 Main benefits include:
Track trends and brand perception
Sentiment Analysis
Advanced parameters and custom queries
Discover new audiences
Multiple languages
Influencer identification
Easy data sharing
Falcon.io is appropriate for companies of all sizes.