By 2020, the social media influencer market is set to be worth more than $10 billion USD and as the market matures it's already starting to take a different shape. Gone are the days when marketers would spend thousands on influencers to promote to their millions of Instagram followers.
There has been a marked decline in trust and engagement from big-name influencers which has led many brands to turn to micro-influencers. But is there a better option?
The Rise of Nano-Influencers
The latest research would suggest there is – welcome nano-influencers. Most nano-influencers typically have under 10,000 followers – usually a 1,000 to 5,000. They are often people who have a lot of influence within a very niche community.
According to Business Insider, "a lot of brands prefer to work with nano- or micro-influencers because they're a lot more focussed and more targeted to their followers and audience." Many nano-influencers have one niche such as fashion, tech, real estate or travel.
For example, Jin Choi is a nano-influencer on Twitter with 899 Followers. He has a Ph.D. in financial math, is a full-stack software developer and runs a website, MoneyGeek.ca, that provides guidance on investing. He also takes to Twitter to share his passion for investments, quants and investing with his niche group of followers.
The Benefits of Nano-Influencers
In an era of distrust, nano-influencers provide a voice of authenticity. Social media followers view nano-influencers as "someone just like me". There's a greater sense of trust, versus celebrities looking to promote products or services on social media.
And they're everywhere! On Instagram alone, there are over 1 billion currently active nano-influencers. According to Hype Auditor's State of Influencer Marketing in 2019, nano-influencers make up over half of all Instagram profiles.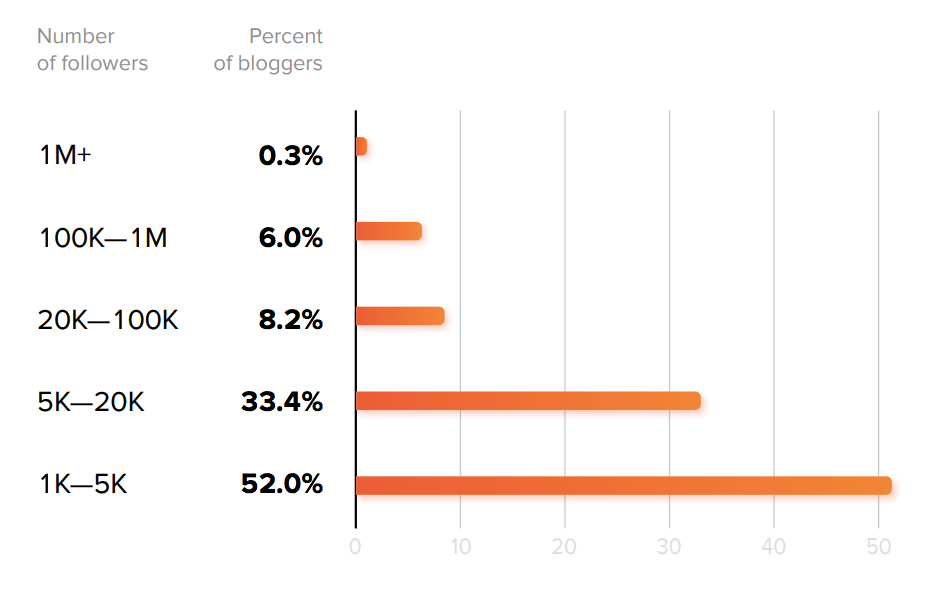 B2B marketers are behind the eight ball when it comes to influencer marketing in comparison to their B2C counterparts. However, the shift in favoring nano-influencers is a huge win for the B2B space.
Here are the top benefits for B2B organizations and why you should consider nano-influencers in your social media marketing. We'll call them the ACEE of social influencer marketing:
Nano-Influencers Represent Authenticity
For the most part, the life of the nano-influencers mirrors ours. They are not living the 'glam' life of a celeb – they are relatable. Typically they're just regular people just like you and me.
They don't make their income off being an influencer nor do they get approached by brands daily. This is a big benefit for B2B businesses because users are now searching out followers who share similar interests, passions and provide meaningful content. Instead of influencers with edited photos who live unrelatable lives.
Their followers are mostly organic and are people who know them personally such as friends, family or co-workers. There's an instant level of credibility and trust built between this person and their followers. This is the complete opposite for larger-scale influencers who can't replicate the relatability.
Relatable and approachable are the words associated with nano-influencers which also make them a good fit for large enterprise brands that can appear cold and faceless.
Nano-Influencers are Cost-Efficient
Nano-influencers are not professional influencers who rely on advertisements to survive. The cost of a nano-influencer can be as simple as shipping them one of your products in exchange for a social post.
Even paying them a small fee will keep the investment low and make ROI from this activation easily attainable. Another cost-efficient place to look for nano-influencers is within your own organization. Engaged and loyal employees are happy to advocate on behalf of their brand.
Nano-Influencers Drive More Engagement
Nano-influencers have 6x the engagement of other influencers because their followers are well-defined and very specific. Their audiences are much smaller and more invested. This is what generates higher engagement rates. Since followers know nano-influencers on a personal level, they are more likely to engage their content.
In addition, they are more likely to respond to followers because they care about maintaining their relationships. All of this allows for better brand engagement.
Nano-Influencers Are Eager to Promote
Trying to get a celebrity to promote a product can feel like jumping through hoops. You'll need sponsorship contracts, media kits, and thousands of dollars invested before you even get started.
While nano-influencers are much more excited to collaborate with brands. They are much more eager to participate. Often nano-influencers will be the ones to reach out to your brand on social media. It is important to pay attention to those already championing your brand as these create the strongest and most sustainable relationships.
Nano-influencers can often come in the form of your own employees. They have an authentic voice that resonates with their following. Also, they can provide real behind-the-scenes content about your brand that users love.
According to Forbes, "a brand's employees are a vastly underappreciated resource for spreading a company's message and increasing their online reach."
While this can seem like an ACEE in the hole, working with nano-influencers isn't always rosy.
There is one key thing to watch out for and that is their lack of experience. While this is a benefit for establishing trust with their network, it can also cause easily avoidable mistakes. Nano-influencers do not do this for a living so it is important to provide them with the right resources especially on-brand messaging.
Your Employees Can Be Your Best Nano-Influencers
Another way to help employee nano-influencers reach their full potential is by implementing an employee advocacy program. Building out a strategy, resources and implementing technology helps to create a smooth easy-to-follow plan for your employee nano-influencers.
Brands are starting to shift their social media marketing spend from expensive campaigns to smaller nano-influencers. They're realizing that they can generate more engagement, click-throughs, and a better ROI. Not to mention, good publicity and trustworthiness of nano-influencers add instant credibility to a product or service. These are traits that celebrity influencers simply can't replicate. Nano-influencers give new credence to the saying, less is more.
Not sure where to start looking for nano-influencers? Check out those already promoting your brand on social or those loyal employees already singing your praises. There are websites like Influence.co that can help you search for those in your niche space. You can also look to your internal employee nano-influencers and help them get started by sharing this social media cheat sheet.
This article was last updated on June 25, 2020.