What makes a good manager?
Is it strong leadership skills? Maybe the ability to deal with stress – or even a friendly smile? We wanted to know exactly what makes a good manager, looking at the skills, tools and characteristics required to be the best possible boss.
We have scraped over 1,000 social media manager job advertisements on Indeed to discover the anatomy of the perfect manager.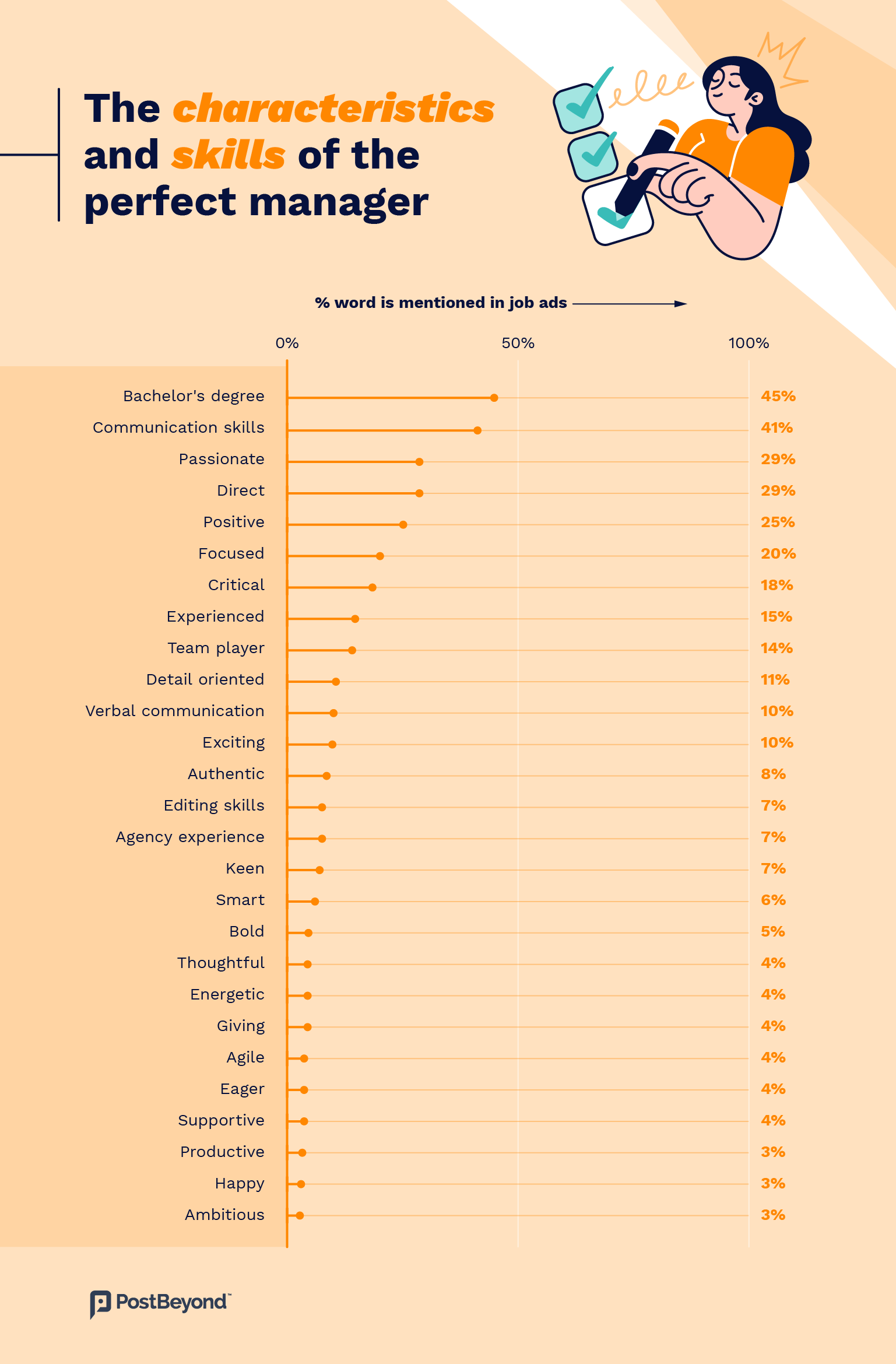 The most desirable attribute in a manager was found to be a Bachelor's degree with 2 in 5 (45%) job roles mentioning the qualification. Followed closely were communication skills with 41% of job ads including this characteristic – perhaps unsurprising due to the social nature of being a manager. Other notable characteristics include being 'passionate' (29%), 'direct' (29%) and 'positive' (25%).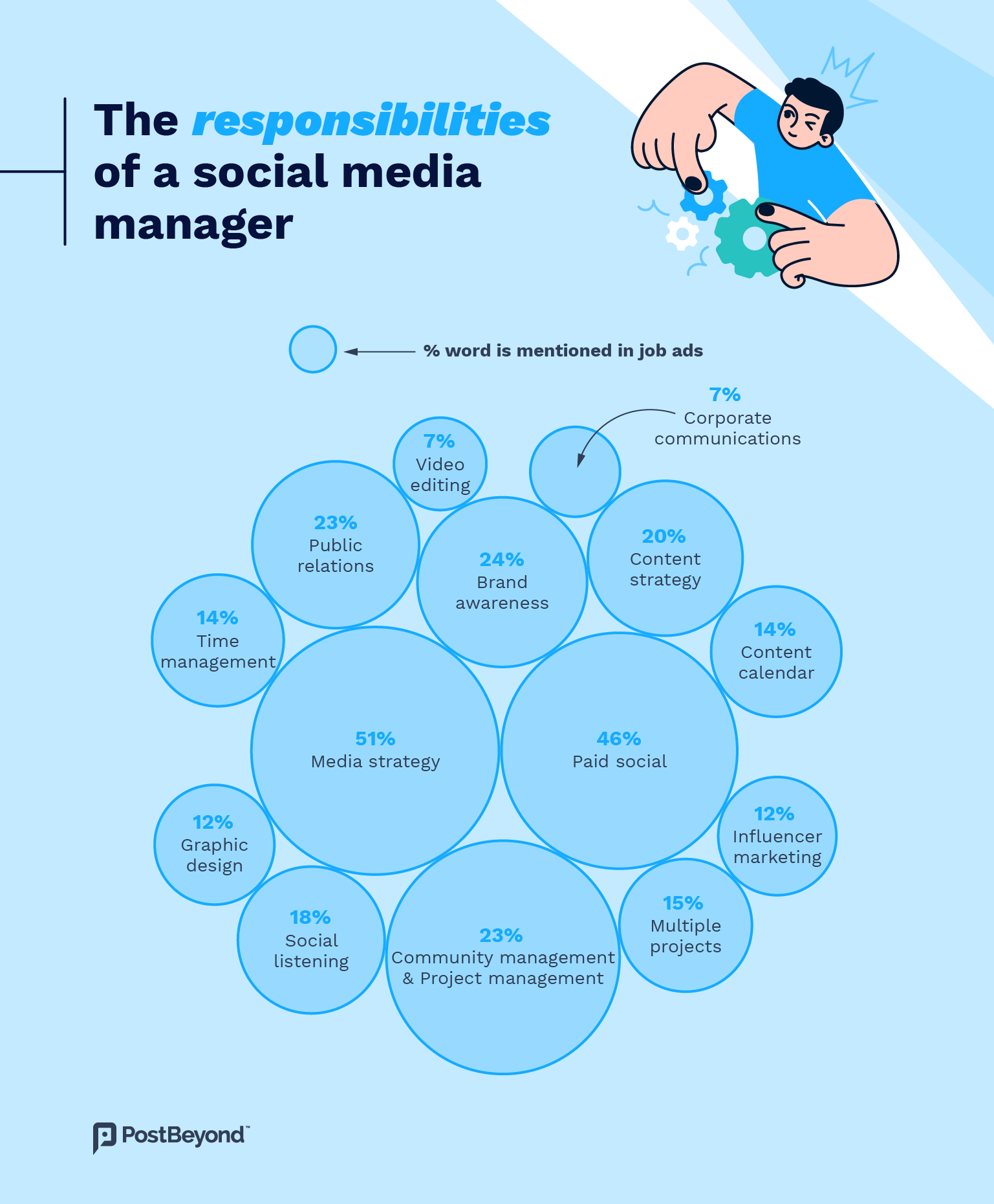 The top responsibility mentioned in social media manager job advertisements is media strategy, with over half (51%) of roles featuring this skill. Media strategy looks at creating a plan of action to support marketing and content goals. LinkedIn data has shown that paid social media roles have risen in demand by 116% as of 2021, which has been reflected with the job advertisements analysed, with 46% of job ads including paid social media as a requirement of the role.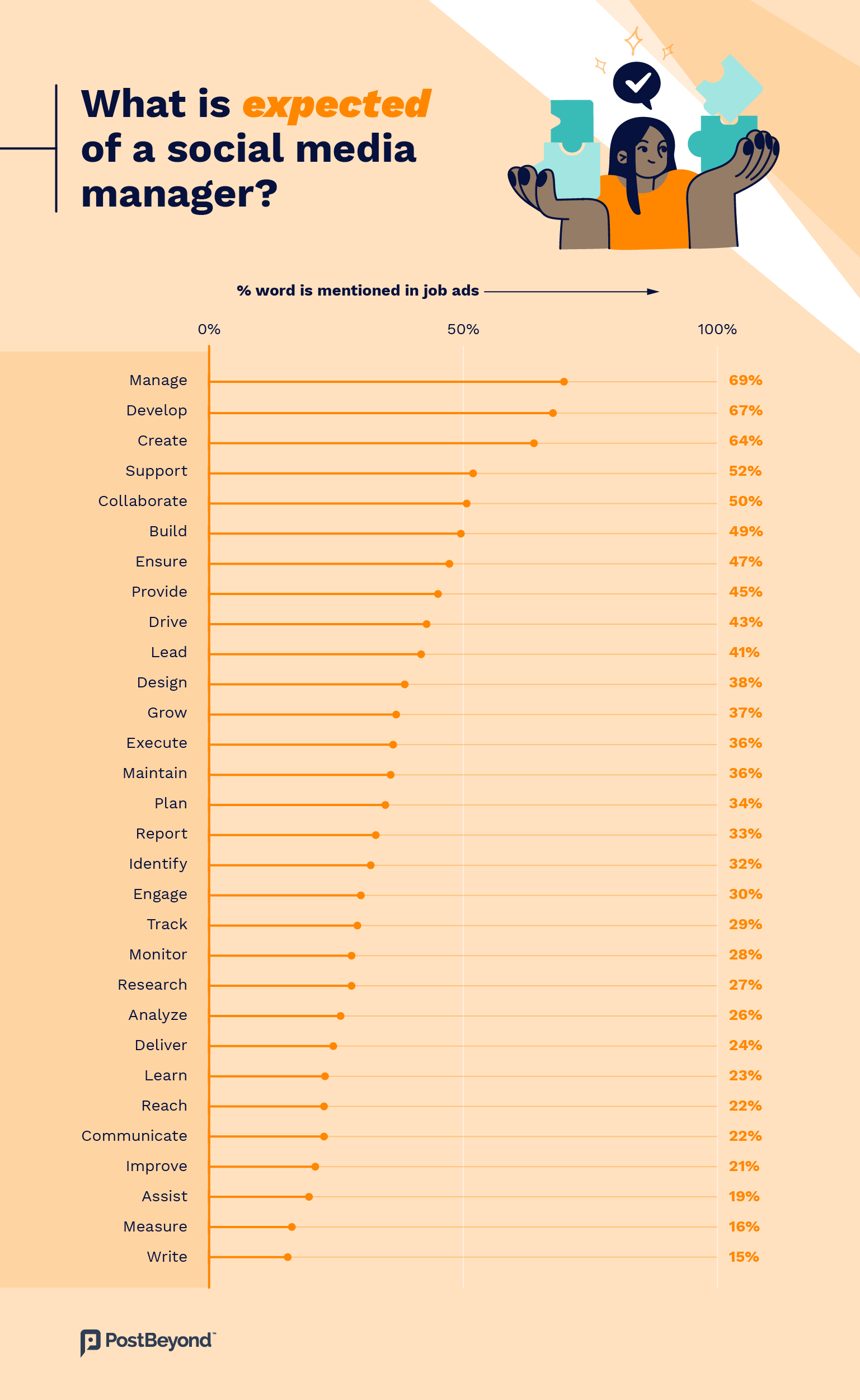 If you are wondering what is commonly expected from a social media manager, we have uncovered the top mentioned attributes. The most common attributes that are expected of a social media manager include 'manage' (69%), 'develop' (67%) and 'create' (64%). The least mentioned term was found to be 'write' at 15% suggesting that managers do less of the day to day tasks and focus primarily on 'leading' (41%) and 'supporting' (52%) the wider team.
When looking at what tools are most in demand within these roles, Facebook takes the top spot with almost two thirds (61%) of job roles mentioning the platform.
Facebook isn't the only social media tool often mentioned with Twitter (57%), Instagram (56%) and LinkedIn (37%) following behind the platform respectively. The design tool Adobe Creative Suite has 12% demand, with Canva following behind at 9%.
Being a good manager can help with employee happiness, retention and overall job satisfaction. Whilst not everyone responds to management styles in the same way, these highlighted skills and characteristics are a step in the right direction to the perfect managerial anatomy.
Methodology
Data is based on the analysis of 1,087 job ads from Indeed.com with "Social Media Manager" in the title, that were live on the platform as of 20 May 2022.