The value of face-to-face will never go away. Nothing beats meeting a customer in-person or a random bump-in at a tradeshow. But recently, the power of engaging customers through social media has bubbled up to the surface due to social distancing.
Now marketers have to adapt their events strategy and find new channels to engage prospects. Social media is now at the forefront. Sales teams need the right technology and skills in order to build meaningful social connections with their prospects. And what works in real life often doesn't translate to social networks.
Recently, we had Lumberjack Social founder, Casey Hall, join us in our live webinar titled From In-Person to Social-First: Activate Your Sales Team on Social Media.
During the webinar, we covered three sections:
Changing buyer behavior caused by digital transformation.
Core competencies marketing and sales teams need to adopt.
Building digital literacy for sales and marketing teams.
In short, the webinar covered best practices that B2B marketing and sales teams can learn from. To give you a glimpse here are the key takeaways from the webinar.
1. Changing buyer behavior caused by digital
Today's buyer has shifted their buying behavior more in the last 3-5 years than they have in the past 20 years. They are self-directed, digital-savvy and sophisticated. In large part, it is because of how they've engaged with consumer brands.
B2B buyers are now more active on social media which has further accelerated due to COVID-19:
84% of B2B leaders say that they regularly use social media in their decision-making process. (IDC)
91% Of B2B buyers are now active on social media. (Forrester)
94% of B2B buyers conduct some form of online research before purchasing a business product. (Accenture)
Casey Hall mentioned a great point during the webinar that "the buyer has around 17 touchpoints with an organization before they talk to a salesperson and that has accelerated now. People expect to find information online so you can't expect to hide anything."
When you think of well-known consumer brands such as Amazon, Netflix or Spotify, you start to realize that digital transformation is ingrained in everything these leading companies do. Whether it's Amazon's one-day shipping or Netflix's content recommendations – buyer behaviors have been shifted. At the heart of the digital transformation is the customer and they now expect B2B buying experiences to be simplified and personalized.
In B2B, the same principles are being applied and due to COVID-19, digital transformation has become mission-critical.
2. Building digital literacy for marketing and sales teams
To engage prospects, marketing and sales teams must adopt new core competencies that they haven't embraced before. Leading companies are creating authentic and human-centric stories shared by employees and not just the brand alone.
Brands aren't just enabling their employees to share content with their social networks. Rather they are allowing their employees to participate in the content creation process. What's commonly known as employee-generated content (EGC) can drive higher engagement, reach and trust.
The numbers speak for themselves on why employee social sharing is so important:
Company branded messages reach 561% further when shared by employees versus branded channels. (MSLGroup)
Employees have on average 10x more connections than brand channels. (LinkedIn)
84% of C-level executives use social media while making purchasing decisions. (IDC)
However, not every organization can strive to be social-first right from the start. Here's how we broke down the levels of maturity an organization goes through to reach being social-first organization.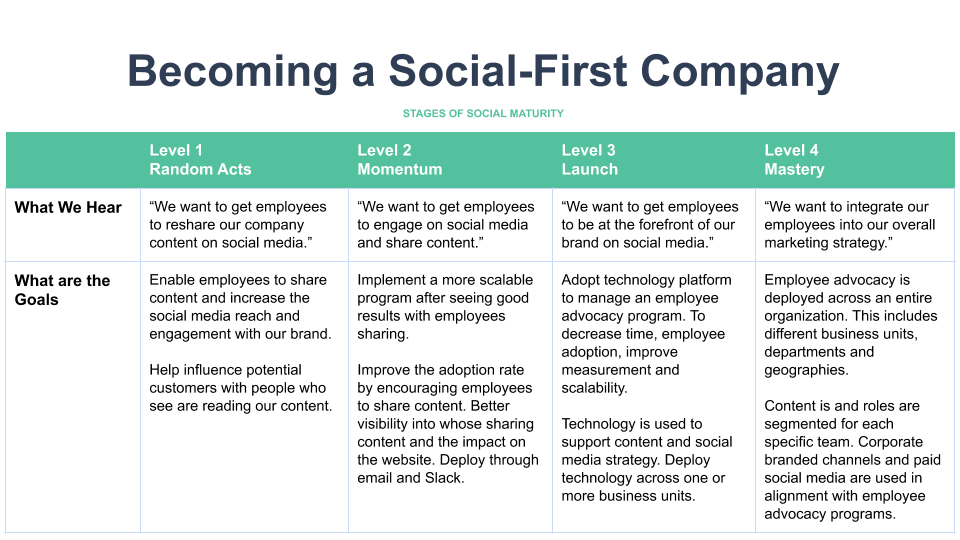 3. Sales and marketing are using social to engage prospects
Mary Shea, Principal Analyst at Forrester research shared an infographic on LinkedIn about the six activities of a modern B2B seller. Her insights show that the modern B2B seller has shifted away from the traditional in-person handshake towards a digital and social-savvy approach.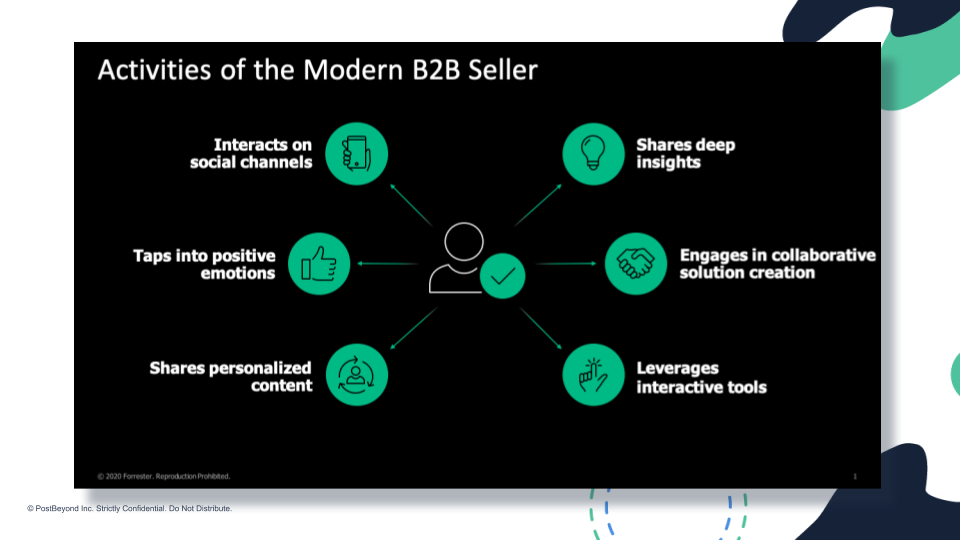 There are still skeptical sales teams that are wary about shifting towards new channels. For those mind in, here are three major benefits to improve the buyer-seller relationship:
1. Better client access than traditional channels
54% of business leaders in a recent survey cited buyers who won't take phone calls or who don't want to meet in person as top challenges their sales teams face.
2. More authentic connections
Once sellers understand the etiquette and embrace the nuance of each social channel, they can present themselves in an authentic and brand consistent manner.
3. Personalized interactions through research and listening
With the rapid maturation and proliferation of marketing and sales technologies, B2B buyers are bombarded with information.
The companies that have already embraced social engagement are reaping the rewards. While many companies and even industries are now starting to catch up due to necessity. As Casey mentioned, "The companies that were already leaning into it are well-positioned because they started to make those changes earlier. It's interesting now to see companies who have made a head start now have turned it into an exponential head start."
Recommendations for becoming a social-first company
Employees know very well not to share overtly promotional content with their social networks. In our research, we found that making your brand pop amidst the noise of 24-hour media content can be a challenge.
The solution is not just an agency-driven viral ad that quickly fizzles out, but rather, a steady stream of excellent content supported by diverse employee resources.
Here are five initial steps you need to take to shift from in-person to social-first:
Refresh your social media policy: Align your social media policy with your company vision and ensure your employees understand how to use social media effectively to protect the company and customer information.
Identify social champions: Start with your top-performers and sales reps that are already social-savvy. They will have the highest likelihood of adopting social media successfully.
Address the skills gap: ensure employees across multiple generations understand how to use social media within a professional context.
Social media training: Ensure you have a scalable way of training employees on how to use social media. Employees should be able to access the training and it should suit their preferred way of learning.
Build a content strategy: Develop an employee-first content strategy that will empower your employees to share and your audience to engage. Curate third-party content and allow employees to suggest relevant content to their peers.
The Wrap Up
Organizations across different industries such as Banking, Insurance, Technology, Law Practice and many others have shifted away from in-person. Although handshakes, tradeshows and customer meetings are still important, organizations are now embracing social media as a way to fully engage their customers.
Sales teams have to adopt new core competencies, social media etiquette, and learn how to use social media effectively in a business context. Embrace the digital handshake by developing a social-first strategy that aligns your company with your buyer.
If you'd like to watch the webinar on-demand, you can watch the recording here.