One of the hottest issues in B2B marketing today is about what to do with events and tradeshows since face-to-face interactions are no longer an option.
Given the nature of what's happening, we decided to learn from our customers on what they're doing to reach and engage their audience. We uncovered an interesting shift in their social media marketing strategy.
In our recent virtual fireside chat, David Lloyd, CEO at PostBeyond was joined by Sarah Beatty, Customer Success Manager at PostBeyond in a hugely successful webinar to discuss smart strategies to inform employees and connect with audiences on social media through employee advocacy.
During the fireside chat, our speakers walked through the increasing usage of social media for professionals. And why right now is not the time for marketers to promote content, instead, it's to inform and educate. They even shared examples from a wide range of customers that are thriving across respective industries such as Insurance, Law Practice, Technology, and more.
In short, this webinar covered employee advocacy strategy shifts for every marketer to learn from. To give you a glimpse, here are some of the biggest takeaways from the discussion.
1. Your audience is tuned in on social media for real-time information
In the past month, more and more people have started using social media. For many of us, we use our social networks as a way to stay up to date and connected with our peers.
According to the 2020 Global Web Index, they've found that more people are likely to be spending more time on social media. Their research has found an increase in social media use for professional reasons.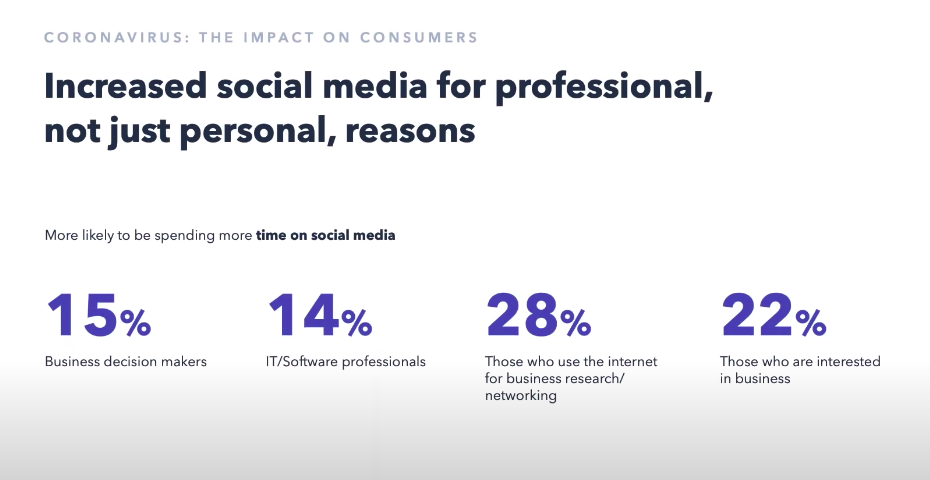 During the webinar, we asked our audience of 200 registrants if they have seen social media consumption increase or decrease. Unsurprisingly, 96.88% said that the saw an increase in social media consumption this past month.
2. Events are being replaced by social media and digital channels
The new reality calls for new plans to reach buyers. In the face of social distancing and COVID-19, marketers have shifted their marketing strategies and budgets towards digital channels.
Marketers are putting their resources and budget towards social media and digital marketing such as SEO and organic content, digital advertising, virtual events, and social media.
Instead of traditional handshakes, marketers are exploring alternative ways to engage buyers while still keeping the marketing machine going. The beauty of digital marketing and social media is that every lead can be tracked and attributed which is a major benefit when budgets start to tighten up.
3. Create a single source of truth for employees to access
Today, it's so important to build a sense of employee community. Your employees need to be kept in the loop with the latest information and developments.
It's tough when everyone is working remotely which makes it more important to foster a sense of community with your employees. Give employees the opportunity to curate relevant information that they think their peers would find helpful. Allow employees to then share relevant information with their social networks as well.
Interestingly, we've seen over a 20% increase in active users on PostBeyond during the month of March meaning customers are taking advantage of employee advocacy.

Program admins are using employee advocacy platforms as their single source of truth. They're providing relevant information and content to inform employees. In the same light, employees are also sharing helpful information with their social connections.
Have all your communication and content within one place that employees can access. You want to ensure they have the necessary resources to stay safe and healthy.
4. Pivot your content strategy to educate your audience
Relevant, informative, and timely content is helping employees stay informed. In doing so, they're finding enough value to share the same content with their peers.
We looked at all of our content in the month of March and found that eight of our top ten posts that drove the highest engagement were about COVID-19.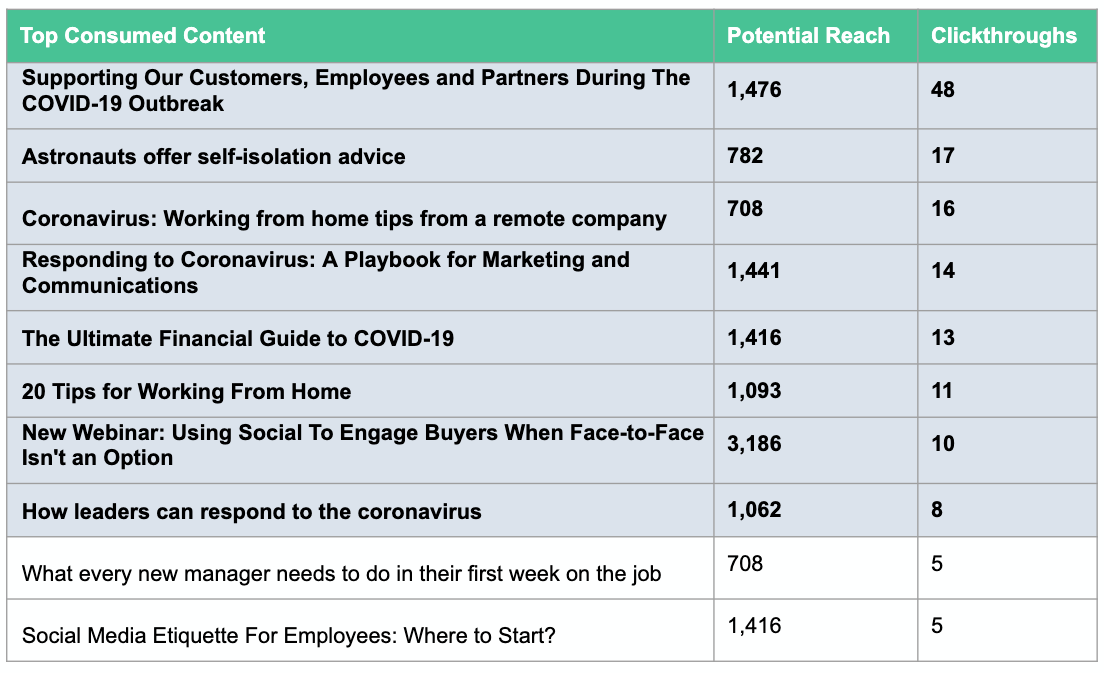 5. Employee advocacy programs should focus on informing audiences, not promoting content
In the webinar, Sarah Beatty talked about the importance of building brand integrity and customer loyalty. If your content is seemingly tone-deaf, then you definitely need to rethink your employee advocacy strategy.
Content and messages that are not relevant to the time may appear insensitive to your audience, while also undermining your brand integrity.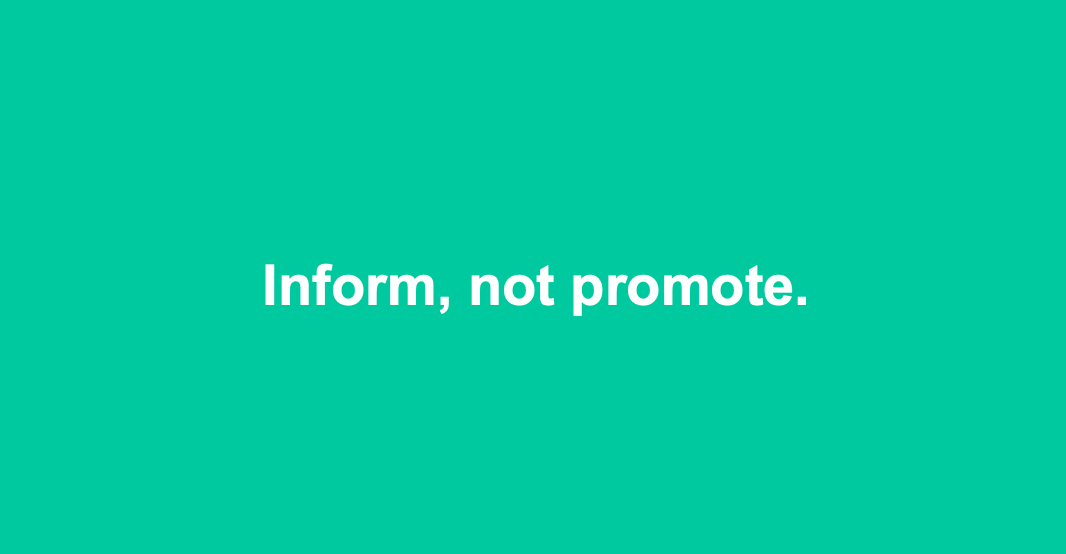 If you're going to active employees on social media, present your brand as one with integrity. Create content that demonstrates what values your brand stands for and how you're helping your employees. This isn't the time to promote. Instead, focus on building loyalty and brand equity.
6. Adapt to change and find new ways to thrive
At PostBeyond, one of our core mandates is to actively listen to our customers. And when it comes to adapting to change, we're listening harder than ever.
We're proud to see our customers step up to the plate and redefine how they're using employee advocacy. There are many companies thriving and setting world-class examples in their industry. Here are several industries that are adapting to change and thriving as an outcome.
Insurance
One major insurance provider recently launched a new resource page to help employees navigate the influx of COVID-19 information. They've curated a lot of content related to pandemic preparedness such as FAQs, webinars, updates, and health information.
They've also recognized the importance of balancing work and life by taking an empathetic approach. To help their employees, they've curated a lot of light-hearted content such as lists of different movies and TV shows to binge.
Law Practice
Several global law firms are using employee advocacy as a single source of truth for information related to COVID-19.
They have created content in multiple languages to help different affected regions. Their content directs employees to relevant business information, employer readiness, business contingency plans and legal guidance.
Pharmaceutical
One leading pharmaceutical research company is playing a massive role to help research, test, and find a vaccine for COVID-19.
They've quickly onboarded researchers and scientists to help distribute informational content on social media. In doing so, their social activity has increased by 15% in March and 24% after the pandemic was announced. To say we're proud to have them as a customer is a major understatement.
Management Consulting
Several of our major management consulting and accounting firms have created content topics specific to COVID-19.
Not only did they have external content but they also created internal spots such as helpful guidelines. They've even created new thought leadership content around the theme of "work from home readiness."
Several of our management consulting customers have also allocated time to audit old and outdated content. This includes content that is no longer relevant or contains outdated messaging – anything that has lost its relevance has been audited or archived.
Technology
Several major technology companies had allocated a big portion of their budget for events and sponsorships. Understandably since major trade shows are a great way to engage potential customers.
However, due to all the event cancellations, they had to use other channels to reach and engage their customers. Given the circumstances, they recognized that social media and digital are vital channels. Every single sales rep was trained on the platform to engage buyers.
Wrapping up
David and Sarah offered a lot of valuable information during the webinar for any companies interested in reaching their audience with employee advocacy.
From shifting content strategies to thriving industries – they shared insight and advice that you can act on today. In case you weren't able to attend but would like to watch the recording, you can see the replay here in its entirety.
To all the marketers out there who are optimizing and adapting to change, we salute you.
In the meantime, keep on rolling up your sleeves and thriving!
Want to learn more about the benefits of employee advocacy? Take a look at our Blueprint to Employee Advocacy, you can check it out here or by clicking the banner below.