Everyone has an enemy.
David has Goliath. Your company has competition.
As a modern marketing leader, competition creates a lot of noise between you and your potential customers. Whether you're planning out next year or launching a new product or service, you are constantly asking a single question: how do we cut through the noise?
You have your hands in numerous business priorities while grasping your own time. To sustain the growth of the company, you have to make difficult decisions on where to invest and what to prioritize. Right on the top of the list is cutting through the noise and focusing on getting closer to the customer.
To help your organization, there is a vast array of marketing technology available. Marketing automation, social listening, employee advocacy, programmatic platforms, sales enablement, and content management, you get the idea. You have an unprecedented edge on how you can impact your organization's growth.
With all of this promising technology vying for your attention, why should you prioritize time and investment towards employee advocacy in 2020?
Employee advocacy builds customer trust
Nearly every company has a social media presence, but not every company has a strategy for employee engagement on social media.
From our research conducted on social advocacy in the workplace, we uncovered several compelling statistics that speak to the benefits.
Company branded messages reach five times further when shared by employees versus branded channels.
People are nearly three times as likely to trust recommendations from friends and family than companies' social media posts.
Organizations with high employee engagement outperform those with unengaged employees by over 200 percent.
Employee advocacy leverages trust to break through the noise, specifically on social media.
Trust is more important than ever in B2B marketing. Building trust through customer experience is a critical strategy for 2020, but the way companies engage their employees will go a long way as well. "Focusing on target customers by generating excitement around the brand can come up short if companies ignore their most credible advocates — their own employees," writes Forbes Communications Council member Rob Danna. "After all, who knows the company better?"
In the same vein, TrustRadius reports that potential buyers trust a vendor's website and marketing collateral the least out of all the available material. Referrals, forums and independent media all ranked as more trustworthy — and therefore more influential — in the buying process.
Earlier this year, 2019 Edelman Trust Barometer released their findings for trust at work. They uncovered that the employee voice was rated as very or extremely credible. In fact, regular employees and a "person just yourself" had the most significant increases in trust over the previous year.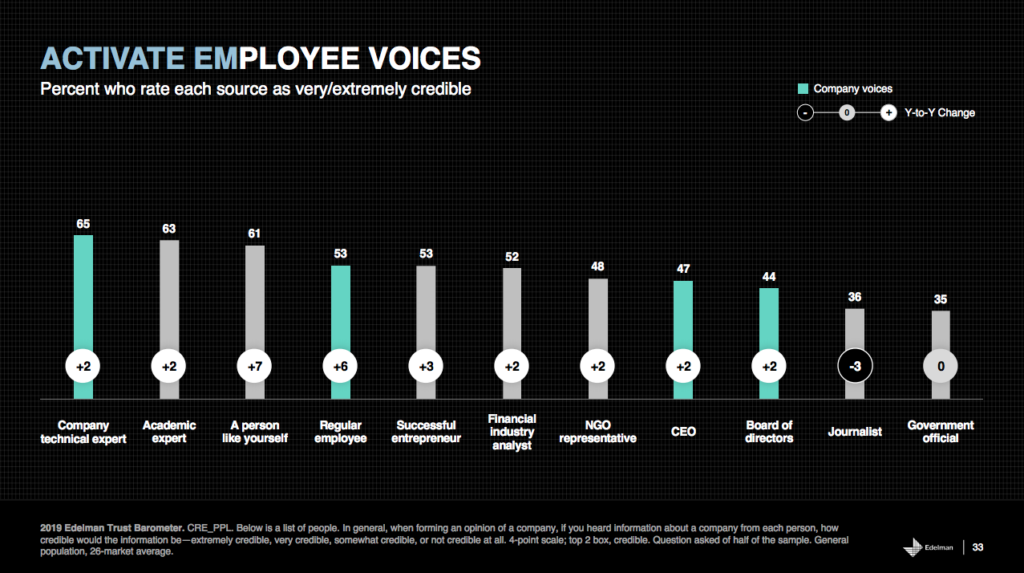 It's time to break away from focusing solely on typical social media and downloadable content. By placing emphasis on employee engagement with marketing efforts, you can build trust both in and out of the organization.
Employee advocacy provides a uniquely amplified voice
A while back, LinkedIn reported that just 3 percent of employees share company content; but this 3 percent drove a 30 percent increase in social media engagement.
Implementing employee advocacy doesn't mean you start relying on your employees for all marketing campaigns. But it does mean you can amplify your brand's voice in a uniquely organic way through employer-assisted efforts.
In other words, employee advocacy can increase your brand's visibility and brand awareness, in essence, impact your share of voice.
The authentic and trustworthy voices of your employees build brand credibility and improve brand image. Allowing employees to share, comment and engage on-brand messages and updates creates a culture of transparency that resonates with customers.
Done right, employee advocacy meets the three overarching goals for digital marketing: it is strategic, sustainable and organic.
The approach is strategic because employee advocacy gives an entirely new set of goals and metrics to measure marketing success. It is sustainable because an employee advocacy program simply amplifies the voice you are already trying to share. And it is organic because you aren't mandating employee advocacy; instead, you're fostering interest and encouraging voluntary participation.
The three of these combined means employee advocacy can give your marketing mix a unique twist in 2020.
Employee advocacy translates engagement into ROI
Employee advocacy as a strategic program can help attribute marketing resources and dollars to effective marketing output, such as leads and new customers.
With the right technology in place, you can turn the metrics associated with an employee advocacy program into repeatable ROI numbers.
Some of the most critical metrics to look at include:
Audience growth: Has investment in thought leadership translated into more views?
Website traffic: How many new website visitors have come through employee shared content?
Earned media value: How does the employee advocacy program translate into costs saved through paid marketing campaigns.
Lead conversion: Even more than the number of leads, looking at how many employee-generated leads convert will tell you the quality of the program.
Clickthroughs: Does employee amplified content have a higher CTR?
Getting employees involved means seeing the big picture
There is no longer a distinct line between marketing and sales, recruitment and branding, customer experience and marketing. An effective employee advocacy program will meet marketing goals, but it doesn't have to stop there.
Job seekers, for example, say that current employees are their most trusted source for gauging a new company. This is just one-way employee advocacy extends to overall organizational health and brand image goals.
Here's another: marketing and PR are typically thought of as distinct activities, but employee advocacy benefits both fronts for companies of all shapes and sizes.
According to PR firm Weber Shandwick, employee activism is already on the rise. So why not capitalize on this, activating employees for advocacy? The same PR firm released research a few years earlier, identifying employee activism as an opportunity to engage employees internally. Would you rather see employee activism as a PR problem to be solved or a marketing opportunity to leverage?
Particularly in B2B, the most effective CMOs work with sales, customer experience managers and brand leaders to create a cohesive, positive and lasting image for their organization.
Breaking through the noise with a limited budget means taking a holistic view of your brand. For CMOs, this is exactly what employee advocacy can help with.