As marketers, we have our hands full with an array of different marketing channels.
Trade shows, display advertisements, social media, podcasts, the list continues. It can feel like we're keeping up with the Joneses. Not only do you have to choose the right channels but you also have to create attention-grabbing content for your ideal buyers.
So, how do you find the right channel to communicate your company's value to the right audience? And which channels can provide the best reach and engagement?
Today, empowered buyers have access to a lot of information and choice. Competition is stiffer than ever and customer expectations are growing. Standing out amongst giant brands requires carefully selecting the right marketing channel.
Your best marketing channel is actually going to be your own employees. When your employees are engaged with the brand, they're actually a great approach to reaching the right buyers. By leveraging employees are a marketing channel, you're placing your employees at the core of your business strategy. Engaged employees can become your brand's best micro-marketers who can reach buyers and engage with your brand purpose.
Content shared by employees receives 8x more engagement than content shared by branded channels – opening up your brand to engage with the right buyers. While content shared through employee social networks can mitigate declining organic reach on social media and can drive more meaningful engagement with buyers.
Why employees are your best marketing channel
Word-of-mouth has been a mainstay marketing strategy and it's more effective today because of the connectivity on social media.
Have you ever looked up a review for a restaurant? What about looking at reviews of a kitchen appliance to see if anyone has had any experience using it? Or, how about asking questions to your peers on social media about what new trends they're following? Or looking at platform reviews on websites like G2 to see customer testimonials?
We do this because we trust the opinions of other people. Buyers are inundated with an endless sea of information so they rely on the voice of their peers they trust.
Traditional forms of marketing don't work with most digital and social channels. People don't want to read about your product but they'll read about the stories from the people they trust. They don't want to read articles about your company but they'll consume useful information provided by people they can rely on.
Not every employee can be a famous social media influencer.  However, the collective social networks of your employees can significantly impact your brand awareness. If your marketing approach involves your employees, you'll need to have a formalized employee advocacy strategy that taps into their collective social networks. The relationship between marketing and employees is increasing as more buyers turn to social media to connect with your business.
The benefits of employees as micro-marketers
Engaged employees are most likely to get involved in social media on behalf of your brand. As a benefit for employees, they have the opportunity to build a following and contribute to the brand mission. If you're not already activating your employees as micro-marketers, here's why you should:
1. Employees can amplify brand content and company message.
Engaged employees who share the brand message want to get involved in something meaningful. You're inviting them to share the company's mission and message. You're inviting them to advocate on behalf of the brand which can amplify your marketing message. Brand messages shared by employees on social media have a 561% higher reach than the same message shared by the brand's social media channels.
2. Employees can add a human touch to their interactions.
Democratizing your brand allows your be own the brand and not just your organization. Employee interactions on social media are authentic and real because it's from one person to another instead of the brand. By having employees advocate on social media, your corporate brand becomes more than a logo or a tag line.
3. Employees can engage their audience in a more meaningful manner.
People want to engage other people who are just like them. Earlier this year, the Edelman Trust Barometer uncovered that trust has changed in 2019 and most notably through activating the employee voice. They found that technical experts and "a person like yourself" were seen as very or extremely credible sources of information.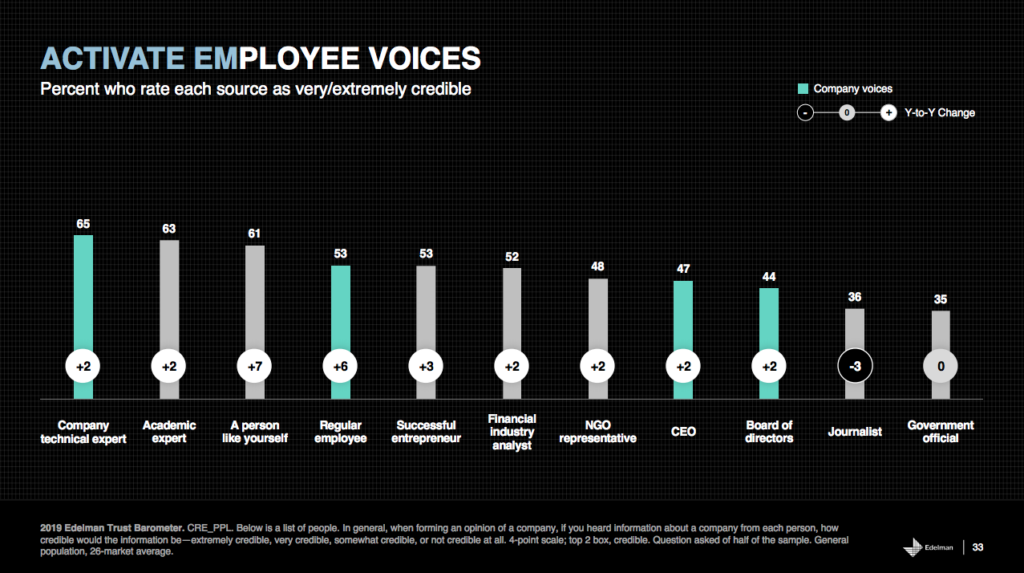 Are your employees ready to get involved?
Now that you've reviewed how employees can become micro-marketers, it's time to activate them on social media. Buyers have an unlimited, and often noisy stream of information right at their fingertips. Making it difficult to break through the noise and connect with them.
Employees as micro-marketers are more authentic and more human allowing your organization to reach and influence the right buyers.
Learn more about empowering your employees to be micro-marketers in our next webinar, Brand You: How to Turn Employees into Micro-Marketers. Join Christine Ufniak, Director of Marketing at Carlson Wagonlit Travel and find out how she gets her employees to build their personal brand on social media. You'll get a behind the scenes look of how one of the largest travel brands successful does employee advocacy.