COMPANY: GOCARDLESS
LOCATION: LONDON, UNITED KINGDOM
INDUSTRY: INFORMATION TECHNOLOGY AND SERVICE
GoCardless is a global leader in recurring payments. GoCardless' global payments network and technology platform take the pain out of getting paid for businesses with recurring revenue. GoCardless works with a range of businesses from SMBs to multinational corporations, like TripAdvisor and the Guardian.
As the Social Media Manager, Phoebe Lebrecht leads the global organic social media and employee advocacy for GoCardless. Her day is spent overseeing the content posted to their corporate social media channels. She also works on aligning with different departments to make sure they're using social media for employee advocacy, employee branding, promoting the brand, and launching product updates. Her goal is to make sure their content resonates with a wide-ranging audience on social media.
Getting Employees to Spread The Brand Message
GoCardless is scaling quickly. Just this year they were also gaining a lot more media coverage for their funding announcement, company success, and new customer stories. They were creating a lot of buzz surrounding the company, but they were missing a core piece of getting their message out on social media. "We were just not harnessing our employees to help spread that message." said Phoebe.

Manual and Time-Consuming Process
Phoebe realized there was an opportunity to enable their employees with social content. Her manual process prompted her to start their initial employee advocacy efforts through a fairly manual process. Phoebe had to send documents with multiple prewritten messages and trackable links to employees through email. Employees would have the option to choose what to share. They would then copy the message and paste it to their social networks to share it out. The process was time-consuming, tedious, and unscalable for both Phoebe and the employees.
Losing Attribution Data
Any results were manually tracked by following people on social channels and using Google Analytics to track website visitors and lead conversions. If you asked Phoebe, how much time she spent with her manual process? She'd immediately answer, "too much." The risk of losing out on attribution data was also far too significant. When an employee shared a piece of content without a trackable link, there wouldn't be a way to attribute a new lead converted on the website.
Core Business Challenges
Increase brand awareness on social media.
Time-consuming and unscalable process for employee advocacy.
Missing attribution data from content shared by employees.
Searching For a Scalable Solution
Their initial results proved that employee advocacy on social media worked. Phoebe and the team quickly recognized employee advocacy was going to be a large part of their social media strategy. "We wanted to expand beyond our original audience, as we scaled internationally as well as targeting new industries." said Phoebe. With hundreds of employees active on LinkedIn, there was a massive opportunity to harness their networks and communicate with an authentic voice.
Phoebe read a lot of content and researched several different solutions that could fit the needs of the company. Eventually, this led her to several conversations to learn more about the different solutions available.
Both the Sales and Marketing teams planned to be the first group of participants. They responded well to a competitive atmosphere, so gamification was a necessary component for their employee advocacy program.
There wasn't any time for the lengthy process, so a simple and easy-to-use experience was necessary for both the program admins and employees.
Why PostBeyond?
Phoebe's search led her to PostBeyond's employee advocacy platform. What stood out to her was PostBeyond's dedicated focus on employee advocacy. She and the employees responded well to the platform's clean user interface and ease-of-use.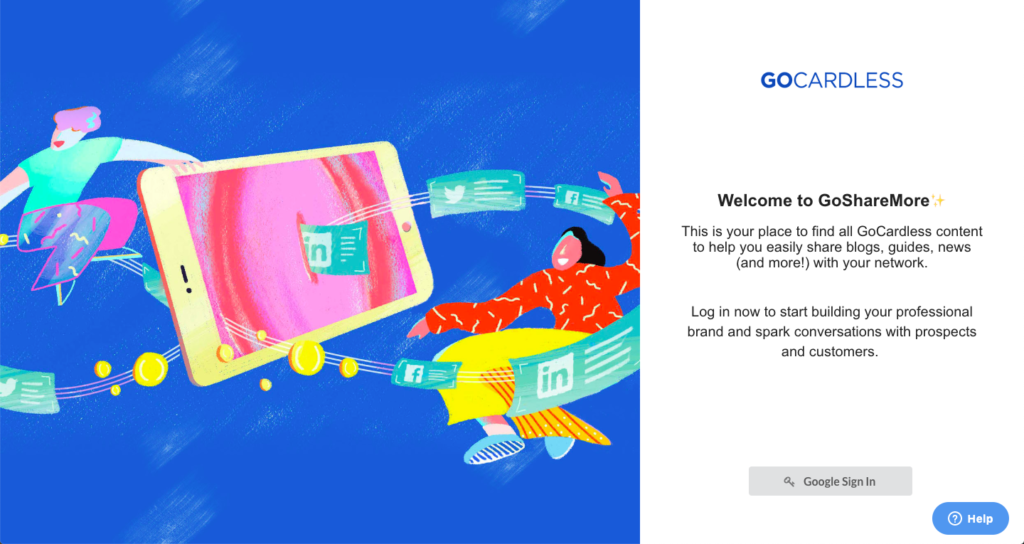 Robust reporting and analytics were also a need-to-have. PostBeyond's quarterly benchmark reviews were simple to understand, and they provided context to how the company compared to their industry peers. "Reporting has encouraged people to contribute because they're able to see the content they've produced. It has given everyone a boost in their personal brand and the confidence to create content." said Phoebe.
They use Google Analytics and specific UTM parameters to understand what content shared from PostBeyond resonates the most. They can now track website visitors and leads generated and attribute results back to the piece of content shared and from which employees. By partnering with their dedicated Customer Success Manager, the team has someone who can provide a helpful hand. Their CSM walks through results, provides best practices, and helps improves the program's performance through a metrics-driven approach.
"Our Customer Success Manager has helped us from the ground up. She supported us through the process by helping us with our training, giving us great guidance on setting initial targets and how to communicate with different teams."
– Phoebe Lebrecht
Now, there is a streamlined process for employee advocacy after implementing PostBeyond. Phoebe collaborates with other program admins on how their efforts are performing and to determine what content to send to specific geographies. They've also been working with PostBeyond by providing feedback on product enhancements "It has made us feel as though we're a part of PostBeyond's future."
The three main reasons Phoebe decided on PostBeyond were:
User Experience
Reporting and Analytics
Customer Success and Support
Becoming a Social-Connected Company
In the first 30 days, the GoCardless program called "GoShareMore" helped increase their brand mentions as well as website traffic which aligned with their Series E funding announcement. Their employees amplified their brand on social media which helped increase media exposure for the company.
"We've seen amazing reach for our articles, and we've seen brand mentions, but the most notable metric for marketing is when we see new leads come in through Salesforce that came through PostBeyond. We look back and can say that this platform is making a difference."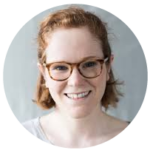 Phoebe Lebrecht
Social Media Manager
It wasn't long until employees caught wind. They started asking questions about employee advocacy and where other employees were finding content. The employees craved more content which created an organic buzz internally.
Now they have more employees using it and providing feedback on what content to have. "There's definitely energy around it and we're becoming a more social-savvy company." said Phoebe. The "Go Share More" program has garnered interest from social-savvy employees, interested employees, as well as executive leadership.
Results
GoCardless currently ranks among the highest-performance customers. Their employee advocacy program excels in the percentage of active users, the rate of users sharing regularly, the numbers of users suggesting content, and the percentage of the personalized posts.
The amount of web traffic generated from LinkedIn through PostBeyond also exceeds the traffic generated through LinkedIn organically.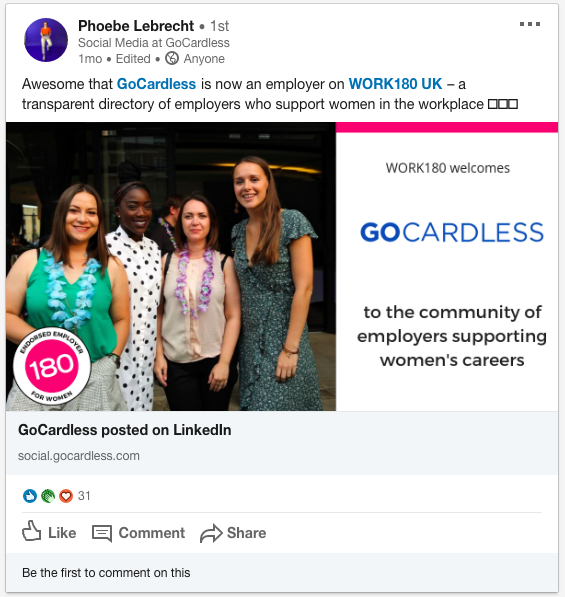 After one year of launching its program, the company is quickly becoming a socially-connected company. How are they performing against their goals? Here's what they've accomplished in the past year:
Adoption: 67% of active employees sharing content.
Total Reach: 1,000,000+ in potential reach on social media.
Total Interactions: 7,500+ likes, comments, and reshares per month.
Total Click-Throughs: 17,000+ click-throughs.
Website Traffic: 139% more website traffic compared to organic social media.
What's most important is the time saved for the program admins as well as the employees. The company has said goodbye to the manual and long-consuming process they once had. They're now scaling employee advocacy across their organization, enabled by PostBeyond.
Scaling Employee Advocacy Across The Company
In year two of their program, GoCardless has set the goal to scale employee advocacy across the entire company. Executive leadership is bought-in and they see the value.
The company's onboarding process will now include employee advocacy. They're creating foundational documentation to ensure everyone knows how to sign up and use the platform. Guidelines for content creation suggestion ideas are being created. These guidelines will remove the barriers for GoCardless employees to share content, and continue building their personal brands.