About The Travel Corporation
The Travel Corporation (TTC) is a Travel and Leisure Group operating in over 60 countries with 35 offices around the world, more than 10,000 staff, and serves over 1.5 million customers annually. Dubbed "The Biggest Travel Company You've Never Heard Of" by Forbes, it comprises 30 successful travel brands. The brands are independently managed and comprise of tour operations, hotels, and river cruise ships.
The Backstory
TTC is a longtime partner of PostBeyond, with Trafalgar Tours and Insight Vacations having used the platform for 3+ years. In both cases, these brands have global teams that run luxury tours across the world.
Social media is an incredibly important channel for TTC brands to connect with past and prospective travellers. Dan Christian, Chief Digital Officer, shares his insight on why employee advocacy is an important part of their digital strategy:
"We want our travel directors to lead from the front of the coach. We saw an amazing opportunity to get them active on behalf of the brand to highlight our amazing travel experiences on social media."
As TTC and PostBeyond have collaborated on program strategy, three main challenges emerged that needed to be overcome:
Enabling Distributed Teams: In travel, content moves quickly. From blogs to videos to new product launches, curating all of this content and keeping travel directors in the know was a challenge for TTC. Not only that, employees have multiple devices, specialize in different areas of travel, and are always on the move. In this environment, email and intranets aren't always conducive to consuming content, let alone sharing to social media.
Employee Guidelines: Keeping employees on-brand and on-message is key for the TTC brands. The TTC team would consistently hear feedback that their employees wanted to share, but they weren't always sure what (or if) they were allowed to share. Their teams needed consistent social media guidelines and processes to help them scale social advocacy.
Tracking & Incentives: Amongst the TTC's travel directors, there were many who were sharing on behalf of their brand on an ad-hoc basis. This posed a challenge for Dan and his team – how could they track consistently incentivize their team and track the impact of their sharing? Doing so without a system in place was too cumbersome for his marketing and digital teams to manage.
The Solution: Social Content Hubs for each TTC Brand, powered by PostBeyond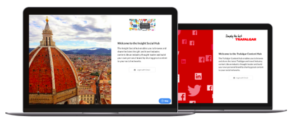 PostBeyond powers 5 different employee advocacy programs for TTC, including for its flagship brands Insight Vacations, Trafalgar Tours and Uniworld. In this webinar, hosted by PostBeyond, Dan Christian shared some of the success that TTC has seen and his vision for the future of the partnership.
"PostBeyond helps our employees scale social media sharing in an authentic way, driving inbound traffic that leads to new business opportunities for our brands. PostBeyond has been an amazing partner – both from a technology and services perspective – helping us showcase the incredible experiences that our employees and guests are having." – Dan Christian, The Travel Corporation
Program Results
Social Media Knowledge & Best Practices
Each PostBeyond program is positioned and launched with an employee-first view. To help TTC employees understand the "what's in it for me" for employee advocacy, custom training materials like the ones below are created. These materials are circulated after kick-off webinar training and can be used to quickly onboard new users as the program grows. The training and education are crucial to the long-term success of the program.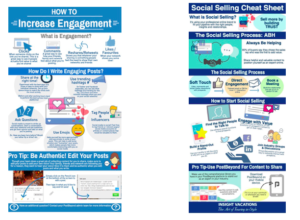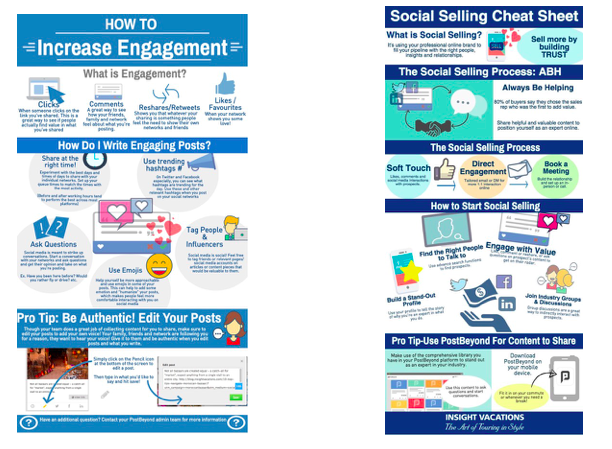 Building Social Champions
Many success stories have emerged of TTC employees and travel directors leveraging social media to showcase their expertise. One of the best examples of this is @InsightTim, a travel director for Insight Vacations who has built a large following and is one of TTC's most active PostBeyond users. An Australian living in Poland, Tim uses the PostBeyond app to access and share Insight's content on the go as he travels through Europe.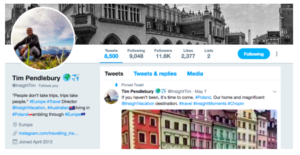 Another great success story is Marie Anne MacRae, who consistently tops the leaderboard for Trafalgar Tours. Marie Anne is both a user and an administrator of the Trafalgar program; she helps make sure there is a steady stream of trending content on the platform for her teams to share: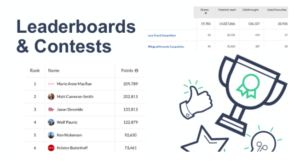 "I subscribe to a lot of travel newsletters and I'm always looking for what's trending. With PostBeyond, I can easily curate trending content to push out to our teams. The platform automatically pulls in featured images and captions for new posts, which is really convenient and saves me a ton of time."
Content Amplification

TTC has been incredibly successful in amplifying their message through employees. With just over 100 advocates, Insight Vacations generated more than 38,000 content shares and nearly $1M of Earned Media Value.
Top Keys to Employee Advocacy Success from TTC
Executive buy-in and reinforcement: the importance of employee advocacy is reinforced by the executives of each brand on a consistent basis. This is a consistent theme across most top-performing PostBeyond programs – if executives lead from the front and actively share themselves, employees are more likely to buy-in.
Sharing best practices across brands: since TTC has multiple brands using PostBeyond, their teams are able to report on successes and share best practices on monthly digital team calls. This network effect has helped TTC improve their content strategy, refine their training and launch process, and establish consistency for how programs are measured.
Themed hashtag content: one key to success has been amplifying social campaigns with specific hashtags through employees. Each TTC brand has hashtags that they use to promote their tours and travel experiences – as new content is developed to promote these tours, TTC employees can easily drive awareness and brand recognition by sharing through PostBeyond to their personal networks.