If you want to increase employee advocacy adoption and engage your audience on social media, then it's time to take a data-driven approach. We analyzed over 378,000 social media posts to uncover insights, patterns, and best practices to help optimize your employee advocacy strategy.
Follow these four best practices to turn your employees into advocates.
1. Personalize Your Post Before Sharing
Personalizing your content for your social media connections and followers is a best practice to generate higher engagement per post. Based on analyzing the content that was shared by customers, we can see the difference personalizing the social caption makes for a piece of content.
Personalized social media posts generated 64% more engagement than generic messages. The data showed that personalized posts generated, on average, 7.9 interactions such as likes, comments, reshares and retweets versus 4.8 interactions per generic post.
Social media posts should be shared with your employee's authentic voice in mind. Personalized posts reflect thought leadership and personal brand. Being authentic and personal with your social media connections also creates trust. Your employees should personalize posts differently for each network in order to fully engage with each audience.
In most cases, many employees should pose a question about the content, use a quote or provide their own thoughts. This often impacts how much engagement each post receives.
2. Best Times to Share on Social Media
Since we have multiple customers across different geographies, we aggregated the data for all time zones by using the timezone that the employee selected.
We found that the best times to share or queue content is 7 am and 2 pm. Definitively, these two times are the best performing for engagement regardless of the day. This was followed up by: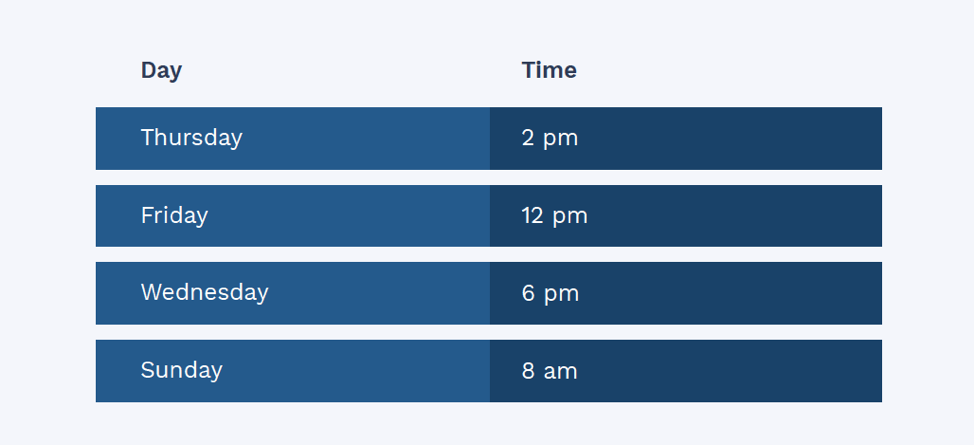 3. Email Updates Engage Employees
We've seen significant increases in user activity whenever an email update goes out in every other program. It's a great way to remind users that new content has been added to the platform and as a result, increase adoption.
One global management consulting firm sends emails on a weekly basis to inform their employees of new content and update them on any competitions they are holding. These weekly email updates have a strong correlation with weekly active users, weekly users sharing, and the total number of shares weekly.
Start by sending Email Updates on a weekly basis and based on the feedback you get from employees, you can either increase or decrease your cadence. There are some programs where employees have asked for daily email updates, whereas other programs prefer a monthly update.
4. Gamify the Employee Advocacy Experience
Gamification is a proven method for increasing employee participation. It also encourages users who are not that active to log-in and share content to win an incentive. For companies with a large sales team involved in the program, having a leaderboard is a great way to promote friendly competition.
Diversify the contests you run to include themes such as Most Improved User, Most Engaged User, User Driving Most Traffic to the Website, Winner gets picked from Top 5 users on the leaderboard, etc.
Turbonomic, a fast-growing technology company. started a contest six months after their initial program launch to re-engage employees.
During the contest, active users spiked to almost launch levels at contest period inception (86%). As a result, the contest generated:
The highest number of users sharing ever
The highest number of shares ever
The highest number of interactions ever
Use Data in Your Employee Advocacy Approach
These four data-driven best practices can improve your overall employee advocacy strategy, which in turn will create higher employee adoption. Focusing on personalizing posts, as opposed to generic messages, not only establishes your employees as thought leaders, but it also increases the reach and engagement of your content.
Download the cheat sheet, 4 Data-Driven Best Practices for Employee Advocacy to learn the top techniques for employee advocacy, and get quick action items that you can use right away.