If you're like a lot of marketing teams out there, your martech stack is downright cluttered.
Last year, we pointed to the annual Martech 5000. Chief Marketing Technologist Scott Brinker reported that there were 5,381 marketing solutions. In 2019, the number of solutions had risen to 7,040.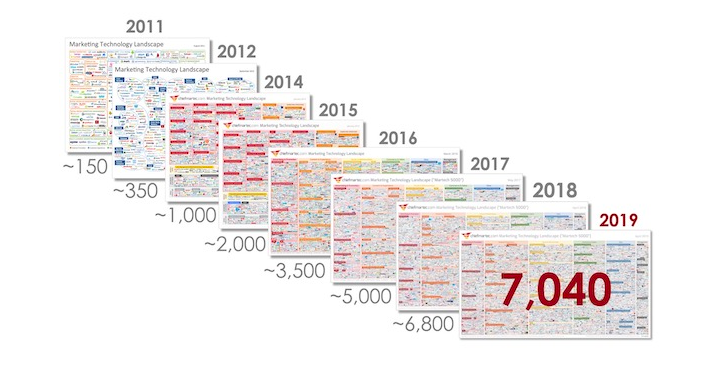 Granted, you are not necessarily buying new software as fast as the industry is growing.
But there are constantly new developments and trends — an internet without cookies, greater cross-channel personalization, AI — that take hold. These changes mean you constantly need to be on the lookout for the best software.
With that, your martech stack has probably grown or shifted. This is not a bad thing. All of these solutions can enable your team to run amazing campaigns.
However, the downside is that adding new software solutions to your stack creates data silos and inefficiency. When faced with the reality that it is time to consolidate your team's stack, you probably need to answer the classic question:
Do I go with a tool that does something amazing or do I use a tool that promises it all, but probably can't do what I need most, particularly well?
Gartner research found that brands that preferred best-of-breed tools reported using more of their martech stack on average than those who relied on an "integrated suite approach." According to Gartner, forty-eight percent of best-of-breed buyers report their martech meets current business needs, compared to just 27% of integrated suite buyers who say the same.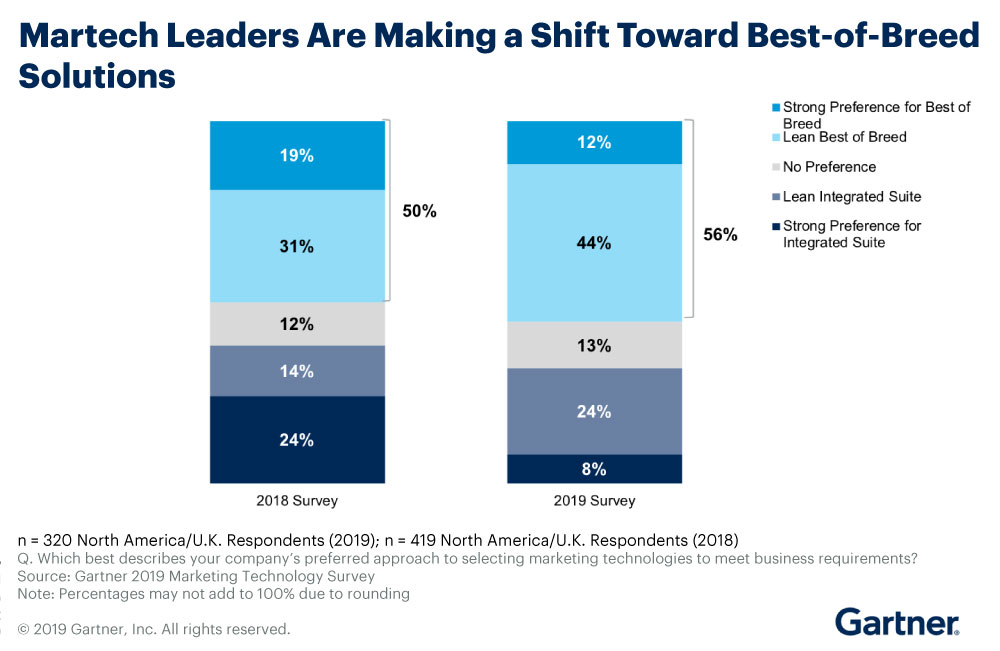 At the same time, 200 martech companies have pledged to shift the martech ecosystem away from the CRM-based approach.
When weighing your different options, are you ready to shift away from a primarily full-suite approach to create your own best-of-breed strategy?
Each marketing strategy requires a different tool
Your daily solutions all depend on your strategy.
Marketers have access to a wide range of tools that offer a single view of customer relationships, touchpoints and campaigns.
Marketing automation tools, in particular, enable beautiful email campaigns, multichannel marketing, personalization and integration with sales tools.
But the reality is that many marketers have a love-hate relationship with their marketing automation platform. They can be clunky, they offer things marketers don't know how to do or don't really need to do and their features can lack the quality a marketer would expect in 2020.
On the other hand, there are marketers who specialize in very niche fields of marketing and don't need these full-suite tools at all. They only rely on best-of-breed solutions.
It really depends on what campaigns you are performing, what metrics you are tracking and what converts leads into sales.
Full-Suite vs Best-in-Breed Solutions
Full-suite solutions let you do it all, while best-in-breed do one aspect of your work spectacularly. Which tools best suit your team?
Full-Suite Solutions
Full-suite solutions let you do a wide variety of automated tasks at scale.
Marketing automation platforms, for example, let you manage your website while facilitating email, social, and SMS campaigns. Some solutions are complicated and require skilled professionals to implement the tool. Others come out of the box and offer plenty of support to get set up quickly.
Many B2B brands require complicated solutions like: Marketo, Salesforce Pardot, or HubSpot.
Other solutions that offer a full marketing platform include vendors like:
Eloqua
MailChimp
Adobe Campaign
Klaviyo
Full-suite social media management tools enable marketers to manage all things social media. They feature: social listening, scheduling and posting, responding to comments or messages and analytics.
Some social media management or internal communications platforms do offer employee advocacy tools but as a side feature rather than a dedicated function.
Pros of a Best-of-Suite Solution:
Many features in one platform
Integrated data across the workflow
Consistency (Workflows, buttons, visuals remain familiar across features because they are designed by the same vendor)
Less vendor contract management
Cons of a Best-of-Suite Solution:
Less functionality in certain features
Less customizable for your unique strategy
Likely to need additional solutions
Less in-depth analytics and reporting functionality
Less specialized focus and training
Best-in-Breed Solutions
This option lets you build your martech stack with solutions that fit your company's specific needs. Instead of relying on one solution to do the bulk of your work, you can customize your solutions to fit your strategy perfectly.
Vendors that develop best-in-breed products create advanced products that can do a limited amount of things really well.
Pros of Best-in-Breed Solutions:
Build your own martech stack based on your needs
Don't pay for features that you don't use
Enhanced strengths that align with your company's marketing strategy
A dedicated focus from the companies you're working with
Expertise from the solution's team
Robust analytics and reporting
Easier to scale
Cons of Best-in-Breed Solutions:
More vendor contract management
Having to learn new solutions
Data silos
Need integrations with different tools
For employee advocacy, best-of-breed wins
Employee advocacy is a very specific strategy in the middle of your other marketing campaigns. It requires intentionality, tailored tools and support from experts.
Employee advocacy may be supported by other social media management tools. However, with full-suite solutions, employee advocacy is a side-feature. It is not the principal function.
On the other hand, best-of-breed employee advocacy solutions devote all their resources to solving this business problem.
With a vendor that solely focuses on employee advocacy, you will see the following benefits:
Dedication To A Core Problem: By focusing on a single problem, best-in-breed tools can devote more resources for tailored solutions.
Enhanced Strengths: Technology solutions with a single function typically provide more robust analytics, specialized customer success teams and a better user experience.
Scalability and Flexibility: Technology solutions are aware of industry trends, the future of employee advocacy and how to grow your program. They are present and aware of your program's objectives to ensure they're aligned with your marketing goals.
Focused Expertise: Technology solutions that focus on employee advocacy dedicate their expertise towards one specialty, and do that one thing very well.
Interested in learning more about mobilizing your employees to be your brand's best advocates on social media? Download your copy of the Blueprint to Employee Advocacy.