I've spoken to a ton of marketing leaders and Social Media Managers over the past 3 years and when it comes to social media and social selling strategies, one of the biggest challenges I hear is around attribution.
Despite the plethora of analytics and CRM platforms that exist, marketers still have a hard time tying social media activity to revenue. For those who have felt this pain, I hope this story will provide some inspiration.
In October 2017, a few sales leaders at PostBeyond were challenged by our CEO, David Lloyd, to lead the ideation and execution of a webinar. A worthwhile challenge as today's best salespeople need to be thinking like marketers. Each of us was assigned a target industry, deadline, and we were off.
For the majority of 2017, I had been leading the Travel & Leisure vertical for PostBeyond so that became the focus of my webinar. As I began brainstorming the tagline/hook for the session, I had to consider what would make the webinar successful. Should we share travel industry trends? Product features? Should it be more educational or more of a pitch for our product?
The anchor I landed on was social proof; showcasing a customer case study. People don't want to give up their time to hear more theory — it needed to be real and tangible.
But who would we showcase? We're lucky to have many successful customers in the travel space, so I was able to collaborate with Dan Christian, Chief Digital Officer at The Travel Corporation, on the topic for the webinar: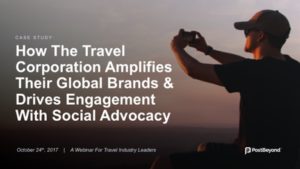 With the topic and date set, I got started on the framework of the presentation, but my biggest concern wasn't the content. Like all marketers, I was worried about driving awareness, sign-ups, and attendance.
"Employees as a Channel"
If you are spearheading a marketing event like a webinar, you're likely thinking about what channels you can use to drive registrations. Common channels include:
Email marketing to your database
Promotion on your branded social media channels
Sponsored ads on LinkedIn, Twitter, etc.
Co-marketing with partners
All of these were part of my promotional strategy for this webinar, but I had one secret weapon that drove nearly 1/4 of our total signups. My team.
In our referral-based world, people pay attention to content that comes from those they trust. Case in point, if you are reading this blog, it is likely because one of your connections liked, shared or commented on it.
So I focused on employees as a marketing channel, tapping into my personal network and the networks of my team to help spread the word about the webinar.
Driving Registrations with PostBeyond, Vidyard, and Pardot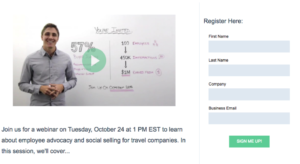 At PostBeyond, we use Pardot for marketing automation and Vidyard for video marketing. For the webinar, we set up the landing page above and I filmed a quick whiteboard video to help drive conversions. I'm a big believer in the power of video when it comes to communicating value.
Once the landing page was set up, we needed to set up a custom redirect in Pardot before asking our team to promote: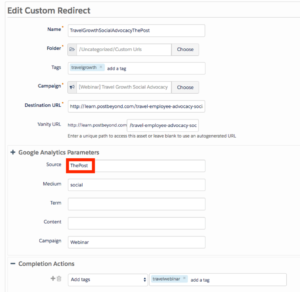 The custom redirect is the link we encouraged employees to share to promote the webinar. By setting this up in connection with Google Analytics, we were able to track which registrants signed up through shares from The Post, our internal instance of PostBeyond.
Next, we set up a number of shareable posts in PostBeyond: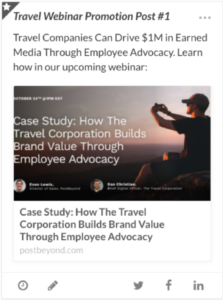 *Note: we experimented with a few different webinar titles.
With one click, our employees could share the webinar registration page with their social networks. We also encouraged sharing through our built-in email updates and our mobile apps.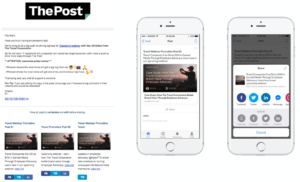 Personally, I like sharing through the desktop application and editing my captions before I push them out.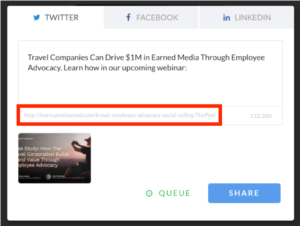 The image above is The Post editing window in PostBeyond. Note the custom redirect link from Pardot for The Post.
Naturally, I was excited to share the webinar and so was our sales team. To get everyone amped up, we did a power hour with Natalie (PostBeyond's Director of Inside Sales) and the Account Development team where we identified top accounts and influencers we wanted to invite. Within the editing window above, each ADR would @tag their prospects on Twitter to directly tweet them an invite using PostBeyond.

As you can see, this power hour and push from our employees worked wonders; we had 796 clicks on links they shared. Looking back 4 months later, one share, in particular, stands out…
Tying Sharing to Revenue with PostBeyond, Pardot, and Salesforce
Given that I was co-hosting, I was excited to share the webinar with my networks. The day before we went live, I shared the following post on LinkedIn through PostBeyond.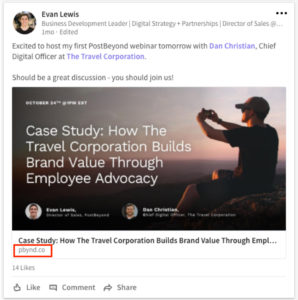 This is the message that popped up on Dan's feed and he reshared to his networks. It is important to note when Dan re-shared my post, the PostBeyond shortened link [pbynd.co] was kept intact.
Then something amazing happened. Someone in Dan's network, a digital leader at another travel company who had never heard of PostBeyond, took notice. She clicked on his post and registered for the webinar through our Pardot landing page.

This person was then put on a Pardot list specifically for leads that originated from a PostBeyond share.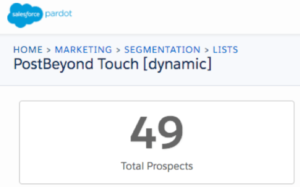 In total, we ended up with 60+ registrants from over 40 different travel companies. We received a ton of great feedback on the content and I breathed a huge sigh of relief that the webinar went off without any technical difficulties.
But we didn't stop there…
After the webinar, our ADR team followed up with the digital leader who attended the webinar. She enjoyed the content and wanted to explore how her team could benefit from PostBeyond. After an intro call, a demo call was booked on my calendar and this opportunity was passed to me in Salesforce.

Because we have Pardot integrated with Salesforce, the Primary Campaign Source for this opportunity was directly attributed to a "PostBeyond Touch" (aka my LinkedIn share promoting the webinar.)
And as you probably guessed, a few months later, this one social share turned into a $23K CAD closed deal.
This is just one of many success stories that can materialize from employee advocacy. By integrating a platform like PostBeyond into your marketing technology stack, you can get one step closer to closing the loop on social media's impact on revenue.
To learn more about PostBeyond, request a personalized demo.