Do you prefer seeing content from people or companies?
Just over half of Fortune 500 CEOs have some kind of social media presence — but the bigger headline is that nearly half don't.
Of those with a social presence, the vast majority focus their attention on LinkedIn; only 14 percent of socially active CEOs have a public Twitter account despite the platform having more active users.
Executive buy-in and support is a key indicator of success for an employee advocacy program. In fact, great programs are defined by executives leading from the front and setting an example for employees. But these numbers show there's still a long way to go to true executive activation.
Social media managers may be looking for a way to get their executives on board with a social presence — both personal and organizational. Executive teams may see the importance of activation on social media, but not quite know how to take action. Either way, executive activation may be the missing piece to your social media advocacy plan.
Brand advocacy should be organic, not incidental
You have your social media strategy in place and your content calendar set up — now it's time to activate it. How can you be sure your message has the farthest reach and the most engagement?
Research shows that people trust people more than the brand, like it or not. Even if your CEO and CMO are saying the same thing as your branded content, their personal posts are likely to land and stick better.
The question is, how do you loop your executive team into this activation?
Executive activation on social media isn't about some lackadaisical, personal offshoot. It's about using your executive's network and know-how to amplify your brand on social channels.
At the end of the day, brand advocacy is personalized, not personal. It's organic, not incidental.
Take it from a leader. "Embracing social media isn't just a bit of fun," Virgin Group's founder Richard Branson said nearly a decade ago. "It's a vital way to communicate, keep your ear to the ground and improve your business."
That was in the earlier days of social media before social content became core to any marketing stack. Now it's more critical than ever. Today, 3 out of 4 consumers say a company is more trustworthy if its high-level leadership participates in social media.
Executive activation on social media builds brand trust, solidifies your brand's presence and can even establish your executive as a thought leader in the space.
So what does it look like in practice?
Executive activation in action
Advisory firm Brunswick scored nearly 800 CEOs from top US and UK companies, highlighting the most engaged executives.
Three frontrunners show what kind of reach executive activation on social media can have.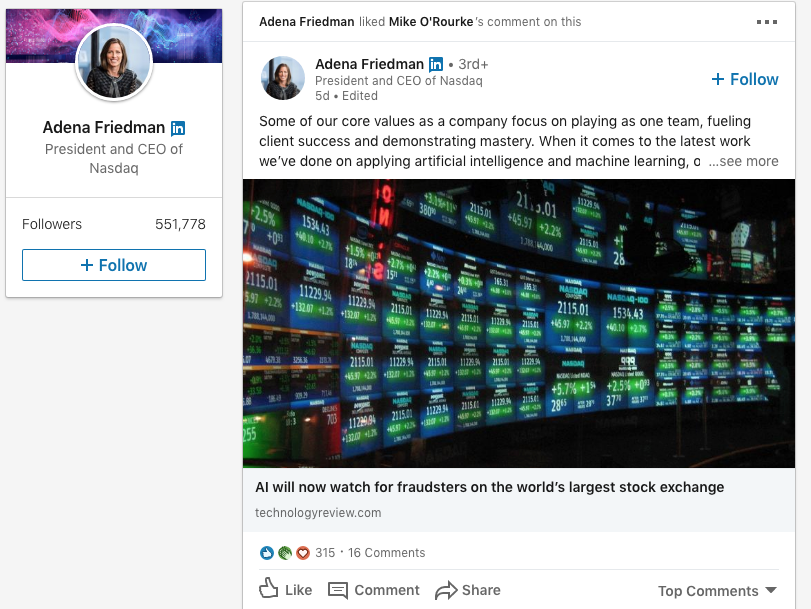 Adena Friedman, President and CEO of Nasdaq, is particularly active on LinkedIn. With over half a million followers, Friedman uses the platform not just to toe the company line by consistently resharing Nasdaq posts, but also to engage the community as a thought leader in FinTech.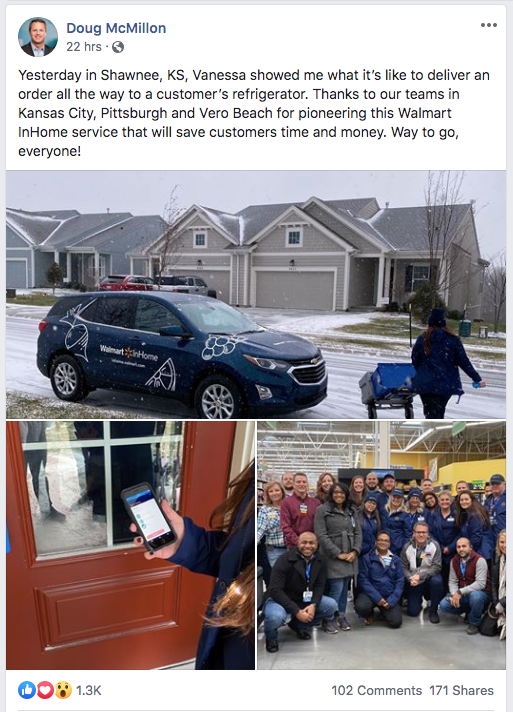 Walmart CEO Doug McMillon tends to keep the focus on the consumer. Instead of his executive role, his 'About' section highlights McMillon as a husband, father, Razorback and "Walmart associate." The community-oriented post is just one example of how McMillon's social media activity supports Walmart's brand image.
"Doug McMillon's ownership of social media has changed the game for this company," one Walmart employee told the Brunswick researchers. "He understands that it connects us, drives us, and builds morale within the store. His presence gives that extra 'spark' we all need."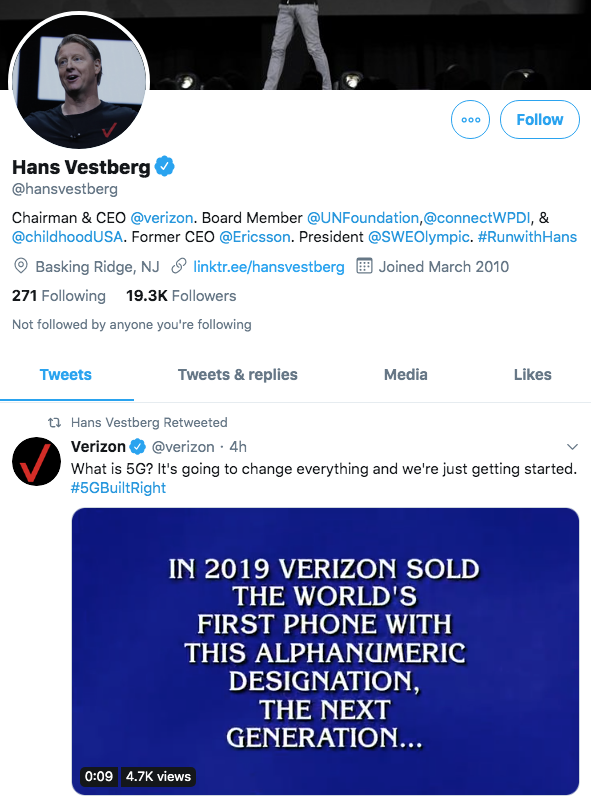 Hans Vestberg, Verizon CEO, has a simultaneously effective and entertaining Twitter feed. Posts include everything from conversations on 5G and the Disney+ launch to a casual photo of his run in DC ahead of the company's Q3 earnings call. Even the light content carries weight, like his retweet of Verizon's #5GBuiltRight post.
If these executives-in-action exemplify anything, it's that there is no hard and fast rule for getting started in C-level brand advocacy.
It can be light (retweeting Verizon's Jeopardy reference), sincere (McMillon's community-oriented Facebook post) or strategic (Friedman's positioning Nasdaq to speak to topical tech tools).
No matter what form it takes, executive activation on social media can translate into a wider brand voice and better employee advocacy. "Encourage your team to create their own social presence to promote content and increase overall brand trust," writes Bridget Poetker, Senior Content Marketing Specialist at G2. "This tactic leads to an authentic voice for your company."
Even better, encouraging your executive team to engage on social media can turn this brand voice into a conversation. "Twitter chats help create a strong sense of community through content, bringing thought leaders from all areas together in a real-time conversation," Poetker concludes.
Like Friedman, McMillan and Vestberg, social media advocacy is something executives should both be taking to heart and modeling to the entire organization.
Get started with executive-level brand advocacy
There are plenty of obstacles in the way of and objections against employee advocacy, let alone executive activation. You'll need buy in, a workable strategy, and the bandwidth to actually take it on.
If you're getting resistance, do your research to find the ROI linked to executive activation on social media. If you're struggling with strategy, create a content calendar that requires executive action. If you can't quite find the time, use the tools that will make social media an opportunity, not a drag.
For getting started, keep three guiding principles in mind:
Make a concrete plan — now is not the time to keep it casual.
Give your leadership the tools they need. Will they need drafts? Will someone need to manage it completely? Mix it in (and mix it up) with the content calendar.
Establish the voice. Will it be personal, professional, or something in between? If you have multiple people working on the project, how will you keep on message and within a consistent voice?
Finally, don't forget to set up your metrics. Set specific goals around brand awareness, engagement and audience. Which metrics you land on will depend on what you're hoping to get out of executive activation on social media; do you simply want people engaging on a post or actually visiting a particular piece of content? After a set amount of time, compare before and after with your core question front and center: what does engagement look like on executive posts versus branded posts?
Remember: you're not just slapping your CEO's name on branded content. Let them be as involved as they want to or be, and (most importantly) be sure it's consistent.