While employee advocacy has garnered a lot of attention recently, it has also been surrounded by a mist of skepticism.
There are doubters who wonder whether the strategy plays a pivotal role in increasing a brand's thought leadership or if it's as easy as its supporters say it is. Certainly employee advocacy is not a walk in the park, however, the common misconceptions about surrounding it can be debunked.
Read below to find the seven most common misconceptions about employee advocacy. Based on our customers and our analysis, here are the best practices that address each misconception that's holding your organization back from benefiting from an employee advocacy program.
1. "Our employees don't have time to be active on social media"
Social media often gets a bad rep for being an unproductive distraction in the workplace. It's no wonder many employers are reluctant to have employees embrace social media.
Large companies are much more likely to either discourage or not permit their employees to be on social media. Our findings align with these trends: while 70% of employees can use their mobile devices at work, only 57% are encouraged to apply mobile work apps on their devices. Large companies (over 5,000 employees) are less likely (67%) to allow their employees to bring their device (e.g., smartphone) to work (67% versus an average of 77% for companies in the 501- to 5,000 employee range).
However, employees can use social media at work for pragmatic productivity reasons. One of the most popular uses is a problem-solving tool to find the latest information and ideas, allowing workers to explore novel approaches to the challenges they face according to 2018: The Year of Social Advocacy.
Sharing content to social media does not have to be time-consuming with a streamlined process. Multiple program admins and content creators can be are tasked with curating all the content for different employee groups. Instead of searching for their own content, employees can access an array of content that's available to share.
With a streamlined employee advocacy platform, sharing content shouldn't take more than a few clicks, or even better, queueing all your content for the week should take 15-30 minutes during your week.
Employees don't need to share every hour of the day. Luckily, we've done all the work for by uncovering the best times to share content on social media. These times include: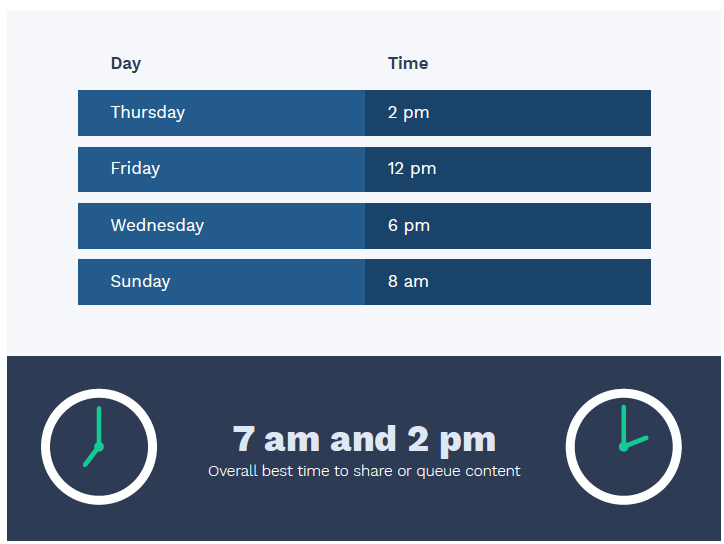 2. "Employee advocacy doesn't work in regulated industries"
The fear of an unexpected communication crisis on social media can hold back organizations in regulated industries such as financial services, pharmaceutical, healthcare, and insurance. We're in the age where one bad tweet can move markets negatively (just ask Elon Musk).
Often regulated industries avoid being active on social media due to the fear of arduous requirements of compliance. Despite the fear of social media and the possibility of employees going rogue, it is entirely possible for organizations to safely embrace employee advocacy.
Employees are likely already active on social media, so it's better to take a proactive approach in managing your organization's reputation and keeping your company safe from infractions.
Employee advocacy platforms can ensure the right content and message are shared by providing multiple layers of control and compliance. Employees should have access to a library of pre-approved content that that has been curated and given the stamp of approval by program administrators.
In addition, compliance features can restrict non-regulatory or brand-compliant keywords and phrases to control what messages are being shared. Specific social networks have the option to be restricted. Program admins can remove the option to share onto specific social networks such as Facebook, Twitter, or others depending on your social media strategy.
In some regulated industries, employees must identify that they're a part of the organization within their social content. For example, one major insurance organization identifies their employee shared content with a specific hashtag.
Proper training can help employees from going "rogue" on social media. Offer social media training so so they understand how to use it and understand best practices for each different network. Effective training can also introduce and reinforce the right behaviours outlined in your company's social media policy.
3. "I can just email our employees and ask them to share content"
This is the first step organizations take in their employee advocacy journey. It is often well-received by employees who participate in social sharing.
If you're launching your employee advocacy program by doing this then you're not alone. This is how the majority of our customers get started. It's the right step in figuring out what content to send, what employees like and how often you should curate content. These are all fundamental pieces of an employee advocacy strategy.
The downside is that sending emails to employees is time-consuming, manual and hard to track.
Employees also find the experience inconvenient and time-consuming since they have to find your email then copy and paste it to each social network. The downside to employees who are sharing from your email is that you won't be able to track results without customized UTM codes.
Phoebe Lebrecht (Social Media Manager at GoCardless) started with the same process. GoCardless was generating a lot of publicity online so she wanted her employees to amplify their brand message. She sent bi-weekly emails to her employees, asking them to share new content. Some employees would share and some wouldn't. The entire process for Phoebe was manual and she recognized she simply could not scale it across the organization. Eventually Phoebe realized she needed a platform to help streamline her process.
With an employee advocacy platform, you can centralize all your content so employees can find the most recent content at all times. This is also easier to manage and scale than emailing employees to share content.
4. "We can't prove ROI with employee advocacy"
An inability to prove the ROI to executive leadership is often the nail in the coffin for any marketing initiatives. Of course, employee advocacy can provide benefits such as a lift in brand awareness, share of voice and social media engagement. However, the common misconception is how those goals actually generate an ROI.
It's entirely possible to measure the impact of employee advocacy on an organization. In fact, metrics such as earned media value indicate the budget saved on paid media.
Metrics such as new website visitors, leads generated and sales opportunities can be measured. By digging deeper, you can attribute social sharing to which piece of content was shared and by which employee who shared it.
5. "Social sharing is only for our Millennials"
The topics of Millennials on social media has generated a lot of publicity. Millennials are the first generation to adopt social media as a main channel of communication so it has been ingrained within their lives much early. The impact of social media has touched both their personal and professional lives.
When discussing social media usage, many are surprised that Generation X (1965 to 1980) uses social media more habitually than Millennials. Gen X'ers are often overlooked despite the fact (according to a Nielsen report) they spend an average of 6 hours 58 minutes a week on social media networks.
6. "We don't produce enough content"
Content is the cornerstone of a successful employee advocacy program so having a formalized content marketing strategy is fundamental piece of the puzzle.
However, not every organization has the resources, time or budget to produce the amount of content that's necessary.
One way to address the content shortage is to curate third-party content. This is content that addresses industry trends and news which can be found through content curation tools or even on social media.
Another approach is to enable employees to be a part of the content curation process. Employees can personally find, source and recommend content that they want to be included in the library. By doing so, you now have dozens to hundreds of eyes available to find and curate content for everyone.
Best practices would suggest that third-party content should make up the majority of the content for an employee advocacy platform. Depending on the goals, strategy and metrics for the organization, this is often a general rule of thumb. Third-party content from trusted sources can help improve the credibility of the employee sharing.
Brandy Wilson, Global Marketing Communications Manager at BCD Travel has her sales reps actively recommending content. One of the keys to BCD Travel's success with employee advocacy is how they encourage employees to regularly suggest content through their platform. This helps administrators stay on top of industry trends and keep a pulse check on what their advocates want to read/share.
She says, "I have 180 other eyes to help me find content, articles to share, infographics, videos, etc. A lot of the content that our advocates find, I wouldn't have been able to find myself."
7. "This is another platform my employees will need to log into"
When introducing employee advocacy, it can seem like you're asking them to log-in and use one more tool. Which can also mean it's another unproductive way to get out of their day-to-day responsibilities.
It's true your employees will have one additional task but in reality,  it's a lot easier then you may think.
Integrations allow your employees to easily find relevant content, whether in Slack, Sharepoint, or even Salesforce.
For employees who are consistently traveling or commuting then a mobile-first application will be an ideal solution.
Ensure the mobile application has:
The ability to find and read content
Content creation and approval for suggested content
Personal dashboard to see shares and engagement
Leaderboard and gamification
Can Employee Advocacy Work for Your Organization?
If you have any doubts about employee advocacy, consider these common myths. It may be time to reconsider what employee advocacy can do for your organization – from social media engagement to sales opportunities. Solidify your strategy, goals, and metrics and evaluate how employee advocacy can deliver the right results for your organization.