After the pandemic upended the corporate world at the beginning of spring in 2020, many businesses scrambled to create a new normal centered on remote and hybrid work. Now, as COVID-19 cases decrease and many regions look to reopen, those same brands are dealing with the aftershock.
This aftershock is an employee 'turnover tsunami' that will likely force drastic changes in the employee landscape. For the companies in the epicenter, this shift could result in a major loss of work and talent, if handled incorrectly.
However, if your business is prepared, you can take advantage of the employee turnover spike.
What is an employee turnover spike? And why does it occur?
An employee turnover spike is an increase in the number of workers leaving their companies.
In early March, a joint study by Prudential and Morning Consult found that 26% of American workers plan to change jobs once the pandemic eases. Of these workers, millennials were the most active in seeking a different employer at 34%. In comparison, 24% of Gen X and 10% of baby boomer workers said they were planning to change jobs.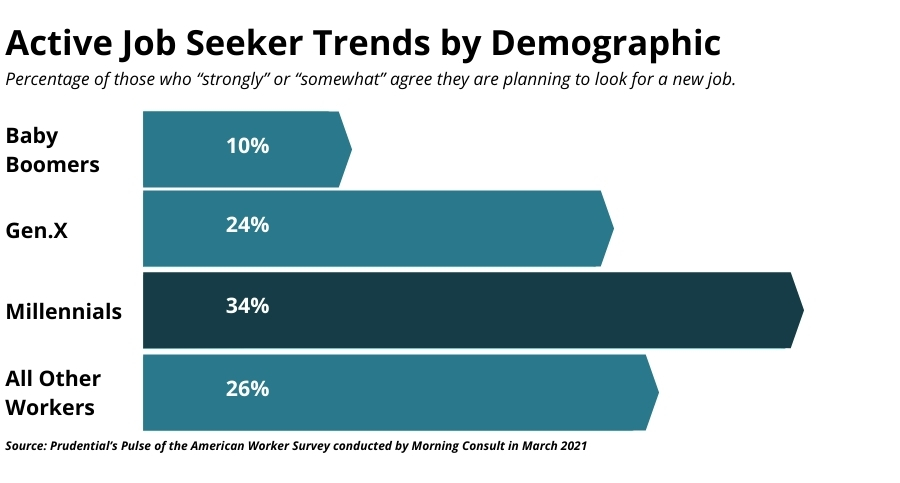 The reasons provided varied in that they ranged from a concern that there was no room for professional growth within their current company to a desire to use new skill sets developed independently during the pandemic.
The economic shutdown triggered by the pandemic contributed to the turnover spike as the U.S. workforce saw the lowest quit rate it had in nine years. Those who would have quit in the last 15 months did not because of COVID, so they will add to those who are planning to change jobs in 2021.
The demand to change jobs has built up such that the workforce could see a big turnover spike at the end of 2021. In fact, it's not theoretical at all. In April 2021, the national rate of employed Americans quitting their jobs hit 2.7%, the highest rate on record. The 'tidal wave' so to speak is already starting to come down onto employers.
What does an employee turnover spike mean for businesses?
For employers, this turnover tsunami could mean a huge loss of talent. High-skilled workers — i.e. those most likely to have many other options available due to their talents and qualifications — will be the hardest to replace as they seek new positions.
"If there's one thing that keeps me up at night, it's the talent flight risk," says Prudential Vice Chair Rob Falzon in his comments about the survey results.
There's always a high demand for highly talented workers. But now, these high-skilled workers are evaluating their work-life balance, pay grade, and passion for the job. Many of them are also suffering from burnout, so they see quitting as the only way to fix that problem.
This means that brands have two challenges awaiting them: retaining the talented workers they already have and attracting others who are entering the job market.
How can businesses retain talent?
To retain employees, you need to proactively address their concerns. Employers can look at offering attractive salaries, flexible work-from-home options and opportunities for growth so as to keep their employees interested in their current workplace.
In fact, remote work flexibility could be a key to retaining workers. After a year out of the office, an estimated 53% of employees want to keep working from home; some are looking to protect loved ones who are still at risk or care for children still taking part in virtual schooling.
Female workers are likely to take on most of the housework and familial duties, such as caring for children or sick family members. Thus, a return-to-office policy could negatively impact them the most and put these workers at a disadvantage in terms of career growth.
Flexibility, paired with empathy, can help employers and employees determine schedules that work for everyone. Doing so would show workers that their employers value their input.
Opportunities for growth are another big concern for many employees. Some are concerned about opportunities for promotion, while others want to grasp an increased mastery of the job they're already performing. Employers need to show workers that the opportunities for growth exist and are readily available.
Growth opportunities can consist of company-run workshops and/or subsidized third-party training programs. Employers should also ensure that their employees have ample time or availability in their schedules to leverage these opportunities.
Salaries are not a COVID-specific reason for quitting, but after a year where many employees have poured more time and effort into their work and faced unexpected expenses, now is the perfect time to make sure you're offering fair, competitive wages.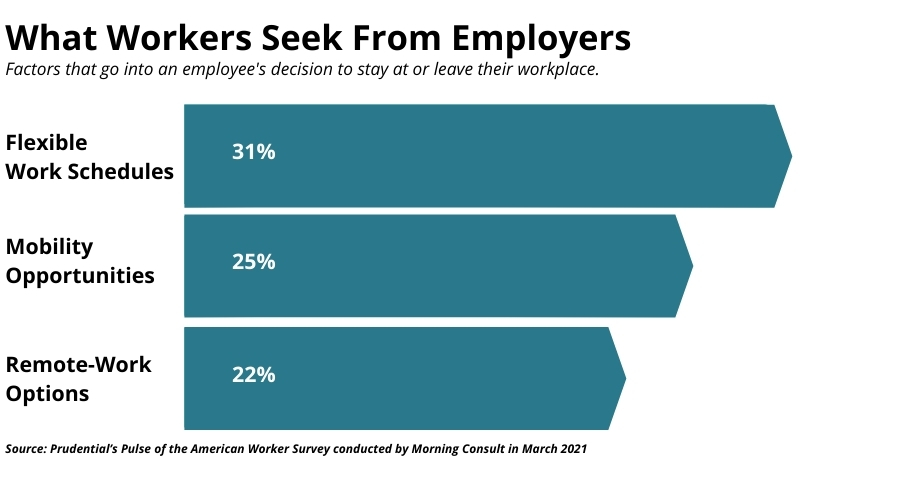 How can businesses attract talent?
One of the best ways to attract good employees is to treat your current employees well — and give them opportunities to share their experience with others.
Engaging in employee advocacy makes it easier to show off your work environment to potential hires. Essentially, you're providing a good experience for your employees and empowering them to tell their stories. A cohesive employee advocacy platform can make that easier for employers and employees alike.
While LinkedIn, Facebook, and Twitter are go-to social media platforms for employee advocacy, you can use others — like Instagram and TikTok — in many effective ways. The key to success is giving your employees the runway to be creative with how they engage their audiences.
People want to hear from people, not brands or companies. But as a brand, you can do many things to help your employees reach other people.
For example, you could rethink your workplace rules on cell phone usage so that your workers can share more about their company experience. You can even make social media participation fun by hosting a TikTok dance challenge or a competition to see which team gets more likes on Facebook. You can even gamify the entire initiative through leaderboards.
In any case, let your employees lead the way. If they're sharing what they truly care about, the content will be more authentic and, in turn, more relatable to their audience. You should focus on ensuring they have content and other assets to leverage for their efforts.
Final Thoughts
The turnover tsunami may be a sink-or-swim situation for some brands. But with the right plan, your company can ride the wave and get ahead. Yes, some talented employees may quit, but if you take the initiative and cater to the needs of your workers, you can retain your best people.
Not only will you retain workers, but by showing you care about your employees and their input, you'll attract more high-skilled talent and add to your potent team.