We're thrilled to announce PostBeyond's latest feature: Mentions!
With Mentions, PostBeyond users have the ability to tag target accounts on Twitter and brand or company/organization pages on LinkedIn.
One challenge with launching an employee advocacy program is generating early reach and visibility.
To help overcome that barrier, program admins recommend their advocates to mention or tag pages/accounts with established audiences. Tagging attracts the attention of target accounts and, potentially, their own audiences.
However, this was a manual process.
Program admins had to advise their advocates on how and who to tag. Moreover, advocates would need to publish a post first and add tags to it by editing their live post on LinkedIn.
Not only was this time-consuming, but it created gaps that could let best practices fall through and increase the risk of typos and other issues.
On Twitter, end-users don't have the option to edit already live Tweets. So, in many cases, the inability to Mention certain accounts in Twitter results in lost opportunities for engagement.
Our customers told us that being able to tag other accounts from within PostBeyond would be a valuable addition. Not only would this make it easier for advocates to apply a key best practice, but it unlocks a range of valuable program opportunities.
Starting today, you can now tag LinkedIn company/brand accounts and all Twitter accounts in your PostBeyond posts. The only thing your advocates need to do is click the Share button and their posts will go live with your Mentions in tow. Your advocates can even edit or add Mentions.
Drive Early Visibility to Brand Advocate Posts
By adding Mentions, your brand advocates' posts can attract the attention of other pages and (indirectly) their audiences. They could generate early engagement in terms of Likes, Shares, and Comments.
This success can encourage employees to keep up with – if not grow – their brand advocacy efforts on social media.
Engage Customers, Partners and Prospects
Program admins can coordinate a widespread tagging strategy from within PostBeyond. For example, you can create a post for a customer story and tag the customer's LinkedIn page. In turn, your advocates will share that post and boost the customer's brand visibility.
This is a powerful way to spotlight your customers, partners, and prospects. You put them at the center of your messaging and, potentially, help with their goals on social media.
Improve Share of Voice
You can Mention your own branded accounts to support your share of voice (SOV). This way, you can leverage the benefit of wide-scale sharing from your employees and, potentially, their networks on social media.
This approach could also help increase the number of people who are subscribing to your official LinkedIn and Twitter account(s).
Coordinate Team Activity on Social
Your end users can tag each others' Twitter accounts on their tweets. This way, they can notify each other every time they post from PostBeyond. Doing so could make it easier for employees to reply to, quote, and re-tweet each others' shares.
Likewise, end users can also tag your official brand account on LinkedIn. This will alert program admins of sharing by brand advocates. In turn, your admins can engage those posts and create a cascade of visibility and engagement on their advocates' profiles.
How Mentions Work
Users
Can search for and select a brand/organization LinkedIn page based on search results
Can search for and select Twitter accounts based on search results
Example of a LinkedIn Post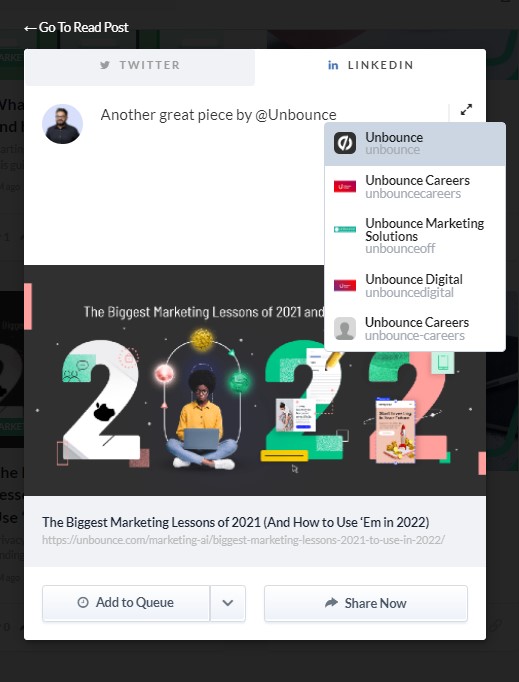 Example of a Tweet

Program Admins
Can tag business/organization account pages on PostBeyond posts.
Can tag any Twitter account on PostBeyond posts.

Get Started With PostBeyond
PostBeyond customers can start using Mentions today. However, if you're searching for an employee advocacy platform, consider one that empowers your end users to generate early gains on social.