Over the last year, we've had the pleasure of having new customers join PostBeyond's employee advocacy journey from LinkedIn Elevate. For these new customers, it was a surprise they didn't expect but eventually embraced.
This refreshed start gave program admins another chance to see what other solutions are available for employee advocacy. And for the folks that chose PostBeyond, we're very grateful to be a part of your employee advocacy journey together.
Throughout the past year, we've learned a lot about what makes a successful LinkedIn Elevate program. We also gathered great feedback from customers about what has worked successfully during their transition to ensure employee adoption remains consistent.
In this blog, we've gathered all of the feedback and insights from customers that have made the transition from LinkedIn Elevate to PostBeyond. Here's everything we've learned that you can apply if you're looking to transition this year.
1. Build an Effective Communication Strategy
Your users already know what employee advocacy is all about – so you now have a head start.
A new program means that you should continue to reinforce what's in it for them and then drive home the technical aspects of moving over to a new platform. We recommend a mix of communication strategies and channels leading up to your training session. Invite them to end-user training so they can start sharing.
a. Digital Promotion
Includes email, internal messaging tools, your intranet, and any other digital channels to communicate within your organization. If you're using Sharepoint, Microsoft Teams, or even Slack, then utilize these channels to communicate with your employees as well.
b. Gamification
Run contests early and often to ensure you build the right behaviors. Gamification is important in reinforcing behavior for employees, plus it makes it fun as well.
There are countless ways to organize a contest, for example, the most engaged sharers who are simply driving more engagement on LinkedIn. Or, perhaps you need more third-party content so you can rewards users that are recommending the newest articles.
c. Digital Events
Piggyback off an existing event or kick one-off specifically around social. Making it memorable and impactful will help initial adoption. For example, if you have a leadership conference or a sales kickoff then those are ideal digital events to piggyback off of.
d. Executive Promotion
Reminders from execs at team meetings, setting goals for their teams to share x times per week.
2. Organize Your Employees Into Groups
Customers transitioning from Elevate have leveraged PostBeyond's Groups functionality to organize users in different ways.
I asked one of our Customer Success Managers, Rangeena about her experience with Elevate customers. From her perspective, she has seen some program admins organize their users by region and created sub-groups for different departments within those regions. While others have created groups based on department or team and further broken it down by region.
Larger organizations that have multiple lines of business have created one group per line of business and created sub-groups to divide the users by departments within those lines of business.
"In programs that have an executive leadership presence, specific groups have been created for the C-Suite executives to create custom content that only they can access. Program admins can eliminate all of the noise from the leadership team's content feed and make the sharing experience much more relevant." Rangeena said.
Groups are also used for admins to restrict the content users can access. The functionality also enables them to create customized reports for each group to understand user behavior better, create targeted leaderboards so they can run dedicated contests, and send Newsletters to specific groups in order to target them with specific content.
3. Transition Your Content Strategy
Topics within PostBeyond are used to organize posts and can make it easier for users to find the right content. Users are able to customize their personalized content feeds by following Topics they'd like to see in the order of preference.
Similar to Netflix, Topics ensures each piece of content is relevant and discoverable for reach individual employee.
Set up Topics
Train your content creation team (if applicable) on what content belongs with which topics
One feature that Elevate customers liked was the ability to subscribe employees to specific topics which helped employees see the most relevant content fo them. Pick the most important topics that will be auto-subscribed to your users.
Use Inbox to Create Fresh Content
All customers who move from Elevate use PostBeyond's Inbox feature to easily create fresh content in their PostBeyond platform. Your Elevate platform is a great reference for knowing what worked and what didn't.
What is Inbox?
Inbox allows you to set up the channels and feeds that you want to create shareable content from (ie. your branded Twitter feed, your Industry news source)
We recommend bringing in new content. Don't transition content that is over 6 months old unless it is evergreen. Since Elevate didn't offer the capability to automatically archive old content, it's even more important to ensure your content is fresh.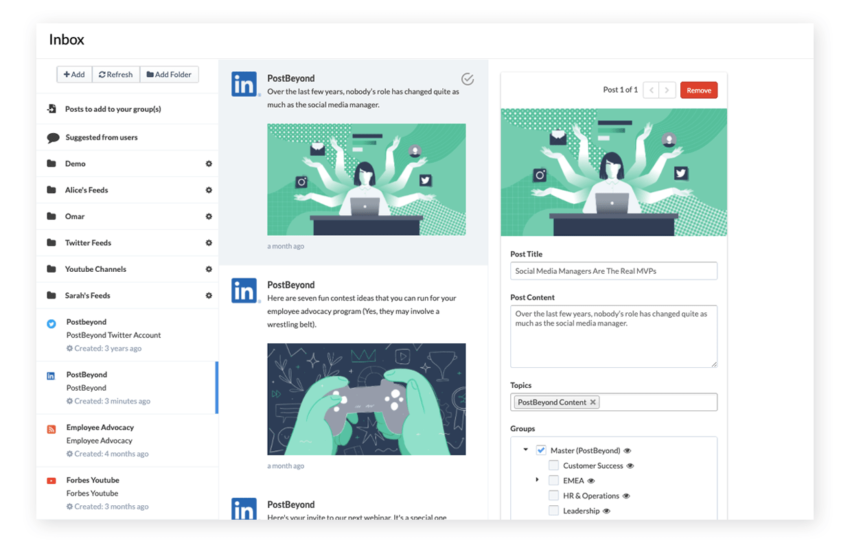 4. Ongoing Program Promotion
Once you've transitioned your program over, here are some helpful tips for ongoing promotion.
Send Newsletters
Newsletters can be sent & scheduled from the platform on a weekly basis to remind users to log in and share/queue content. The message in each newsletter can be different to cater to a specific goal you want to achieve:
Curate new content
Kick-off a new contest
Share a specific post
Update users on contest progress
Conclude a contest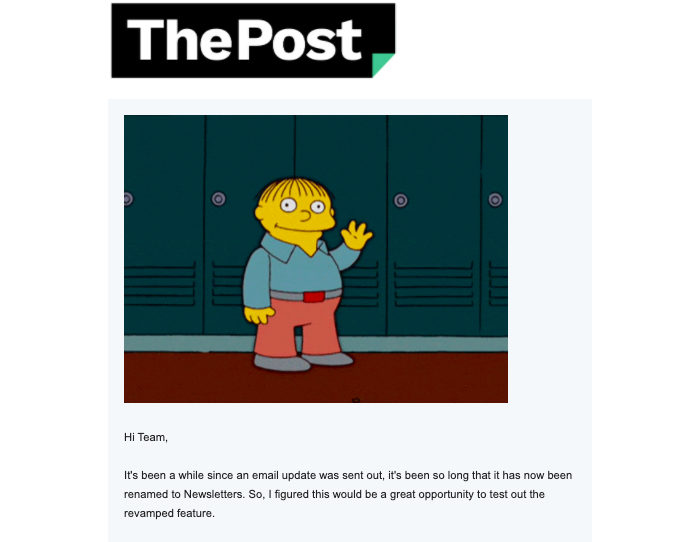 Organize a Contest
It's normal for highly engaged users to slowly drop off usage a few weeks after the launch of your program. Gamification can be one of the most powerful tools in your trusted gadget belt. It re-engages power users who have dropped off in usage and motivates new users to start sharing and building the habit.
PostBeyond's Team Leaderboards feature allows you to create leaderboards, with custom point scores, for different contests, business groups, and more.
5. Set Up Your Measurement and Reporting
As with any employee advocacy program, you're sitting on a heap of compelling data and insights. Don't just let your historical data go to waste when you transition.
We recommend that you export any relevant reports or data that you'll need from Elevate. This will give you access to your benchmarking data so you can do a comparative analysis. You'll also want a good grasp on what your current employee adoption, license usage and share rates are.
When you're making the transition, measure your employee adoption and share rate consistently during the transition and the first several months after. This will help you catch any red flags or major wins during your transition. You'll know the work you've put in has been worth it if your employee adoption increases.
After your transition, you should get in the rhythm of reporting and measuring your progress on a monthly basis. Look at comparative numbers such as your year-over-year growth (exporting LinkedIn Elevate data is key) to get a sense of how you're performing overall.

Your Partners In Employee Advocacy
Transitioning to a new employee advocacy platform represents a fresh beginning for your efforts. You've had great success already, so it's only natural that you scale further.
Of course, PostBeyond is here to help with your transition. Our team will work to understand your business and design an employee advocacy program that aligns your goals. Building a plan and roadmap together makes sure expectations are set and goals are aligned.
Don't just take our word for it, learn why PostBeyond is the top employee advocacy solution through customer reviews on G2.