More businesses are leaning on their employees to drive brand reach and engagement. But for brands to succeed, they need their employees to grab the attention of their networks. That's why investing in personal branding is now more important than ever.
What is Personal Branding?
Personal branding is the effort individuals put into themselves to amplify their exposure to more people and improve their ability to influence those audiences. For example, people will shape a personal brand that makes their networks see them as thought leaders on certain topics.
The point of investing in your personal brand is to convince audiences that you're worth listening to. You're trying to get people to find value in your unique mix of skills, knowledge, experiences, and other pieces. In a way, you're also telling a story of yourself that gets people to resonate or relate with your personality.
Why Is Personal Branding Important?
For your employees, creating a personal brand can translate into career advancement, bigger professional networks, more leads and contacts, and other benefits. Personal branding helps people reach their ideal audiences and build trust with those people.
But companies and organizations also have a stake in their employees' personal branding.
With audiences resonating less with ads and social posts from official channels, brands are now leaning more on employees to drive reach. Why? Because audiences want authenticity, and to them, a candid word from employees matters more than official messaging.
Your brand will generate more reach on social media if your employees boost their exposure and reinforce their credibility. Basically, investing in the personal branding of your employees could translate into wider marketing benefits for your company.
How to Build a Personal Brand: 4 Tips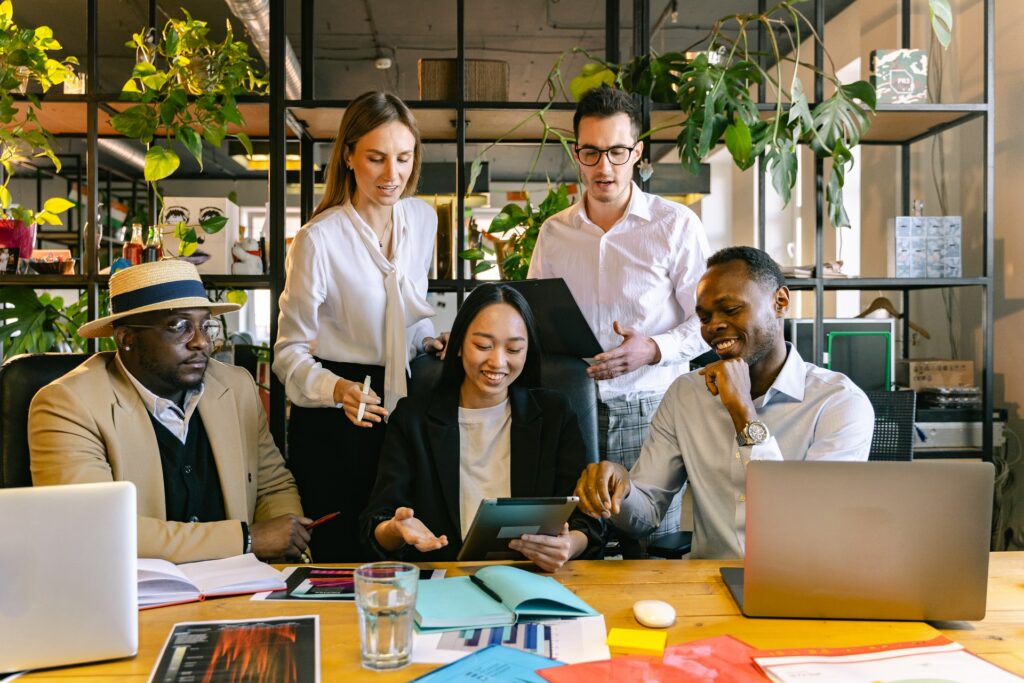 1. Invest in Assets
Give your employees high-quality assets for their social media accounts, especially LinkedIn. For example, professional headshots and banner assets for LinkedIn are quick wins.
While these assets only scratch the surface of personal branding, they're an important baseline. You'll want to provide your employees a good shot at appearing credible on a first glance. Not only that, but you should minimize the disparity in profile quality between your employees and their peers in other companies.
2. Build a Content Strategy
Look at content as a two-way asset. On one end, it can help amplify brand reach. On the other end, content can help your employees build their personal branding.
In some cases, you can achieve both in one content piece, such as webinars or podcasts featuring your employees. Both the company and the employee get a chance to showcase thought leadership through those assets.
However, there will be times when you'll need to split the two goals (company versus employee branding) as different projects. To manage these projects, you need a content strategy.
Step 1: Deliver Value to Audiences
The strongest content merits attention. It delivers a level of value to the reader that compels that person to engage and spread the content.
To offer value, you should focus on content that:
Solves real-world problems
Answers relevant or timely questions
Offers unique insights
Gives actionable tips
Instigates conversations.
You have a lot of options in terms of content types. You can provide blogs, webinars, podcasts, ebooks and much more. Don't get caught up in stressing about the types. Instead, focus on the value you're providing first; the rest will flow on its own. You'll generate topic ideas and, in turn, find the best content mediums for each one.
With content in general, make delivering value your goal. Strong value attracts audiences, and doing so will help your employees build their personal branding. Note: If you're creating thought leadership content, focus on creating a separation in quality and originality from competitors.
Step 2: Show Authenticity
To build their personal branding, audiences need to see your employees as authentic. For that to happen, your employees need content they can directly speak to.
Think of creating or finding content that your employees can relate to. What seems natural for them when it comes to their role at work, skills, qualifications, etc?
For example, your product manager could probably speak to a blog about sprints better than a guide on writing a landing page. Think of these dynamics when ideating content for your employees to share on social.
Arguably, the most authentic content comes from your employees: employee-generated content (EGC). EGC that comes directly from the mind and voice of your employees will carry the most authenticity with audiences. You can also use EGC to supplement your content pipeline.
You can facilitate EGC by building processes.
Start with a social media policy. This document will help you define what your company allows and prohibits on social media. You can set rules on how employees should act on social media (e.g. avoid certain topics or conversations).
Ensure you're tuning the policy to empower employees, not discourage them to be on social. Think of a policy as a runway. It's supposed to help employees take off online, but do so by heading in the right direction to avoid pitfalls.
You can also create a playbook on how to use social. Give your employees templates for LinkedIn posts, Tweets, and other posts. Consider building a list of hashtags, tagging recommendations, and other tips. The point is to offer help that can get your employees some early momentum in their efforts.
Step 3: Spotlight Your Employees
Putting your employees at the center of your content is a strong way to build personal branding. You can leverage employees as thought leaders, subject matter experts, or simply protagonists of a story you want to tell (e.g. volunteerism, community service, etc).
3. Carve Your Niche
The fact that more and more companies are looking towards mobilizing their employees on social media is both a welcoming sign and a challenge.
The welcoming sign is that you know this strategy works. On the other hand, you're dealing with more competitors heading in the same direction. You have to deal with a crowd.
You'll want to stand out from your competitors by creating differentiation. When creating content, for example, don't stop at matching your competitors. Instead, build a unique value proposition with original research or data, or provide actionable help. This is a good opening to encourage your employees to dig into what they know and share their expertise.
4. Build a Story
People remember stories. Storytelling helps audiences visualize the journey and, potentially, makes relating to the star (i.e. your employees) easier.
Try incorporating storytelling into your content as much as possible. In a way, you're trying to build your employees up so that their networks want to follow them.
Next Steps to Building a Personal Brand for Employees
Providing assets for social is only one step of the process of building your employees' personal brands. You also need to think about how to fuel employee action on social media.
For example, you'll want people to share content and engage with their teammates. Our guide below extracts proven, real-world strategies from across dozens of our top-performing customers.
For More on Activating Employees on Social Media