We are thrilled to announce the release of PostBeyond's new Slack App – now available on the Slack app exchange! The PostBeyond Slack integration allows you to effectively communicate with your employees and content consumers by delivering content directly to them, where they already spend their time.
Distribute Content Easily to Employees on Slack
At PostBeyond, we recognize that your employees and partners are busy with everything they have to do as part of their jobs. People have a variety of different platforms and apps they need to log into on a daily basis and we want PostBeyond to seamlessly fit into the daily ecosystem of your users.
We decided to make it easier for our customers who use Slack as a workforce communications tool to get their content seen by everyone who is already logging into Slack, whether they are a PostBeyond user or not. This allows for better visibility into what is available in their content library.
"Recently, in collaboration with PostBeyond, we were able to create a first of its kind Slack Integration, making it even easier for our people to consume and share news. The PostBeyond team has been amazing partners at every step of this journey. From development, support, data, and analytics, all of our requests have been met with the first-class service."
Kristopher Martinez,
Manager, G Force & Mayor
What are the benefits?
Save Time for Employees
While PostBeyond users come from all different departments and positions there is still one universal truth that applies to all of them – anything that saves them time is a great thing!
The PostBeyond Slack integration saves users time by allowing them to browse the available content without logging into their PostBeyond instance. All they have to do is subscribe to the channel where the PostBeyond content is being pushed to.
Since Program Admins have control over how whether only specific posts or all posts get pushed to Slack, you have the flexibility to decide whether you want people to have access to all of the content you create or only selected posts in the Slack channel.
Attract New Employees to be Advocates
Visibility of the posts sent to Slack is not limited to your PostBeyond users. Like with any Slack channel, you have full control over who can access the content in a specific channel. That means that you can get additional visibility into the posts you have in your content library from users who are not yet part of your advocacy program.
If you're looking to attract additional users to your content library, want to get word of mouth about your employee advocacy program, or just want to promote a piece of content to a larger audience, the PostBeyond Slack app gives you that opportunity.
Broadcast The Most Important Content to Employees
Because you have the flexibility of choosing how much and which content you push to Slack, you can use the PostBeyond Slack app to broadcast only very specific content.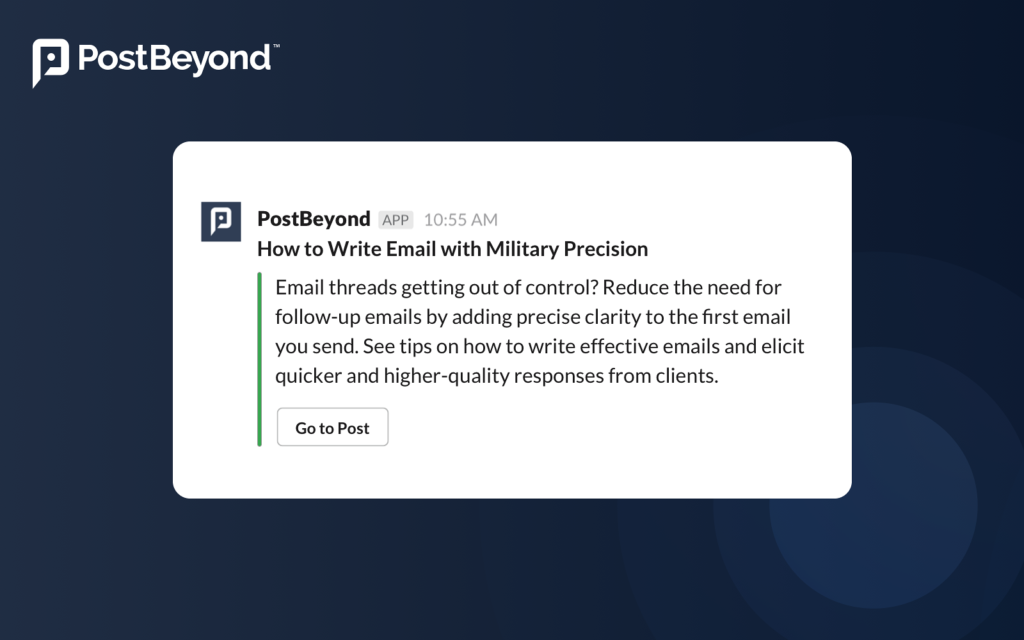 If there is an important piece of news, an exciting new product release, an important event, or anything you want additional eyeballs on, you can choose to use your Slack app only for the promotion of your most important posts.
Slack and PostBeyond, Happier Together
The PostBeyond Slack app is part of our strategy of making it easier for users to consume and share content. Like our Newsletter feature, you can send content right to users where they spend their time, allowing PostBeyond to fit seamlessly into your existing ecosystem. This will also save you the time and effort around getting the content you want to the right people.