Let's start with a few stats:
93% of marketers say video helped them amplify brand awareness (Wyzowl).
98% of marketers say that video converts just as well (or better) than other content types, such as blogs and images (Vidyard)
Basically, we know video marketing works, but how well does it tie into employee advocacy?
The answer: video's a natural part of employee advocacy.
People are 2X likelier to share video on social media than other types of content. Moreover, 63% of video was distributed through social media platforms.
But the story is a lot deeper than what the stats show.
A video is a vivid look into the thoughts, personalities, ideas, and much more of people. And audiences actually value what other people have to say. In fact, audiences trust family, peers, and friends for recommendations.
Basically, a video that emits authenticity, relatability, and credibility is a powerful employee advocacy asset. Video is "thumb-stopping" content that drives audiences to say, "hey, what's this colleague or peer of mine saying about this issue?"
According to Wyzowl, 92% of marketers say that video is an "important part of their marketing strategy." So, with nearly 9 in 10 marketers adopting video, you can rest assured that you're not alone in adding it to your employee advocacy strategy.
Unfortunately though, you're also not alone.
You're going to go up against others who'll also use video in their employee advocacy efforts.
So, what does it take to stand out and rise above the crowd?
How to Add Video to Your Employee Advocacy Strategy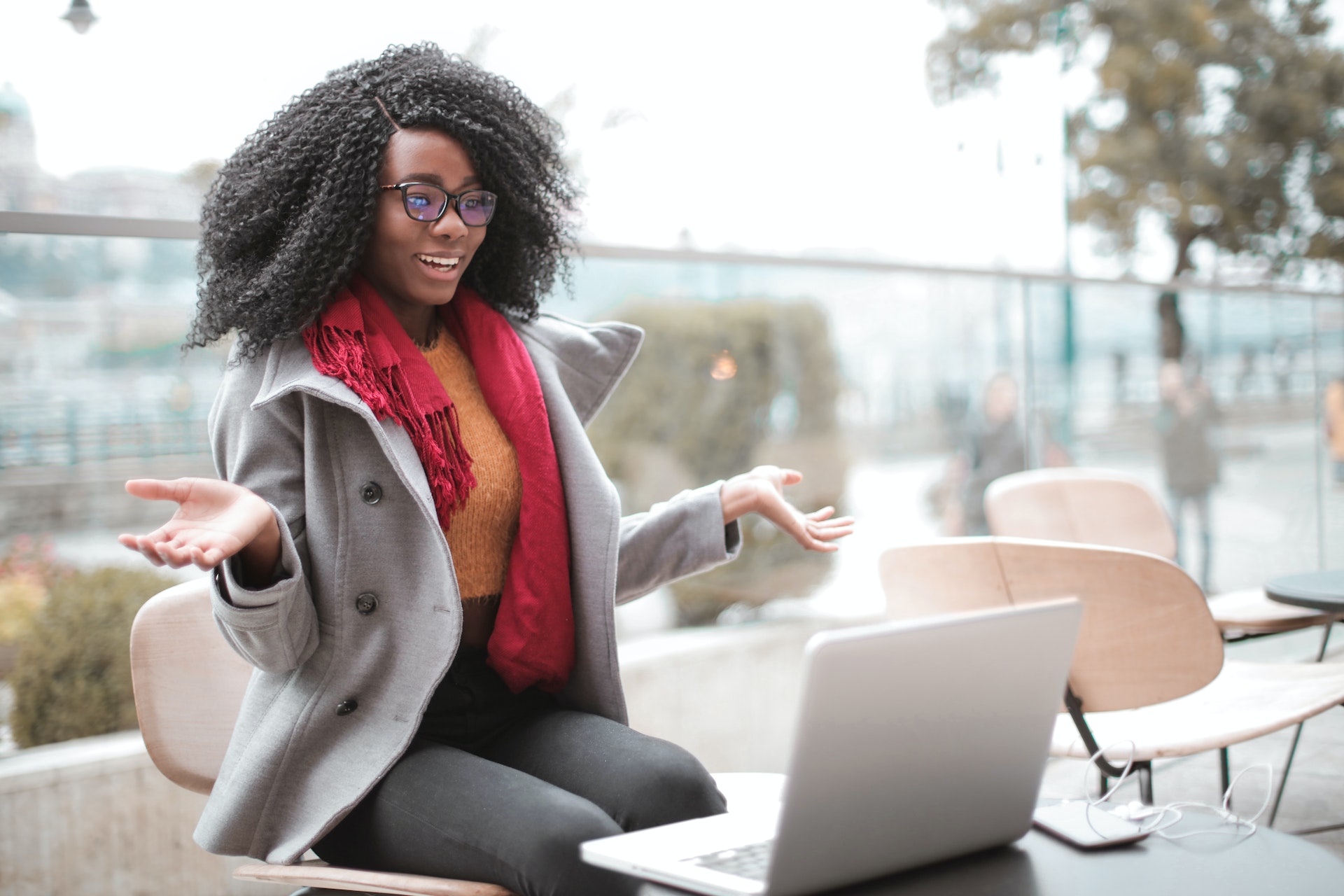 Encourage Employee-Generated Content
One interesting insight from Vidyard's study is that 80% of the videos created in 2021 were user-generated – and only 20% were produced. Moreover, every industry saw an increase in user-generated videos.
User-generated content (UGC) deeply ties into employee advocacy. It comes directly from your employees. It reflects what they think, what they know, and how they feel. It's authentic, and as a video, it's in a package that people can see and experience.
This is why employee-generated content (EGC) is our first recommendation.
If you're seeking a good starting point to adding video to employee advocacy, then start by involving your employees in the video creation process.
You can drive your employees to:
Show their thought leadership by discussing a topic or providing tips
Give their audiences a look at what it's like working for your company
Discuss your company's culture and values
Just have fun!
EGC can also be a good way to scale your video creation work up relatively cost effectively. The visual below (from Vidyard) will give you a good idea of what your benchmark should be in terms of how many videos you should aim for social per year.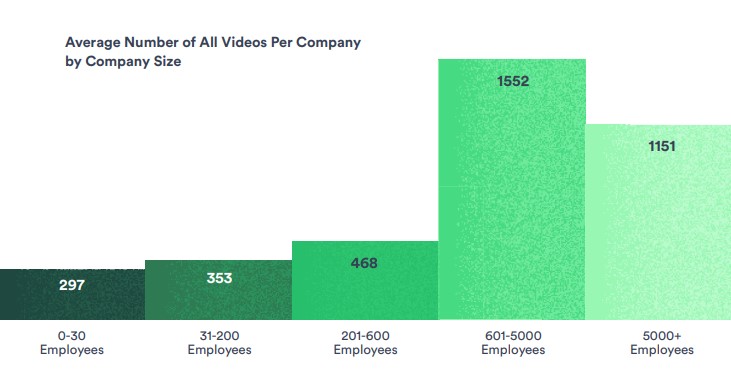 Clip Your Webinars and Podcasts
Chances are that you actually have a lot of pre-existing content like webinars, podcasts, and other long-form multimedia assets. You don't always need to start with net-new work; you can tap into the assets you already have by using them in different ways.
One way is to clip your long-form content. In fact, research shows that 62% of audiences fully watch videos that are 60 seconds or less. Yet only 26% finish videos over 20 minutes long.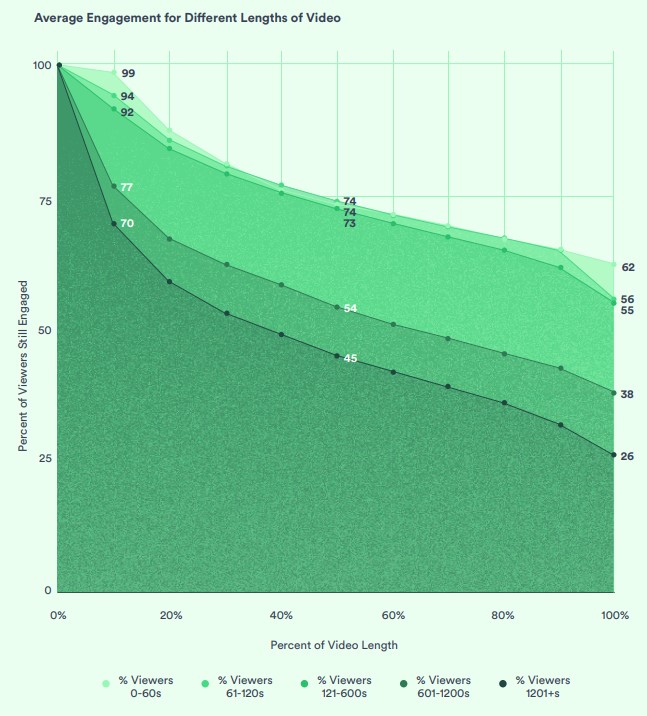 Try turning your webinars, podcasts, etc into short clips (60 seconds or shorter). You can hone in on key points, stellar quotes, and other highlights.
This is a good strategy for building a healthy video content pipeline right from the word go. You can use this approach to get the ball rolling while you strategize net-new content on the side.
That said, long-form videos still count. You can make clips of different lengths and experiment to see what works with your audience. On average, 1-in-4 people complete a 20-minute-plus video, but you need to experiment with your audiences to see what clicks best.
Involve Your Customers
Your customers are an invaluable source of social proofs. They provide credible outside-party validation about your company, products, and services. Your prospects definitely want to know what they think about you.
Try engaging your customers to get their testimonials, thought leadership, and much more through videos. Likewise, you can also spotlight them as experts.
Tell Stories
We admit, this might be a really broad suggestion. But storytelling is critical. It captivates your audience and drives their attention, even in long-form content.
You can incorporate storytelling into video in a variety of ways.
For example, encourage your employees to create videos about their own stories, i.e., how they got to your company, their professional journeys, and why they've stayed.
You can also involve your customers to tell their own stories. In fact, engage the actual people (not the roles or companies) you're working with and learn who they are and what they're really about. Try getting that information on video.
Try New Things
Finally, don't shy away from new ideas.
Not only are platforms always evolving, but audience expectations are always changing too.
Laura Erdem from Dreamdata, for example, told us recently to try out TikTok-style videos, but on LinkedIn.
Yes, it's really different and really out there, but it's ideas like this that create an edge – it helps you stand out.
General Best Practices for Using Video
No matter the types of videos you want to use for employee advocacy, we recommend sticking to some general best practices. These tips will help you get the most out of your videos.
Focus on Short(er) Videos
First, try steering the bulk of your video content towards short-form stuff.
Like we noted above, 62% of people watched a video from start to finish when it was under 60 seconds in length. So, short-form is where the bulk of your target audience is right now.
You don't need to totally abandon long-form. It definitely has a place. But be strategic and try creating short-form snippets from your longer videos. This way, you'll get more mileage out of the long-form content and, potentially, drive more interest towards them.
Use Subtitles or Captions
Next, make sure you're making your videos accessible to those who can't use audio.
Subtitles also make viewing videos convenient. For example, you might have someone on the bus without their headphones, so they don't want to disturb others.
Alternatively, they might be on a call or listening to music, but they want to check your video. So subtitles are a nice quality-of-life addition that lets them engage, but without pulling them out of the other media they were listening to.
Leverage Native Playback
Finally, distribute your videos using the social media platform's native playback functionality.
Ultimately, the likes of LinkedIn, Twitter, Facebook and others want to keep people on their platforms. So, native video is a critical way of ensuring that people stay rather than jumping back-and-forth to some other platform, like YouTube or Vimeo.
Moreover, native video is also seamless for the end-user.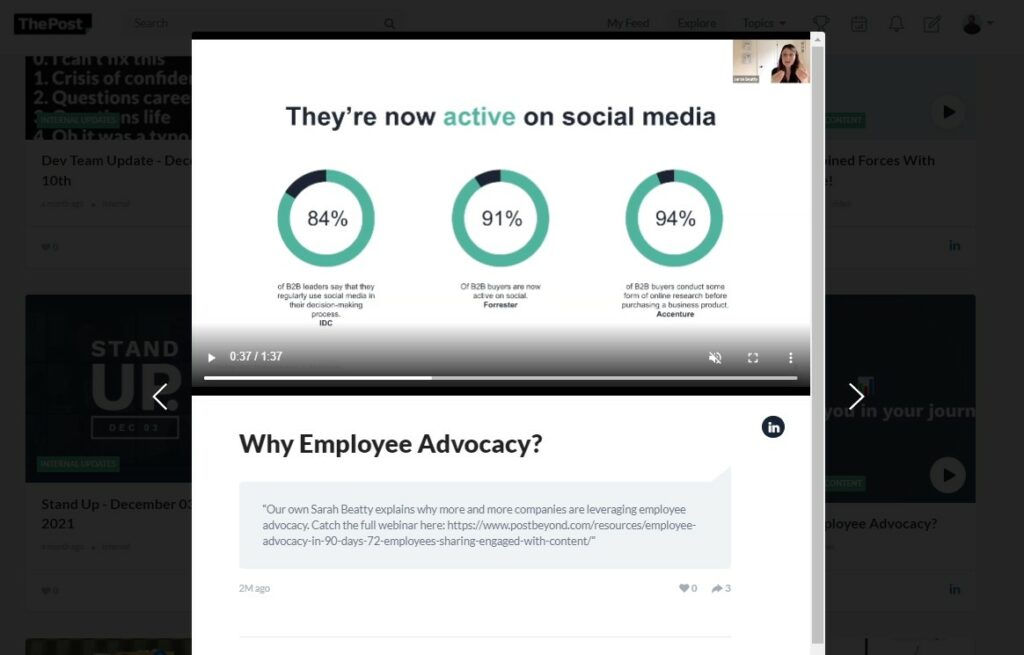 Overall, if you can integrate native video to your employee advocacy program, you'll have an edge against your competitors who are also using video.
That said, it can get pretty difficult trying to get your advocates to spread native video content.
If you do it manually, you'd have to send them a link to the video file and ask them to download and then re-upload it to their profiles. It's taxing work that may discourage them from re-sharing native video content.
That said, some dedicated employee advocacy platforms simplify the process by managing the difficult, time-consuming parts of native video sharing.
On PostBeyond, for example, advocates can view the video, edit the comment, and then click share. PostBeyond handles the work – i.e., uploading it to their profiles so that it plays natively – and leaves your advocates to focus on what they want to do.