It's recently been reported that 9 in 10 (92%) of companies expect employees to use social media within their role.
Paid social media roles saw a staggering 116% increase in demand from 2020-2021, with both social media advertising and content marketing roles also increasing in demand significantly – an average of 46% and 32% respectively.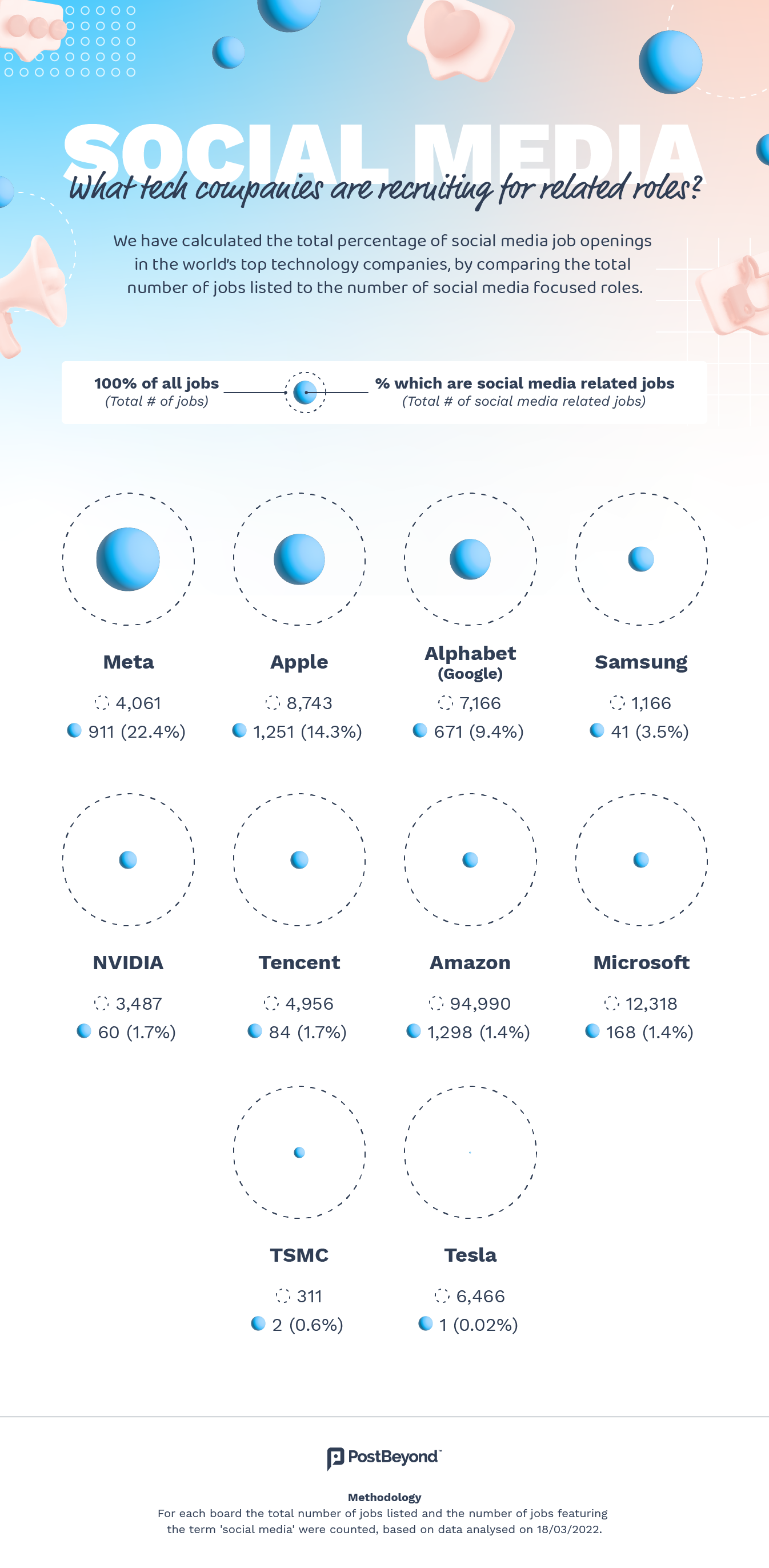 We have searched the job boards of the world's top technology companies to discover who has the most available roles featuring social media. By comparing total job openings, to the number of social media focused roles we have calculated the total percentage of social media job openings.
Meta comes out on top as the company recruiting for social media roles the most, with 22% of roles including the term "social media". Meta's job page states that the company is "obsessed with social media" and building brands in a meaningful way, highlighting the importance of social roles within the company. Unsurprisingly, the brand lives and breathes social media with its key subsidiaries, Facebook, Instagram and WhatsApp, being some of the world's biggest social media platforms with 3.6 billion active users on Meta platforms each month.
Apple takes the second spot with 14% of advertised job roles featuring social media. Considering the tech giant's social media presence is limited, it's somewhat surprising to see they are hiring for such a large percentage of roles in social media. Apple's Twitter account currently has no posts but despite this, the account boasts a following of 7.7 million, showing the huge social reach Apple has.
Alphabet, of which Google is a subsidiary, is hiring the third most amount of social media roles, with 9% of roles advertised including the term "social media". Clearly keen to make waves within the social media space, Google attempted to create a challenger social media platform in 2011, however Google+ was not a success and was shut down in 2018, highlighting the competitive nature of social media platforms.
With social media roles being listed in the Top 100 careers with big growth, great pay and satisfying work, it's a great opportunity for job seekers to see so many companies looking to embrace social media within advertised roles.