COMPANY: Dynatrace
LOCATION: Waltham, ma
INDUSTRY: computer software
Dynatrace is a category leader across established use cases such as APM, Infrastructure monitoring, and Digital Experience Monitoring, as well as the emerging category of AIOps. The company provides software intelligence to simplify enterprise cloud complexity and accelerate digital transformation. For Dynatrace, this meant that it was essential to promote their thought leadership actively.
John Rocker, Social Media Manager at Dynatrace set out to build the brand's thought leadership on social with their employee advocacy program.
John is the go-to expert for everything related to social media at Dynatrace. His role is running the day-to-day operations of their global social media channels, managing their employee advocacy program, and training employees company-wide on social media best practices.
For John, Dynatrace's thought leadership wasn't just about the product and the great things they were doing as a company. He said, "It's also about the people behind the product. They validate our knowledge of our space as a whole, and everyone can be an expert in what they do."
As an example, John recalled when Dynatrace's Founder & CTO, Bernd Greifeneder, and Alois Reitbauer, VP, Chief Technical Strategist, ran a LinkedIn Live session to talk about the transformation of the company, product, and culture.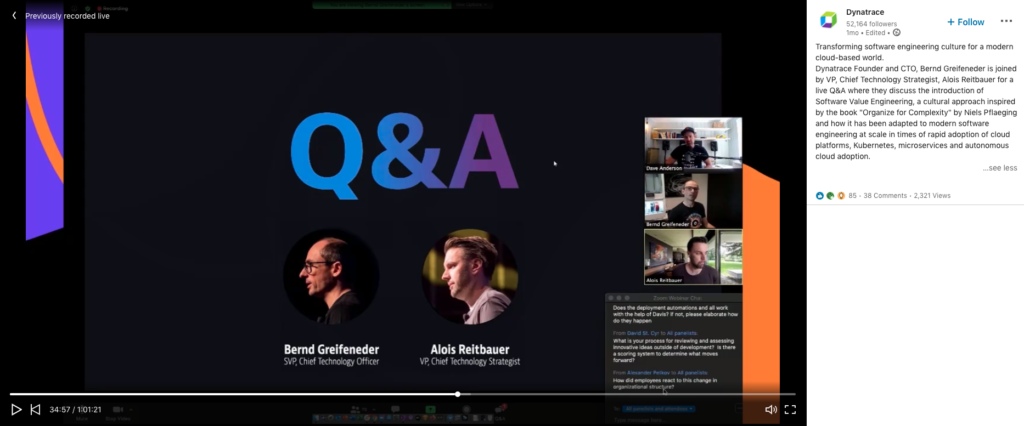 Essentially, this is the goal of Dynatrace's employee advocacy: to enable executives and employees to provide thought leadership on social media.
Everyone feels they have ownership of how they can help Dynatrace become successful. John said, "Being able to tap into your employee base and their followers, audience, and one-to-one connections that are seen as more authentic coming from them instead of the brand. We felt this is something we had to take advantage of."
Making The Transition
When LinkedIn announced the discontinuation of the Elevate employee advocacy platform, John realized it was time to find a new solution.
Employee advocacy is a significant driver of social traffic to the website and lead generator for white paper downloads and webinar registrants. John knew he needed to keep their conversions in full gear as they made a transition. Most importantly, the new platform required to be easy to use and provide a seamless transition for users.
One of the challenges John had in mind was ensuring there was consistent employee adoption with a new platform. The big question he needed to answer was, "How can we make the transition as seamless as possible?"
The sales, marketing, and engineering teams were already quite active on LinkedIn. Since employees were significant users of the LinkedIn ecosystem, there was a sense of familiarity with LinkedIn Elevate. Despite this, John knew there was an opportunity to expand on the program's efficiencies.
Seamlessly Onboarding and Transition to a New Platform
John had heard about PostBeyond's employee advocacy platform through word-of-mouth from the social media communities that he's active. When he first engaged with PostBeyond, he was impressed with how keen the team partnered with him to support the transition.
As far as the transition goes, John has been able to leverage PostBeyond to continue their success. Within 30 days of launch, he was able to continue driving website visitors, conversions, and webinar registrants.
"It has been a positive response, and we're still getting more people wanting to know about our employee advocacy program. To see the early adoption and the kind of results we've seen so far is positive, and we're super happy to get the momentum going."
When speaking about PostBeyond's ease-of-use, John mentioned, "I can see the platform once, I can pick it up pretty quickly, and I'm set to go."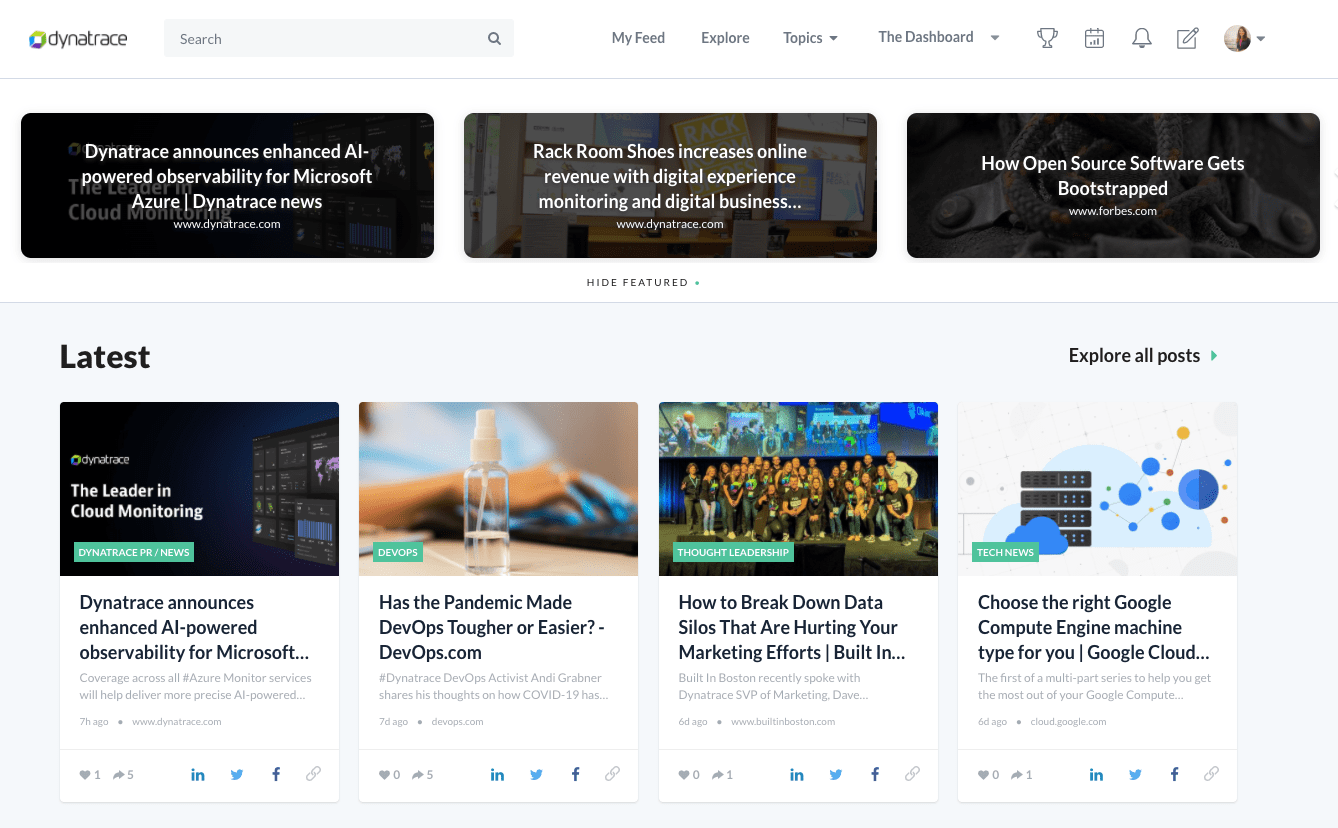 Since switching to PostBeyond, John has received a lot of positive feedback. Overwhelmingly, users have been enthusiastic about the new platform. John has received messages across multiple teams, asking for more employees to join the program, which is a testament to his work.
Generating Website Visitors and Webinar Registrants
A key factor for John was the ability to measure website success metrics. He needed to see exactly how the program impacted the website and from which users.
One of the big things that stood out to John about PostBeyond was the unique individual UTM tags. Now he could track results on Google Analytics and attribute them to the particular user.
"That was always one of the big questions I had when introducing previous platforms,' how am I doing in driving leads and website traffic?' It was something I could never really answer. Now we can offer that and say 'you drove X, Y and Z, you drove this number of users, they spent this amount of time on the website, and they signed up for X amount of webinars' which is powerful for me."
John and his users now have a lot more visibility on what they're producing and how they're performing. "We want people to convert through website clickthroughs and land on the website, start their journey down the funnel to becoming a converted customer. Being able to track this down and to be able to attribute it to the exact source is super helpful for the ROI of our program."
Key Features
Mobile Application: The mobile platform has added new functionality for their employee advocacy program. Employees can quickly grab a Shareable Link, which has opened up a lot of avenues for employees to share content with different platforms such as Whatsapp, LinkedIn InMail message, and Instagram.
Content Queue: The scheduling functionality within PostBeyond has helped employees queue their content and schedule content much further in advance.
Newsletters: Previously, they were relying on sending employees a marketing email, but that wasn't consistent. John has taken full advantage of Newsletters by sending the leaderboard results, the latest content, and upcoming webinars. He plans on using the feature to promote a formal launch contest.
Results Within 30 Days of Launch
In 30 days since their launch, John and the team have gotten off to a great start. They've been able to continue their momentum and achieve:
73% Adoption Rate
1,968 Total Number of Shares
1,146,561 in Potential Reach
$86,835 in Earned Media value
560 New Website Visitors
48 Webinar Registrations
Next Steps: Continuing The Momentum for Dynatrace
As they continue to formally onboard users to PostBeyond, John's goal is to ensure they see a consistent flow of website traffic and that their momentum continues.
Secondly, John wants to see consistent employee adoption and engagement with PostBeyond. He'll know he's on the right track as he monitors the share rate, leaderboard ranking, and anecdotal feedback from users.
John not only wants their employee advocacy program to impact Dynatrace's success. He also wants employees to see progress on their end – whether it's sharing content, more LinkedIn connection requests, or comments from prospects. His goal is to ensure Dynatrace's employees get more comfortable with social media to build their personal brands.