COMPANY: RANDSTAD USA
LOCATION: ATLANTA, GA
INDUSTRY: STAFFING & RECRUITING
Randstad is the global leader in the human resource services industry. The company has over 5,700 employees in North America, managing a workforce of over 94,000 each week in the U.S. and Canada and has a global presence in 38 countries. Randstad's mission is to support people and organizations in realizing their true potential by combining the power of today's technology with their passion for people.
The Backstory
Karen Pace, Director, Social and Content Marketing, leads Randstad USA's social strategy team. They are responsible for the company's social media accounts, social content, and reputation management. Also, they lead the employee advocacy program, which includes training, content curation, and supporting different lines of business.
In 2016, Karen stepped into her role to build Randstad USA's social media strategy. She mentioned there was "no structure, no foundation, no strategy, and no reporting." Randstad USA's social media presence was ready to be transformed.
Accompanying the lack of social strategy was Randstad USA's complexity. The company spans across ten different lines of business and targets more than three different audiences. One key component of implementing this strategy: managing an employee advocacy program for a complex organization.
Challenges: Overcoming Complexity And The Decline in Organic Reach
Consequently, it was back to the drawing board for Karen. She recognized Randstad USA needed an easier way to manage and scale their enterprise employee advocacy program.
1. Stay ahead of changing social network algorithms
Social network algorithms are continually changing. The algorithm changes affected Randstad USA's presence. "Social media is the only media where the media you're using to get your message out is also your greatest competition," said Karen.
"Facebook Zero" happened on January 11th, 2018. That day was when organic reach for branded content started to decline on Facebook. Twitter's algorithm changes followed, and right after was LinkedIn's algorithm shift to prioritize the post popularity. Due to these changes, it was increasingly difficult for the brand to be seen on social media.
2. Distribute content through employees
Randstad USA created a lot of high-quality B2B and B2C content for their different audiences. They needed a better way to distribute all of their content. Organic social media and paid media were already active at the time, but Karen knew they couldn't solely rely on those channels. For that reason, they needed to leverage their employees as a third way to distribute content.
3. Simplify an enterprise employee advocacy program
The social team needed an easier way to distribute content to her employees. At the time, the employee advocacy program spanned across 50 different employee groups with 40 total content topics. Program admins, content creators and users all felt that the experience was too complicated.
To improve their social media and employee advocacy strategy, Randstad USA turned to PostBeyond's employee advocacy solution.
Transformation: From Complex to a Simplified Enterprise Employee Advocacy Program
The Randstad Social Hub program established two goals:
Expand the social reach of their content and drive visitors back to their website.
Enable recruiters to adopt social selling as an approach to find potential talent.
With PostBeyond, they could turn engagement on social media into sales opportunities.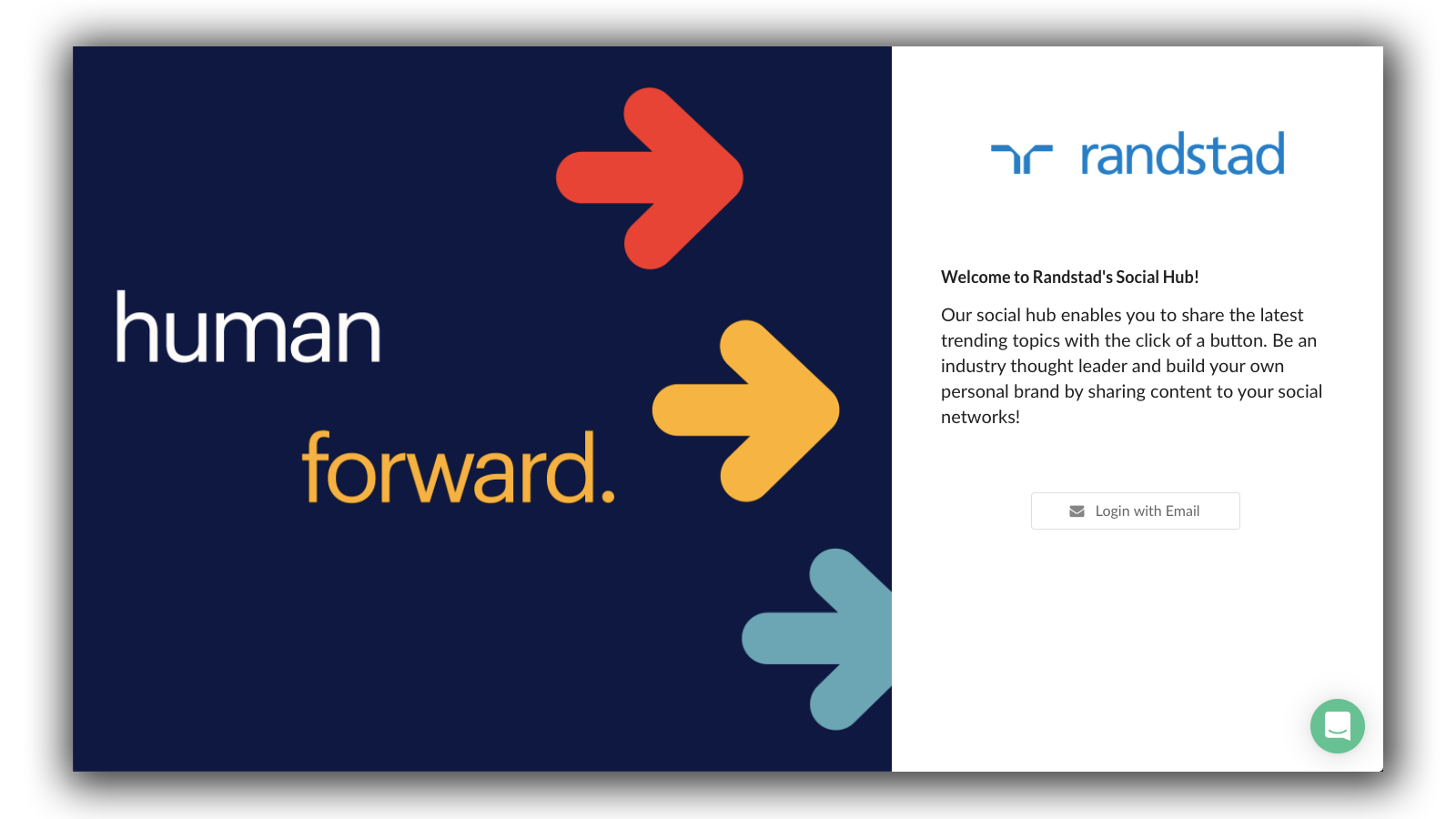 "PostBeyond isn't just beneficial for the brand but it's also beneficial for the individual. By communicating the advantages of social selling to employees, it motivated them to help themselves and help the brand expand its social reach."
– Karen Pace
To encourage engagement, Randstad USA shifted its gamification strategy to Team Leaderboards. They ramped up their competitive spirit even more by creating different leaderboards for each line of business. "The Life Sciences business group lives and dies by the leaderboard," said Karen. "Despite being the smallest team in Randstad's program, they are the third-most active group. People definitely became more engaged than ever when a spot on PostBeyond's leaderboard is at stake.." said Karen.
Why PostBeyond: A Partnership Approach
Karen felt that PostBeyond was a partner that actively listened to her feedback. She felt her feedback was heard and had evolved the product. "PostBeyond has always asked us for feedback. They have always asked our teams who are doing the work. We can give feedback about the product and we've been asked 'if we had a wishlist, what it would look like?'"
One of Karen's necessary changes was the ability to segment employees into relevant groups. PostBeyond responded quickly to help Karen transform her program and ensure it was scalable across the organization.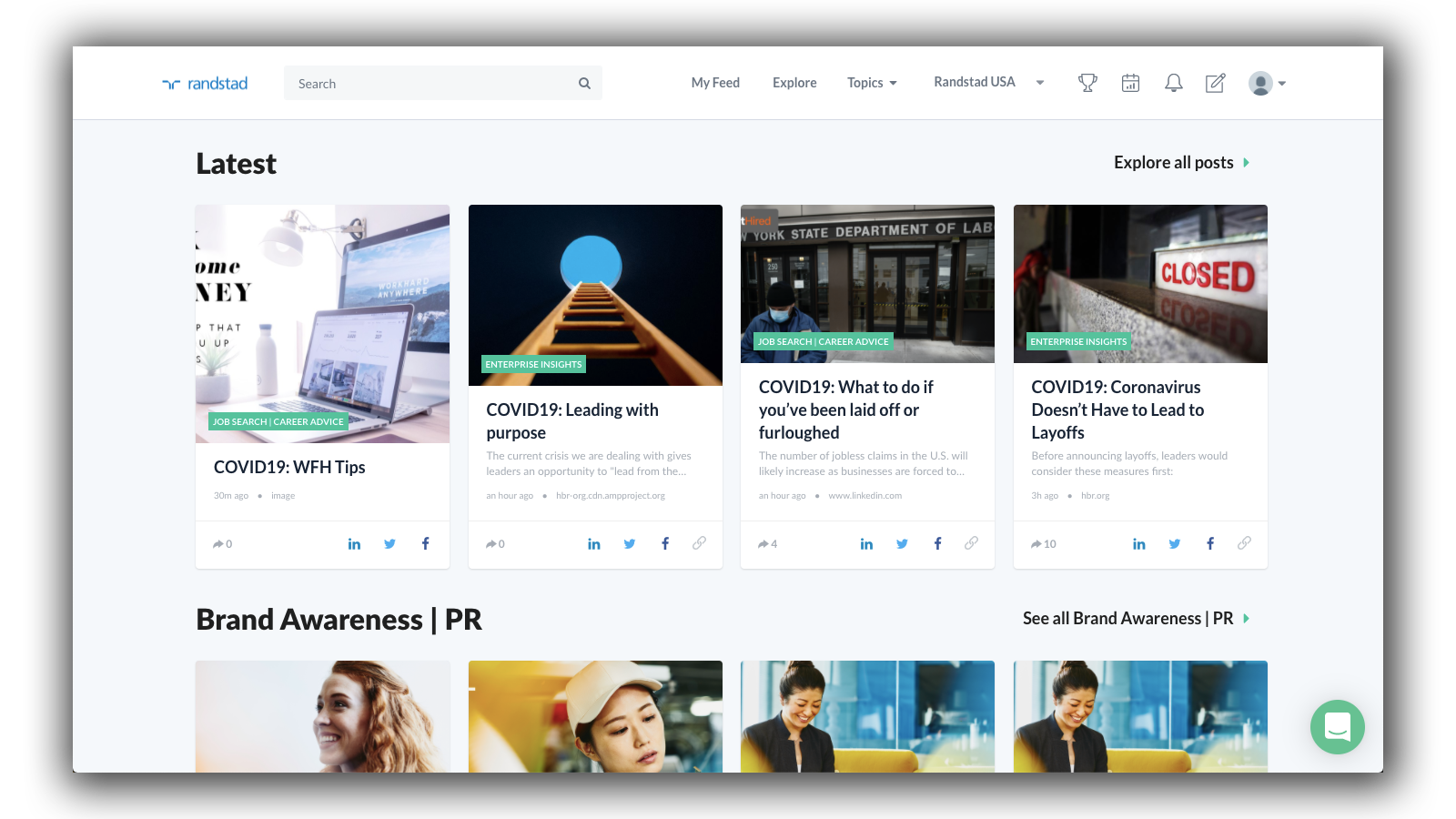 And since migrating to Enterprise Groups, Randstad USA simplified their program. The number of employee groups has reduced from 50 to 12 and the number of content topics from 40 to 5. After implementing the changes, the platform became a lot easier for employees to use and for program admins to manage.
"It's so easy to use and so easy to manage. PostBeyond has been so great and the team is always willing to listen and adjust where they can."
– Karen Pace
Newsletters have been a game-changer for Randstad USA. The social team sends out regular email updates to employees every week. Employees would access the email update to share and queue content in a few clicks. They've even experimented with a test period of not using Newsletters. As a result, the recruiters saw a notable decline in individual sales after turning off Newsletters. For that reason, they believed that the lack of email updates limited their visibility and awareness on social media.
Results
After launching the program in 2016, here is what Randstad USA has achieved:
Activated over 1,500 sharers.
Shared over 125,000 posts on social media.
Increased their potential reach to over 100,400,000 people.
Drove over 597,000 website click-throughs.
Increased content engagement by over 100,000 interactions.
Generated over $1,500,000 in earned media value.
"The advantage of getting a visitor back to our website through our content was huge. Now we had an army of people who could help us do that while  also watching our users share and engage with our content and seeing the strategic accounts team personally connect with their brands and share branded content."
– Karen Pace
Next Steps: Scaling With Thousands of Advocates
Finally, Randstad USA now has a better way to manage over 2,000 brand ambassadors across all their different lines of business. The company's brand ambassadors are on-board and want to participate actively. Above all, the social team is actively supporting its employees with a platform that is easy to use, easy to access, and easy to train.
Their brand ambassadors were critical to the success of the program and Karen firmly believes it can only get bigger and better for Randstad USA.