Note: We updated this blog about social media experts with additional influencers and insights worth following in 2023.
Social media is fast-paced and exciting (read: always changing). Whether you're just starting out as a social media professional, or are a seasoned pro, it's always smart to keep an eye on what the top social media experts are doing.
So, we put together a list of some of the most-followed social media experts on the planet. If you're looking for some general social networking savvy or just in search of some fine tuning for a campaign, these people have the goods.
6 Top Marketing Experts on Social Media
One addition you'll find useful for 2023 is our list of top social media experts you can follow for marketing tips and ideas.
These folks are both social media marketing experts – i.e., the pros who dig into the algorithms – and other marketers who've skillfully used each platform for their own goals, like building sales pipeline, growing communities, and much more.
Kerry-Ann Betton Stimpson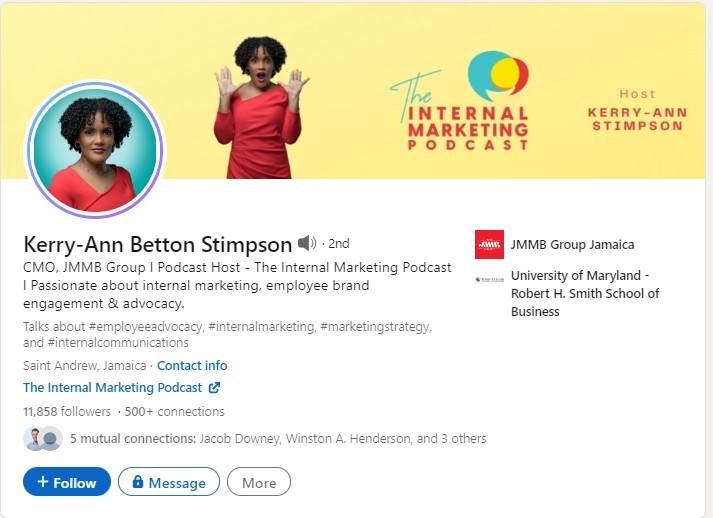 Kerry-Ann is an expert at driving brand reach on LinkedIn, both personally and through teams and employees. When it comes to the latter, Kerry-Ann provides a lot of amazing perspectives on how to mobilize people in your company to promote your brand.
Danielle Guzman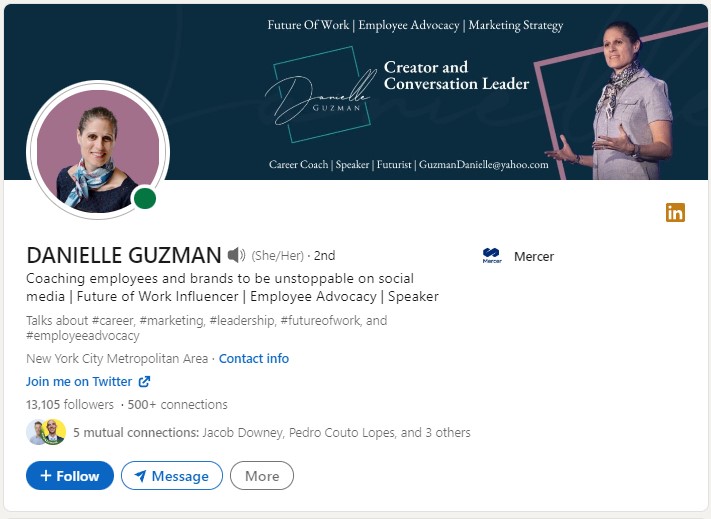 Danielle Guzman is a social media leader. Follow her to get in-depth guides and insights on how to attract talent, drive leads, and grow pipeline on social.
Jessica Williams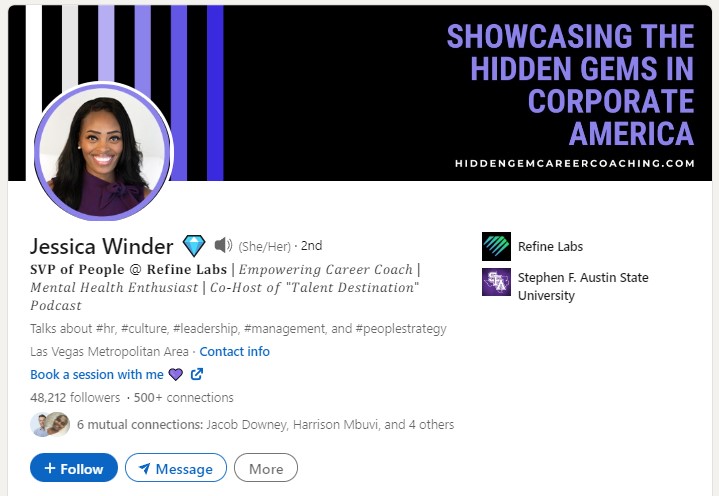 Jessica skillfully uses social to find and attract the right talent for her company. Not only that, but she provides an amazing example of how to deliver thought leadership in your space. Jessica focuses on providing thought leadership surrounding hiring for and seeking work.
Arthur Castillo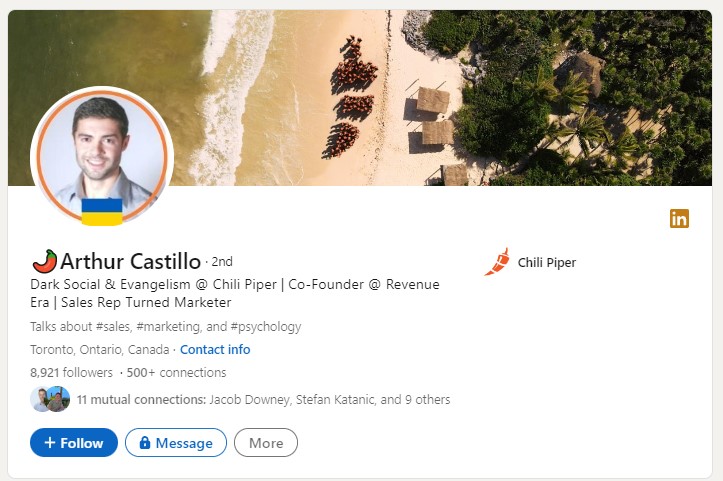 Arthur is an expert at using video on LinkedIn. From amplifying executive thought leadership to building your own community, this is a great figure to follow.
Nick Bennett
Nick is an expert in field marketing. But for the past few years, Nick's been using LinkedIn to build his thought leadership in the field marketing space. Not only that, but he's built a great community through his LinkedIn network. A cool fact: Nick drove a million dollars in pipeline through LinkedIn.
Rachel Shi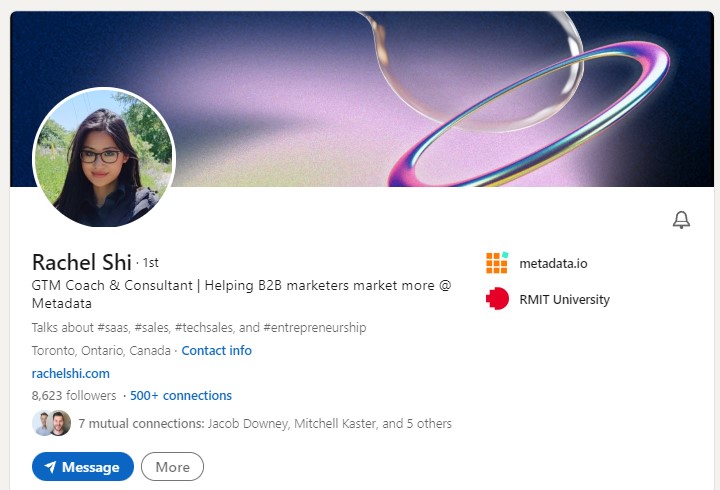 If you're working to use LinkedIn for social selling, then you'll want to follow Rachel. She built her thought leadership and expertise over the years. Today, her prospects view her as a solid problem-solver, not just a sales rep.
Top Social Media Experts
Here are the 25 social media top guns (in no particular order) we're following right now.
1. Jay Baer
Jay is a best-selling writer on inspirational social media expert widely known for his book, Hug Your Haters. Follow Jay to his website jaybaer.com to learn more.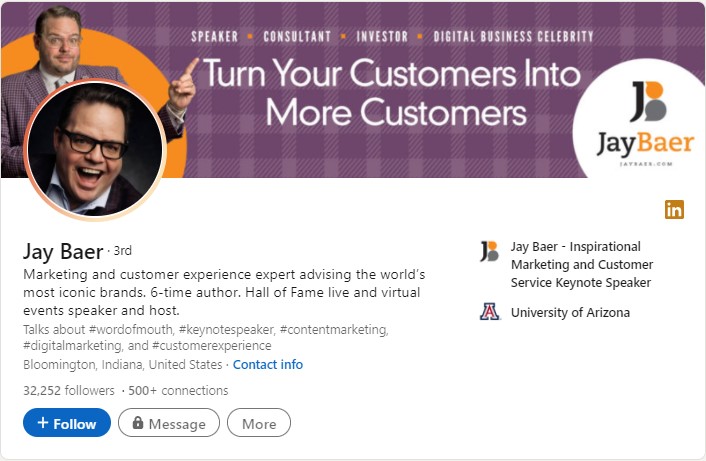 2. Sean Gardner
Sean is one of the world's most followed social media influencers and advocates for social good. He's also the Vice President at the World Communication Forum in Davos, Switzerland. Follow Sean on Twitter.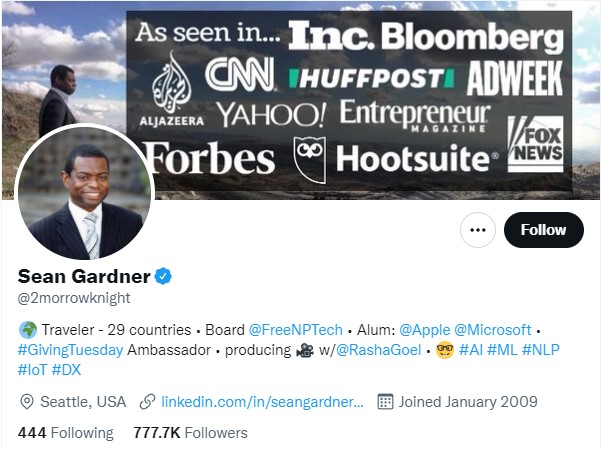 3. Ann Handley
Ann Handley is an author, trainer, consultant and the head of Content at MarketingProfs. She's known for being a top expert on marketing writing and a leader in social media for B2B companies. Follow Ann on her blog at annhandley.com.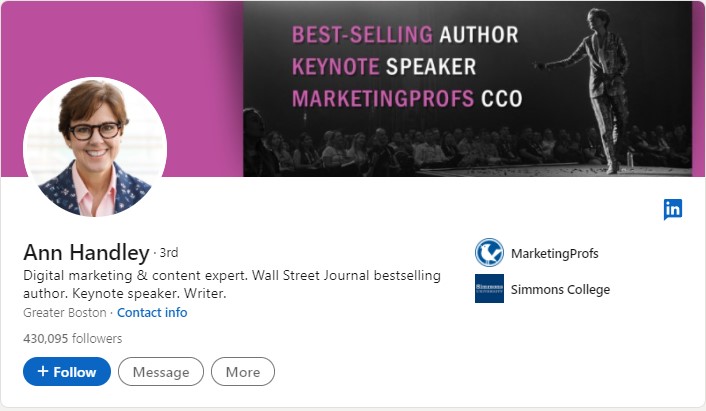 4. Neal Schaffer
Neal is one of Forbes Top 5 Social Sales Influencers and founder of the Social Tools Summit conference. His books and writing focus on using social media to expand your business influence. Follow him on Twitter.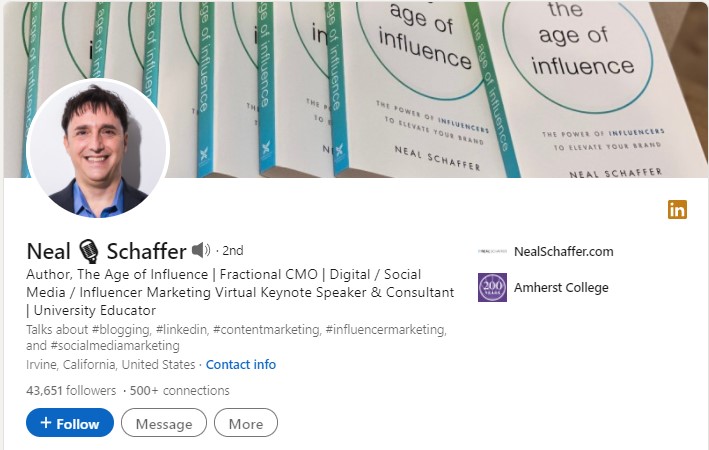 Watch Neal's latest webinar with PostBeyond! 
5. Sujan Patel
Sujan is the co-founder of WebProfits and a partner in a handful of software companies including Right Inbox. He is also an avid blogger and writes for publications like Forbes, WSJ, Inc., and Entrepreneur Magazine. Keep up with him on his website at sujanpatel.com.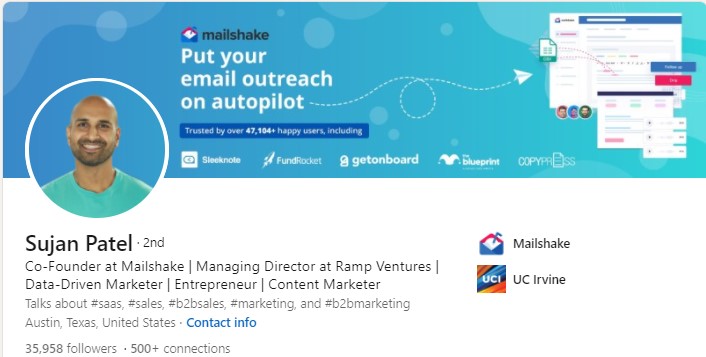 6. Kim Garst
Kim is a social-media expert who's known for her cutting-edge approach to the latest marketing and social media strategies. Follow Kim on Twitter.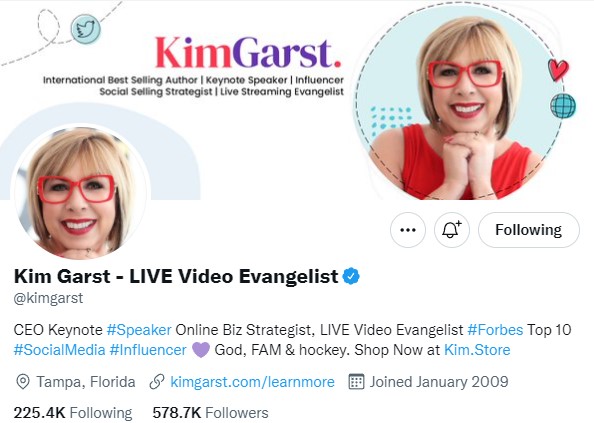 7. Neil Patel
Neil's one of the world's most-respected digital marketers. He writes on social media as well as content marketing and SEO topics. Keep up with him on his website at neilpatel.com.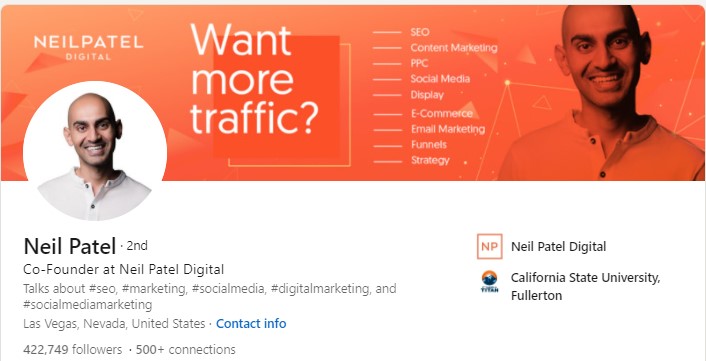 8. Mari Smith
Mari is a social media expert, trainer, and consultant known for her expertise in Facebook marketing. For more information, visit her website marismith.com.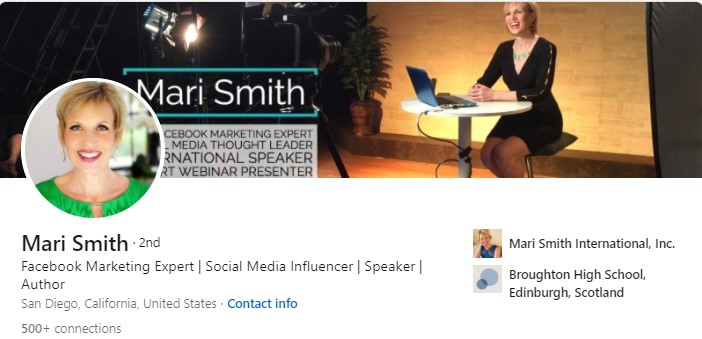 9. Michael Stelzner
Michael is the founder of Social Media Examiner. He hosts two weekly social media shows. Visit Social Media Examiner to learn more about a wide variety of social media topics.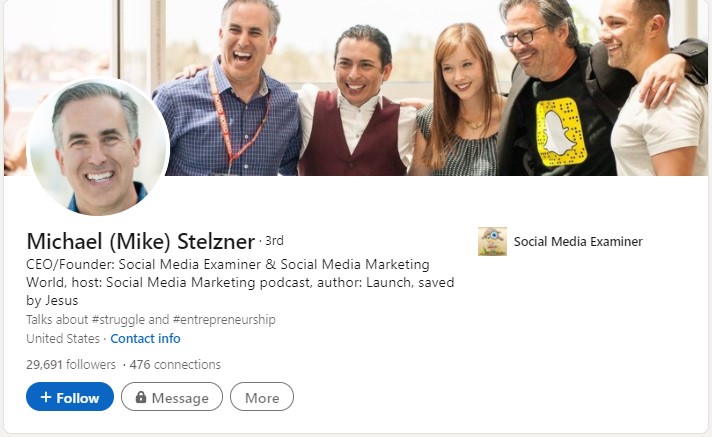 10. Katie Lance
Katie is a consultant on social media for tech, real estate, and mortgage companies and startups. She focuses on helping businesses optimize their presence and calculate ROI from social media. Follow her on Twitter.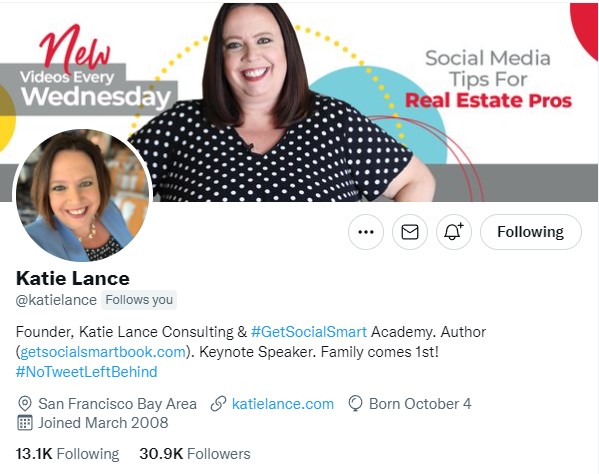 11. Lilach Bullock
Lilach is a social media expert who writes on a wide range of marketing areas, including generating leads and increasing engagement. You can follow Lilach on Twitter.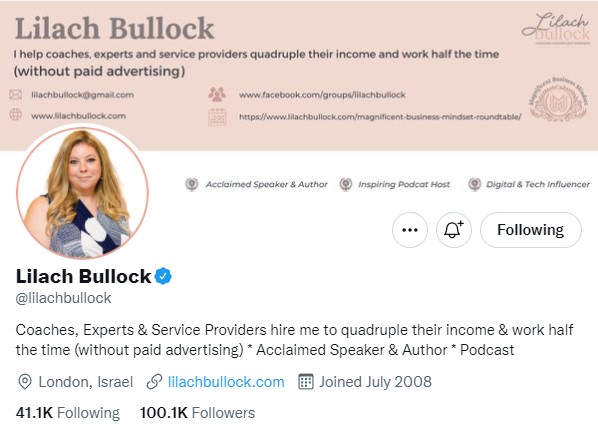 12. Guy Kawasaki
Guy is a veteran of social media and noted brand evangelist. He writes and Tweets on a wide range of online marketing topics, which are widely followed. Follow Guy on Twitter.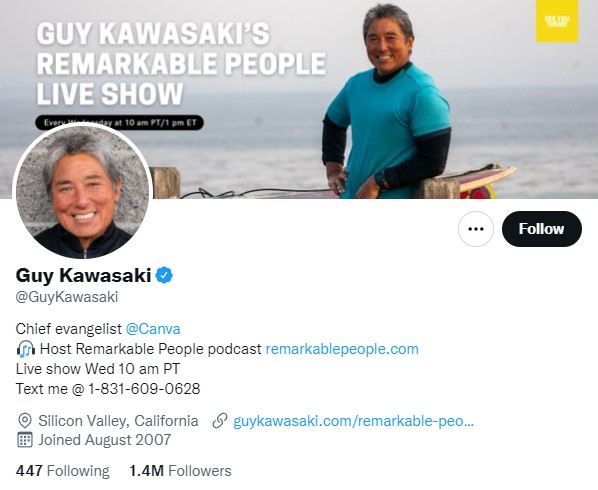 13. Joe Pulizzi
Joe is known is a renowned author, speaker, and founder of the Content Marketing Institute. He's widely recognized as a leader in the content marketing movement and a social media thought leader. Follow Joe on his website www.joepulizzi.com.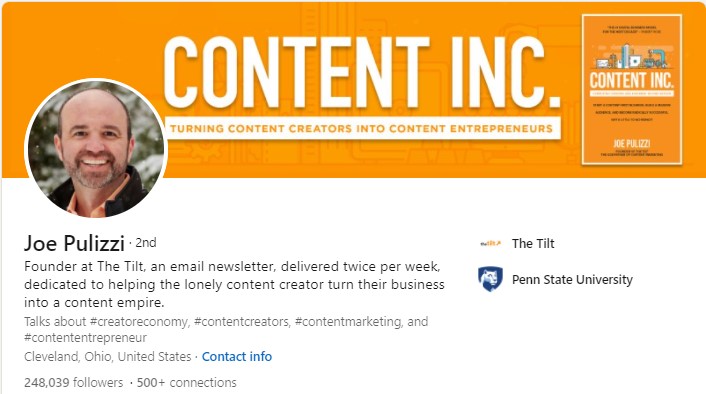 14. Sarah Goodall
Sarah is a noted social media expert and the founder of Tribal Impact. She's dedicated to helping B2B organizations drive growth using social selling and employee advocacy. Follow Sarah on LinkedIn to keep up with her latest posts.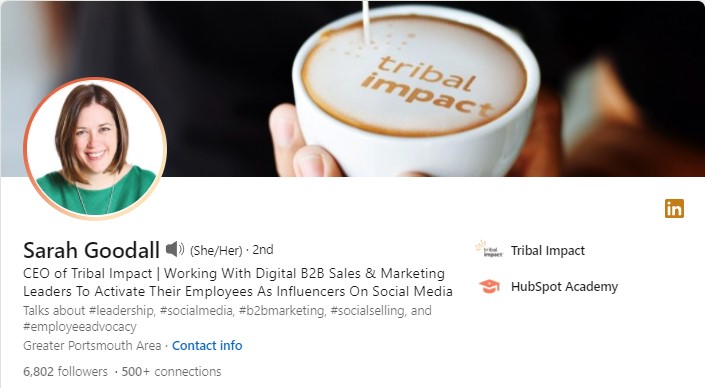 15. Noah Kagan
Noah is the founder of Appsumo and is widely known for sharing hot growth marketing tips and list-building techniques. Follow Noah on Twitter.
16. Amy Porterfield
Amy is a widely known expert in digital marketing whose approachable style is great for beginners and those dipping their toes into the social media waters for the first time. Follow Amy on her Twitter feed.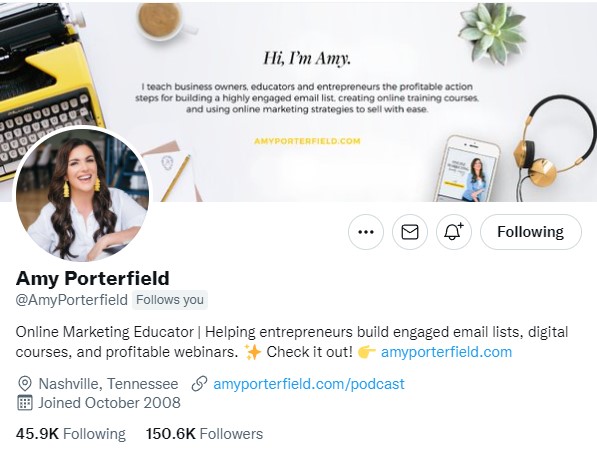 17. Rand Fishkin
Rand is the founder of Moz, an SEO software company. Check out Rand for SEO, social media, in particular, his "Whiteboard Friday" videos are excellent. Follow Rand on Twitter.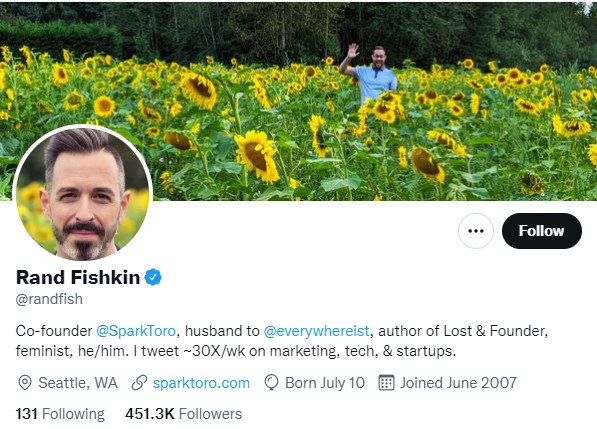 18. Larry Kim
Larry is the founder of pay-per-click management company WordStream and Mobile Monkey, which is focused on Facebook Messenger optimization. He's known as one of the best minds in marketing. Follow him on Twitter.
19. John Jantsch
John is the legendary marketer behind the Duct Tape Marketing blog, which focuses on small business marketing. Be sure to follow him on Twitter for marketing tips.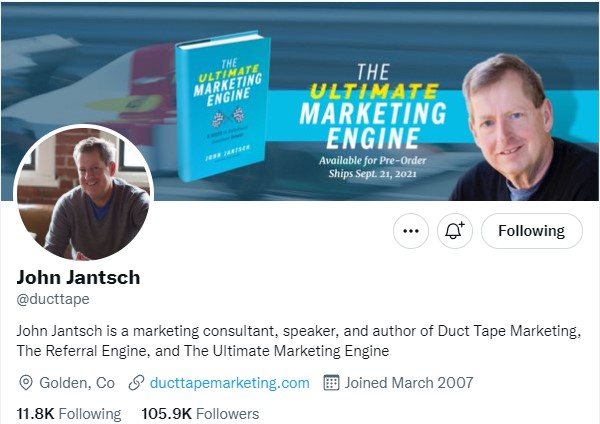 20. Pam Moore
Pam is the Founder/CEO of Marketing Nutz and a social media training academy called Social Profit Factor. If you're looking for smart social media strategies to build your business, she's got the goods. You can follow Pam on Twitter or her podcast Social Zoom Factor.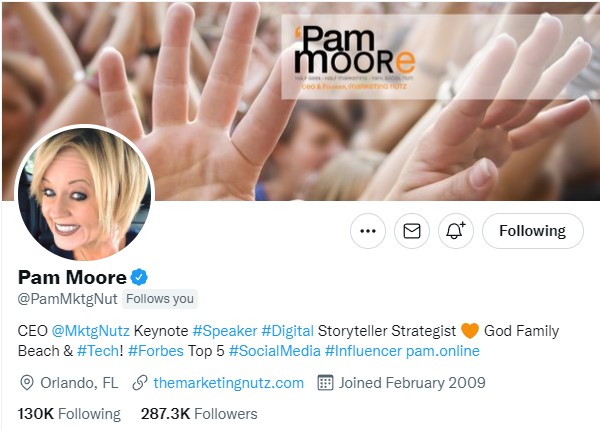 21. Perry Marshall
Perry is an expert in growing your business with marketing using pay-per-click. He's written books on using AdWords and Facebook ad to drive growth. Follow him on Twitter (and read his excellent books).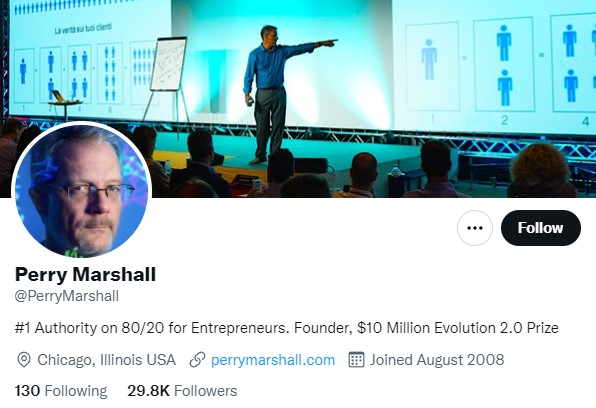 22. Jon Morrow
Jon is the former editor at Copyblogger and founder of Boost Blog Traffic. His incisive content covers a wide range of digital and social media marketing topics. Follow him on Twitter to get his latest.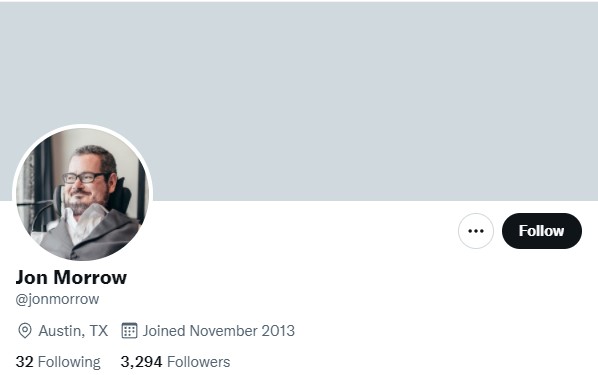 23. Gary Vaynerchuk
What list would be complete without Gary Vee? While it would be easy to dismiss him as a social media celeb, his book Jab, Jab, Jab, Right Hook shows he has real chops. Follow his Twitter feed to keep up with him.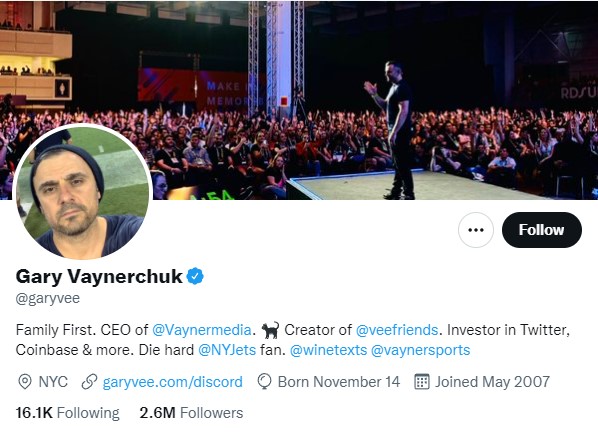 24. Steph Gilbert
Steph Gilbert founded The Social Media CEO, a great blog with timely tips and insights on how to improve your social media reach.

25. Kudzi Chikumbu
Kudzi is the Director of Creator Community at TikTok. He's an amazing resource for understanding how TikTok is moving. Follow Kudzi's LinkedIn profile for insights on how to leverage TikTok.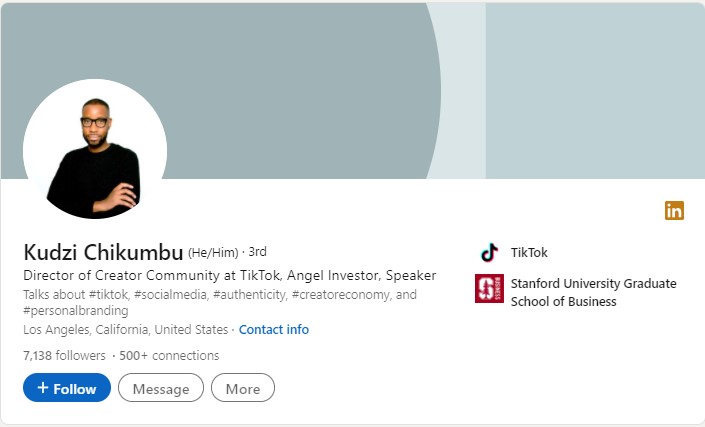 How to Become a Social Media Expert
If you're looking to amplify your presence on social media, then check out these resources:
If you're interested in building your social media skills, or taking your career to the next level, then check out our top social media courses.