As a manager, you want to create a healthy workspace for your team to feel engaged and purposeful. You want to see your team come to work feeling optimistic for the day, understanding the value of their job.
Unfortunately, for many teams, creating a space with high employee engagement is difficult. In 2019, Gallup reported that only 35% of employees are engaged at work — and this was a record high since Gallup began tracking the metric in 2000.
Who are "engaged employees"? Engaged employees, as defined by the Gallup report, are "those who are highly involved in, enthusiastic about and committed to their work and workplace."
If you want to boost your employee investment and morale, it's important to grasp why employee engagement matters and the research surrounding the topic.
Why is Employee Engagement Important?
Thriving employees improve the daily productivity, culture, and success of your company.
Engaged employees are also more likely to stay loyal to the company. For example, in 2014, employees who found meaning in their work were more than three times as likely to stick with their company compared to those who did not.
This is why employee engagement is often connected to "the war for talent" and staff retention.
Employee turnover is expensive for companies. When employees love their job and co-workers, they are less likely to seek alternative opportunities, which ultimately improves a company's bottom line.
With that in mind, how do you keep employees engaged?
Different companies have different cultures, so there's no one-size-fits-all employee engagement strategy. But research from Gallup shows that employee happiness goes beyond a decent salary and good hours. Employees want to find purpose and meaning in their work — and they want to be supported and recognized by management for their strengths and successes. They want to be proud of where they work; when they are, they can be your most powerful marketing channel.
Employee engagement plans should be more than a metric or HR initiative. Engagement needs to be interwoven into your company's entire strategy – from hiring and onboarding to recognition and development. When employee engagement is a cornerstone of your company culture, you'll see a real return on investment: happier, more productive, more profitable employees.
26 Employee Engagement Statistics You Need To Know
Here are 26 employee engagement statistics you should be aware of.
1. In 2019, only 35% of employees reported they are engaged at work (Gallup)
The good news? This is the highest-ever employee engagement since Gallup started tracking the metric in 2000. At the start of the trend in 2000, only 26% of workers reported being engaged at work.
The bad news? That means that 65% of employees aren't engaged at work. Companies still have a long way to go before they can boast a full staff of employees "who are highly involved in, enthusiastic about, and committed to their work and workplace."
2. Companies that take an experiential approach to employee engagement are shown to have 4x the profit and 2x the revenue as other companies (HBR)
A 2017 study by Jacob Morgan focused on the difference between investing in improving employee engagement numbers and investing in actual employee engagement. While businesses looking to increase numbers often offered short-term benefits or perks that made employees temporarily happier, others focused on transforming the entire employee experience. It was the latter that showed greater long-term success both with their employees and financially.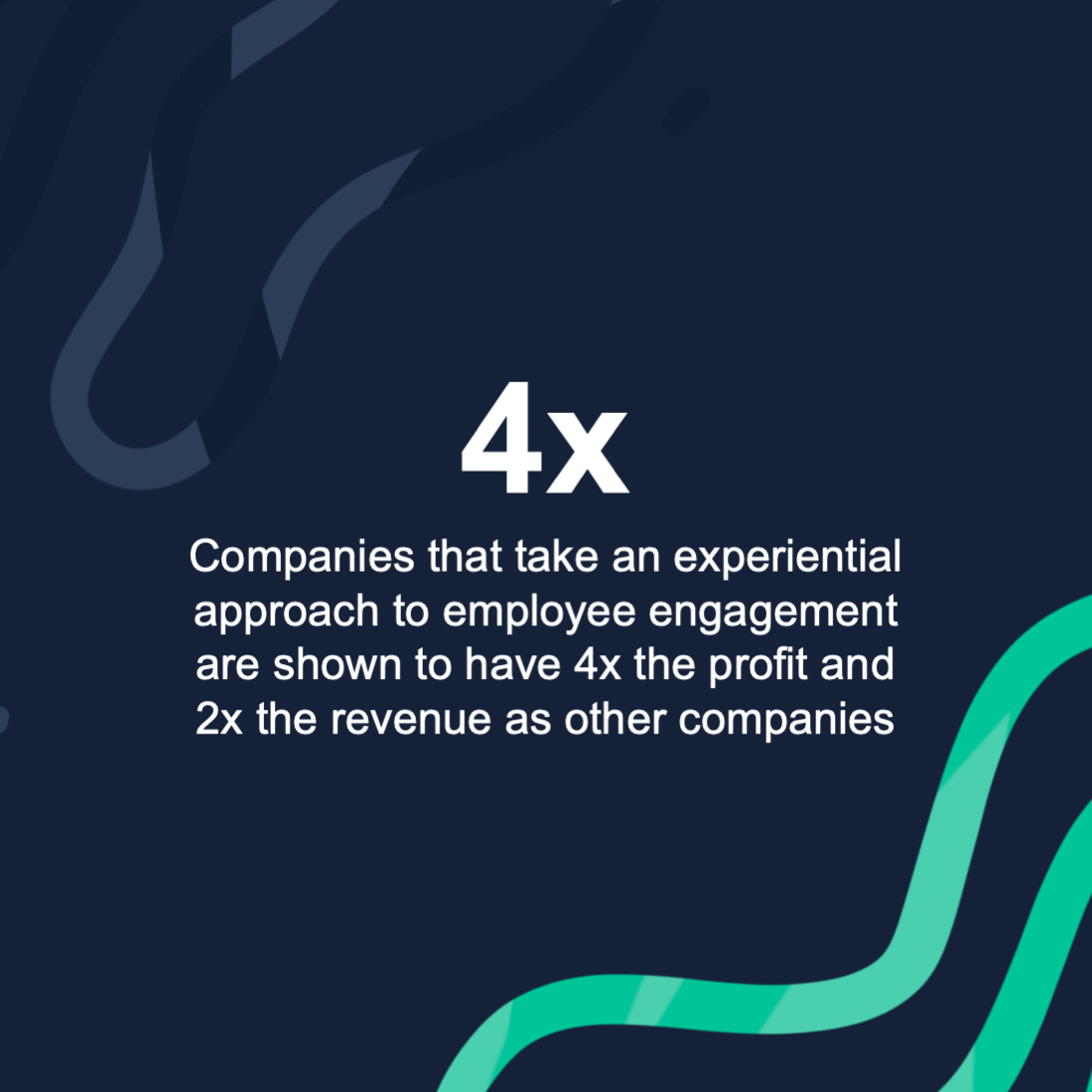 3. Highly engaged workplaces see 41% lower absenteeism (Gallup)
Employees who feel happy at work are more likely to want to go to work. If your company struggles with employee attendance, it might be worth considering whether your corporate culture is making employees want to come to work — or find a reason to stay home.
4. Companies with engaged employees outperform those without by 202% (Dale Carnegie Training)
Teams who embrace employee engagement and advocacy have discovered the benefits.
In 2018, to understand why, and to uncover best practices, we worked with Golfdale Consulting to survey over 2,500 employees and compiled the results into this report: 2018: The Year of Social Advocacy In The Workplace. In our research, we found that employee engagement is good for morale and performance.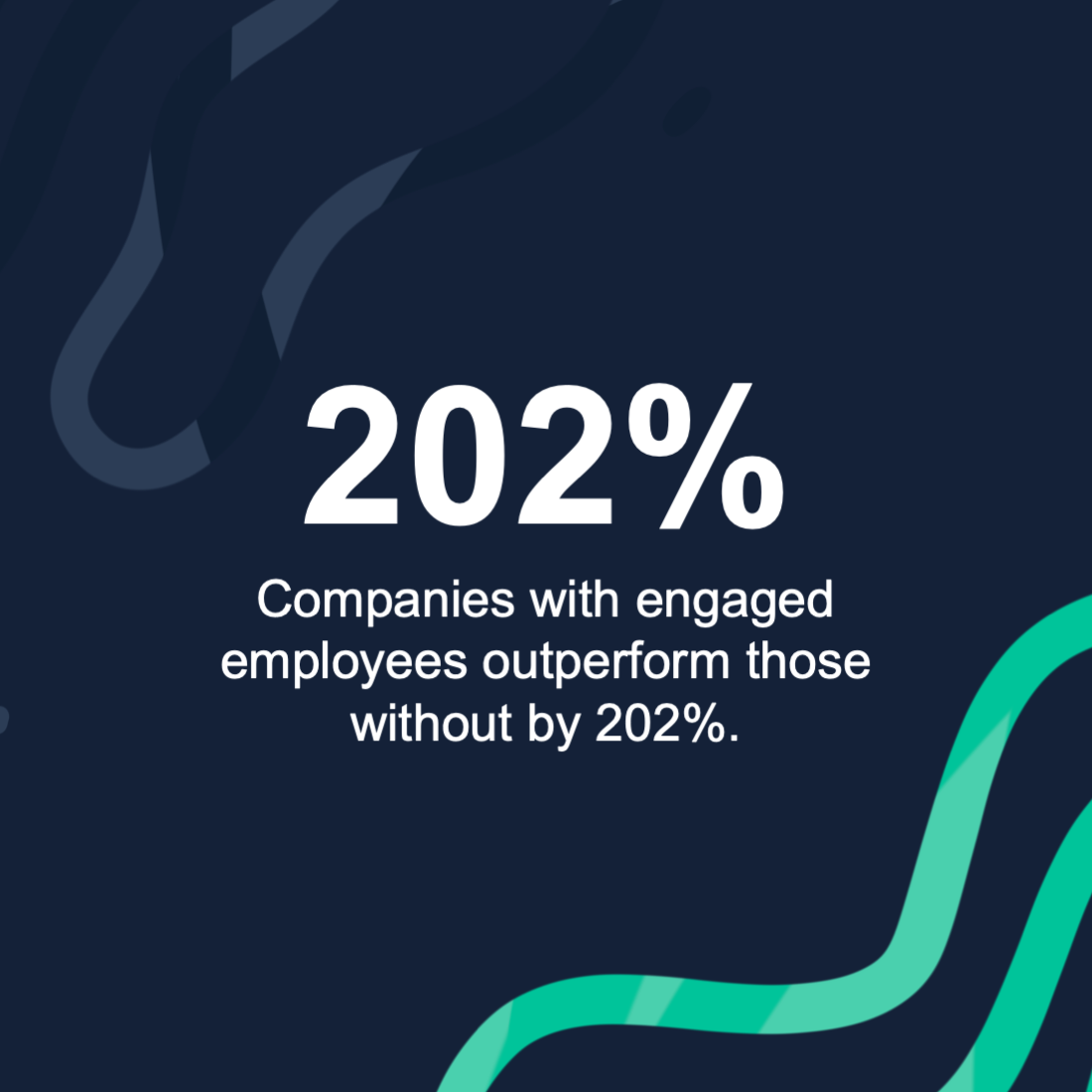 5. 1 in 5 employees is both highly engaged and at risk of burnout (HBR)
Unfortunately, having a highly engaged workforce doesn't always mean having a healthy workforce. While it's important to keep employees engaged, it's just as important to make sure that that engagement isn't built on personal investment alone. All employee engagement should be balanced with management taking an interest in the wellbeing of their employees.
These burnt-out but invested employees have higher rates of turnover than unengaged employees, making burnout not only dangerous to the employee but costly to the company.
6. In a major long-term study completed in 2011, companies that had the best corporate cultures, encouraged leadership initiatives, and highly appreciated their employees grew 682% in revenue (Forbes)
During the same time period, companies without "a thriving company culture" only grew 166% in revenue, meaning that great company culture can lead to over 4x higher revenue growth.
7. Companies with engaged employees had 89% greater customer satisfaction and 50% higher customer loyalty than ones with disengaged employees (Korn Ferry Hay Group)
Employee engagement has a direct impact on the customer experience. Engaged employees are more invested in their work, which makes them more likely to go above and beyond for customers. When employees feel ownership of and commitment to the results of their work, they're more passionate about creating a great customer experience.
8. As early as 2014, disengaged employees cost organizations around $450-550 billion each year (The Conference Board)
While engaged employees make their employers more money, disengaged employees can cause you to lose money. A lack of employee productivity can be costly — and the price of employee turnover, hiring, and training adds up quickly.
9. US businesses lose $1 trillion to voluntary staff turnover each year (Gallup)
High turnover is symptomatic of underlying problems such as a lack of employee recognition, low pay, bad work-life balance, or no training or onboarding — all of which lead to low employee engagement.
Usually, the cost of turnover ranges from one half to twice an individual employee's salary. The higher the turnover rate, the more money a company is spending to train and otherwise onboard new employees.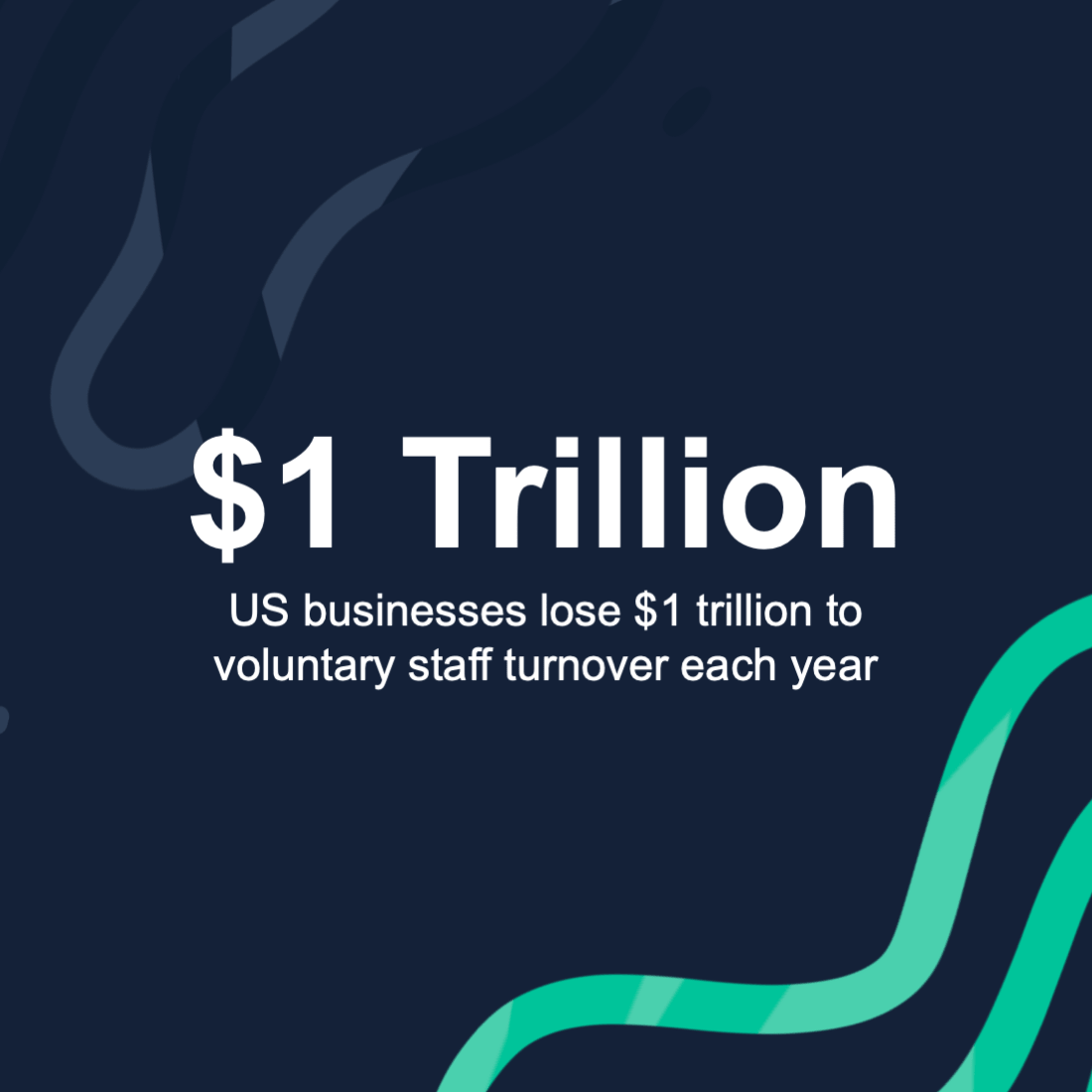 10. 94% of employees would stay in their current role longer if the company invested in their professional development (LinkedIn)
Investing in your employees' happiness, wellness, and success plays a vital role in retention. The same study found that the #1 reason employees don't engage in workplace learning is because they don't have the time — so make sure to give your employees the time and resources to develop their skills and careers.
11. Disengaged employees are 12x more likely to leave their jobs over a one-year period than highly engaged employees (Glint)
Disengaged employees don't feel passionate about or invested in their work; it makes sense that they're less likely to stay with a company they don't feel connected to.
12. In 2016, employers reported that turnover had increased by more than one-third in a 12 month period (Willis Towers Watson)
Does your company culture make people want to stay? Companies can lower the risk of employee turnover by providing perks such as better working conditions, competitive salaries, training and career development opportunities, and flexibility.
Lower turnover rates save businesses money and time spent on recruitment, training, and onboarding. If turnover rates are increasing, so too is the amount of money spent on new employees.
13. 81% percent of employees would consider leaving their job for the right offer (Hays)
According to this 2017 study, most employees are willing to jump ship — even if they aren't actively looking for a new job. Employee engagement builds employee loyalty. When employees feel like integral, respected parts of the team, they're more likely to stick around.
14. US employers spend $2.9M per day looking for replacement workers (Zenefits)
That adds up to $1.1B per year. Low employee engagement leads to high turnover — and a high price tag!
15. 63.3% of companies say retaining employees is actually harder than hiring them (Zenefits)
Finding and hiring new talent is expensive, but retaining it can be even harder. Research from more than 600 US businesses with 50-500 employees shows that employee turnover is a tricky problem to solve — and nearly 1/3 of employers expect their average employee tenure to be less than a year.
To retain employees, focus on creating a company culture that people enjoy and actively want to be (and stay) a part of.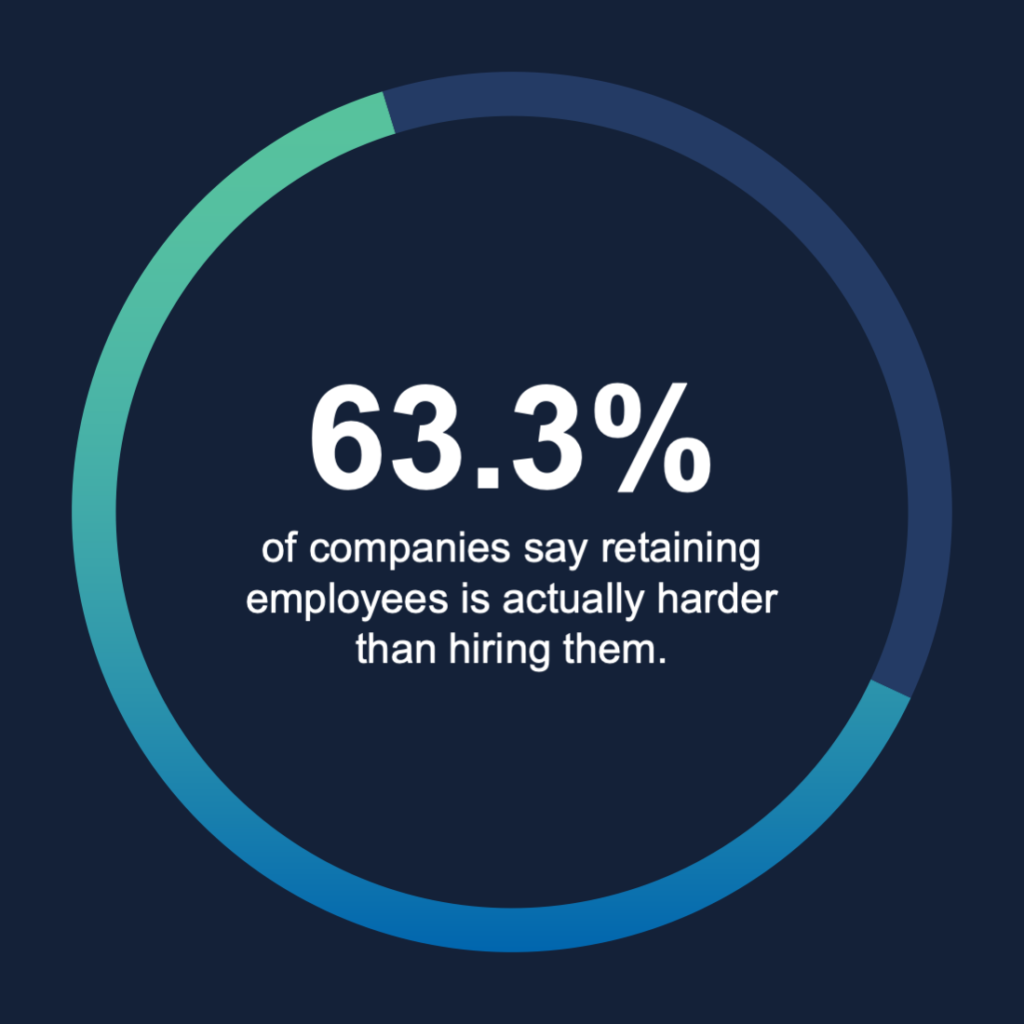 16. It costs businesses $4,683 on average to hire new talent (SHRM)
The same report found that the average time it takes to fill a given position is 44 days. High employee turnover means you constantly need to find and hire new talent, which costs you time and money that's likely better spent on the other aspects of running your business.
17. Today, more than a third of workers are searching actively or casually for a job (Ceridian)
You already know how expensive employee turnover and backfilling roles can be. So how can you make employees want to stay? The same study found that people cite benefits, pay, relationships with colleagues, and job security as reasons to stay in a role.
18. While 89% of employers believe their employees leave them for more money, only 12% actually do (Forbes)
Executives don't always know what their employees want. Do you know what your employees care about? When employees leave your company, ask them why. Exit interviews can help you course-correct and improve the employee experience for current and future employees.
19. As of 2016, almost 1 in 3 employees didn't trust their employers (Edelman)
Trust is a cornerstone of every relationship — including the one between employers and employees. How can you make employees trust you? Make your company culture one of transparency and openness. Keep employees informed of changes and important updates, even if it's not always positive news. If you don't trust your employees, you can't expect them to trust you.
20. 47% of people actively looking for a new job pinpoint company culture as the main reason for wanting to leave (Hays)
If you want to improve both employee retention and profitability, prioritize improving company culture. Some of the top ways to create a better company culture include increasing transparency, nurturing stronger coworker relationships, and recognizing and rewarding performance.
21. 53% of HR professionals say that employee engagement levels rise when onboarding improves (SilkRoad)
Training and onboarding have a big impact on employee engagement. A study by Glint found that opportunities for employee engagement start as soon as a new employee is hired; new hires with bad onboarding experiences are 8x more likely to be disengaged at work.
22. Companies with comprehensive training programs see 218% higher income per employee than companies without formalized training (ATD)
Employees want to know that you're committed to their success. The same study found that companies that invest in training for their employees achieve a 24% higher profit margin than those who don't.
23. 84% of highly engaged employees were recognized the last time they went above and beyond at work (Bonusly)
At the same time, only 25% of actively disengaged employees were recognized for going above and beyond. Recognition is one of the main drivers of employee engagement. If you don't have a process in place to provide regular feedback and employee recognition, it's time to change that.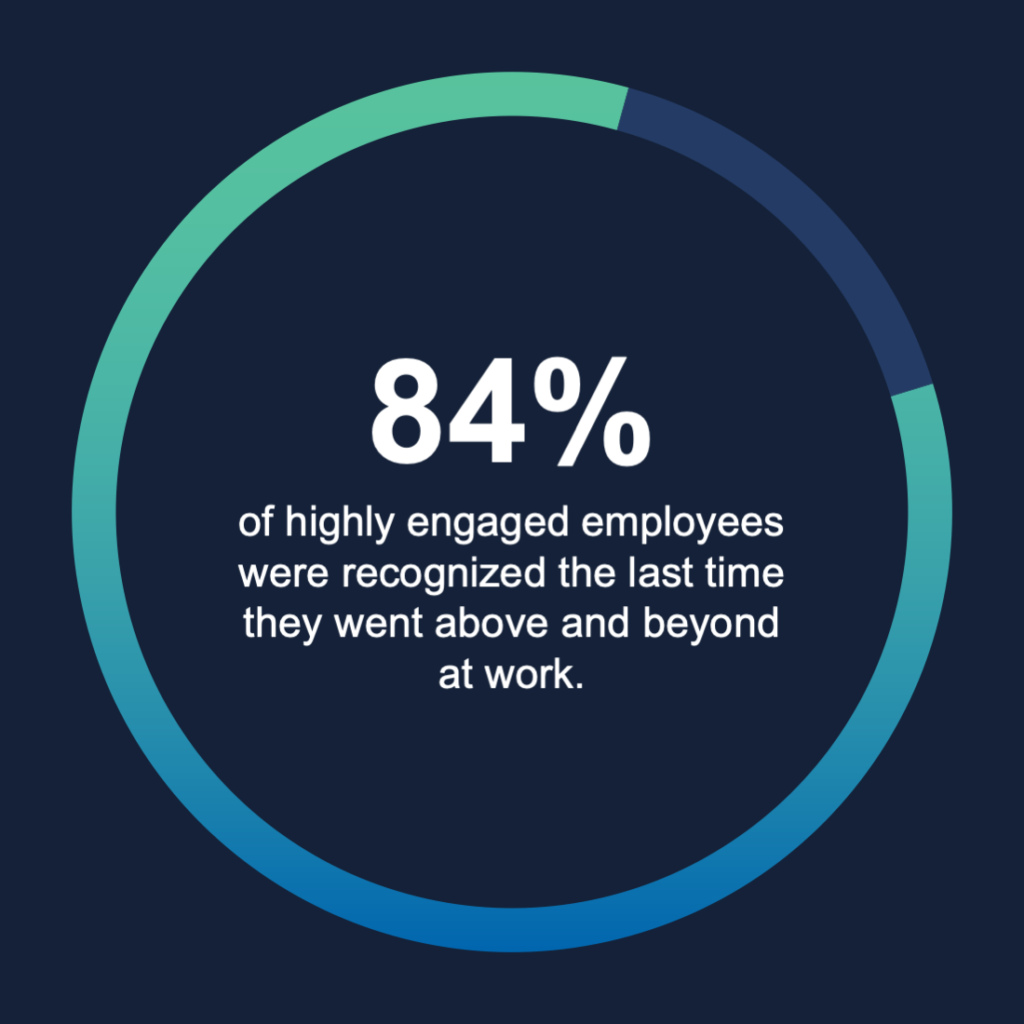 24. 76% of employees say their manager creates the culture at work (SHRM)
The same study found that 58% of employees have left a job because of their manager. The report says that "Lack of communication [between managers and workers] is a leading contributor to the culture issues facing many organizations."
Investing in manager training can give managers the tools they need to create a better employee experience.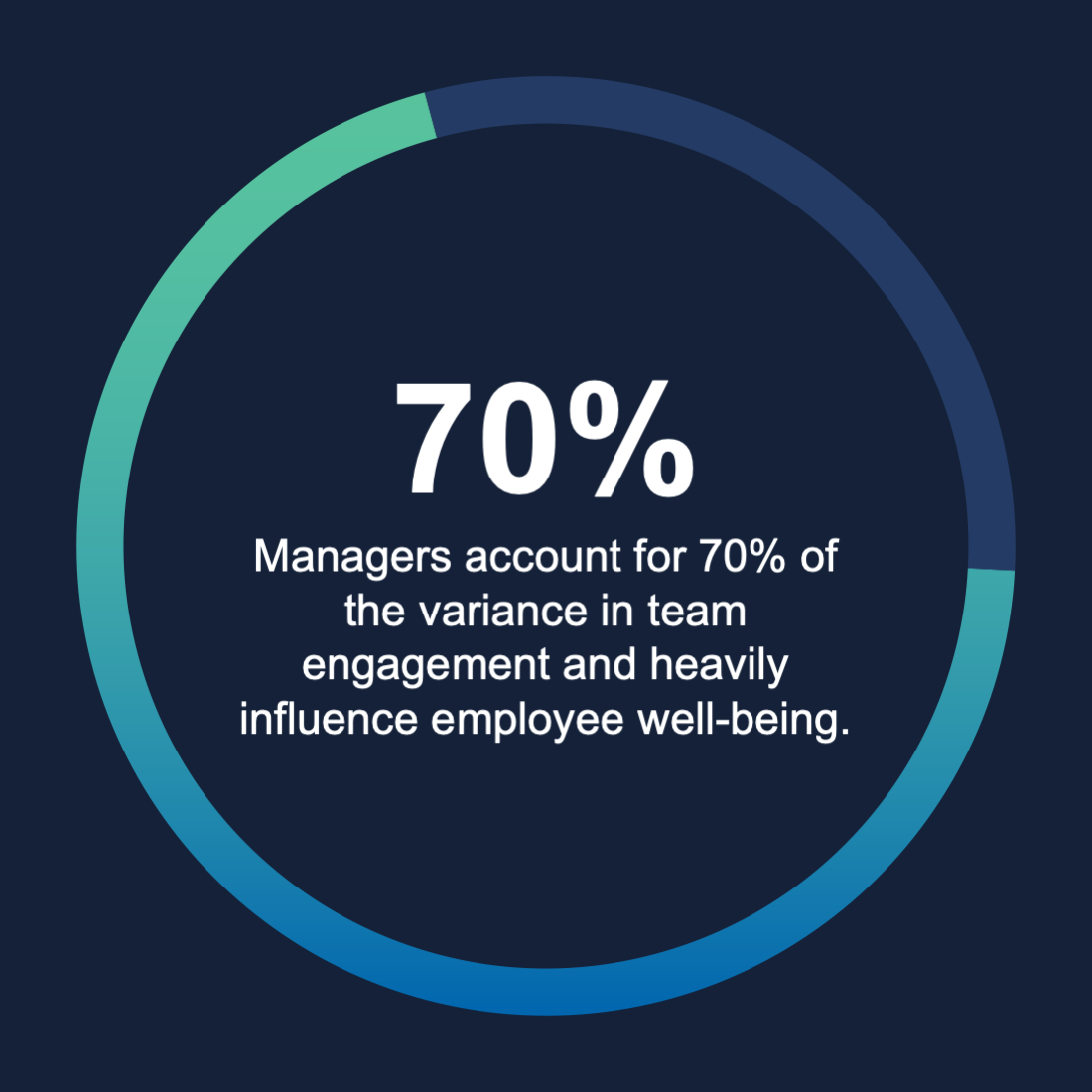 25. Supervisor support more than doubles the odds of employee engagement (Gallup)
Employees are more engaged when they feel they're working in partnership with their supervisors. Supervisors and employees who share a relationship built on trust and transparency will likely be more engaged and are less likely to leave their jobs.
26. Managers account for 70% of the variance in team engagement and heavily influence employee well-being (Gallup)
If you're aware of the importance of employee engagement then you probably invest in benefits programs focused on employee wellbeing. However, according to research by Gallup, the actions of a bad manager can "negate the positive effects of your company's benefits programs."
An unsupportive manager can lead to unhappy, unhealthy employees. When you invest in manager training and hiring the right people, you're investing in your employees' engagement, health, and happiness.
Employee engagement is critical for your team's success — but it isn't the responsibility of one person. It requires buy-in at all levels from the C-suite to entry-level positions to build a meaningful and positive workspace.