You finally get in a groove of creating engaging content on LinkedIn and Twitter and then something changes. Whether a social network changes its news feed algorithm or an upstart like TikTok hits the mainstream – constant changes always happened. What is a social media marketer to do?
Take a deep breath in, exhale and keep on learning.
The ever-changing nature of social media is something you probably have a love-hate relationship with. It keeps you on your toes, but also demands constant learning.
There are a lot of ways to stay ahead of the curve on the latest social media practices: following experts, attending marketing conferences or grabbing coffee with colleagues.
Have you thought about taking online courses?
There is a wide range of online courses that equip marketers with intermediate to advanced social media skills. Whether you are managing your company's social presence or seeking a new promotion, online courses can give you the skills you need to press forward. Here are 5 online courses that will enhance your social media career.
1. Facebook Blueprint
Cut through the noise and go to the mecca itself — Facebook. Facebook offers free online marketing courses via Facebook Blueprint. You don't need to pay thousands of dollars to learn how to market your company on social media. This social media giant has a stake in your success so you take its advice seriously.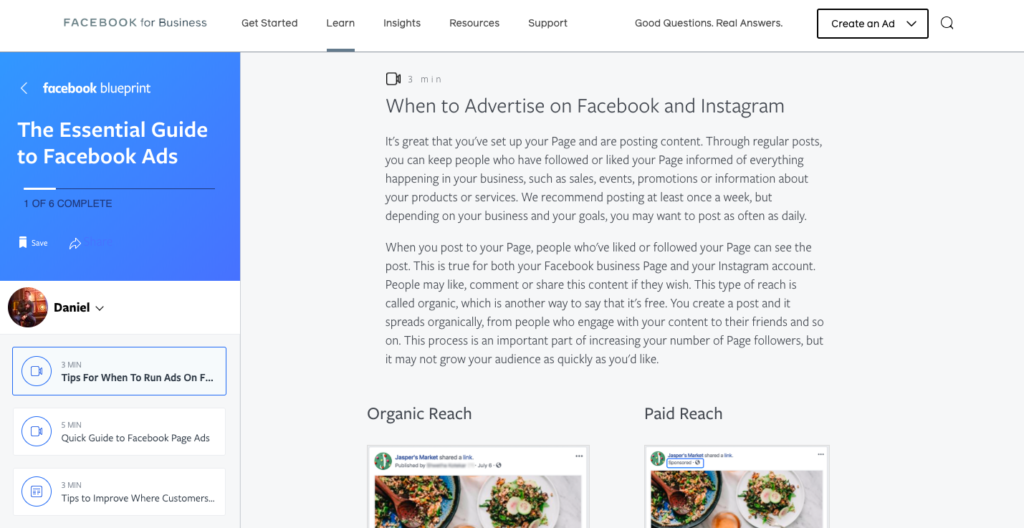 There is a wide array of courses that provide value for marketers at any level.
Topics include:
A Complete Guide to Facebook Ads
A Complete Guide to Instagram for Business
How to Advertise on Instagram
Commerce on Facebook and Instagram
Facebook is not the only social media platform to offer guides on best practices with their product. Pinterest and Twitter have online business resources that can benefit your marketing efforts.
Your skills do not stop when you have mastered a specific channel. There is always more to learn and more potential customers to reach in this omnichannel world.
2. Udemy Courses
There are so many excellent Udemy courses to choose from, it's hard to share just one. From beginner to advanced, there is a variety of courses to match your experience.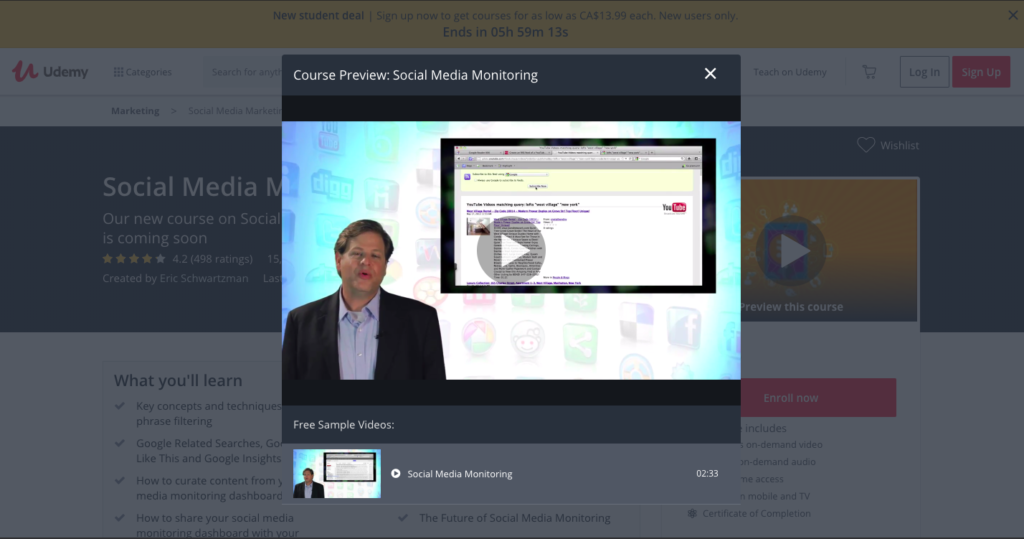 Here is a list of highly-rated courses — ranging from intermediate to advanced — so that you can decide which one is most relevant for you:
Have a specific skill you need to improve? Courses are easy to find by topic search. Prices range from free to hundreds of dollars, and Udemy offers sales from time to time.
Unlike other online courses, Udemy courses each have a detailed description, preview, and reviews. The ranking and review system ensures the quality of the course is more transparent. All Udemy classes give you lifetime access to the course materials and a certificate of completion.
3. Hubspot
Hubspot Academy offers a free Social Media Certification Course. This course will help you build customer loyalty and attract new clients. Hubspot is the authority on inbound marketing and creating valuable content for customers. If you feel like your engagement has plateaued and needs a little spark, this might be the course for you.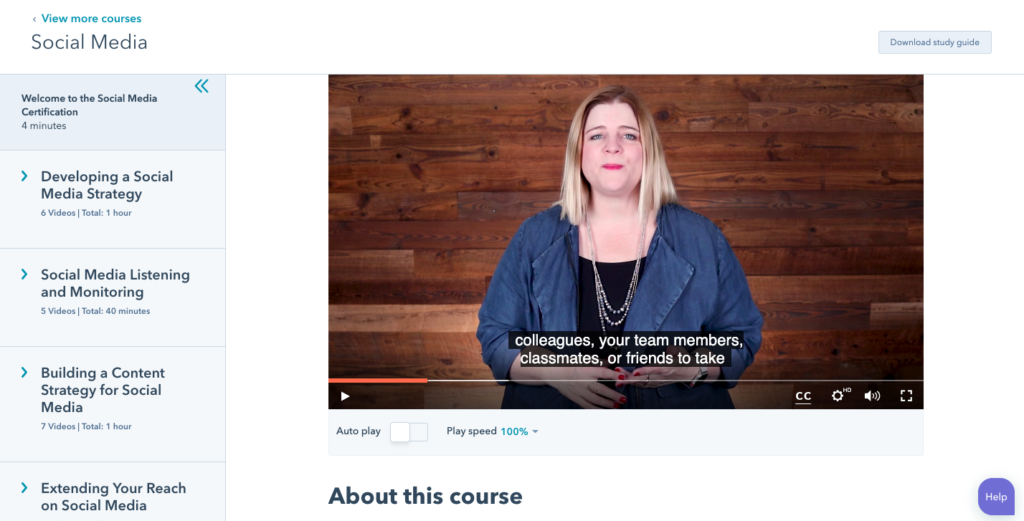 There are 9 lessons, 40 videos and 34 quizzes. It takes a little over 4.5 hours to complete.
Lessons cover:
Social Media Strategy
Social Listening and Monitoring
Building One-to-One Relationships with Social
Measuring Social ROI
Essentials for Continued Success
Hubspot has a wealth of knowledge because of its large share in the marketing automation field. Whether you use Hubspot or another marketing automation solution, you can take advantage of their educational content for digital marketers.
Other courses that you might find relevant include:
Fanocracy: Turning your customers into fans, and fans into customers
Content Marketing Certification Course
How to Build an Advanced Twitter Strategy
Developing an End-to-End Instagram Marketing Strategy
There is something on Hubspot for every marketer that is itching for more professional development.
4. Get Certified with DigitalMarketer Courses
DigitalMarketer is a large online community of digital marketing professionals. Between the multitude of certification training, masterclasses and on-demand workshops, a marketer might not know where to start with DigitalMarketer.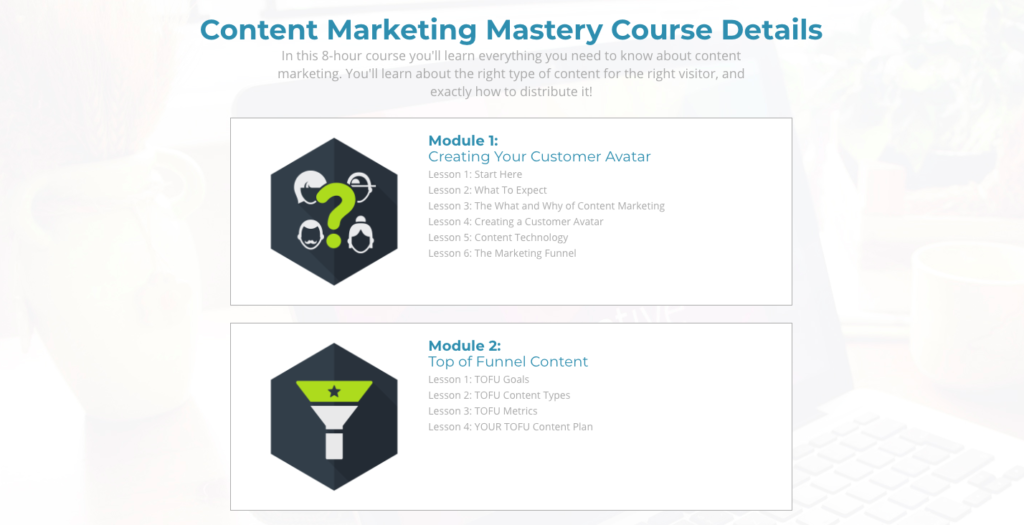 Individual certification courses for social media involve:
Paid Traffic Mastery
Conversion Funnel Mastery
Become a Certified Social Media Manager
If you don't want your learning to stop, consider the DigitalMarketer Lab.
The DigitalMarketer Lab is a huge collection of educational materials, checklists, swipe files, templates and access to an online community. A subscription to DigitalMarketer Lab includes access to all 11 core marketing certification courses and 3 elective courses.
DigitalMarketer Lab is useful for agencies, marketers and founders. Monthly access costs $95. If you want to show your employer or clients that you take continued education seriously, this will provide you great value.
5. LinkedIn Learning
LinkedIn Learning provides a wide array of on-demand courses delivered by industry experts. What makes LinkedIn Learning different than other platforms is their Learning Paths. They split their course into dedicated paths which is a coherent structured learning experience instead of different videos and courses. Learning Paths provide everything you need to level up your social media marketing skills within one learning portal.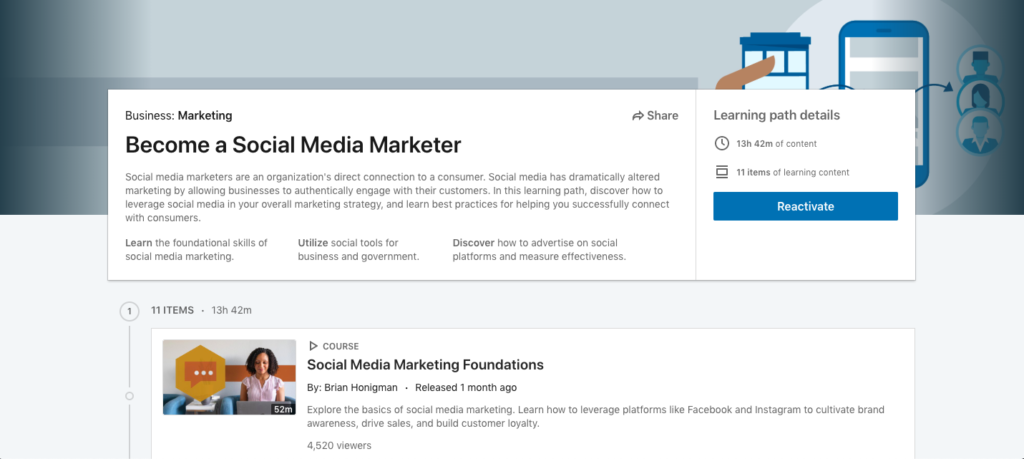 There are ten available learning paths specifically for social media such as:
Become a Social Media Marketer
Become a Content Strategist
Create LinkedIn Mobile Videos
Become a Social Media Advertising Specialist
Outside of Learning Paths, there are specific videos and courses available for social media marketers such as:
Marketing on Twitter
Social Media Marketing: ROI
Social Media Marketing: Managing Online Communities
As a professional, LinkedIn Learning is a great platform to learn new social media skills. It's only $29.99 per month so it's a low-cost commitment for social media marketers to continuously learn the latest tactics on social media.