How To Build A Brand
If you're looking to learn how to build a brand correctly, hopefully, this guide will help. I recently read an article from Fast Company that features Netflix's former Chief Talent Officer Patty McCord. Patty said something that really struck a chord with me:
Companies don't exist to make you happy. You know that, right? The business doesn't exist to serve you. The business exists to serve your customers.
Yes and no, I thought. Yes, a business exists to serve its customers. But people don't simply exist to work for a business and make it money (well, some people might). People work to make a living, of course, but also to advance their own interests, build out a skillset and contribute to the greater good.
So, I'd actually challenge the whole "companies don't exist to make you happy" notion. It is precisely this way of thinking that has led companies to become what Futurist Jacob Morgan calls disengagement factories.
Organizations must create an environment where people want to be there instead of creating an environment where they assume people need to be there.
Would it be so bad if companies paid more attention to what makes their employees happy? Certainly not. World-class brands are known as exceptional employers because they are the ones that do care about their employees' happiness.
The reality is, a disengaged employee can cost you upwards of $10,000 in profit annually. And that's only the tip of the iceberg. Why should you treat your employees any differently than your customers – aren't they, too, consumers of your brand?
Happy employees lead to happy customers.
Now the question is: what steps should companies be taking towards earning that badge of honour as an employer people want to work for?
Let's take a peek at one good example of a brand that has it down pat.
Shoppers Drug Mart
Long-hailed as one of Canada's most trusted brands, Shoppers Drug Mart is a leading example of a strong employer brand.
In an interview with Lisa Gibbs, Director of Community Investment at Shoppers Drug Mart, she said:
Companies need to stand for something big. A brand point of view helps align everyone to a common purpose that ladders up to the overall business purpose.
At Shoppers, employees are united around a commitment to women's health, most notably through their Shoppers LOVE Shoppers LOVE YOU program program. This makes sense for the brand, given that 80% of the 1.2 million customers visiting daily are women.
"Shoppers Drug Mart Associate-owners participate in a great many community-based women's health investments across Canada," said Lisa.
I think there's a special opportunity here – employees not only work closely with this population of clientele but also have unique insight into the community they serve.
Darren Ratz, SVP of Human Resources at Shoppers Drug Mart, spoke about the significant strides Shoppers' has taken to revamp their employee engagement strategy. By conducting a company-wide survey, they learned about key areas for improvement, such as communications, resources and tools. As a result, they opened up access to mobile apps (email, cloud storage and chat) and built a cloud-based intranet for improving internal communication with employees.
But perhaps most interestingly, Darren led an initiative to empower franchise owners to conduct their own engagement surveys – a way to gain insight into the store-specific needs of employees.
"We've been able to work with them proactively for the past five years where we've seen numerous increases in engagement within their stores," shared Darren. "This has been a critical part, I believe, to the success of our Shoppers Drug Mart franchise network and the results that we deliver."
This is what gives Shoppers Drug Mart a competitive advantage and differentiates them from the rest. The reigns to employee engagement don't necessarily live in corporate headquarters. For franchise businesses, having engaged employees is just as important, given they are often at the frontlines and have the most touchpoints with customers.
Find An Approach That Works Best For You
Top quality employer brands are trusted because they have good people behind them. And we know that trust is critical to business success, Shoppers being a prime example of this. It's not surprising, then, that Shoppers was named among Achievers' 50 Most Engaged Workplaces in North America for 2015.
I've explored this idea before, and I think it bears repeating. A positive work experience involves more than just free snacks and salary bumps. An exceptional employer brand is earned. Companies like Shoppers have earned this reputation through thoughtful investment in their workforce.
For companies looking to build out their own employer branding strategy, I've highlighted some of the main pillars from Shoppers' program:
Redesigned their health and benefits plan based on Pharmacist/Owner feedback to offer relevant and purposeful resources to employees

Ex: Their workplace wellness program included health risk assessments and mentored/self-help programs

Involved employees in championing CSR initiatives within the community in a meaningful way
Conducted employee engagement surveys at both the corporate and franchise levels
Took actionable insights from surveys and brought in resources to meet employee needs, such as:

Internal Google platform, mobile access to email, cloud storage and Google chat
Built a custom intranet for communications purposes with employees

Worked closely with franchise owners to help implement their own engagement strategy
And if you need further convincing, here are some critical stats around employer branding that speak to its impact: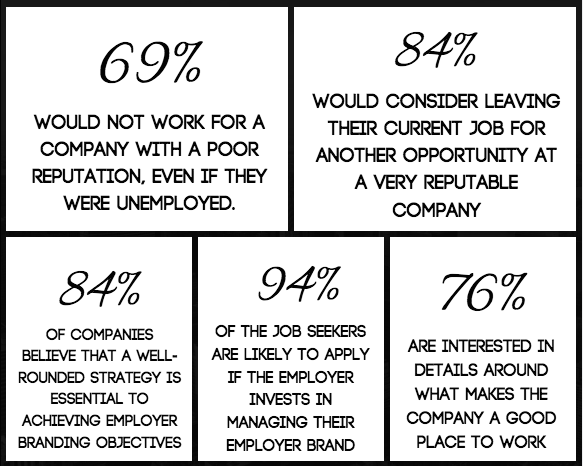 Source: Glassdoor, Top HR Statistics
If you're known as a world-class employer, it's because employees are talking about your company in a positive way. This is known as employee advocacy. And increasingly, more and more employers are recognizing the role employees play in building a brand's image, whether they're sharing company content or interacting with customers on social media.
Yes, businesses exist to serve their customers. But in my opinion, they also have an obligation to empower their employees to work hard and succeed. Companies will have different approaches in how they do this – it's a creative process. There's no 'right' or 'wrong' way, it's about what works best for the structure of your organization.
So take notes from employer branding leaders like Shoppers Drug Mart, there are certainly many other examples out there. No one wants to be known as an employer who has no regard or concern for their employees. You want to be known as a brand that values their employees and customers on an equal playing field.
This post originally appeared on Right Mix Marketing.