Earlier this month, I was chatting with my neighbour whose son is fresh out of college and looking for his first full-time job. After crafting over 60 online applications (tailored to the job specifications, naturally) and not even receiving as much as a phone call from prospective employers, he's feeling hopeless. "It's so hard for them," my neighbour told me, "you just have to know someone these days."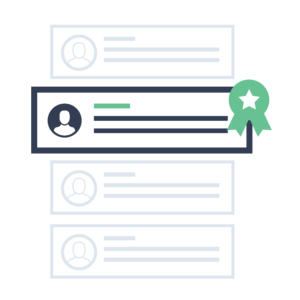 True, I thought. Gone are the days where you can walk into a store corporate office, ask for "someone in charge," and drop off a resume. In fact, that seems so far gone that I can't even imagine that time existed.
But we know that referrals have always been the most successful hires. Even before the days of online applications, LinkedIn, Indeed, and Glassdoor – you were still placed at the top of the resume pile if you knew someone.
The medium for talent acquisition may have changed, but the mindset hasn't.
And you know what? There's proof that employee referrals are in a company's best interest. Here are some quick stats from Jobvite & Social Talent:
Applicants hired from referrals start their new position an average 10 days faster than their counterparts.

On average, 47% of applicants hired from referrals stayed loyal to a company up for 3 years or more. Only 14% of applicants from job boards stayed the same length of time.

70% of employers say referred hires fit the company culture and values better than those from other sources of hire.

51% of employers say referred applicants are less expensive to recruit, while 67% said the recruiting process for referrals is shorter.
In fact, traditional recruiting can cost anywhere from $4,285 to well over $18,000 per hire. It's estimated that recruiting with an employee referral program only costs about $1,000 per hire.
So it makes sense why organizations will always give preference to candidates that come from their employee network.
But – how can you make sure that qualified applicants from your employees' personal network actually know that your company is hiring? More importantly, how can you get them from an online application that may have been buried in your ATS to a bonafide employee referral?
The answer, of course, is social recruiting.
Social recruiting is recruiting candidates by using social platforms as talent databases or for advertising. Social recruiting uses social media profiles, blogs, and other Internet sites to find information on candidates.
You've likely heard the term before, or maybe you even have a solution in place that facilitates social recruiting. But I'd like to take it one step further and add employee advocacy into the mix.
Employee Advocacy & Social Recruiting: Your Key to Finding (and Keeping!) Awesome Talent
We know that your current employees have an expansive network of like-minded and talented peers. And we know that social media is the preferred way of reaching candidates these days.
If you could tap into the reach of the social media universe and the personal element of word-of-mouth referrals, wouldn't that be awesome?
You probably see where I'm headed with this. It is awesome, and it would help candidates like my neighbour find jobs that are a good fit for him, increase his chances of being hired, and (good news for the company), stay with the company a lot longer than an average candidate.
In fact, we use this process at PostBeyond.
Since we're all employee advocates of PostBeyond, we use our own platform to share job postings with our personal LinkedIn, Twitter, and Facebook networks, thereby reaching a network of thousands of personal connections who are more likely to share PostBeyond's values, and have similar interests or career paths.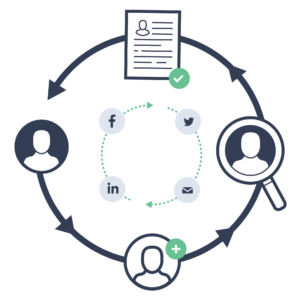 And we know that content shared by employees travels 561% further than brand channels, so the likelihood of your job opening being seen by the right candidate substantially increases. This strategy is so successful that many organizations have dedicated platforms to social recruiting through employee advocacy, and an employee referral bonus program to go with it.
That employee referral bonus coupled with the right tech can help your employees get the word out about job opportunities, and even help them build your employer brand.
Take this scenario: One of my Facebook friends regularly shares photos of her company doing great things in the community. Team lunches, fundraisers, award ceremonies – all complete with their corporate hashtag. That's employee advocacy. But, when she posts something along the lines of "My company is hiring for a Software Developer! Message me to find out more," though I'm not interested in that role, I think to myself "huh, that's cool. Whoever gets that job is joining a great company." Because of all the content this friend shared earlier, I'm inclined to believe that her company is a great place to work.
And that's the employer branding.
This can be an immensely powerful strategy for organizations on the hunt for great talent – or even those who aren't actively recruiting right now, but want to tap into employees' personal networks and stay top-of-mind as an employer.
So if your organization is looking to supercharge your social recruiting efforts, I recommend an employee advocacy program. Give your brand champions an easy way to share information about your company's latest opportunities and share why it's great to work there!
I'd love to hear your experience with social recruiting.
Does your company encourage employees to share job opportunities on social media? What are the results like? Let me know in the comments, or connect with me on LinkedIn.