In-person events and industry conferences have become a thing of the past. Now webinars are fast filling the gap to help marketers keep up with their numbers.
Webinars have risen to the top of every marketer's list of strategies. Rightfully so since they're an effective strategy to share your high-value content, interact live with customers and generate qualified leads. Key decision-makers are working from home which is an opportunity to engage them through online channels as well.
The question is how do you promote webinars—before, during, and after? How can you promote your next webinar on social media? What tactics are best for getting people to show up live?
In this blog, we breakdown why webinars are so effective, the benefits and how you can promote your webinar to get more registrants.
Why are Webinars are So Effective for B2B Businesses
Wondering, 'How webinars can help grow your organization?'
If your company were to do a live webinar on a particular topic, you'd have the opportunity to generate leads and engage customers from any country in the world. Which is one benefit that can't be matched with live events.
It allows you to build trust amongst your potential customers, interact with them, and answer any questions they may have about your product or service.
A recent study found that 91% of B2B professionals prefer webinars to other types of content. With live events and conferences no longer viable, it is time to make webinars work for your business.
Webinars can help you bring in those leads, engage with your potential customers and boost your brand awareness. Let's find out how doing webinars can help grow your B2B business.
5 Benefits of Hosting Webinars for Your B2B Business
Webinars help you go where your ideal customers are located – in their homes. With work from home being the new normal, doing a webinar is a fantastic way to reach the business decision-makers online.
Let's look at the top 5 ways webinars can make your B2B business thrive in a post-corona business world.
1. Webinars are effective for lead generation
With a specific topic for a defined buyer persona, webinars are a powerful magnet to generate qualified leads for your sales team.
Webinars are a great opportunity to address specific pain points or questions live. All of this is super helpful information that lets you follow up with the prospective customer later. Just customize your webinar registration form to collect all this information, and you are good to go!
Ensure your sales and marketing teams are aligned on nurture and follow-up strategy to get the most out of your webinars. Collaborate together on what the messaging will be and how long your sales team should follow-up with webinar attendees. Were there any questions that were unanswered by attendees? Be sure to have someone immediately follow-up.
2. Connect with customers worldwide
Using webinars lets you connect with hundreds of attendees at the same time. No need to worry about traveling, finding a venue or budgets.
In a webinar, you can easily have hundreds of registrants logged in at the same time across the world through a platform like Zoom or GoToWebinar. Just focus on giving them an educational and engaging experience through the webinar.
Engage your attendees consistently throughout the webinar by asking for participation in the chatbox. You can allow your attendees to ask questions during a Q&A session and create a webinar poll to get feedback.
3. Create & Establish Your Brand Leadership
Every business wants to be viewed as an industry leader. Using webinars for thought leadership helps you establish your brand as a knowledgeable authority in your industry. Use this opportunity to share your insights and address your potential customers' needs.
Utilize webinars to educate your audience, teach them, or share upcoming industry trends and hot topics. With time, your prospects will start warming up and consider you as the industry-go-to-expert.
A great example is HubSpot's Adapt 2020 webinar series. In this webinar, they shared news and different strategies to help marketing and sales teams get through the global pandemic. The webinars featured customers sharing their strategies as well as industry benchmarks based on their own analysis.
4. Seize Partnership Opportunities to Grow
Webinars are a powerful way to leverage your business relationships and deliver immense value to your prospects. Here, you can plan, host and co-market webinars with other companies that benefit both your audiences.
Wondering how it all fits in? If you are in the digital marketing business, doing a joint webinar with an email marketing provider fits in very well. Since both companies are in a complementary space, audiences would find immense value in a joint webinar.
Your business can tap into their audiences, boost your brand, and expand your reach.
5. Highly Engaged Content Marketing Strategy
Most marketing channels allow you to share your product or service information with your prospective customer. Since webinars are middle of the funnel strategy, they let you engage deeply with your audience.
Webinar transitions the attendee from one step to another in your sales funnel. For example, it lets you convert simple visitors into prospects so that you can nurture them further. Or convert the lead into a paying customer by helping them resolve their pre-sales queries.
16 Powerful Webinar Promotion Tips for Your Next B2B Webinar
Now that you've created the webinar slides, set up the webinar registration page and scheduled the date and time. Are you good to go? Not before you take care of one the most important aspect that you need before the launch – promotion.
You need to drive registrants to make sure that your goals are on track. To do this, we've curated 16 webinar promotion best practices to help boost your attendance.
1. Choose an Engaging Topic
Make sure the webinar topic addresses the needs and pain points of your customers or prospects. It could be informational or help them solve a problem they may be facing in their business. Keeping the topic broad helps to get a larger audience and give your best actionable tips on that topic.
On the other hand, niching down your topics ensures only the most relevant registrants will attend. This is important if you target a niche industry or market to a specific audience.
2. Have a Target Webinar Attendee Number
We know that what gets measured gets done!
Having a focused webinar attendee target number helps you work towards attaining it. Whether your ultimate webinar goal is increasing brand awareness or getting more leads, having a larger audience helps accomplish both of them.
3. Pick the Best Time
People have busy schedules so timing is everything for your webinar.
According to GoToWebinar, 11 a.m. usually gets the highest percentage of registrants, and 2 p.m. comes in at a close second. Hovering anywhere between 11 a.m. to 2 p.m. typically works best – just make sure it doesn't get into anyone's lunch hour.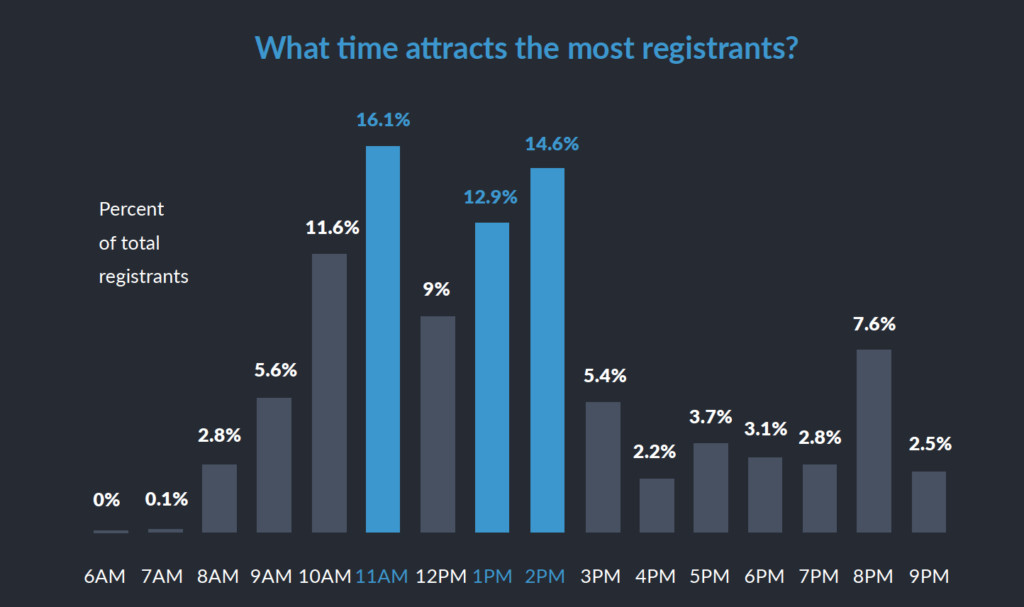 You could also experiment with different times to see its impact on conversion rates. Still unsure? Here's an easy tip. Just ask your prospects the best time for them on the webinar registration page and plan accordingly.
4. Choose a Suitable Day
As per GoToMeeting, scheduling your webinar on Thursdays and Wednesdays gets more than 50% of webinar registrants to attend.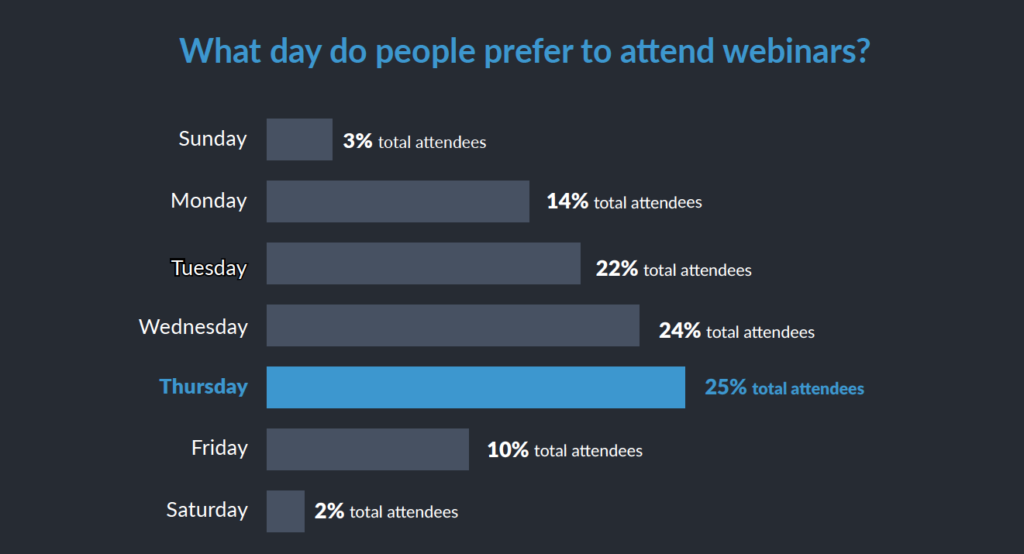 Avoid Mondays and Fridays as people are busy with their to-do lists on both these days, and attendance drops off as per the report.
5. Build an Engaging Webinar Landing Page
The landing page is arguably the most important B2B webinar promotion tool that you have. Every potential webinar attendee will land on that page to know more about the webinar and its details.
Keep it simple, clear on the value proposition, and visually appealing. Make sure to have the right fields that let you collect the important customer details you need for follow-up after the webinar, such as – name, phone number, email, and other relevant information.
6. Webinar Registration Confirmation Emails
Once someone registers for the webinar, remember to set up an automated email that thanks them for their interest.
Apart from confirming their webinar seat, it also serves as a reminder that they can add in their calendar of choice. Integrate the calendar appointment into the email service provider to boost webinar attendance as it works as a great reminder tool.
Litmus uses their registration confirmation emails to asks registrants to provide questions before the webinar. This is a great way to get people more likely to attend and get involved during the webinar.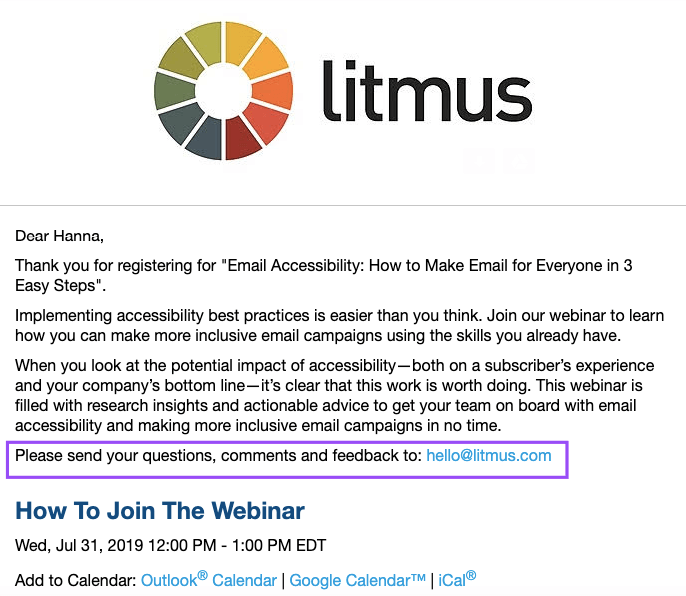 7. Email Your List of Prospects
This is one of the easiest webinar promotion strategies and one of the most effective ones. Create a webinar launch email sequence and send it to your email list or list of prospects/leads.
Having a series of 2-3 emails work best to inform and nurture them to sign up.
8. Website Opt-in Form
Add a small bar-style opt-in form to your website homepage to direct more visitors to the webinar landing page. You could even add a webinar promotion form in the sidebar of all blogs to increase website visitors' conversions. Just make sure to do it at least 3-4 weeks before the actual webinar date to get more traffic.
9. Employee Advocacy
Empower your employees to be your best webinar promoters When they share your next webinar across their social networks such as Twitter, LinkedIn, Facebook & Instagram, you get a larger reach and engagement.
With over 700 million users, LinkedIn is the biggest B2B networking platform. Why not use this channel for boosting your webinar attendee number too?
As per LinkedIn, an employee is likely to have 10X more connections that a company has followers. Simply put, employee networks are more than 10X bigger than a company's network. Use employee advocacy as part of your webinar promotion strategies to get a wider reach and higher signup rate.

Here at PostBeyond, we've had great success with employee advocacy for webinar promotion. One of our sales reps shared a piece of webinar content that drove an attendee that eventually led to a $20,000 deal!
The best thing is you don't need any additional marketing budget for this. Simply curate all your promotional content for all employees to share.
10. Use Employee Signatures
You already know that your employees are your best advocates! It's time to put it into action.
Add the webinar signup forms to all your employees' email signatures—especially the employees who deal with customers or email prospects about your product or service.
As an example, here's how our customer success team uses the real estate in their email signatures to include a call-o-action to their masterclass webinars.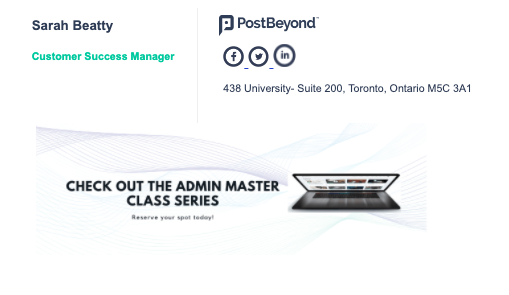 With every sales and marketing communication happening online, just imagine the number of prospective webinar attendees your business can reach with this approach!
11. Complementary Blog Posts
This one is an easy win. Add your webinar landing page link to existing blog posts on your website with a complementary or similar topic.
For more leverage, you could also create 2-3 new blog posts around the webinar topic and publish them about 4-5 weeks earlier than the scheduled webinar date. Sprinkle the webinar landing page link throughout the blog if it's a long-form one or once in the beginning and end for shorter blog posts.
12. Promote Though Organic Social Media Organic
As a marketer, social media is critical for you to increase your brand reach. Have a regular webinar promotion social media schedule for Twitter, LinkedIn, Facebook, or whichever platform is most relevant.
Here's how VTS promotes webinars using its branded LinkedIn channel. If you're looking for much more engagement then tag your webinar panelists as well as companies.

Pick unique and relevant hashtags for posting on Twitter, Facebook, and Instagram with a strong call to action at the end. Don't forget your webinar speakers in the post as well so they're notified to reshare.
13. Paid Social Media Advertising
Social media advertising for webinars can be an excellent way to reach more prospects and widen its potential reach.
Paid social media through LinkedIn can help you target specific buyer personas based on a handful of attributes like job title, industry and company size. spend can be allocated to them to increase the ROI. This is extremely helpful for getting the right people to register.
14. Partnership Promotion
Do you have an external speaker on the webinar? Or have another company with a complementary product or service? In this, the other company promotes your webinar to their audience. Make it a win-win for them too, by sharing the webinar registration list with them.
15. Short Videos for Webinar Promotion
Use short and informative videos to let prospects know about your upcoming webinar. You can create them once and use them across multiple social media platforms such as Facebook, Instagram, LinkedIn, and Twitter. Repurpose and use them in the Hero section of your webinar landing page to inform prospects and encourage them to register. Landing pages with video can increase registration rates by as much as 80%.
16. On-demand Webinars
Once your scheduled webinar is over, consider repurposing it as an on-demand webinar to have a regular lead flow coming in for your B2B business. More than 84% of B2B marketers prefer watching webinar replays over the live version.
Uploading it to your website makes it available to newer prospects who missed the live version. Here's how Dynatrace repurposes its webinars as an on-demand session on LinkedIn.
With these 16 effective webinar promotion best practices, you'd be on your way to webinar success! We'd love to know which webinar promotion strategies have worked for you!