Building a successful employee advocacy program means you need to include only employees with a high follower count.
After that, it's just a matter of delivering more and more content to employees, right?
If it were that simple, your organization would flourish with a dream team of social superstars powering your brand advocacy. But you're likely having difficulty identifying hand-raisers who are willing to participate in social media on behalf of your organization.
How do you find the right employees? Should you send a survey? Should you look up on LinkedIn to see which employees are active? Does follower count matter?
You need to follow a structured approach for identifying the best employees to be a part of your brand advocacy program. It can be tricky to determine which employees are ideal advocates. Luckily, there are certain traits that the best employee advocates share such as their department, role, and social-savviness.
To help you build a dream team for employee advocacy, we'll explore how to identify the right employee and what characteristics to look for.
Find Employees That Have The Most Brand Affinity
In a recent webinar on employee influencers, social media expert Neal Schaffer discussed how the traditional way companies look at employee advocacy, and B2B influencer marketing is broken.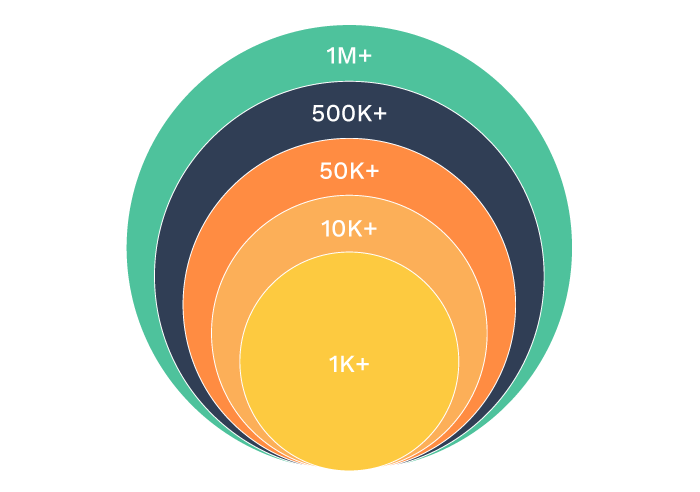 Before, it used to be about the number of followers and connections. Instead, Neal encouraged marketers to now think about brand affinity as a guiding principle.
The brand affinity model encourages you to ask yourself, "who knows the most about our company and products?" and "Who wants to see our company succeed the most?"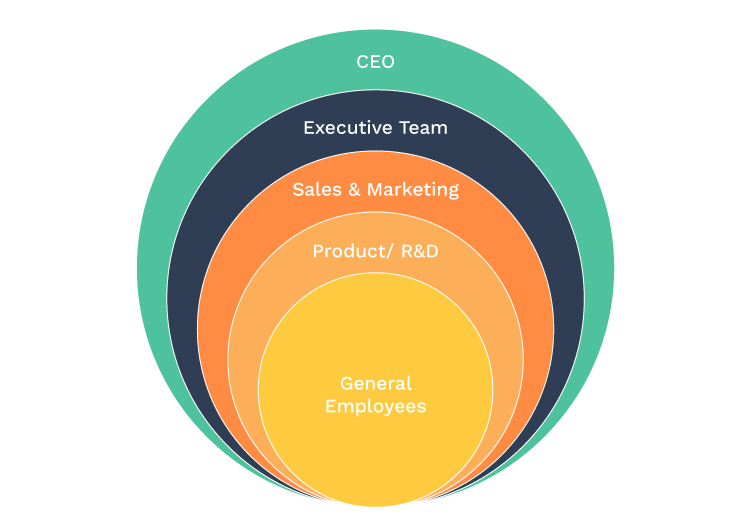 Your employees, customers, and channel partners are the likely group that knows your company best. They have the most brand affinity and they are organic sources to leverage their influence. Another way to look at employee influencers is to look at specific groups of employees with the most influence such as sales, marketing, and executive leadership.
Here are the four groups of employees with the highest brand affinity and are most likely to succeed in an employee advocacy program.
1. Social-Savvy Employees
You can quickly identify your social-savvy employees if you have LinkedIn Sales Navigator. Simply log-in to view your company's employees, and in one of the tabs, you'll have the option to see which employees have posted content to LinkedIn in the past 30 days. This example will give you a good understanding of which employees to target for your advocacy program.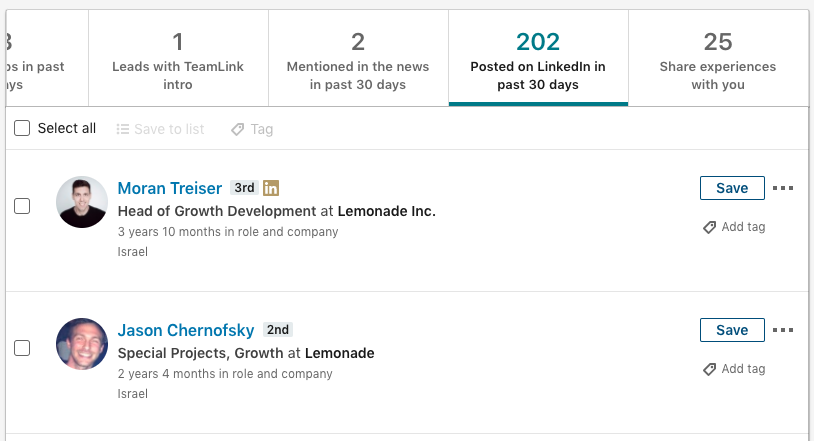 Every organization has a handful of key enablers who are eager to ask for new content. These are employees who are already actively engaged, sharing valuable and relevant content with their social networks.
Social-savvy employees do these things:
Listen first to understand needs.
Investing in learning best practices, new technologies
Committed to establishing a reputation and sustaining engagement
Actively expanding their reach, building relationships
Have a measurable degree of influence
They're always asking for more content and are seeing results.
2. Sales and Customer-Facing Teams
Your sales reps are the first human interaction a buyer has with your organization.
Typically, sales reps have relied on in-person interactions with buyers through events, trade shows, and meetings. In light of the pandemic, your sales team has likely had to replace lead generation with other outreach forms, most notably through social media.
Your sales team is made up of your best advocates because they understand how to monetize their influence. It's their responsibility to reach, connect, and engage with prospects, so their likelihood of using social media to join the conversation is much higher.
When salespeople are on social media, they can:
Maintain mindshare with current customers and deepen relationships with them
Reach out to build relationships with prospects
Discover business intelligence about people and organizations
Find conversations that could lead to new business.
Become a trusted source of information
Focus on training and education if your sales reps lack the necessary social media skills. Collaborate with your sales reps through one-on-one or group work sessions to ensure they have the right tools and skills for social selling. You can get started by helping them build their brand, develop their LinkedIn profile, train them on using an employee advocacy tool, or equip them with relevant content.
3. Executive Leadership
Having an executive such as the CEO as the official spokesperson or brand advocate is a huge advantage for companies. One of the most notable benefits is installing a sense of trust for your organization, both with employees and customers.
Weber Shandwick's research on the Social CEO found increasing interest in measuring CEOs' usage of social media. In a survey of 630 executives in 10 markets about the social participation of CEOs, the research found CEO social involvement has progressed from corporate websites to social networks.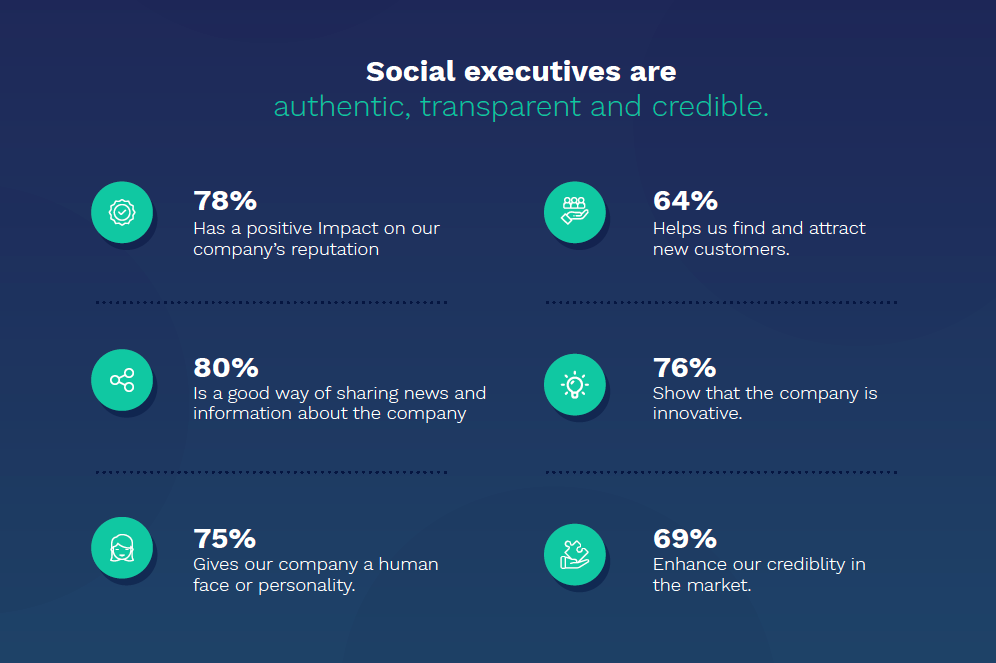 Executives are engaging socially, and employees want their CEO to be social as well. The social executive can make a massive impact on your company's reputation in a positive light.
Engaged executives on social media can:
Get the news out and share company information.
Provide a personality and a human face to the company.
Enhance the credibility of the market.
Show that your company's innovative and forward-thinking.
Help attract new customers and drive growth.
Executives are familiar with public communication, and most are good at subject matters where they feel comfortable. Executives face many barriers and even angst towards social media. There may be a cloud of thought, concern, or anxiety that an executive has about social media. They get into this area where they don't feel comfortable, such as social media, where they need guidance.

Building a social presence for your executive leaders is about bringing their personality out and using their position as an individual to help spread a positive word about the company. A recommended approach is to crawl before running. This means:
Start slow with select social networks and engagement cadence.
Build-up activity and involve executives in content creation.
Figure out what social networks are beneficial for the executive as well as the company.
Pick the right social networks for your executives.
For example, the most effective and active social network for Siemens Digital Industries Software is LinkedIn. It is also the social network they chose to start with Tony Hemmelgarn, President and CEO, and Bob Jones, Head of Sales. The organization was already active on LinkedIn, and both executives had a growing presence.
4. Channel Partners
More organizations are realizing the importance of enabling their channel partners (VARs, Distributors, System Integrators, Resellers, Managed Service Providers, and Consultants) to use social media. They realize this is an opportunity for their channel partners to build connections and stay top-of-mind with customers.
Social media is the go-to platform for potential customers to seek research, knowledge, and peer insight. Just like your direct sales team, channel partners need to be where their customers are and to make sure their customers know where to find them.
In most cases, channel partners have built strong relationships with their loyal contacts and customers. However, many have not converted those relationships onto LinkedIn or Twitter, which is a missed opportunity to build their brand presence. Social media training sessions will help your partners understand how to use social media in a professional context. It is vital that your partners abide by brand guidelines or they may go "rogue" by posting the wrong caption, mistyping your brand, or sharing outdated content.
To avoid the risk of rogue partners:
Educate channel partners on brand guidelines: Organize one-on-one training or workshop sessions on how to follow your company's social media brand guidelines. Provide examples of how to speak about the brand.
Create a social media policy: Create a clear and concise social media policy for channel partners. If you already have one for employees, then consider using something similar. Give examples of what is acceptable to post on social media.
Provide continuous training and enablement: Social media is continually changing. Provide your channel partners with ongoing education and training. Make sure everyone is aware of social media best practices and how to engage customers on different platforms.
Use an employee advocacy platform for pre-approve content: Organize all of your pre-approved content in one centralized library. Your channel partners won't have to look through different repositories or run the risk of sharing outdated content. You'll feel more at peace knowing your channel partners are posting brand-compliant content also.
Who Should Be Your Program Champion?
A savvy program champion is passionate, influential, and committed to driving employee adoption. Your program champion doesn't need to be an executive but they do need leadership skills. They have a strong bias for action and know how to get things done. Typically your program champion is in marketing, with responsibilities for social media, communications, or content.
They act as the guide for the organization and the primary leader who understands how to navigate the organization as well as get buy-in from executives. Your program champion should have the ability to get executives on board to invest in resources, training, and technology. Your executives will want to understand your strategy, onboarding plan, and metrics.
This is a defining role for a successful employee advocacy program.
Leadership will rely on and hold the program champion accountable to deliver:
Program strategy.
Mobilize support: program recruiting, onboarding, ongoing optimization.
Program support, education, ongoing training, and coaching resources.
Managing program feedback, addressing necessary changes, improvements.
Responsible for delivering measured outcomes, expressing value, and reporting results.
They know how to make connections with others in your organization and broker partnerships between different business units and departments. A strong program champion needs to communicate effectively with multiple departments to ensure everyone has the right content and training.
Look beyond follower count
For an employee advocacy program to be successful, you need the right people on board. According to Susan Emerick, Principal & Founder of Brand Rising, on average, 30% of your employees currently act as brand advocates. Identify your best group of employees to join your advocacy program by looking at specific departments, teams, and roles.
Research on LinkedIn to see which employees are most active. The number of followers your employees have on social media is just one indicator that they're social-savvy. Look beyond follower count and think about the most engaged employees who have the highest brand affinity.