Are you maximizing the potential of Linkedin for your company? LinkedIn is by far the best social network to use for building an employer brand. It's the place where professionals connect and according to Glassdoor, 79% of job applicants use social media in their job search.
The problem? 
Most companies aren't using LinkedIn to their full advantage. Marketers can and should capitalize on the network and find ways to make their company stand out. Want to know more about how you can make this a reality for your company?
In this post, you'll find 6 tips on how to refresh your LinkedIn and use it to promote your employer brand.
Why you should leverage Linkedin for your employer brand?
According to statistics from Linkedin, a strong employer brand can positively impact the business. Companies that focus on this can start conversations with top talent easily. They can also fill open positions more quickly. In fact, these companies see a 31% higher InMail open rate and a 20% increase in the rate of hire. They also see a 43% decrease in cost per hire.
Now that you know why this matters, let's jump into how to improve your presence on Linkedin.
1. Update your Linkedin company page
When is the last time you took a look at the content on your Linkedin company page? Does it reflect your company's mission or values? Are you proactively promoting the right content? Is it up to date? Answering these questions is the first step to leveraging Linkedin for your employer brand.
Data from Hootsuite shows that complete company pages receive 2X more visitors than those that are incomplete. This means something as simple as reviewing and updating your profile can give a quick boost to your employer brand.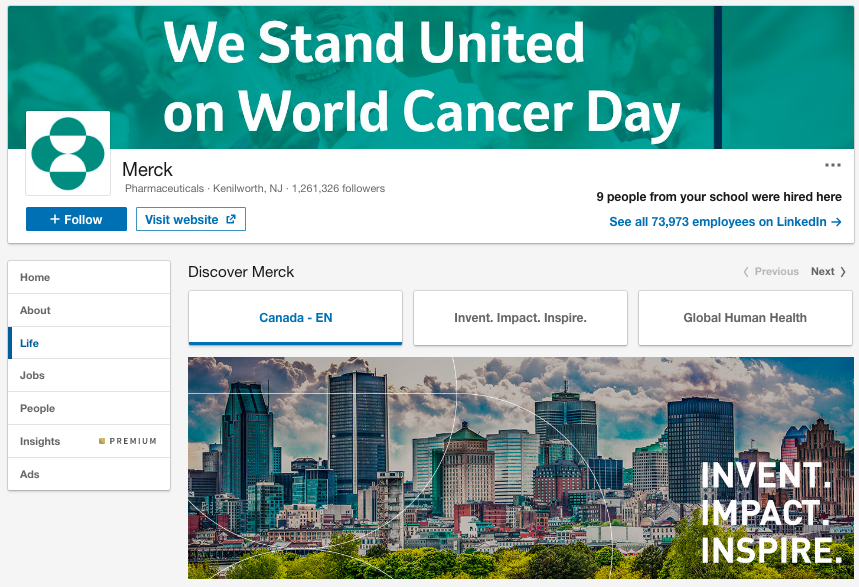 Just like the example above with Merck, you can also add a Life section to your Linkedin company page to make your company stand out to potential candidates. This enables you to add a "life" or "what we do" tab to your page. This section is a great place to showcase content that supports your values.
2. Diversify your content
It's important to keep a consistent tone to build your employer brand, but remember to diversify your content. On Linkedin, you can post updates, photos, videos and more. Be sure to use a diverse mix of content formats to keep your audience engaged. Linkedin is also a great place to display employee-generated content (EGC). Starbucks prioritizes ECG specifically with the #tobeapartner campaign which highlights their employee experience.
Prioritizing ECG makes your content feel more human authentic to your audience. It also allows your audience to see an inside look into the culture and people in your workplace.
3. Share company culture content
People on Linkedin want to know about your business. It's the perfect place to highlight your mission, employees, and culture. Instead of strictly using ads alone to promote your company, you can create content that gives users an inside look at your business. This increases the likelihood of organic engagement.
One company that does this well is Zendesk. When you visit their Linkedin page, you'll see a great mix of business content and company culture content. The feed includes photos from charity events, meetings, and even holiday parties. They also use a branded hashtag to group these posts and make them easy to find on the platform.
4. Use sponsored content
Posting sponsored content is another way to boost your presence fast. It allows you to get your message in front of a targeted audience and ensure that you get more eyes on a post. However, you shouldn't treat sponsored content the same way you treat other types of ads. You can use sponsored content on Linkedin to stand out and help your business reach specific goals.
For example, if you want to leverage your profile to attract top talent, create sponsored content that's helpful for job seekers. You can also build trust by sponsoring content from a third-party that highlights your company's story or culture.
5. Create a seamless candidate experience
Linkedin is likely the first place many candidates will go to when they want to learn about your business. Having great content on your page and on Linkedin contributes to building a strong brand.
Creating a seamless candidate experience can also start right on Linkedin. Using Linkedin, you can make it easy for potential employees to research your company, connect with your business. You can make it possible for them to apply for the positions you have available in just a few clicks. This can put you steps ahead of other companies looking to recruit talent.
6. Encourage employee advocacy
Remember, your employees' individual Linkedin profiles also contribute to your employer brand. If your employees are active and have a complete profile, it shows that they're engaged at work. This can make your company more attractive to potential employees and have a positive impact on company culture. All of these can help you build a strong presence on the platform.
One way to do this is to make employee advocacy on Linkedin easy for employees. Start by making the benefits clear to them. According to Hinge Research Institute and Social Media Today, 86% of advocates in a formal employee advocacy program said that their involvement in social media had a positive impact on their careers. Once you educate your employees on the benefits, focus on frequently posting content that's worth sharing.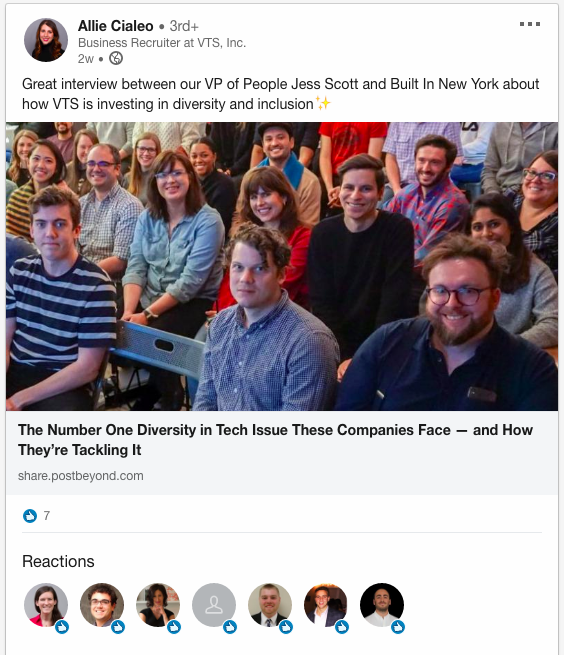 One great example is VTS, the company gives its employees a voice on social media through employee advocacy. They allow their employees to share a variety of content–branded, third-party and employee recommend content, all of which are valuable to them.
Encourage them to promote the content that aligns closely with their goals and give them an avenue to show off their wins. Allowing employees to be a part of your content curation process will help you sustain an employee advocacy strategy.
Build a compelling employer brand on LinkedIn
There are many ways you can approach leveraging LinkedIn for your employer brand. The important thing to remember is that the network presents an opportunity for you to express what makes your business unique. That's what will help you stand out in crowded markets.
Want to win on Linkedin? Follow best practices, then carve out your own path to establish your voice on the platform. Focus on creating an experience that's truly unique for users who want to learn about your company.