AUTHOR'S NOTE: THIS IS PART 4 OF OUR SERIES ENTITLED WINNING FROM HOME (WFH). IT'S FOR B2B MARKETERS AND THE PURPOSE IS SIMPLE: JUST BECAUSE EVERYONE IS REMOTE AND WE'RE ALL GOING THROUGH OUR OWN CHALLENGES, IT DOESN'T MEAN WE CAN'T FIND WAYS TO THRIVE TOGETHER.
When the final buzzer sounded in the 2016 NBA Championship game after a 93-89 victory over the Golden State Warriors, the Cleveland Cavaliers became the first team ever to come back after a 3-1 series deficit in the finals.
Down 3-1.
After falling behind in the series, the Cleveland Cavaliers led by Lebron James quickly rallied to win three straight games. The entire team took it game by game to erase the deficit and eventually wrote a new chapter in sports history.
No team in NBA history had ever faced that much adversity in the Finals and to win, well, that was unprecedented.
Like the Chicago Cubs in 2006 coming back to win their first MLB World Series after a 108-year drought. Or the fourth-quarter comeback led by Coach Herman Boone in Remember the Titans.
So, what does all this have to do with marketing? Well, not all comeback stories happen in sports.
Despite the hardships, challenges, and losses, people love to live through triumph, resilience, and the emotions of turning a setback into a comeback.
The crisis has been a major setback for many marketing teams. Reduced budgets and headcount as well as readjusted priorities and plans for 2020. Yet many of us are "still in the game" but we now need to make the necessary halftime adjustments to come back smarter, faster and stronger in 2020.
The Major Marketing Setback of 2020
Before the pandemic, marketing plans were already set in stone. You had momentum behind you to power through your strategies and tactics. You knew which conferences to attend, what campaigns to run, and which posts to share on social media.
However, we've all had to react quickly but many of us were left with uncertainty on how to manage our goals going forward.
Now, as a result, we have to weather through uncertain market conditions and plan for our emergence. And of course, the strategies and tactics from status quo – trade shows, billboard advertising, and in-field marketing – must be adjusted for the new normal.
As you slowly come out of a setback, you have to channel a "3-1 deficit" mindset.
Falling behind on gameplans is not a good feeling. However, one of the most exciting things that can happen is when you charge forward to make an unbelievable comeback.
If you've significantly pulled back your marketing efforts, it's important to plan ahead on when to scale marketing back – while understanding that the new normal is nothing like the status quo you left it. Here are several considerations for you to plan ahead for your marketing comeback story.
How Should You Plan Your Marketing Comeback?
Although nothing parallels what we're seeing today, you can look at history to help you think broadly and deeply about the right direction to take.
And if history has taught us any lessons, it's that leading companies invest in brand building initiatives during a market downturn. More often than not, the outcomes have been positive.
According to Harvard Business Review, "building, and maintaining strong brands—ones that customers recognize and trust—remains one of the best ways to reduce business risk during a downturn."
Here are five strategies you can adopt to elevate your brand and engage your customers effectively.
Five Effective Brand Building Strategies During a Downturn
1. Create an Emotional Connection with Customers
The emotional connection your brand creates can separate your company from others. It is the cornerstone of your brand building strategy and can positively impact both customer loyalty and customer lifetime value.
According to Deloitte Digital survey, 70 percent of consumers expect to be treated by brands as they're treated by friends. Companies that focus on human experience are twice as likely to outperform their peers in revenue growth over a three-year period and have 17-times faster growth than those who do not.
So, how can you connect with customers on a human level?
Own the narrative and create a compelling story for your brand.
Build social proof through customer stories and testimonials.
Create a community of customers, followers, and social connections.
Learn More: Rallying Your Workforce for Employee Advocacy
2. Double Down on Brand Equity and Trust
If there's one thing this crisis and what previous hardships have taught us, it's that trust is paramount. During a market downturn, worried buyers perceive familiar and trusted brands, products, and services as a safe choice.
As a result, you have to reassure customers that your company is a trusted brand that's focused on solving a customer's problems first and foremost, instead of profits. According to the Trust Barometer Special Report: Brand Trust and The Coronavirus Pandemic, 71 percent of respondents agree that if they perceive that a brand is putting profit over people, they will lose trust in that brand forever.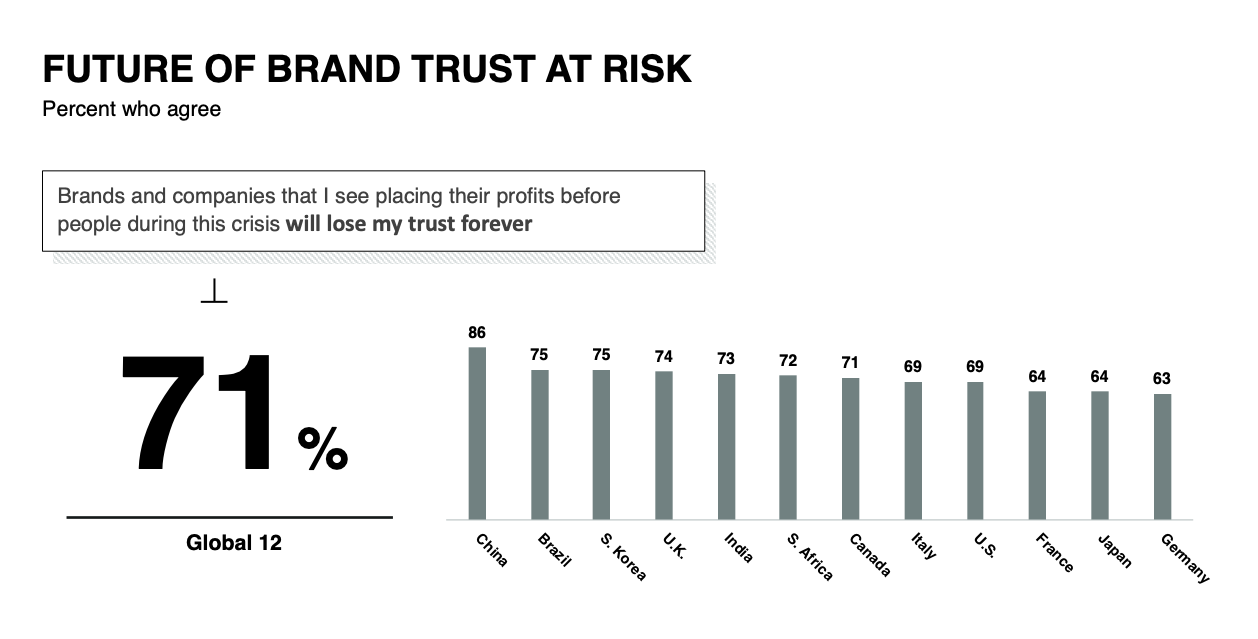 It's not about selling, it's about solving your customer's problems. So much of this is about being a mission-driven brand. In an article on CMO.com, Qualtrics customer experience subject matter expert and principal consultant, Vicky Katsabaris says "The expectation is you deliver to those values with more purpose-driven activities so you are living and breathing the values"
As an example, we've seen companies like Zoom under a lot of pressure regarding major trust, safety and privacy issues. In response, Zoom's CEO Eric Yuan was very candid about how the company was handling the situation. They've listened to their customers, learned from their mistakes and have made commendable efforts to address its issues.
The result of building trust with customers is that it's a reminder that working with your brand is a responsible business decision.
3. Share Positive and Authentic Employee-Driven Stories
Content creation doesn't stop at marketing. From executive leadership to employees, we all have the ability to be micro-marketers by creating employee-generated content (EGC).
You don't need high production studios or large marketing budgets. There's a limit to perfection and your customers are not looking for perfect. After all, we're all real humans, living real human lives with back-to-back Zoom calls, dogs, crying children, unwashed hair, etc.
During the pandemic, there has been a cry from audiences to see authentic, personal, and human content. Here are just a few examples of employee-generated content:
Share content on how employees are working from home.
Show how your brand is supporting its community.
Keep customers updated with ongoing developments.
Show how employees are making a positive impact on the company.
Demonstrate how employees are living the company mission.
Employee-generated content can reduce content costs but also facilitate real, authentic connection and foster engagement and conversations across social channels. Ensure your employees are sharing content with their social networks because content shared by employees gets 8X more engagement than content shared through branded channels.
People, regardless of if it's B2B or B2C use social media to engage with their peers. You have to activate and engage your employees to become micro-marketers on your brand's behalf.
4. Take Advantage of Digital Word-of-Mouth
Word-of-mouth is a tried and true marketing strategy. It has stood the test of time and digital channels such as social media have really amplified the power.
According to a Nielsen report, 83% of consumers trust digital word-of-mouth more than content produced directly by advertisers. This is a trend that has been steadily increasing over the past few years.
Much of this is due to the increased usage in social media. The major form of word-of-mouth marketing is through Influencers which are on every channel and represent every possible niche. By leveraging influencers, you can help enhance your brand reach, connect your audience with your brand, and provide social proof to build trust.
Learn More: Why Word of Mouth Marketing Strategy Is So Effective (Yet Underrated)

5. Become The Experts
During a state of flux, your potential customers will have to re-evaluate their needs and will stumble across gaps that need to be filled. They will have to research online to identify different ways to fill their unmet needs. And they will eventually choose a product or service that is perceived to be the expert.
The landscape is constantly changing and your customers need answers. They also need experts who can guide them which is an opportunity for your company.
According to an Edelman Trust Barometer special report on brands, eighty-four percent of respondents said they want brand advertising to focus on how brands help people cope with pandemic-related life challenges. Seventy-seven percent said they want brands only to speak about products in ways that show they are aware of the crisis and the impact on people's lives.
Establish your brand as an expert in your industry. According to Edelman and LinkedIn, thought leadership gives businesses access to high-level decision-makers, contributing significantly to not only lead generation and sales but also establishing a good rapport with existing customers.
As mentioned previously, a brand's ability to build trust is channeled through the voice of your best advocates, employees. Enabling your employees to become subject matter experts provides an opportunity to build their personal brands, which often positively impacts the brand as a whole.
An employee advocacy program can be an effective way to curate both branded and thought leadership content for your employees and executive leaders to share with their peers.
Your Marketing Can Rebound After A Setback
In 2016, the Cleveland Cavaliers did not give up. They won three straight games on their way to winning the NBA Champions. The Chicago Cubs didn't waver even after a 108-years World Series drought. And nor should your marketing efforts.
History has set the precedent on how to respond to downturns. But it takes nimble feet to make readjustments given today's circumstances. You should prioritize long-term brand building strategies such as doubling down on customer loyalty and trust while taking advantage of word-of-mouth and employee-generated content. Become the experts in your industry because buyers will need to rely on your expertise to make responsible business decisions.
Just like our beloved sports teams, deep down there's a comeback story rooted inside of our companies willing to persevere through even the toughest of times.
Our Winning from Home series provides actionable insights and resources to help B2B marketers and leaders thrive during unprecedented times. Check out other relevant articles:
Subscribe to our blog newsletter to get the latest in PostBeyond content.