AUTHOR'S NOTE: This is part 3 of our series ENTITLED WINNING FROM HOME (WFH). IT'S FOR B2B MARKETERS AND THE PURPOSE IS SIMPLE: JUST BECAUSE EVERYONE IS REMOTE AND WE'RE ALL GOING THROUGH OUR OWN CHALLENGES, IT DOESN'T MEAN WE CAN'T FIND WAYS TO THRIVE TOGETHER.
These are precarious times and everyone is feeling uncertain. With a number of lockdowns and social distancing, brands have to re-evaluate their social media and content marketing.
It's a difficult conundrum that marketers are playing out. As you can imagine, every other email, headline, and article leads with a message about COVID-19. And quite frankly this blog is doing it too. Very meta.
Should your content talk about COVID-19 or not? To avoid the topic entirely seems insensitive but to only focus on it comes off as capitalizing on the issue. And perhaps, your content is just adding to the white noise that's taking over social media feeds.
So, what should marketers do to straddle the difficult balance in their content strategy?
Brands should communicate their marketing message with an empathetic tone, integrity, and a renewed perspective. Now more than ever, creating meaningful content demands a focus on education, not promotion.
Addressing The Elephant in The Room
Social media feeds and email inboxes are filled with endless pieces of content and headlines related to COVID-19 (just look at my inbox below). It's on everyone's mind and it's understandable since the current situation is constantly evolving across the globe.

There isn't a playbook for this unprecedented time. But you have to acknowledge there's something going on. To avoid COVID-19 altogether is like the elephant in the room. Everyone knows it's there but nobody is saying anything about it.
As I mentioned before, there's a balance between sensitivity towards the issue and capitalizing on it. Brands are feeling the urgency to communicate with their audience about how they're tackling the issue. But marketers have to realize that the decisions they make now not only address the short-term but they have to look towards the future as well.
The pandemic will slowly subside but the new normal that comes after will certainly not look like the status quo we left behind.
Several of our customers have shifted their social media content to focus on short-term concerns while still focusing on their long-term strategy. As an example, one leading pharmaceutical research company is playing a massive role by testing vaccines for COVID-19. They've empowered their employees, researchers and scientists to share posts about their efforts on social media. In doing so, their social activity has increased by 15% in March and 24% after the pandemic was announced.
Not every company can have a unique perspective on COVID-19. If you can then that's certainly a story to tell. If not, then ask yourself what value can you provide to the conversation?
Are You Adding Value to The Conversation?
White noise can make it hard for marketers to get their message across. It's important to know some marketing messages aren't particularly relevant at this very moment. However, some brands like Zoom, Slack, and Peloton have organically grown their business because of the current circumstances.
You can brute force your marketing message but it's guaranteed that it will fall on deaf's ear. It can appear short-sighted and a bit tone-deaf.
Does your product or service lend itself to the crisis? Are you being mindful of your customer's situation both professionally and personally? How should you market in the new world after the crisis? What's the impact on your customer's customers?
If you want to market during the pandemic, you need to understand what problems your customers are thinking about. Also, think beyond your customer base and ask yourself, what challenges are my customer's customers facing?
If your customer's customers have been significantly impacted by the pandemic then that can set off a chain reaction. For example, travel agencies, airlines, and tour groups have taken a significant hit because their customers aren't traveling anymore. If your customers are in this specific industry then it's time to be more sensitive and lend a helping hand when possible.
What Social Media Data Tells Us
We work with hundreds of customers in different industries to implement employee advocacy programs. In addition, we also have a lot of data to inform us on what's happening on social media.
We looked at all the data across our entire customer base to see what has been happening in the past six weeks. Note that we didn't exclude any industries or countries, we decided it was best to look at it from a global perspective.
In the past six weeks, we have seen a moderate increase in employees logging into their employee advocacy platform. This would suggest that employees are needing to find relevant and helpful information from their company. Look at the chart below which shows the incremental growth in usage.

From a social sharing perspective, we also saw a moderate increase in employees sharing content to social media. This would suggest that employees are more likely to share content that they think would be helpful for their peers.
For example, one major insurance provider launched a new resource page to help employees navigate the influx of COVID-19 information. They've curated light-hearted content such as lists of top 10 movies and TV shows to binge. They've also curated content related to pandemic preparedness such as FAQs, webinars, updates, and health.
Pivot Your Content From Promotional To Educational
It's important to present your brand as an organization that stands with integrity. Especially if your company can add value to the discussion. It's not about capitalizing on the elephant in the room. Instead of promotion, it's about education.
Demonstrate what your brand stands for and how you're helping your customers, employees, and community.
Helpful Resources:
Of course, some brands will have an opportunity to help their customers because of the pandemic while many don't. Regardless, this is an opportunity for marketers to focus on building brand loyalty and brand equity.
One great example is HubSpot which launched Adapt 2020: An Education Series. This is a series of content that helps marketers find new strategies, opportunities and paths for conversions. They've launched educational webinars, blogs and benchmark data on the current situation to help marketers adapt accordingly. Their content addresses topics such as enabling remote marketing and sales teams, building educational content strategies and shifting an events strategy. These are all topics that their customers are thinking about and HubSpot has provided the necessary education for its customers.
Unleash Your Executives Voice on Social Media
If your brand can positively alleviate a major problem for your customers due to the impact of COVID-19 then that's a story deemed worthy to tell.
For example, Mike Roman from 3M, a company that took the spotlight during the pandemic lately has used LinkedIn as a platform. He has taken to LinkedIn to share updates and news about 3M's approach to the pandemic.
And he's not the only executive,
Eric Yuan
, CEO of Zoom,
Ed Bastian
, CEO of Delta Airlines,
Mary Barra
, CEO of General Motors and many more are speaking out on social media.
Savvy executives are leveraging their personal brand and social media to distribute meaningful content. This is exactly what the customers and their own employees need.
Slack's CEO, Stewart Butterfield shared a very detailed account of his company's trajectory through Twitter. From what happened during March and how companies are now relying on Slack for employee communications.
In the Twitter thread, Butterfield was very transparent by sharing the company's revenue numbers and the difficulty in predicting the future. Butterfield received a lot of engagement from followers on Twitter with praise for his transparency.
My day job (also: night job) is CEO of Slack, a publicly traded company with investors to whom I am a fiduciary, 110k+ paying customers of all sizes, and thousands of employees I care about very, very much. The last few weeks have been 🤯😳😢 Here's what it's been like. [Thread]

— Stewart Butterfield (@stewart) March 26, 2020
During times of crisis, employees and customers look to leaders to provide guidance and strength. Butterfield proves how important transparency is. In doing so, it fire up and empower employees on a new mission.
Employees Want Executives to Speak Out
In the 2020 Edelman Trust Barometer, 92% of respondents agreed "It is important that my employer's CEO speak out on one or more of these issues." While 74% agreed that CEOs should take the lead on change rather than waiting for the government to impose it which is up 9% since 2018.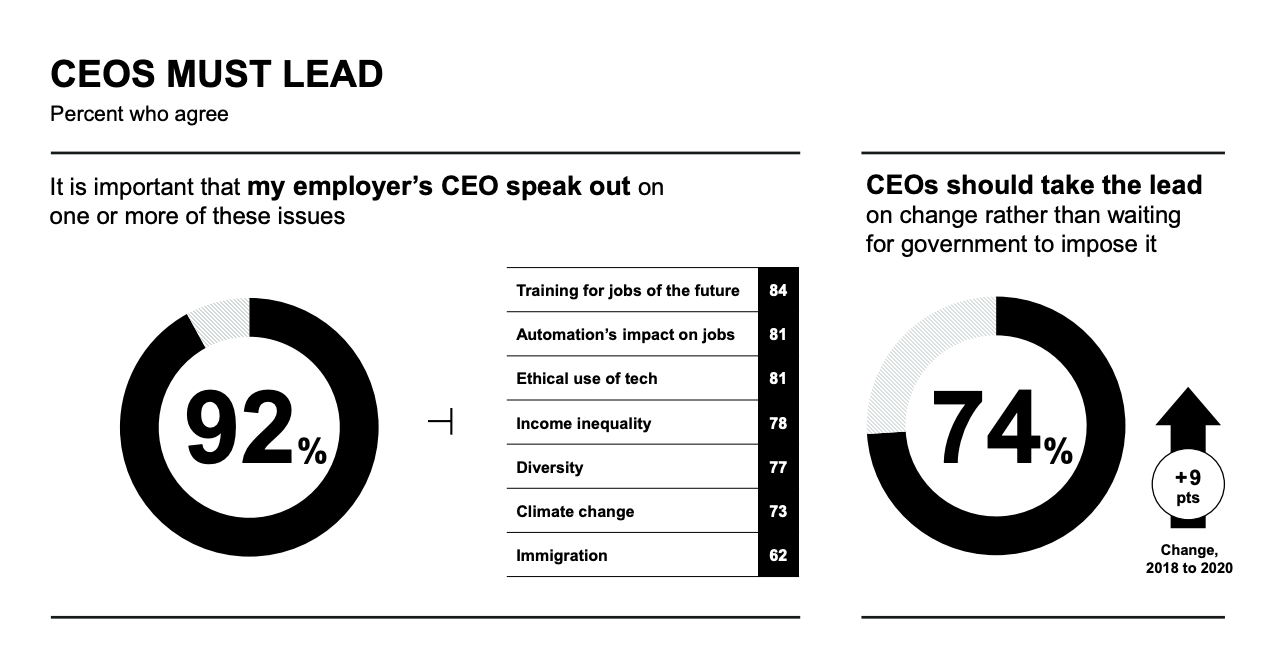 Figuring out what your brand can add to the conversation is a critical yet overlooked step. At the end of the day, if your brand is one with integrity and truly adds value to your customers then speak now or forever hold your peace. The most effective way to get your message out is through your most trusted executives on social media.
Helpful Resources
Plan Your Great Marketing Comeback Story
Legends say Shakespeare wrote King Lear while being quarantined during the plague. I'm not saying you need to write a play that will stand centuries to come but we should plan our greatest marketing comeback story.
The dust will eventually settle and the circumstances will slowly subside to a new normal. When the time comes, make sure your marketing plans are ready for it. Prepare now for your marketing emergence strategy.
For us at PostBeyond, we're thinking about how the world will slowly transition to a new normal. We're thinking about what challenges our customers and future buyers will have to endure. There's no definitive timeline but we're thinking about what the new normal for the economy will be like, what new buyer behaviors will emerge and what our message will say.
The goal is not to react to what is happening. Instead, you want to get in front and be proactive to focus on the opportunity ahead.
Look out for the fourth installment in our WFH series where we'll discuss what you should do to prepare your marketing comeback.
Our Winning from Home series provides actionable insights and resources to help B2B marketers and leaders thrive during unprecedented times. Check out other relevant articles:
Subscribe to our blog newsletter to get the latest in PostBeyond content.