The pharmaceutical industry was one of the last industries to embrace social media and employee advocacy. Strict regulatory compliance caused marketing leaders to shy away from using social networks to market their brand and products.
Medical scientists hold sway over how people perceive health initiatives and best practices. It is reasonable that the FDA and FTC want to ensure that information produced by a company is accurate and complete.
Though stringent laws are in place, many pharma companies are excelling in social media marketing. With legal resources put together and a strictly managed social media program, companies can take advantage of employee advocacy.
Why pharmaceutical companies should take advantage of employee advocacy now
Amid COVID-19, pharma companies have the chance to transform their negative reputation to a more positive brand. Given the nature of the pandemic, pharma companies are playing a significant role by developing a vaccine.
In a report from the Worldcom Public Relations Group released last year, researchers analyzed 38,000 posts about the pharma industry. The social sentiment towards the industry was not good—the most popular hashtags included #corruption and #bribery.
Overall, most posts (87%) were deemed neutral, but only 2% were classified as positive. The negative brand image has challenged the pharmaceutical industry for decades. In some cases, crisis communication and reputation management are areas of focus.
The good news is that there are many ways to improve a company's reputation—and the most effective way to do that is to have employees speak for the brand on social media. The use of social media can help develop a positive brand image, build consumer trust and engage customers.
Call me a dork for wearing this, but I'm proud to work at @pfizer and will be wearing this shirt all the time because I firmly believe that #sciencewillwin pic.twitter.com/Q63iaYRd5s

— Mansi Parikh (@MansiPari) September 7, 2020
Social media posts from real employees speak to a company's mission more than branded content. A pharmaceutical brand can post about how they help patients, but it's more trusted when shared by employees.
In the Edelman Trust Barometer Report for 2020, they found that people trusted experts and peers as a very/extremely credible source for information.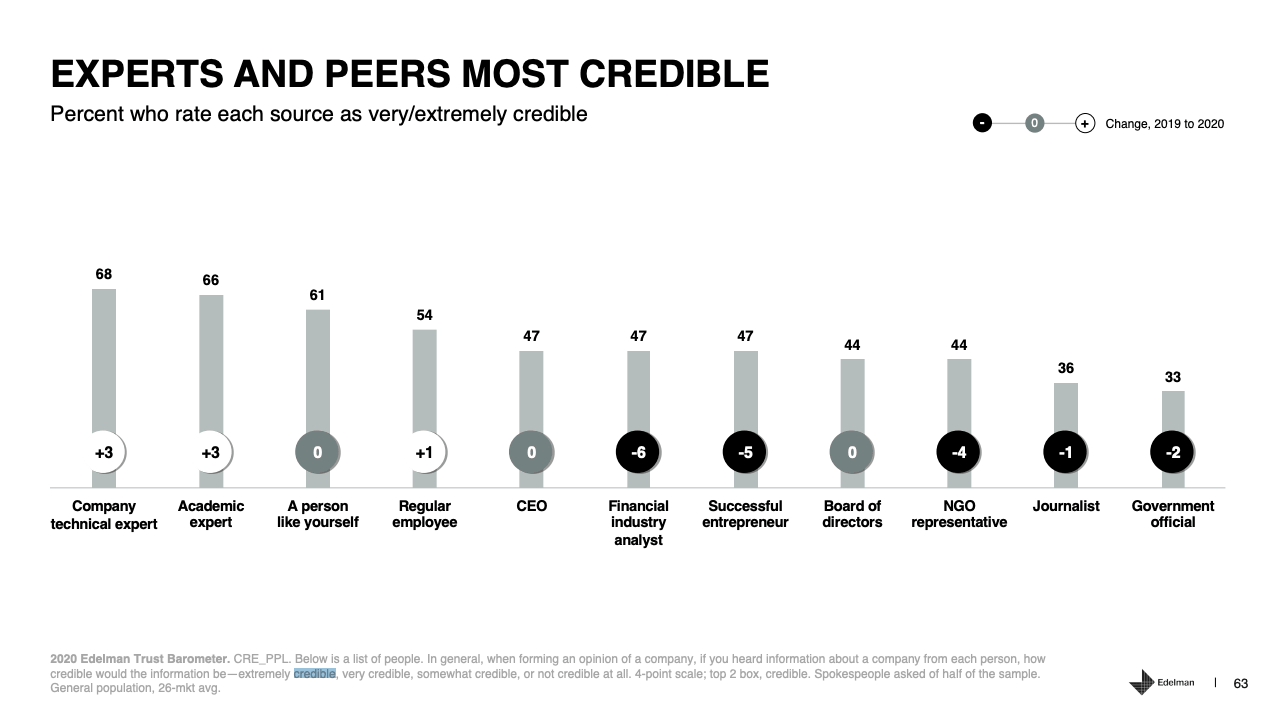 It's a prime time for pharma companies to turn their reputations around, recruit future talent, and return to their mission. In a world where people connect online, social media makes it more accessible.
Challenges pharma companies face on social media
It's not just the FDA regulations that keep big pharma away for social media—it's a lack of understanding among leaders as to why social media is crucial for brand development and consumer trust.
Many companies don't believe the value social media creates outweighs the risks. They don't see how social media can give brands the ability to engage with patients directly, educate their audience, build a brand following or get their message across.
Before a brand can start a successful employee advocacy program, it will need to have complete buy-in from leadership. Leadership that understands how employee advocacy can help turn a new corner for their brand image.
Another struggle is getting the right tools and services in place to meet the FDA regulations. Companies need training from legal experts who know the laws clearly on what employees can post, like, or send in messages. It is essential to have a platform where all approved content will be stored to be published at scale without the risk of employees going rogue on social media.
To overcome these challenges, many companies work with employee advocacy platforms that provide employees with guardrails to ensure safe social sharing within highly regulated industries.
How can you use employee advocacy to promote your pharma company?
1. Partner with Influencers and Raise Your Experts
Subject matter experts play a significant role in building credibility and thought leadership for a company. As mentioned in the 2020 Edelman Trust Barometer, consumers' trust for credible experts is growing.
In the consumer world, influencers have garnered a lot of buzz through word-of-mouth marketing. The benefits are also massively huge for the pharma industry. However, influencers within the pharma industry look very different because of regulatory bodies and complex topics. Pharmaceutical influencers and experts can be people in roles such as subject matter experts, scientists, and physicians.
As influencer marketing and word-of-mouth continue, the pharma industry is tapping into new forms of influencers. They're targeting micro and nano-influencers, which are people that have a smaller yet more engaging following on social media.
For example, Johnson & Johnson does this with its HealtheVoices media presence by bringing in health advocates and influencers to support their events, conference, and Impact Fund. The topics that they touch on are both educational and very relevant for the given time.
2. Humanize the Brand Through Video Content
Video content is a powerful form of storytelling, and it's no wonder why pharma companies have caught on. Consumers love watching videos— Youtube viewers alone watch 1 billion hours of video daily. It is an effective form of communication and storytelling that can reach a wide range of people.
Videos are much more engaging than words and they're an effective way to explain complicated information. Consumers and patients can retain video information more quickly than text. Pharma companies are no strangers to video content. They're known for producing short videos to send out the right message and build brand awareness. What stands out about videos in the pharma industry is creativity.
"We cannot ignore the reality of today. Consumers want to take back control of their health, take back control of their fitness, take back control of the products they will have. Listen to consumers and work backward," says Bertrand Bodson, Chief Digital Officer at Novartis in this video.
Delighted to have Sebastien Szczepaniak joining us shortly (ex P&G, Amazon, Nestle). Getting ready to reach new heights with Next Generation Engagement @Novartis pic.twitter.com/ktiB5mac6W

— Bertrand Bodson (@bbod) May 29, 2020
3. Share Human-Centric Employee Stories
Consumers are increasingly choosing brands and companies that share their same values. Not only that, but they're also demanding more social engagement and dialogue from the people working within the brands.
Employee stories are powerful—especially if one of your goals for employee advocacy is to demonstrate the real impact of consumers and to improve the goodwill reputation of your company. Stories and social posts highlighting employees, healthcare providers or even patients can help humanize the company. Additionally, it helps shed a positive light on the people that work for the company.
Employee stories also help pharma companies establish an emotional connection with their audience by amplifying real-life stories and content. Encourage employees to share why they're proud to work for the company or what it means to work for the company.
4. Share Employee-Generated Content
You've heard of user-generated content (UGC) as a way to increasing brand authenticity but what about employee-generated content? Employee-generated content (ECG) is when your employees to create, curate and share relevant content on behalf of the brand. Pharma can build credibility and extend its presence by empowering employees to participate in content creation.
Pharma companies can also scale their influencer marketing by turning to their employees as an extension of the brand. Who better to the voice of your brand than your employees? They're perceived as more authentic and credible than the brand alone.

Take a look at the example of an Abbott employee sharing his career story. It adds a human touch to Abbott and adds insight into how the company supports their employees.
5. Start a Hashtag to Connect with Specific Topics
Hashtags are a powerful tool for companies to classify or organize thousands of social media topics. Using hashtags allows all tagged content to be categorized under one topic. This allows you to see what the conversation is for each hashtag.
The use of hashtags is becoming more prevalent in pharma for a handful of reasons. Right now, the three most common reasons are to connect communities around a specific topic, compel action for a good cause, and employee brand disclosures.
"Science. It has beaten diseases and stopped pandemics. We've done it before and together, we'll do it again," begins the Pfizer video that connects to the company's successful #ScienceWillWin hashtag. Encourage employees to add hashtags to their posts. Their posts don't have to be complicated. Remind them to be authentic and stay consistent with your company's guidelines.
As we celebrate the achievements of clinical scientists and researchers on #CTD2020, I want to express our profound gratitude to those who are willing to volunteer in this shared mission that unites us all. Together we can help ensure that #sciencewillwin. https://t.co/hvgy3FMQZC

— AlbertBourla (@AlbertBourla) May 20, 2020
Another use of hashtags is for employees to use brand disclosures. Brand disclosure hashtags help employees disclose when they're sharing content on their company's behalf. Marketers will work with their legal department to establish controls and expectations of their employees involved on social media.
What are some key recommendations for getting started?
Establishing a substantial social media presence as a large pharmaceutical company doesn't happen quickly. It requires building a strong foundation and preparation before starting. Here are some initial steps to get started:
Get buy-in from executives first. Executives will need to choose the platform, policies and goals they want to achieve with employee advocacy.
Get your legal team onboard. Your legal team will be instrumental in ensuring all content is FDA, FTC and SEC approved.
Tighten up your internal communications. You'll want teams across departments and regions up-to-date on happenings at the company.
Always remember your why. Consistently remind your team of your company's mission and how it impacts everyone within the organization.
Get your team excited. Pharmaceutical teams create beneficial medicines and save lives—remind employees to share all of the positive stories and news.
Build a foundation with a program and the right technology. Don't do this alone. Choose the right technology, resources and support to help you stay on track with building a successful employee advocacy plan.
Developing medicine is only one part of a pharmaceutical company's job. The other part is to share and communicate discoveries with others. Social media changes the way companies can communicate with patients and prescribers.
For more resources on building out your employee advocacy strategy and staying compliant, download our Bluepting to Employee Advocacy below.