The fact that 84% of organizations are using social media for recruitment marketing might put you off. Competing for anything in a crowded space isn't easy.
However, just because most companies are now in a space, it doesn't mean they're doing a great job. In fact, a recent CareerArc study found that only 39% of employers target specific audiences on social. Basically, most companies don't recruit on social well enough to keep others out.
For marketers, nothing invites a welcome challenge more than leveraging our tried and tested best practices to disrupt a crowded space. Recruitment marketing is just that perfect challenge.
What Is Recruitment Marketing?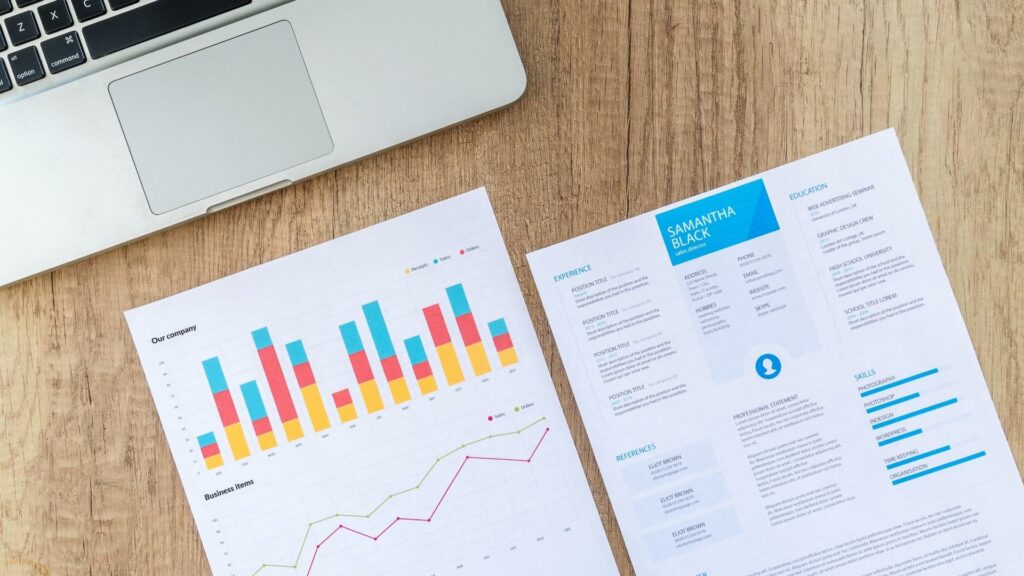 Recruitment marketing is a way of building a talent pipeline using marketing best practices such as targeted messaging, analytics and automation. You're trying to attract job candidates to your company by creating awareness and selling prospects on the benefits of joining your team.
Your market is made up of 'active' and 'passive' candidates. 'Active' candidates are prospects who are seeking new job opportunities. 'Passive' candidates, on the other hand, are potential prospects you'd like to recruit, but they're not actively searching for new jobs (yet).
Recruitment Marketing Funnel
Being a marketing strategy at heart, recruitment marketing has its own multi-stage funnel.
Stage One: Creating Awareness
In the awareness stage you're trying to expose both active and passive candidates to your brand. A good starting point is to target the platforms your prospects use the most, such as LinkedIn. For brand awareness and reach, sharing company thought leadership content and culture content is a solid launch point.
Stage Two: Driving Interest
By this point, your prospects know about you. But you'll want to make them interested in your company. This is where purpose-built, 'lower-funnel' content is key. For example, social media posts about your company culture and team would work really well.
Stage Three: Nurturing
You have prospects who've repeatedly shown interest in your company. They've read your blog posts. They've viewed or even engaged with your social posts. Now you want those prospects to engage with your job openings. This is where content that sells them on benefits, culture and upcoming and current job openings is key.
Stage Four: Closing
There's always a bit of friction when it comes to applying for jobs. Things like setting-up logins, fixing resumes, writing cover letters and answering screening questions take time.
You'll want to ensure the application process is as smooth and quick as possible. Try cutting down on steps in the process. Look at using easier HR solutions to take in applications.
It's also a good idea to put the 'value' upfront. List the salary range, perks and other benefits in the job opening. Transparency helps build trust with the prospect. Moreover, knowing the value upfront could push reluctant candidates to take the plunge and apply.
Benefits of Recruitment Marketing
Arguably the biggest benefit of recruitment marketing is that it can bring ideal candidates to your doorstep. Hiring is difficult and risky. Bad hires cost your company time and money. It could also leave a harmful impact on team morale, productivity and stress. But leaving unfilled job posts is also costly ($25,910.40 by 60 days without a hire). Worse, with the 'great resignation' underway, companies are under more pressure than ever to hire strong candidates.
With an effective recruitment marketing strategy, you can tackle each of those problems. You'd cut the risk of a bad hire by working from a pool of strong candidates coming to you. You could also reduce unfilled job posts by having a constant stream of applications.
What Goes Into Recruitment Marketing?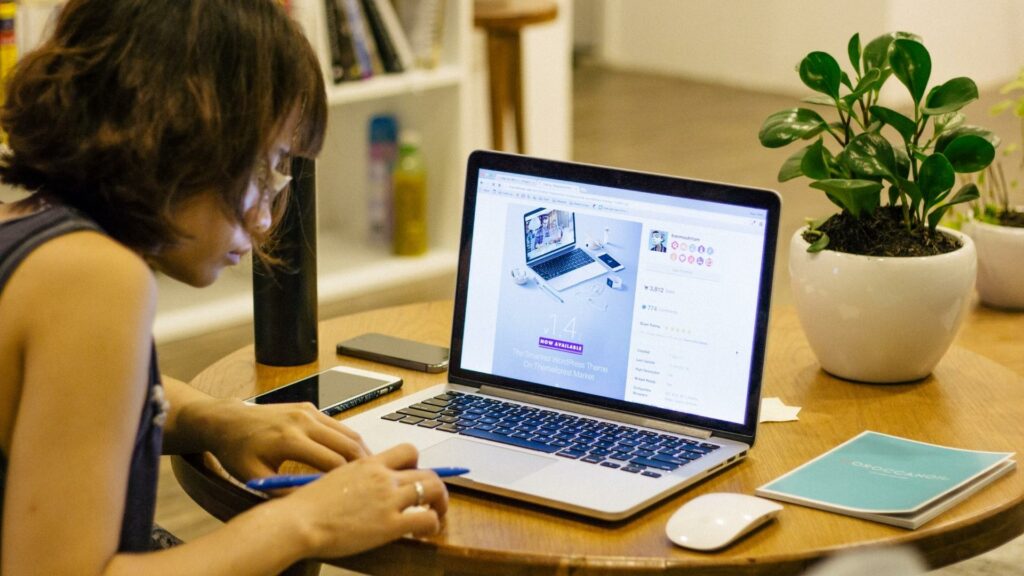 Like wider marketing best practices, recruitment marketing draws on a lot of the same elements:
Value Proposition
You need to communicate the benefits of joining your company. You'll definitely want to highlight competitive pay and bonuses, for example. But don't shy away from promoting less 'tangible' or dollar-type benefits like internal growth and training programs. You should also highlight details like whether you're a remote or hybrid company as well.
Target Candidate Personas
There are two parts to candidate personas.
First, you'll want to determine what your target candidates look like. What skills, qualifications or experiences are you looking for? What would make that candidate a good team and culture fit?
Second, based on that profile, you'll need to find where those prospects are active and how to best engage them. Are they in a demographic that mostly looks for jobs through social media? If so, do they rely primarily on LinkedIn – or are they active on other platforms?
Candidate Experience
The candidate experience plays a big role in the nurturing and closing process. You'll want to ensure that the application, interview and shortlisting processes leave a positive impression on the candidate. Things like a simplified application process, regular communication, and respect for the person's time and effort goes a long way in building goodwill.
Competitor Analysis
You should also keep tabs on what your competitors are doing to attract the same talent as you. This information can help you compare strategies, find gaps or identify opportunities in your own approach.
Employer Branding
Employer branding is a vital piece of recruitment marketing. According to LinkedIn, 75% of job seekers engaging with an employer will Google that company. Prospects want to know about your company's reputation, brand image, culture and other aspects.
You'll want to give prospects a positive impression of your company. The stronger the employer branding, the better positioned you are to draw strong candidates.
Recruitment Marketing Strategy: 13 Tips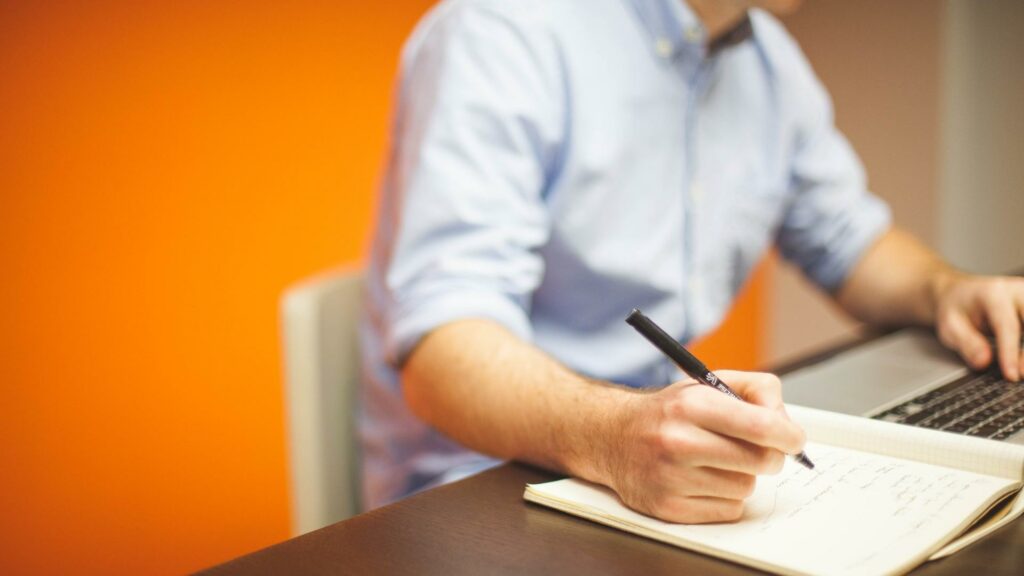 1. Set Goals
Strong recruitment strategies rest on goals. Identify what you want to achieve.
Are you:
Looking to hire for a specific department?
Building a talent pipeline for future opportunities?
Boosting the number of applicants?
Reducing bad hiring rates?
Set goals and attach KPIs to each of them. This way, you'll have a reference point for seeking if you're on the right track and where you'd need to course-correct.
2. Stay in Sync With Hiring Managers
Your hiring managers are arguably your top internal stakeholders in the recruitment process.
Sync with them in advance of new openings. Build a roadmap of potential and upcoming job requirements. Discuss what they're missing in their teams and what they'd like to add. Get a solid picture of their ideal candidate, but build flexibility into what requirements to tighten and loosen based on the candidate pool.
3. Define Roles
Work with the hiring manager and other key stakeholders to define upcoming roles. Align on the responsibilities of the hire, job requirements, hiring timeline and other key details.
Use that information to create a compelling job posting. On top of the job description, focus on the value proposition. Talk about perks, bonuses and other benefits. Provide as much detail as possible about the hiring process and onboarding. Offer some visibility into what the candidate can expect and set clear-cut expectations. Focus on making the candidate comfortable, perhaps by leveraging tools for organizing video interviews, especially with remote and hyrbid workers.
4. Build Target Personas
Create personas of your ideal candidates. Besides the hiring manager, get input from the future team of the candidate. Use those insights to build a profile of the right prospect in terms of their qualifications, experience, culture fit and chemistry.
5. Identify Channels
Identify where you can find the ideal candidates in your personas. What social media platforms are they most active in? Do they go to in-person events? Do they attend webinars?
6. Gather Resources
Based on your target channels, build a budget for your recruitment marketing campaign. If your plan is to lean on organic reach, you'll need to invest in content. However, if you're planning to drive ads on LinkedIn and/or other platforms, you'll need a budget for paid ads. In fact, you may need content for your paid campaigns too.
7. Social Media
Using social media for recruiting employees is a necessary part of any recruitment marketing strategy. A CareerArc study found that 86% of job seekers use social media for searching job opportunities. Social media is where your target audience is at.
However, social media is also a functional tool. It connects you with candidates and even reach out to specific prospects. Not only that, but with the right social media strategy, you can save on your recruitment marketing costs too. For example, your employees can help expand your reach on social media by reaching people and groups you don't have direct access to.
8. Create Content
You need content for each stage of the recruitment marketing funnel. Employer branded content is especially important. Create blogs, videos, infographics, ebooks and webinars that showcase your company's thought leadership and culture.
You should also tap into employee-generated content (EGC). Potential candidates want to know how your employees are doing at the company. EGC about your company activities and culture is as authentic a way to promote your brand to prospects as it comes from their own peers.
9. Personalized Outreach
Though you want to attract candidates, don't shy away from reaching out. You'll find amazing prospects, so it doesn't hurt to open a connection with them on LinkedIn. Even if the prospect isn't looking for a new job, you'll still have them in your network.
You can use your content to promote your company and build interest over time for a future position.
10. Employee Referrals
Employee referrals can be a good way of finding capable candidates. In fact, there's a chance that the referrals could already gel with the hiring team and company culture.
11. Display Advertising
Organic strategies on social can take time to generate wide-scale reach. With a solid paid ads strategy you can start driving content to passive candidates very quickly. You can also use the reader engagement data to improve your content strategy ahead of your organic results.
12. Professional Networks & Niche Boards
LinkedIn is the go-to platform for professional networking. But that doesn't mean there aren't other 'watering holes' with potential prospects. Look for lively forums and other websites with people matching your persona. You should also look at niche job boards such as Underdog, Triplebyte and others for specialized candidates.
13. Circle Back to Past Candidates
Finally, don't forget past candidates, especially those you didn't hire simply because you had only one available opening. It's a good idea to keep them engaged through email. You could make them notify them of new openings or reach out directly if there's a new opportunity.
11 Recruitment Marketing Examples
1. Dell Technologies
Dell spotlights an employee by highlighting their personal story while directing readers to Dell's careers page.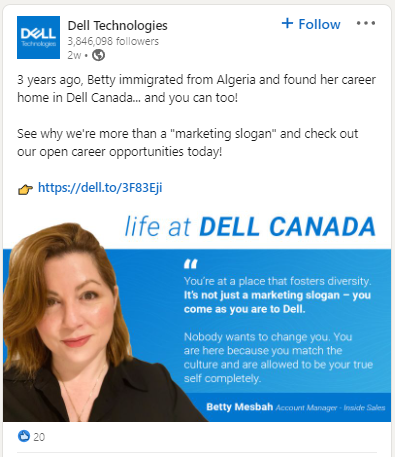 2. Lee Health
Lee Health is both spotlighting the experience of an employee and highlighting incentives and other benefits that make it stand out from other health employers.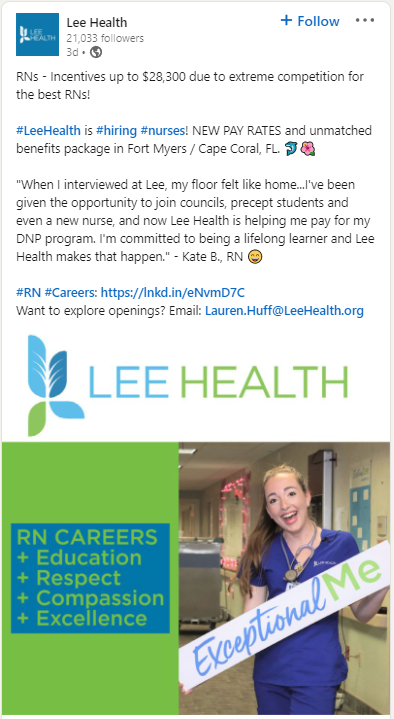 3. Parentaly
Parentaly offers a great example of executive leadership driving your recruitment marketing efforts. The company CEO Allison Whalen is both promoting the job opening to her network while also highlighting benefits and expectations.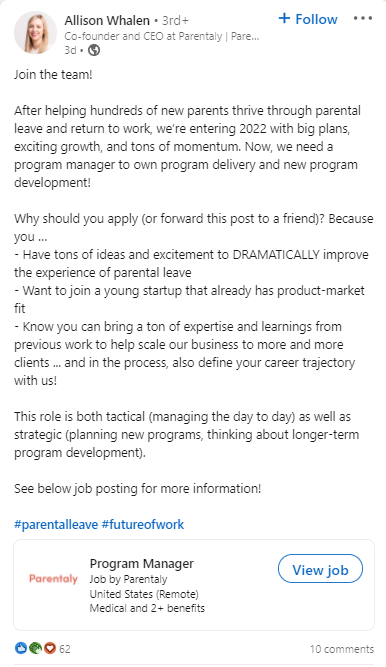 4. Shopify
The interesting thing about Shopify's employee spotlight is that it tells the person's story while also showcasing a benefit of being in the company (the flexibility to work on personal projects).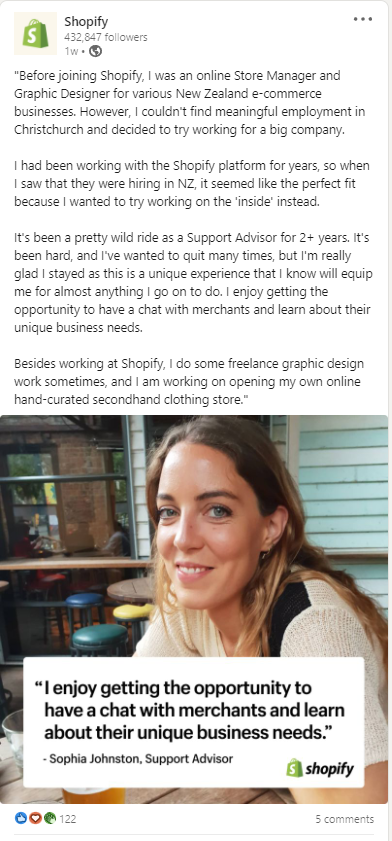 Shopify's also subtly showing (instead of telling) its remote work environment by showcasing team members in faraway places.
5. Dell Technologies
In this example, Dell is again sending readers to its careers page. But it's tailoring its post to young prospects who are starting their careers. It also highlights a relevant industry award.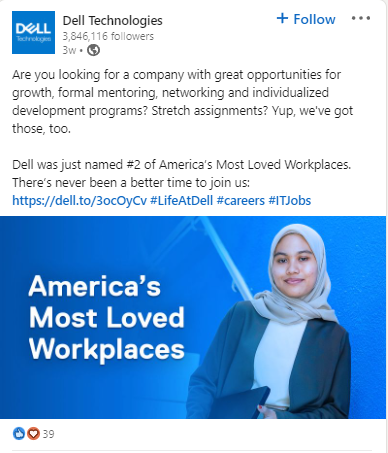 6. PwC Middle East
PwC Middle East shows that it's a good idea to announce new employee perks or benefits on social media. This example provides a window into the company's culture and shows that it's constantly working to improve the employee experience.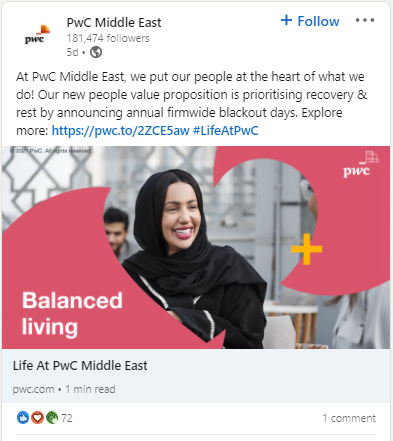 7. Nike
In this post, Nike is telling the story of how an employee went from humble beginnings within the company to becoming a general manager. This shows prospects that Nike's culture isn't rigid or inflexible. Rather, everyone has an opportunity to horizontally move and vertically grow.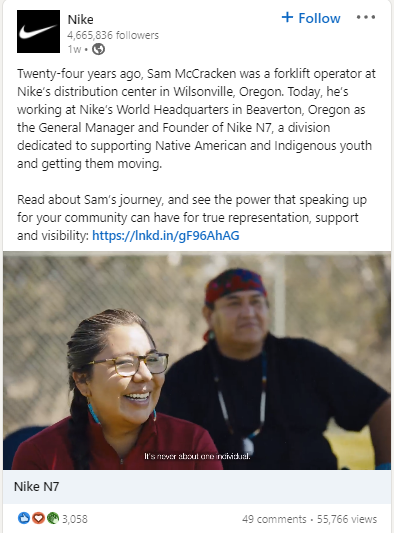 8. Tesla
Tesla is using videos to promote new job openings. This is an example of showing prospects the experience they can expect at the company.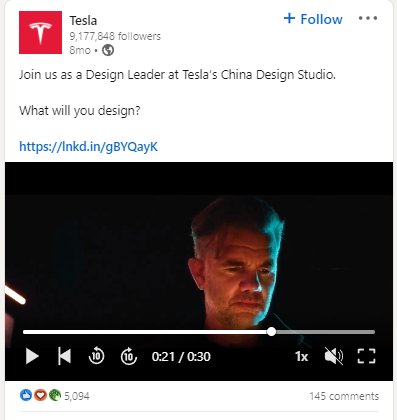 9. Microsoft
This Microsoft post isn't focused on hiring, but it's extremely valuable for recruitment marketing. It offers a relatable story through an employee while giving a window into how the company is supporting mental health.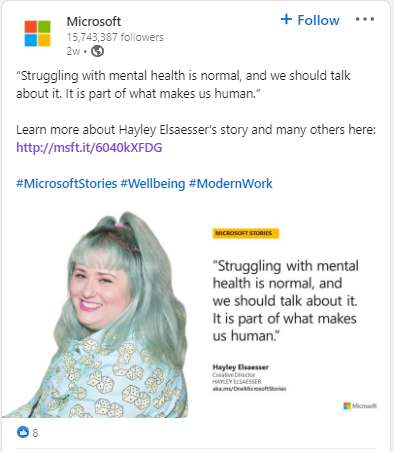 10. Santa Monica Studio
In this hiring post Santa Monica Studio showed exactly the type of work and, potentially, the project or title a new hire would work on. In a way, the studio showcased expectations rather than writing about it.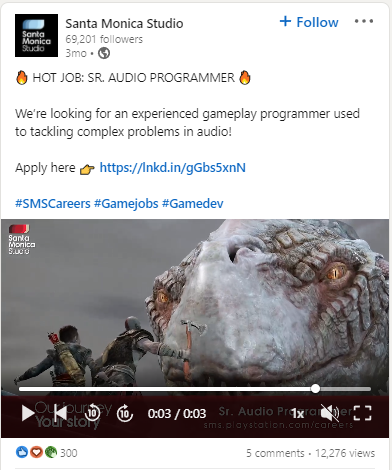 11. PwC Middle East
In this example, PwC Middle East is engaging local Saudi audiences in Arabic. Speaking in the local language is a good way to drive prospect interest in target regions.