Note: We updated this blog with newly learned insights from 2021 and tips to set your social recruiting efforts up for 2022.
Multiple generations of digital natives are in the workforce. Whether you're looking to fill junior positions or find leaders for senior roles, you need a strong social recruiting strategy to source talent from among today's candidates.
What is Social Recruiting?
Social recruiting is the process of advertising jobs, recruiting candidates and connecting with potential employees through social media platforms. It is also commonly referred to as social hiring or social media recruiting.
According to a 2021 study by CareerArc, 92% of employers said they use social networks to find talent. In fact, for many companies, social is now the go-to option for finding candidates. It basically ranks ahead of ads, employee referrals and even job boards.
How to use social media for recruitment
When you post a job on your company's social media page, you can leverage your followers' and employees' networks to get the word out in just three steps:
You share a new job posting on your company's social media page.
Your followers and employees share the post with their networks.
Your reach grows exponentially, making you more likely to find the perfect candidate.
Platforms for social media recruiting
When you think of using social media for talent acquisition, LinkedIn probably comes to mind.
LinkedIn is a proven leader in social media hiring:
55 job applications are submitted every second.
50 million companies are listed.
2 million small businesses are using LinkedIn to hire employees.
Over 20 million open job listings are posted on LinkedIn Jobs.
But LinkedIn isn't the only option for recruiting via social media. Twitter, Facebook, and even Instagram have become popular social media recruiting sites.
Does social recruiting work?
Yes! Done correctly, social recruiting can help your business identify, reach out to, and hire high-quality job candidates. In fact, the following social recruiting stats tell us that this strategy is a must-have:
Social media use by companies, and specifically recruiters, has been on the rise for several years. A 2017 CareerArc report found that employers predicted social media marketing to be the most in-demand HR skill by 2020—and that trend has not slowed down.
Is social recruiting more effective than traditional recruiting?
Yes. While traditional recruiting styles are still in use, social recruiting is more effective in terms of generating reach and keeping costs low. You don't have to pay on a cost-per-click basis for a single applicant (which can run up to thousands of dollars per posting in some cases).
Instead, you just have to focus on getting your job postings in front of the right people through a strong social strategy.
Benefits of Social Recruiting
Why should you make social media part of your recruiting strategy?
Here are three big benefits of social recruiting.
1. Connect with more candidates.
A passive candidate isn't actively looking for work but is open to new opportunities. Traditional recruiting strategies and job boards won't reach these potential employees—but they make up 70% of the candidate pool. 
Social recruiting helps you get your job listings in front of candidates that you wouldn't otherwise reach. Passive candidates might not be scrolling through job boards, but they are scrolling through their social media feeds. This allows them to see your company's posts and decide if they'd be a good fit for your organization.
A passive candidate might stumble across your job listing on their feed. If they do apply, it'll be because they think it's a great fit for them—not because they're desperate to leave their current role.
2. Save money and time on hiring
In general, it costs businesses over $4,000 to hire new talent. It takes forty-two days on average to fill a given position.
Social media recruiting can save your company time and money. Sponsored postings on job boards are expensive—and you can't guarantee that you'll reach candidates that fit your open role.
When you leverage your employees' networks and the power of word of mouth, you'll reach more potential recruits in less time and for less money.
3. Showcase your employer brand
In 2017, 47% of job seekers pinpointed company culture as the main reason for wanting to leave their current company. Social media lets you share your company culture and values alongside your job postings—and gives potential candidates an inside look into life in your workspace.
To highlight your employer branding on social media, you can:
Share employee-generated content (EGC).
Inform your audience of company benefits and initiatives.
Encourage employees to post on social and interact with interested parties.
(Check out 6 tips to leverage LinkedIn for your employer brand.)
7 Compelling Stats on Social Media Recruitment
These powerful statistics showcase the benefits of social media recruitment for building the best team, and how social media works to help you find top talent.
1. The Majority of Companies are Using Social Media for Recruitment Today
Surveys showed that at least 84% of organizations are currently using social media for recruitment and that 9% of those who don't yet use it are planning to. Organizations that don't want to be out-recruited by competitors or left behind should make sure they are also taking advantage of the trend. Developing social media guidelines is a great first step to launching internal and external social media programs.
2. Social Media is Where Millennial Candidates are Looking for Jobs
A study from the Aberdeen Group revealed that millennials are changing social recruitment practices: 73 percent of millennials (18-34 age group) found their last position through a social media platform. So, if you want to target the youngest and most motivated group in the workforce, make sure that you use platforms that appeal to them.
3. Social Media is Where People are Spending Time
Studies show that people are spending A LOT of time on social media. In fact, if global social media usage continues to look like what it does today, the average person will end up spending more than 5 years of their life on social media. For that reason, it's smart to recruit where people are spending their time.
4. People Use Social Media to Find Relevant Content
Social media is an excellent resource for people who want to discover branded content that is interesting to them. In fact, a study by Marketing Sherpa showed that at least 58% of U.S. consumers use social media to follow brands.
If someone finds your company (or the available jobs at your company) via social media, they either sought your profile out or it appeared to them because they expressed interest in relevant/related topics or organizations. Therefore, if someone connects with you for a potential job position via social media, it often means they are engaged in your branded content or relate to your company culture content making them stronger candidates.
5. Social Media is a Great Opportunity to Harness the Power of Word of Mouth Recruitment
Leverage employees to amplify messages further through employee advocacy and social referral programs. According to a survey from Monster, 65 percent of respondents would consider a new job opportunity if they heard about it through a personal connection. Word of mouth promotion tends to be effective no matter how it happens. In fact, studies by Nielsen show that 92% of people will trust recommendations that they get from friends and family over any other kind of marketing, promotion or advertising.
6. Social Media is a Good Place to Find Passive Job Candidates
Sometimes, the best candidates are those not actively looking for a job. Maybe they already have a position (but could be wooed away) or maybe they are just not seeking the type of job you're offering. Despite not actively looking for a job, passive job candidates can often be the best fit for a position, and social media has proven to be a great place to find these candidates. A survey showed that 82% of organizations currently use social media in order to successfully recruit passive job candidates.
7. You Can Still Get Ahead With Social Recruiting.
While 84% of organizations are using social media for recruitment, the majority aren't actually employing a proper social strategy. According to a 2021 CareerArc study, only 39% of employers target specific audiences (e.g. via hashtags). Moreover, only 39% of them involve their employees in sharing branded content.
Effective Social Recruiting Strategies
1. Empower employees to get involved.
Some of the best candidates come through employee referrals.
Make it easy for your employees to share job openings and posts about company culture on networks they already use. If you have 100 employees, and each employee is sharing posts with 150 followers, you can reach up to 15,000 people through online employee advocacy—and these followers are likely to be more engaged than those only following your brand.
Employee advocacy programs are a great way to get employees involved. An employee advocacy platform helps you centralize content such as job openings, event information, and company updates, so it's easy for employees to share it on personal social media profiles.
2. Optimize your social profiles for search.
Most candidates are passive, but you should still make your profiles and job postings easy to find for active job seekers. Ensure that your social profiles include keywords like your industry, location, and of course, the fact that you're hiring.
When you share job postings on social media, include the job title and location in the post text (not just in a graphic or link preview). These details make it easier for candidates to find you.
3. Know where your candidates spend time online.
In marketing, you need to meet your customers where they are. Recruiting is no different.
If you're looking to fill a design role, check out more visual platforms like Dribbble or Instagram. If you need to hire a software engineer, Github may be a better bet.
Do some research into where your ideal candidates do most of their social media scrolling. One way to find out? Ask your current employees which platforms they use the most.
4. Use advanced search features.
For a more targeted approach, social media platforms have advanced search options that can help you find your ideal candidates.
Facebook
Facebook's Graph Search lets you search profiles based on location, interests, pages liked, areas of study, and more. Graph Search is a great way to find potential candidates if you're looking for local talent with specific education experience or interests.
You can also add job postings to Facebook. You need a Facebook business page, but you can make job openings appear under the jobs bookmark. This way, your employees can share those postings to their personal timelines. You can also reach targeted audiences using the paid boosts feature. This lets you target locations, work experience, and education.
LinkedIn
LinkedIn is the most business-oriented social network, so it makes sense that their advanced search is the most well-suited for finding candidates. LinkedIn's advanced search makes it easy to find candidates with specific skills and experience. Using LinkedIn Recruiter, you can use advanced search filters, receive smart suggestions and integrate with your applicant tracking system.
Twitter
Twitter's advanced search feature is the most limited. If candidates and recruiters in your field use specific hashtags, you may be able to search that hashtag to find interested parties.
TikTok Resumes
In 2021, TikTok introduced TikTok Resumes. Through a pilot program, it allows some companies to post job openings. Candidates can respond with short videos which basically act as resumes. It's an unconventional approach, but it offers a lot of potential in reaching out to young prospects who are comfortable with using TikTok.
5 Examples of Social Recruiting
Here are five real-world examples of social recruiting and displaying employer branding.
1. UPS Jobs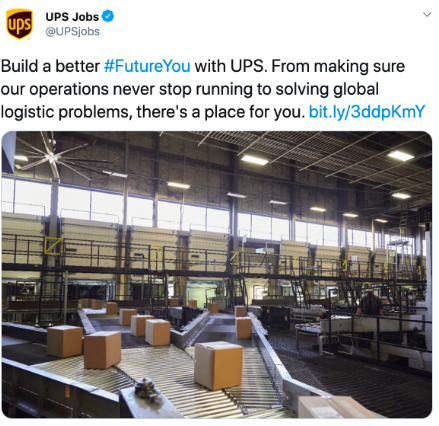 @UPSJobs features job postings and company culture content. UPS uses the hashtag #FutureYou in job posting tweets—and the page's Twitter bio reads, "Future You is a UPS employee." They engage followers by making them feel like a part of the team and showing what it's like to work at UPS.
2. Inside Zappos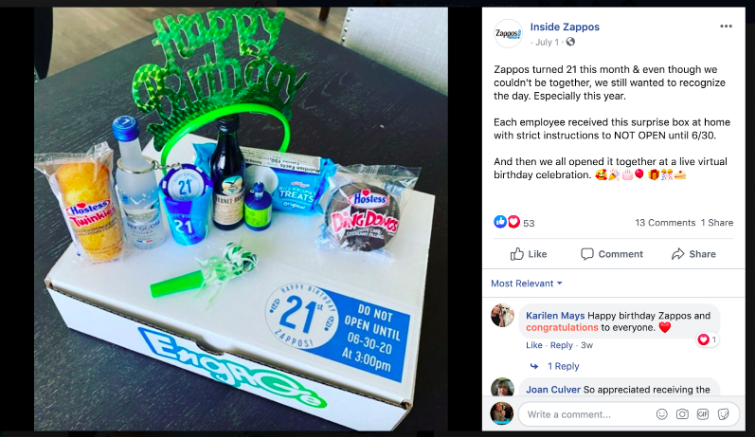 Zappos uses Inside Zappos to highlight company culture and celebrate employees. For example, the company's 21st birthday fell during a time when most employees were working from home to increase social distancing. Zappos sent each employee a surprise gift box with the instructions not to open until a virtual birthday celebration. Potential candidates see this and know that a fun company culture awaits them—even during a time when in-person activities are limited.
3. ADP Careers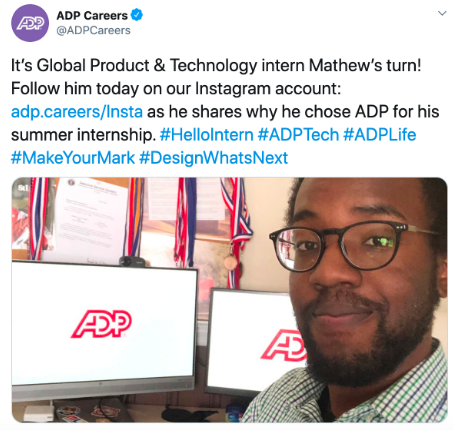 ADP uses its @ADPCareers Twitter and Instagram accounts to highlight employees and their accomplishments. By letting employees share their experiences at ADP in their own words, the company gives job seekers a more authentic, credible look into what it's like to work with them.
4. Hilton Careers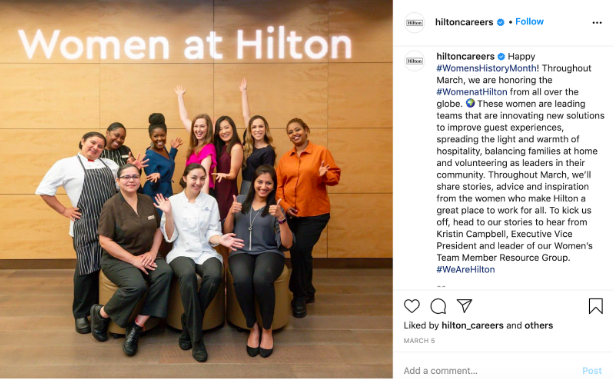 Candidates want to work for companies that share their values. This post on Hilton's recruitment-focused Instagram account celebrates Women's History Month — and helps demonstrate that the company values female employees. Both Hilton's official account and employees' posts use the hashtag #WeAreHilton when sharing company culture content.
5. Spotify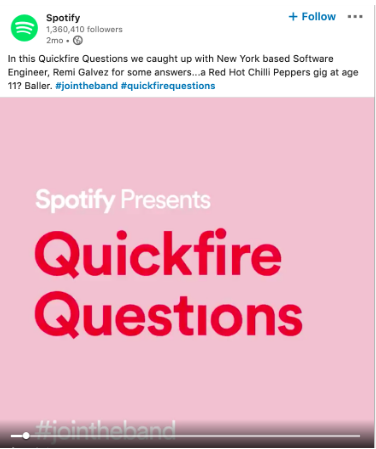 Spotify's LinkedIn page features employees from around the world in short, shareable video content. They highlight different departments and offices so that potential candidates get a well-rounded view of what it's like to be a member of the Spotify team. Plus, Spotify's employer branding uses a fun, music-themed hashtag: #jointheband.
How to Build a Social Recruiting Process
Ready to make social recruiting part of your talent acquisition strategy?
Here are 7 steps to building a strong social recruiting strategy.
1. Set goals and metrics.
You won't know if your recruiting strategy works unless you set goals and benchmarks.
Do you want to increase the number of applicants? Shorten the hiring process? Reach more qualified candidates? Choose metrics that help you measure those goals, then look at how your current recruiting strategy measures up.
Some popular social recruiting KPIs include:
Time spent per applicant
Cost per hire
Social media engagement
Employee referral rate
Clicks from social media to your hiring page
Offer acceptance rate
2. Know your ideal candidate.
When you know what experience, traits and skills make up the ideal candidate for a role, you can better target that type of person through social recruiting. Social recruiting is a great way to see if a candidate is a great fit for your company culture because you can see how they live out their values and represent themselves online.
3. Check out your competitors.
Do your competitors have a strong social media presence? If so, are they using their accounts for recruiting?
You don't need to be everywhere that your competitors are. But if they have quality engagement with their social recruiting posts, knowing where they post can help you figure out what you're up against. On the other hand, if their social recruiting doesn't seem to get engagement, you can learn what not to do—or identify gaps where your posts will stand out.
4. Define your employer brand.
Before you can promote your employer brand, you need to define it. Choose which traits and values you want potential candidates to see, then double-check that your social recruiting posts and employee-generated content reflect that.
Build your employer brand from within. Be transparent with your employees about different initiatives across the company.
Some ways to increase transparency within your workforce include:
Internal newsletters
Monthly town halls with opportunities for employees to be heard
Transparency involving salaries and benefits
Honest conversations around diversity, equity and inclusion
Special events and team building activities
Volunteer efforts and social corporate responsibility initiatives
5. Choose the right social media platforms
You could post everything on every platform, but that isn't an efficient strategy. Figure out where your employees and ideal candidates spend their time online, then choose the top platforms for social media recruiting.
Choosing the right social media platforms means choosing which kinds of content to prioritize. If you plan to recruit via Instagram, you'll need to focus mainly on visual content. If your candidates are more likely to be on LinkedIn, curate a combination of text, images, videos and links.
6. Launch an employee advocacy program
Promoting company values and culture is key to attracting top talent. Creating an employee advocacy program and leveraging your employees' networks can boost your employer brand and reach a wider audience.
One great way to launch this type of program? Work with an employee advocacy platform like PostBeyond. Have you been considering starting an employee advocacy program? Here's what you should know before you launch your program.
7. Measure, optimize, repeat
Regularly measure the results of your social media recruiting efforts. Review your social recruiting goals and make sure that they align with your broader company goals and hiring needs.
From there, you can adjust your strategy accordingly. Test new platforms and content until you figure out what works best to improve your target metrics.
Are You Ready for Social Hiring?
Social media recruiting lets you showcase your company culture, reach a larger talent pool and connect with your ideal candidates. As Gen Z and Millennials make up more and more of the workforce, social media will only become more valuable for recruiters.
Are your ideal candidates on social media? Then your recruiting efforts should be, too.