We've been thinking a lot about the future of work lately. We're reareading lots about reinventing organizations (including some of us actually reading Reinventing Organizations), and we're hearing tons about the increasing importance of employee engagement for enterprises.
It's clear that employee advocacy is on the upswing. Companies want to be more progressive, and they want to get employees involved in the brand.
This was clear at a few events we've attended lately, too. Employee advocacy came up organically as a point of discussion at Social Tools Summit and Data Marketing 2015. Execs who were speaking at these conferences highlighted a need to engage their team at every level.
Our friend Neal Schaffer was kind enough to invite us for a quick podcast session after Day 1 of Social Tools Summit in San Francisco. Our VP of Growth & Customer Success, Chad, and our Digital Marketing Manager, Dan, sat down with Neal to discuss some of the most common concerns of employee advocacy.
How Should Enterprises View Employee Advocacy?
We're firm believers that employee advocacy isn't a "nice to have" item anymore. Enterprises should be thinking of employee advocacy as an imperative strategy that shows real ROI.
Measurable benefits aside, employee advocacy also represents a broader shift in organizational structure. It's a commitment to a progressive and innovative workplace.
Neal asked a great question on this note – what do you do if you run out of content? Or what happens if no one is sharing?
Dan had some insight here.
Employee advocacy is an ongoing effort – not a campaign. Enterprises need to adopt an "always on" marketing strategy.
From the employee standpoint, if content is stale or repetitive, there's no reason to share it. It offers no value to the employee or their followers, so adopting the mindset that this program is an ongoing initiative will curb the lack of relevant content.
Relevant content should come from every business unit. We talked a bit about this in our post on scaling your program across departments.
Encouraging Adoption
Aligning the right people to create relevant content is key. To make sure your program gets off to a successful start, it's a matter of involving the right people at the get-go.
Although marketing usually takes the lead, HR joins the party as soon as "employee engagement" is mentioned. Internal Communications cares about brand health, and Sales cares about relationship building.
Dan shared some wisdom from Robert Caruso that I think sums it up nicely:
Content leads to conversations, conversations lead to relationships, and relationships result in ROI.
But how can the leaders of these departments encourage employees to get involved? Enterprise ROI might not be enough of a reason for them to share.
The answer, Dan and Chad agreed, is the benefit of building your personal brand. It starts with content, social media, and building relationships. No matter which department you belong to, strong relationships and continuous learning are key to employee satisfaction.
Important to note here is that your content library should reflect what your employees actually want to share. If an employee wants to build their personal brand, but lacks relevant or interesting content, there isn't much motivation to share with their networks.
The Business Value of Employee Advocacy
Neal then asked how we at PostBeyond show the business value of employee advocacy.
Chad shared some great insight here, including website analytics, integrations with existing software, and metrics for measurable KPI's.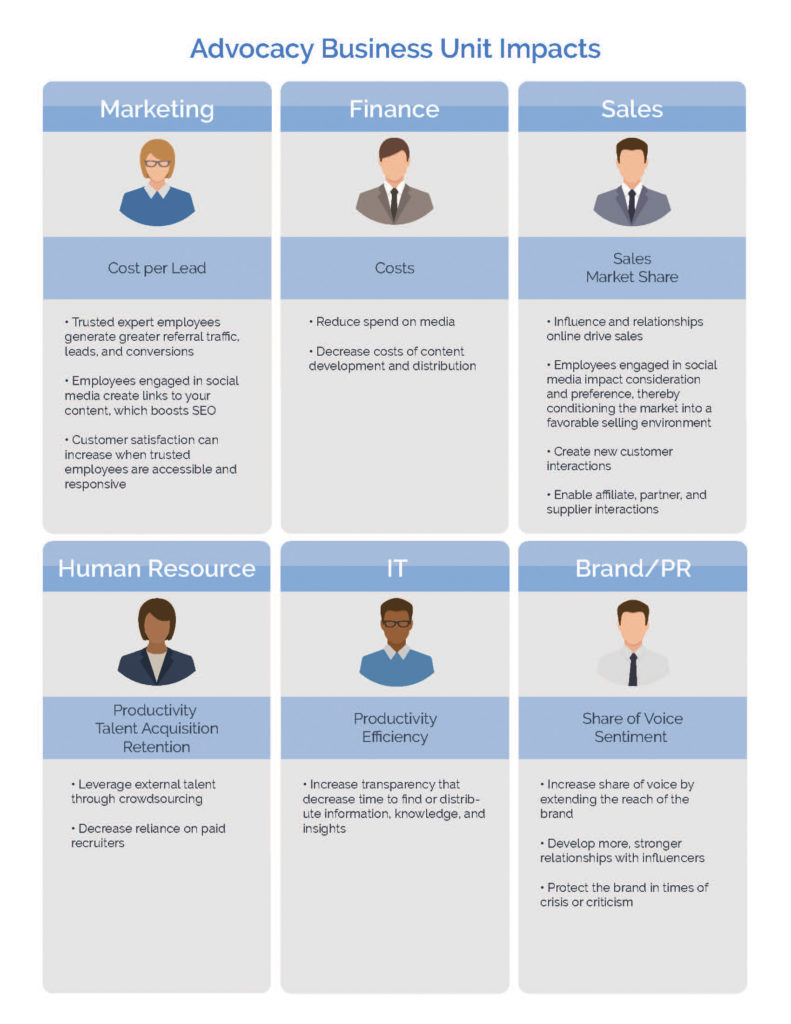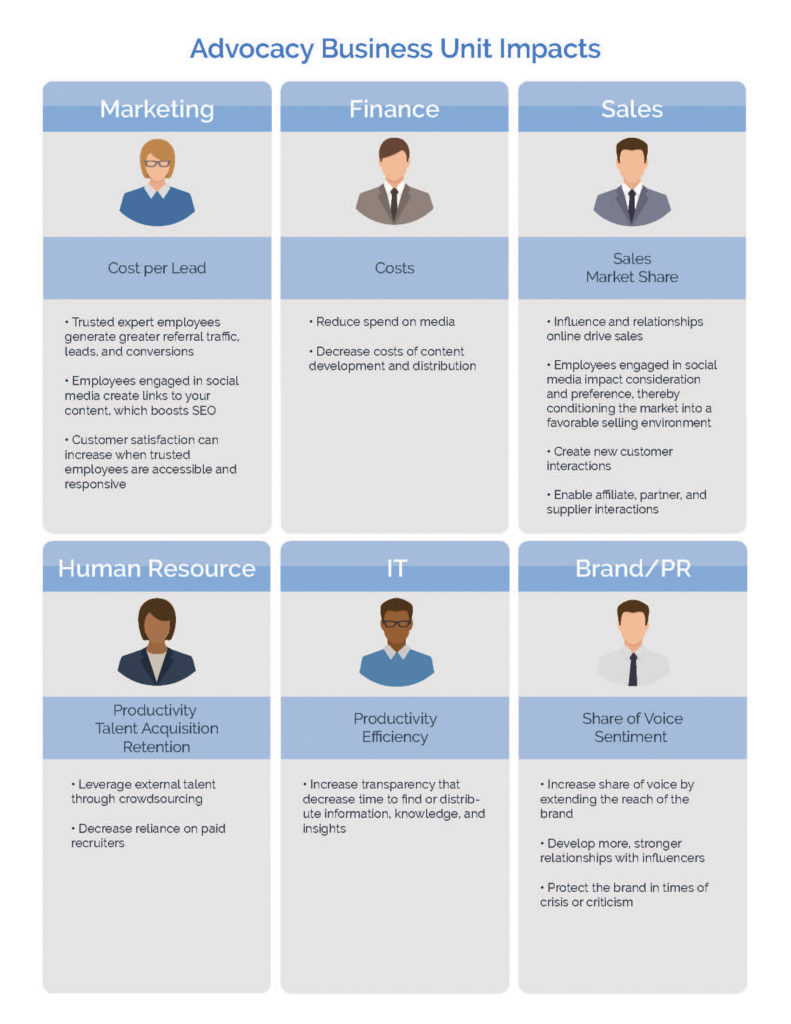 My personal favourite was the idea of a "personal assistant." It helps make your employees appear active and engaged with their online community when they may be busy with other tasks.
In a broader sense, it helps with educating your people and strengthening offline conversations. Although we're very data driven at PostBeyond, we believe that there are some intangible benefits to employee advocacy that aren't measurable in a KPI's dashboard. The confidence and leadership skills that employees develop through content sharing are sometimes beyond numbers, and we think that's a huge part of our business value.
How does your enterprise view employee advocacy? How would an employee advocacy platform fit into your current marketing stack? We'd love to hear your ideas, or (as always), feel free to share your questions with us.
For more of our thoughts (and to hear our best "American accents"), listen to the full podcast here.