What's the benefit of having a centralized content library for employees and stakeholders?
Is it enabling teams to share content to social media and increasing awareness?
Or is it strengthening internal communications?
Maybe it's helping your sales team generate more leads and close deals?
…yes, yes, and yes.
It turns out that employee advocacy platforms offer a number of use cases, ranging from employer branding to influencer marketing.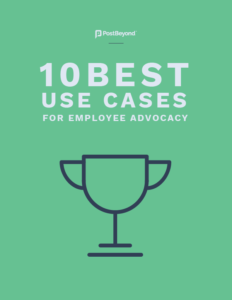 And research has shown that messages shared by employees went 561% further than the same message shared on a brand owned channel. No matter who your intended audience is, employee advocacy platforms can help get that message out there.
We've compiled a list of our ten favourite use cases that we've seen implemented with our platform. Our 10 Best Use Cases for Employee Advocacy Platforms eBook will walk you through the various use cases, what the business value is for each, and some PostBeyond customers who are currently using the platform for that function.
In this guide, you will learn:
• How a centralized content library can be used for both internal and external purposes
• The benefits employee advocacy platforms have for Sales, Marketing, and HR teams
• How employee advocacy platforms can improve brand recognition and lead generation
So, if you're interested in learning how Starbucks, Rosetta Stone, TIBCO, and other awesome brands are using employee advocacy software to achieve their business goals, download the free eBook here.