There's something ethereal about reading a hardcover book about digital experiences. On the one hand, I'm a sucker for nice cover art and dust jackets. On the other, I enjoy highlight, Ctrl+C, Ctrl+V when pulling my quotes. I couldn't help but think that a book discussing living in the digital era should be read on a screen. But maybe that's the point.
I will say this, though: it gets a little meta when you're reading about a viral YouTube video of a 1-year-old girl trying to interact with a magazine as if it's an iPad. And then you use an actual bookmark to save that page for later. There are kids who have experienced every piece of content in a paperless way – isn't that crazy?! And here I am, reading about it in a good old fashioned hard-cover book.
Yep, we're living in a pretty cool time.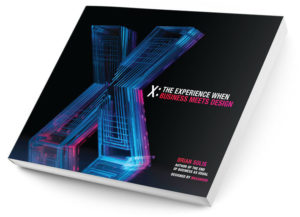 Businesses now have a unique opportunity to create experiences that connect with customers in more holistic ways. This is exactly what Brian Solis' latest publication (aforementioned *print* book) explores.
X: The Experience When Business Meets Design focuses on crafting digital-first customer experiences. It's not only well-written, it looks cool too. It's a tight balance of visual and intellectual appeal.
Brian was generous enough to send us a signed copy, and I've had the pleasure of reading it over the past few days. It's a wealth of ideas, and I've done my best to try and pull my favourites and summarize them for you.
Experience for the Digital Age
When we think of digital customer experiences, it's easy to assume that they're, well, a little gimmicky. Think of all of the campaigns you've seen lately that use technology for the sake of appearing "digital."
Sure, it's cool to have campaigns around VR/AI/heck, even Snapchat filters if you want to count that. But that's not really what a digital customer experience is.
In fact, one of my favourite ideas from X is that technology is most human when it's invisible. It's simultaneously at the forefront of the customer experience and in the background.
Great example of this: Disney's Magic Band.
When visiting a Disney park, guests are now able to make cashless purchases, dinner reservations, access their hotel room, and more with one single RFID wristband. The technology itself isn't that new, but the applications of it are becoming more sophisticated.
And the best part? It's customer-centric. It works to enable what guests care about (wait times for certain attractions, photos, food) and it isn't intrusive to the guest experience. In fact, the Magic Band enhances it.
This has obvious benefits for Disney as well. The data collected by the Magic Band has helped Disney create highly customized offers for events, leading to increased loyalty and revenue.
Brian describes this experience as "frictionless and invisible," and I think this is apt. The wristbands don't exist for guests to think "wow, Disney is really technologically advanced. How cool." They exist to enrich the guest experience.
And now to take it one step further – that YouTube video I was referring to earlier.
There's an entire generation of soon-to-be customers that will expect experiences that are…
Tailored specifically to them
Available on any device they choose
Seamless
There's no longer such a thing as "the second screen" – there's only the first screen. Maybe even the only screen! When we're thinking about where to meet our customers, we need to think not just about where they are now, but where they will be.
The Medium is More Than the Message
But it isn't about the technology itself. In fact, I've had an experience with a totally cashless event – using a wristband similar to the Magic Band – that was a disaster.
So we need to stop with the idea that technology is like a missing puzzle piece to a great customer experience. There will always be hot new channels or tools that arise, and we need to critically examine how they fit (or don't) into the journey we want to guide our customers along.
Brian has coined this "mediumism", and it's when "a company places an inordinate value on technology and platforms without understanding the role they play contextually and culturally."
One example that comes to mind for me here is Snapchat. If you haven't heard, Snapchat is THE thing for brands. You absolutely HAVE to have a Snapchat account.
But wait, hang on. What does it offer your followers? Actually, do you even have a following there? Is that where your customers hang out?
The answer might be a huge "nope" – and that's fine! You'll almost certainly have a more favourable brand perception than that business who mercilessly asks customers to engage with them on a platform that has no relevance to them.
Solving for X
X is the unknown. We need to work backward to find the value, and the same goes for customer experience. Using all of the data we have available to us (which, by the way, is a TON), we need to reverse engineer the customer journey and shape it into a seamless end-to-end experience.
So, how do we do this?
Brian suggests we need to become customer obsessed by following these three ideas:
Anticipate customer needs. By listening closely and constantly to consumers and immersing themselves in what their audience is doing, both online and offline, T-Mobile was able to uncover game-changing, innovative approaches that are often completely unimagined by consumers.
Hunt for inspiration everywhere. Companies need to embrace innovations outside their category and find creative ways to make them relevant to their business. Cross-pollination allows companies to happily borrow ideas from competitors, other industries, and other geographies.
Believe in co-creation. Obsessive brands are constantly finding new ways to invite people into their experience sandbox by designing, testing, piloting and gathering feedback. Obviously, this requires more than satisfaction surveys or one-time crowdsourcing events. It means committing to regular collaboration with your audience.
Not every customer will follow the same path. And if technology has taught us anything, it's that the need for constant innovation is absolutely critical. So while we may have our formula for CX down now, it's likely to change before we know it. It's our job to anticipate those changes and put customer needs first.
With our world becoming increasingly connected, the customer journey has been turned on its head. We go online to read reviews before buying. We Google "how to…" and instantly watch a video or read a tutorial to learn. Now the question is: what can your brand do to position itself as helpful and reliable before customers know they need you. Hint: reading X is a good place to start 😉
What do you think are the biggest changes technology has imposed on the customer journey? Are there any companies that come to mind when you think of AWESOME customer experience? Let me know in the comments, or send me a tweet!