Editor's Note: This article was originally posted in February of 2016 and has been updated with new statistics and information.
Most organizations today have made investments to increase their social presence and as a result, employee advocacy has become a key marketing strategy for leading enterprises. One struggle these organizations face is continuously cutting through all the noise on social media. This is where employee advocacy steps in. By leveraging the voice of your employees, companies can increase the social media reach of their branded content. As a result, employee engagement and employee advocacy are essential components of an effective social media strategy.
But where's the proof?
We've compiled 45 statistics on employee advocacy, social media strategy, and social selling. When woven together, these stats build a compelling case for why organizations need to implement employee advocacy.
Social Advocacy in the Workplace
PostBeyond, in partnership with Golfdale Consulting, conducted primary survey research of employees and management throughout the US and Canada on their usage, perceptions, and policies regarding social and mobile communication technologies in the workplace. Here are some of the key highlights:
Interest in employee advocacy has grown 191% since 2013, with 45% of respondents naming it a top external objective.
While over half of managers recognize the visibility gains and brand benefits of social advocacy, just 1 in 10 reports implementing a structured, comprehensive social media advocacy program as part of their digital strategy.
Company branded messages reach 561% further when shared by employees versus branded channels.
70% of adults online reported trusting recommendations from friends and family, but only 15% trusted companies' social media posts.
33% of employees agreed that relevant content would encourage them to share.
Organizations with high employee engagement outperform those with unengaged employees by 202%.
30% of employees claim they would be Very Positive in recommending their employer. This percentage jumps dramatically to over 70% among those who rate their experience of pride and belief in the values of their organization as "Excellent."
(Source: 2018: The Year of Social Advocacy In The Workplace)
Employees Engagement and Advocacy
Within an organization, an average of 21% are estimated to be an employee advocate, with another 33% having high potential to be an employee advocate. (Weber Shandwick & KRC Research)
50% post social media messages, pictures and videos about their employer.
39% have shared positive online comments about their organization.
33% post social media messages about their workplace without any employer encouragement.
Disengaged employees cost an organization a lot. On average, each disengaged employee equals roughly $10,000 in profit annually.
31% of high-growth firms have a formalized employee advocacy program. (Hinge Marketing)
Almost 86% of employees who participate in an employee advocacy program cite the increased social presence as having a positive impact on their career.
85% of new graduates surveyed said employee treatment was more important than other factors when deciding which company to work for. (Nielsen)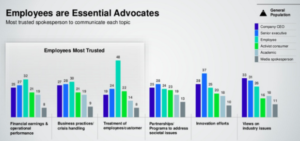 Source: 2016 Edelman Trust Barometer
Social Media User Statistics
91% of social media users access social channels through mobile. (Pew Research Center)
This means, 217 million people are turning to social media to keep up with current events. (Pew Research Center)
76% of those surveyed said they were more likely to trust content shared by their network (people they know) versus content shared by brands. (Adweek)
Why is Social Selling Important
According to IBM, when a lead is generated through social selling or employee advocacy that lead is 7X more likely to close compared to other lead gen tactics. (IBM)
80% believe their sales force would be more productive with a larger, more engaged, social presence. (The Sales Management Association)
77% of B2B buyers said they do not engage with a salesperson until after they've performed independent online research. (CEB)
75% of B2B buyers and 84% of C-level executives use social media while making purchasing decisions. (LinkedIn)
91% of B2B buyers are active on social media. (IDC)
Nearly 64% of advocates involved in a formal employee advocacy program cited attracting and developing new business as a positive program benefit, and nearly 45% attributed new revenue streams to employee advocacy. (Hinge Marketing)
27% of high growth firms, those with revenue growth over 20%, reported employee advocacy programs as helping to shorten their sales cycle.
72.6% of salespeople using social selling as part of their process exceeded quota 23% more often and outperformed their peers. (Aberdeen Group)
73% of top performing organizations have a centralized content library to help their different teams access the right company branded collateral. (Aberdeen Group)
Those who used sales enablement content have on average 69% more revenue growth YOY than those who did not use sales enabled content.
Marketing and Brand
79% of firms surveyed reported more online visibility after implementation of a formal employee advocacy program. 65% reported increased brand recognition. (Hinge Marketing)
Measurable benefits include increased web traffic (44.9%), better search engine ranking (32.4%), and increased content downloads (24.6%).
Employees have on average 10x more connections than brand channels. (MSLGroup)
Messages shared by employees reached 561% further than the same message shared on a company's branded channel.
Brand messages are re-shared 24x more when distributed by an employee.
83% of global respondents say they either completely or somewhat trust the recommendations of friends and family.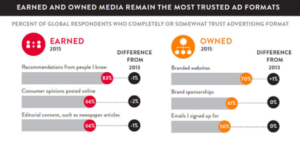 Employer Branding and Human Resources
79% of job applicants use social media in their job search (Glassdoor). This increases to 86% for applicants who are in the first 10 years of their career.
Nearly 2/3 of respondents say their employer doesn't use social media for talent acquisition effectively.
69% of applicants will not take a job, even if they are currently unemployed if the company has a bad reputation.
Increasing employee engagement investments by 10% can increase profits by $2,400/employee, per year.
78% of job seekers say employee ratings and reviews are influential in their job hunt/ decision-making process.

27% more likely to feel optimistic about their companies' future
20% more likely to feel inspired
20% more likely to stay at their companies
15% more likely to connect with co-workers beyond their core teams.
Socially engaged employees are more optimistic, inspired, connected, and tenured. (Altimeter Group & LinkedIn)
Empowering your employees through employee advocacy is one of the best ways to achieve alignment within your organization. It can mobilize your sales team, increase brand recognition and streamline communications.