This year at Social Media Marketing World, Ian Cleary of RazorSocial will be delivering his highly anticipated session 9 Essential Tools for Every Social Media Marketer's Toolbox. With over 15 years of tech industry experience, Ian has built a thriving, global community through RazorSocial, dedicated to helping marketers and entrepreneurs scale social and content marketing.
Ian is a regular contributor to Entrepreneur, a sought-after speaker and well respected in the world of social media tools. He is well-known for his reviews on various social media tools, offering a technical perspective on their usability and functions.
We had the chance to chat with Ian in anticipation of his session at #SMMW16 and thought it would be fun to share his insight with you all!
What led you to develop the PRISM framework?
From my experience in the social media space, there was no structured framework available. PRISM was designed to help my customers understand the stages involved in going from a social media update all the way through to a sale. Through careful observation over time, I boiled it down to 5 critical elements that contribute to building online influence and, at the end of the day, driving sales. People, Relationships, Inbound Traffic, Subscribers & Social Retargeting and Monetization are the roots of this framework, and many of my subscribers have had great success using this model.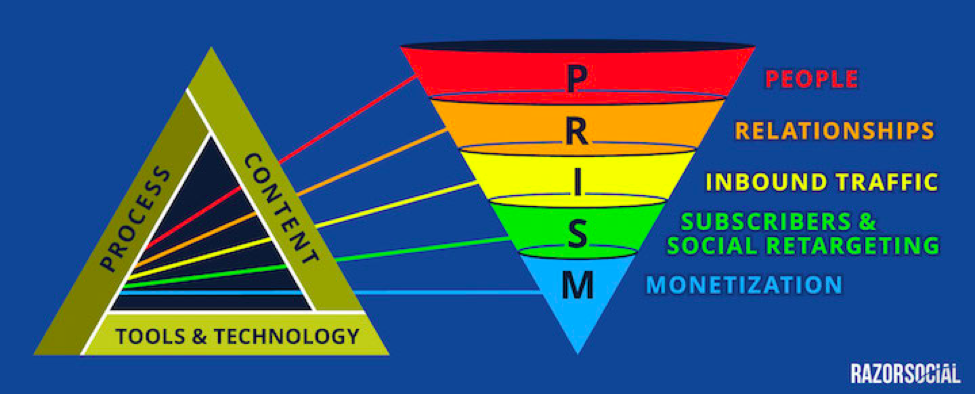 Source: http://www.razorsocial.com/the-prism-funnel/
You conduct rather comprehensive reviews on various tools in the social media world. What do you look for in the tools you review?
You want an experienced team that delivers exceptional support with a high quality, feature-rich product. I don't ask for much! My goal is to be as helpful as possible. I discovered that there was a strong interest in the technical aspect of tools, people are very keen on understanding that information. I saw an opportunity there – to explore different tools and evaluate their utility from an objective standpoint. I make an effort to take a holistic approach when I evaluate tools, with a strong focus on their usability.
Razor Social is an esteemed online resource for information on social media tools and tech across the board. It all began with the blog you ran. When did you realize there was a real demand for these resources?
Within 6 months of launching the blog we were named among Social Media Examiner's annual top ten blog awards. Even though as a blog we were in our infancy, it was validation that we were providing something people truly wanted (and needed). From there, we really started to build an audience.
I also spent a lot of time looking at other sites to see if anyone was reviewing the technical aspects of popular tools – and discovered that in fact, no one was doing that. Then we started leading webinars, from which we designed courses based on participant feedback. Tool-related content is shared widely so we had lots of feedback to go on. I started speaking at different events in the space and then eventually, our monthly subscription service came to be. The idea there was to keep individuals up-to-date on industry changes and provide a value-added resource.
Throughout your journey with Razor Social, who are the individuals (or events) who guided, influenced/inspired you to pursue this path?
Mike Stelzner, Mark Schaefer and Kim Garst are the 3 people who have had the biggest impact on me throughout this journey. I've learned so much from them, and they've really helped me get to where I am today. But the list doesn't end there – there are many, many more! I also have a mentor, Bill Liao, who has been instrumental in guiding me all along.
Without giving away too much about your session at Social Media Marketing World, what are some of the main takeaways you hope attendees will leave with?
I focus on improving business results using tools. So I'll be sharing insights on business processes that need to change and how certain tools can help companies make that transformation. While these are the tools that I recommend, it is important for people to know that there many other tools out there that can also helpful in the same way. At the end of the day, tools won't be of any help to you unless they're used properly and strategically.