Social media is a part of most people's everyday lives. However, many accounts suffer from the reality of having a huge number of fake followers.
Many individuals aspire to reach the same heights as their favourite influencers. They want the same lively engagement, widespread attention and, not least, those colossal follower counts.
But using these giant influencer accounts as your yardstick might be a little misleading.
Basically, you might want to check into how many fake followers your favourite accounts have. In fact, we've done some research to uncover what's really under those big follower count numbers, especially in today's most followed social media accounts.
How many fake followers does Instagram have?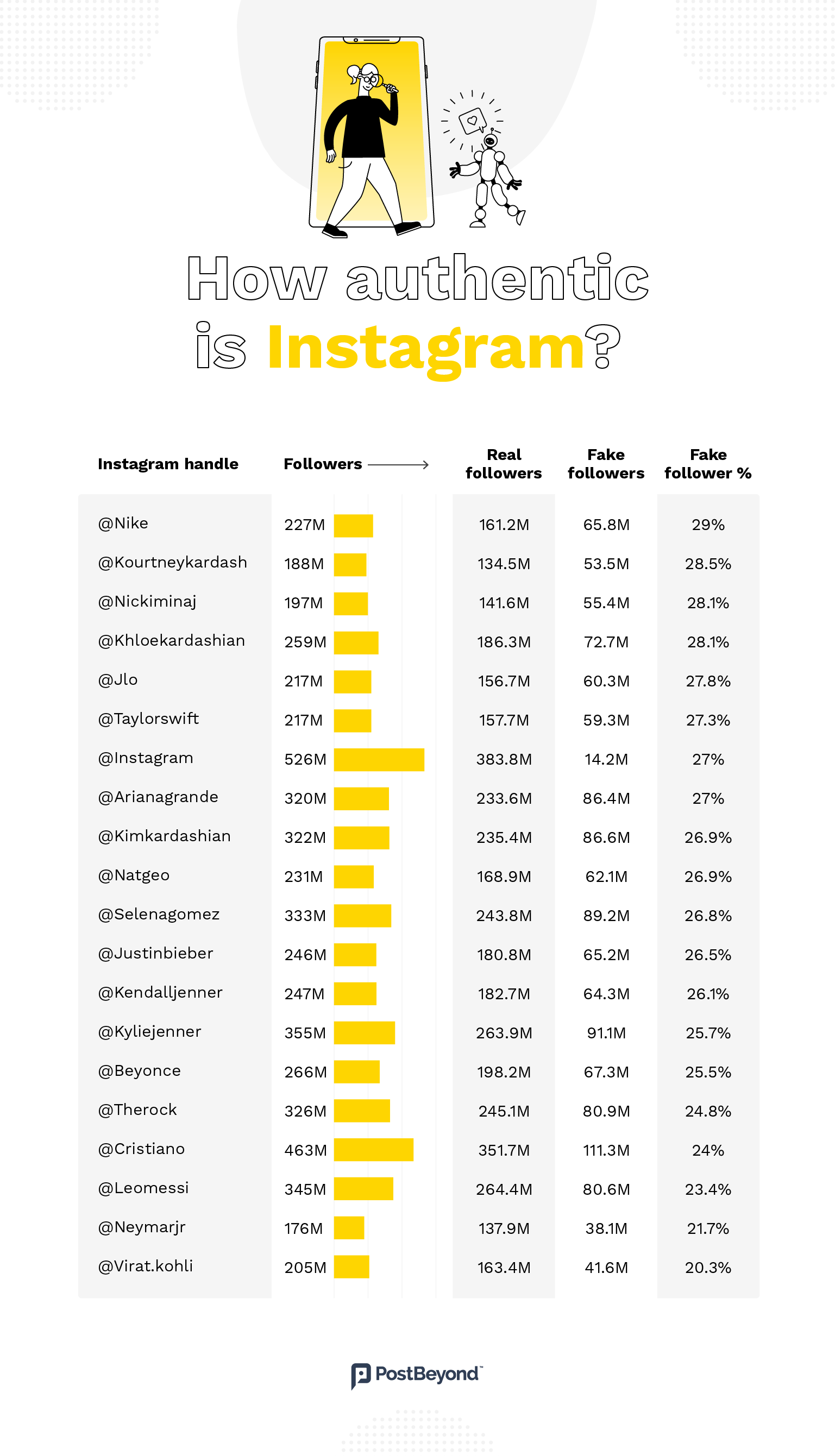 Instagram is often under fire for its fake following reputation. The platform is renowned for fake accounts and for giving users the ability to 'buy' their followers.
In fact, Instagram even had to introduce authenticity measures to crack down on faux accounts. But how bad really is the platform's users account authenticity?
When looking at the most followed Instagram accounts, it's shocking to uncover the true extent of these fake accounts. When combining the top 20 most followed accounts on Instagram, the total number of fake followers equates to over one billion false accounts!
Interestingly, the account with the largest percentage of fake accounts is a brand, rather than a celebrity. Nike has a fake follower account rating of 29%, making over 65 million of the brand's followers un-authentic.
When looking at the other top accounts, the Kardashian-Jenners find themselves in the hotspot making up 1/4 of the most followed accounts!
Kourtney Kardashian is the sister with the highest percentage of fake followers, at 28.5%, followed closely by Khloe Kardashian with 28.1% fake accounts. However, the youngest of the clan, Kylie Jenner, takes the spot as the most authentic Kardashian on Instagram with 25.7% of her followers being fake, which is the lowest of the siblings.
How many fake followers does Twitter have?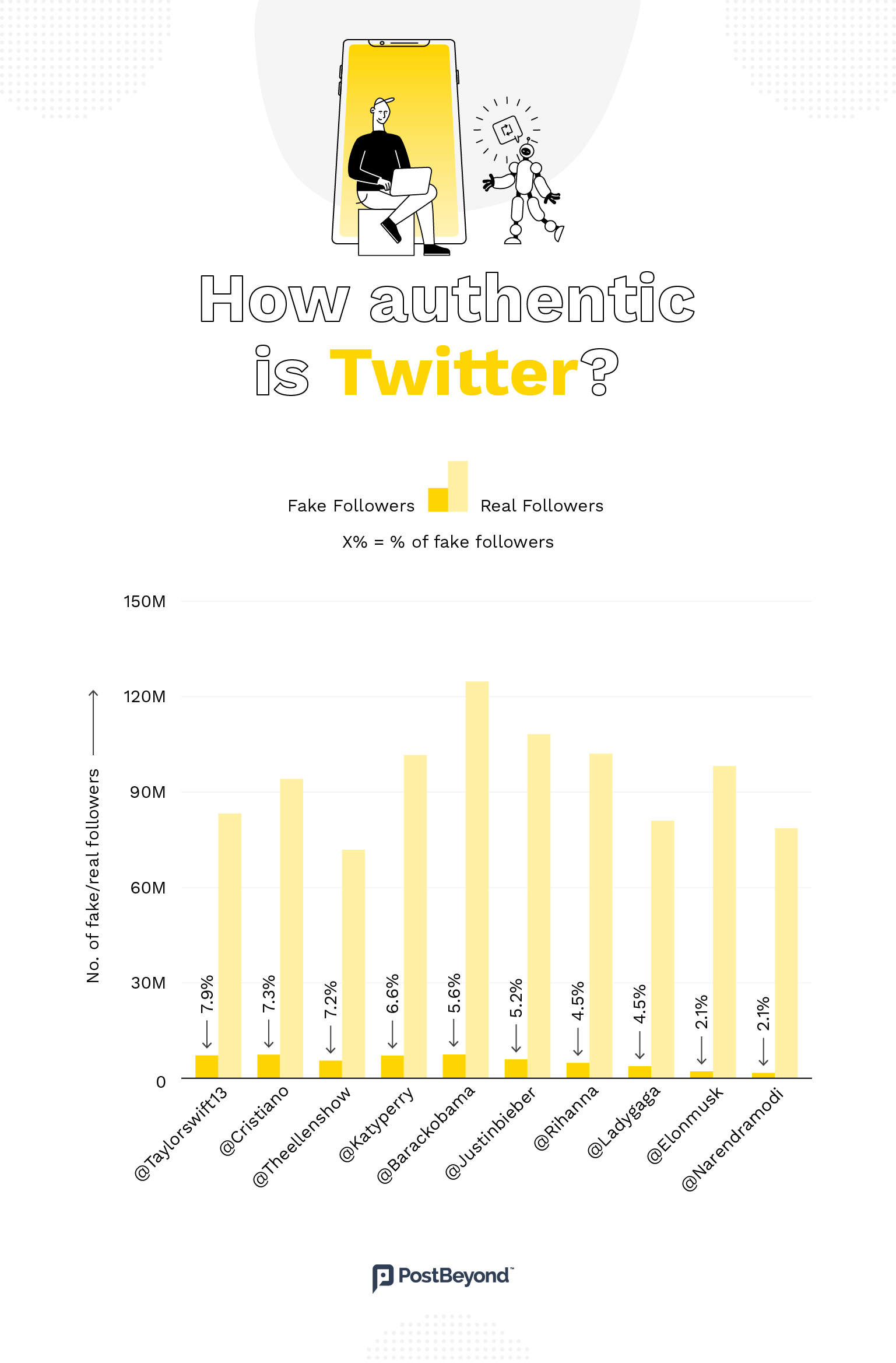 Twitter has been making headlines due to claims that the platform is overrun with bot accounts. In fact, Elon Musk, who recently made a bid to acquire the social media platform, has a bot following of around 2.1%, equating to over 2 million fake followers.
The most authentic account in the top followed list is Narendra Modi, the current Prime Minister of India with 2.1% (tied equally with Elon Musk). Taylor Swift finds herself the least authentic Twitter account with 7.9% fake accounts.
How authentic are TikTok accounts?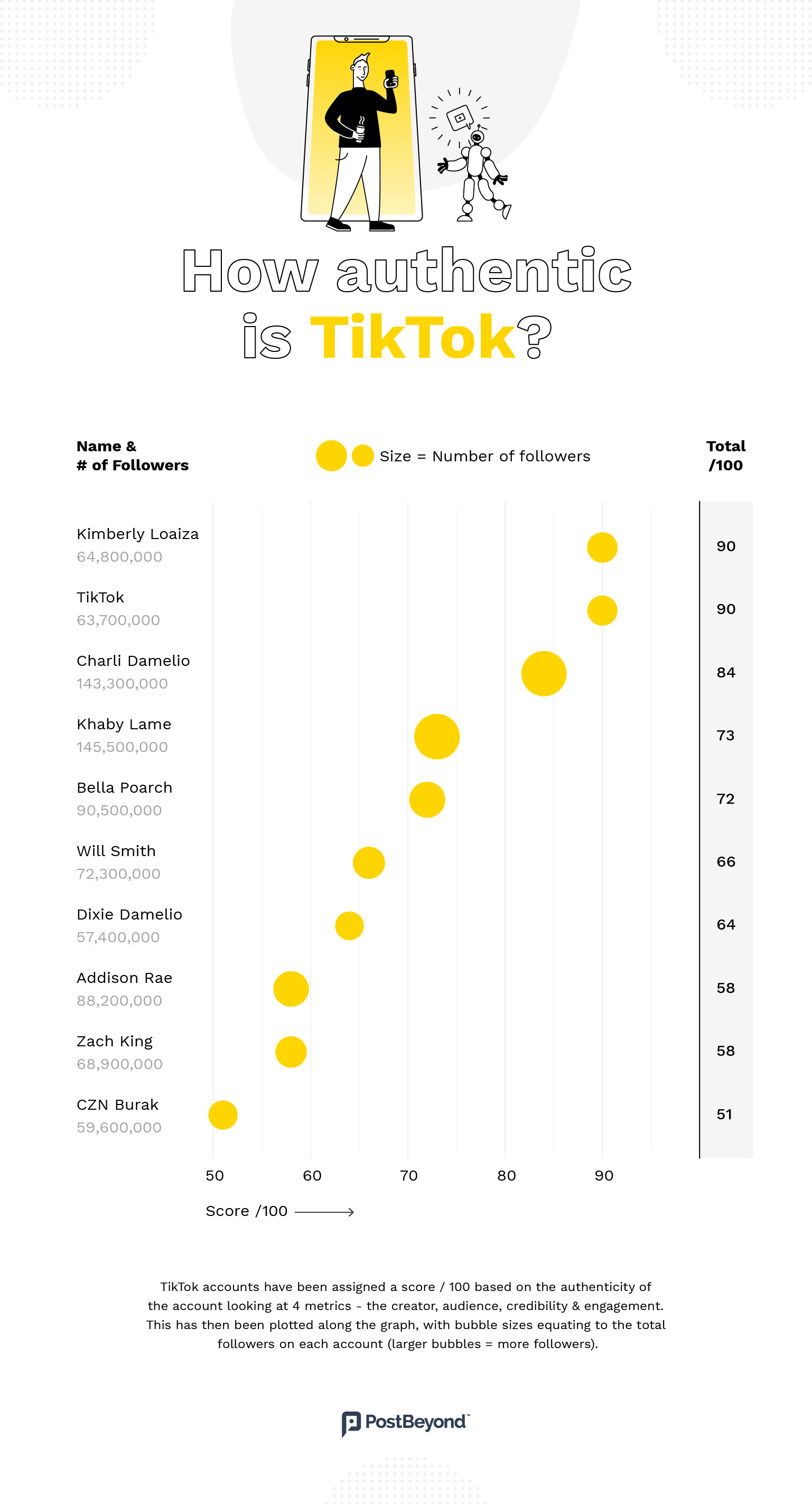 TikTok has been found to be the most valuable social media platform per user. However, high levels of unauthentic accounts could impact this.
TikTok has slightly different rules when it comes to measuring account authenticity. Scores are assigned to accounts based on four metrics (creator, audience, credibility & engagement), as opposed to just providing a fake following percentage.
Interestingly TikTok's own account has an authenticity score of 90, suggesting the app has built a loyal fanbase. Also scoring 90 is Kimberly Loaiza, an influencer from Mexico, who ranks in the top 10 most followed instagram accounts.
TikTok sisters Charli and Dixie D'Amelio both feature in the top followed list for the platform. Charli, who has a following over twice the size of older sister Dixie, ranks as the more authentic sister scoring 84 in contrast with Dixie who scores just 64.
Khaby Lame, who recently took the spot as the most followed TikTok account has an authenticity score of 73.
Whilst social media can be a tough nut to crack, we have our very own social media cheat sheet to help you start your social journey! If you are looking for ways to increase employee advocacy on social media we also have a range of resources to help.
Methodology
Using a seed list of the most followed accounts on each social platform we analysed social monitoring tools to uncover fake follower %. This data was used to calculate the number of fake followers by subtracting this figure from the total followers to give an idea of which accounts have the most 'real' followers.
The TikTok data looks at Channel Quality Score (CQS) giving accounts a score out of 100 based on 4 metrics (creator, audience, credibility & engagement). This was used as data around fake follower % is not available for TikTok as a platform. Full data available upon request.
Want to Amplify Your Brand Using Social Media? Check Out: