We all know that word of mouth is the most powerful influencer in a purchase decision. Before technology existed, before Marketing was a formalized profession, people relied on word of mouth.
Your employees are one of the greatest assets to develop word of mouth for your enterprise. And social media is one of the greatest word of mouth channel at your disposal.
77% of buyers are more likely to buy from a company whose CEO uses social media (Source: MSLGroup)
Leads developed through employee social marketing convert 7x more frequently than other leads (Source: IBM)
Sales reps using social media as part of their sales techniques outsell 78% of their peers (Source: Forbes)
72.6% of salespeople using social selling as part of their sales process outperformed their sales peers and exceeded quota 23% more often. (Source: Aberdeen Group)
Content shared by employees receives 8X more engagement than content shared by brand channels (Source: Social Media Today)
Only 33% of buyers trust the brand whilst 90% of customers trust product or service recommendations from people they know (Source: Nielsen Global Online Consumer Survey)
Employee referrals have the highest applicant to hire conversion rate – only 7% of applicants are via employees but this accounts for 40% of all new hire hires (Source: Jobvite)
Employee Advocacy is an outcome of creating the right culture, and empowering your employees to participate in your communication efforts by sharing your enterprise's message and vision through various channels.
In it's most popular form, Employee Advocacy platforms and programs enable employees to share industry and branded content to their personal social networks, resulting in improved brand health, increased lead generation, better knowledge transfer, and a strong visibility into your employer brand.
Several industry analysts see Employee Advocacy and Employee Social Media Training becoming some of the most important organizational goals in the near future. On top of that, many of the top brands in the world have already established a formal enterprise social media advocacy program at their company, and implemented a technology infrastructure through a partner to help create the systems required for global employee advocacy.
So how can you stay ahead of the curve, and start thinking about how to implement and scale an employee advocacy program at your company?
We joined forces with author Neal Schaffer of Social Tools Summit and Maximize Social Business, and Maggie Huston, Sr. Content Manager at Oracle Social Cloud to provide you with this complete guide to Employee Advocacy.
In this hour-long video, we answered the following questions:
What does employee advocacy mean?
Why is employee advocacy important for your company?
Why is employee advocacy important for your employees?
What do you need to prepare before launching an employee advocacy program?
What should you look for in an employee advocacy technology partner?
How do you scale an employee advocacy program across departments?
How do you sell an employee advocacy program to your executive team?
How do you reward and incentivize employee advocates in your program?
What should you measure to show employee advocacy success?
Remember that Employee Advocacy is a strategic initiative that ties multiple departments and regions together under one technology and program. It's a true enterprise endeavor that focusses on one common strategic goal.
This type of program can really help create a competitive advantage, for any enterprise. And it also gives you visibility into what's usually a black hole: What your employees want to consume and share, and how people react to it.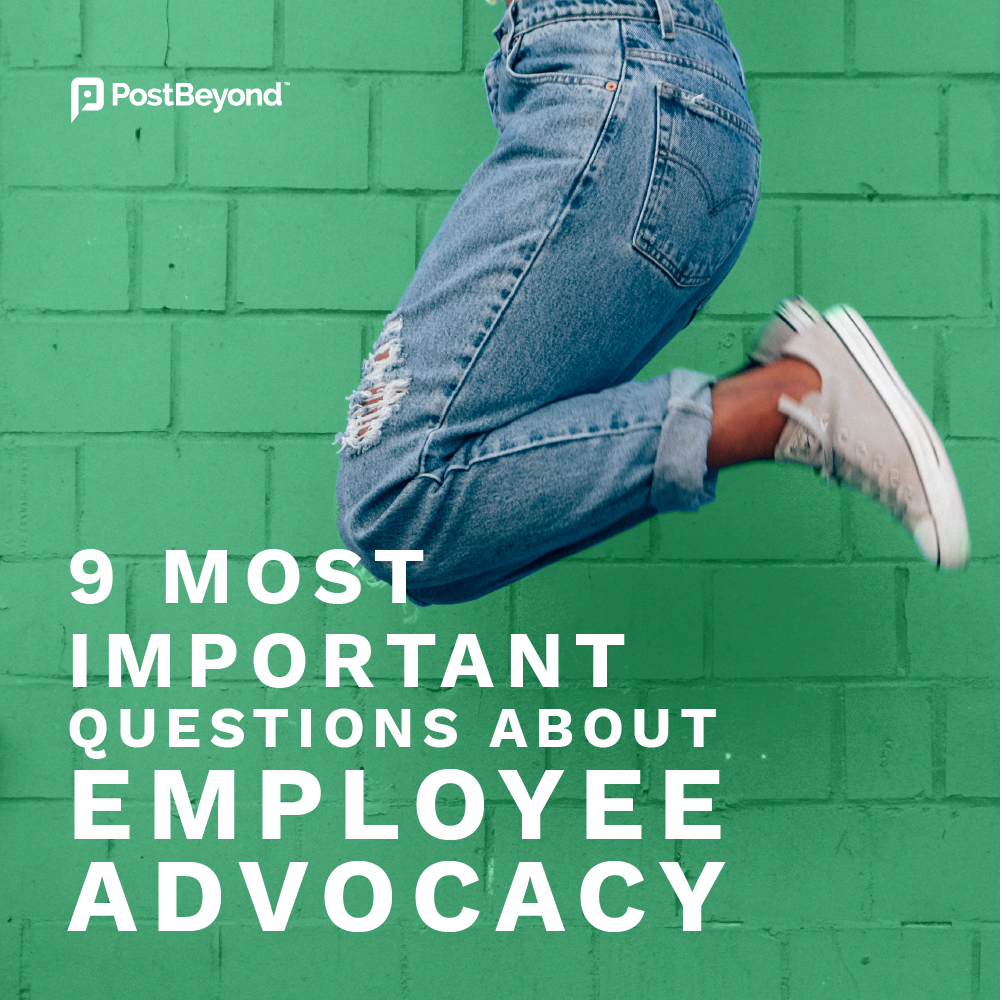 So go ahead, watch this webinar on-demand, and take a look! There are 9 segments which will answer every question you have about Employee Advocacy. Let us know what you think!
Are employee advocacy and social media training a top priority at your enterprise? Do you have visibility into what content your employees want to share and how it performs? Please leave a comment below and share with your colleagues.