As we prepare for 2021, marketing leaders have to adjust their strategies to stay relevant and resilient as we all walk towards the next reality. What used to work for marketing simply won't get the same results anymore.
Live events and in-person engagement have experienced sharp declines and we are all looking for ways to engage our customers through digital and social media. The window of marketing opportunity right now is social-first engagement.
We've seen more and more companies embrace employee advocacy as a pivotal part of their social media strategy in 2021. The numbers speak for themselves. Just look at LinkedIn, this year they've grown to over 760 million users, with more than 260 million monthly active users.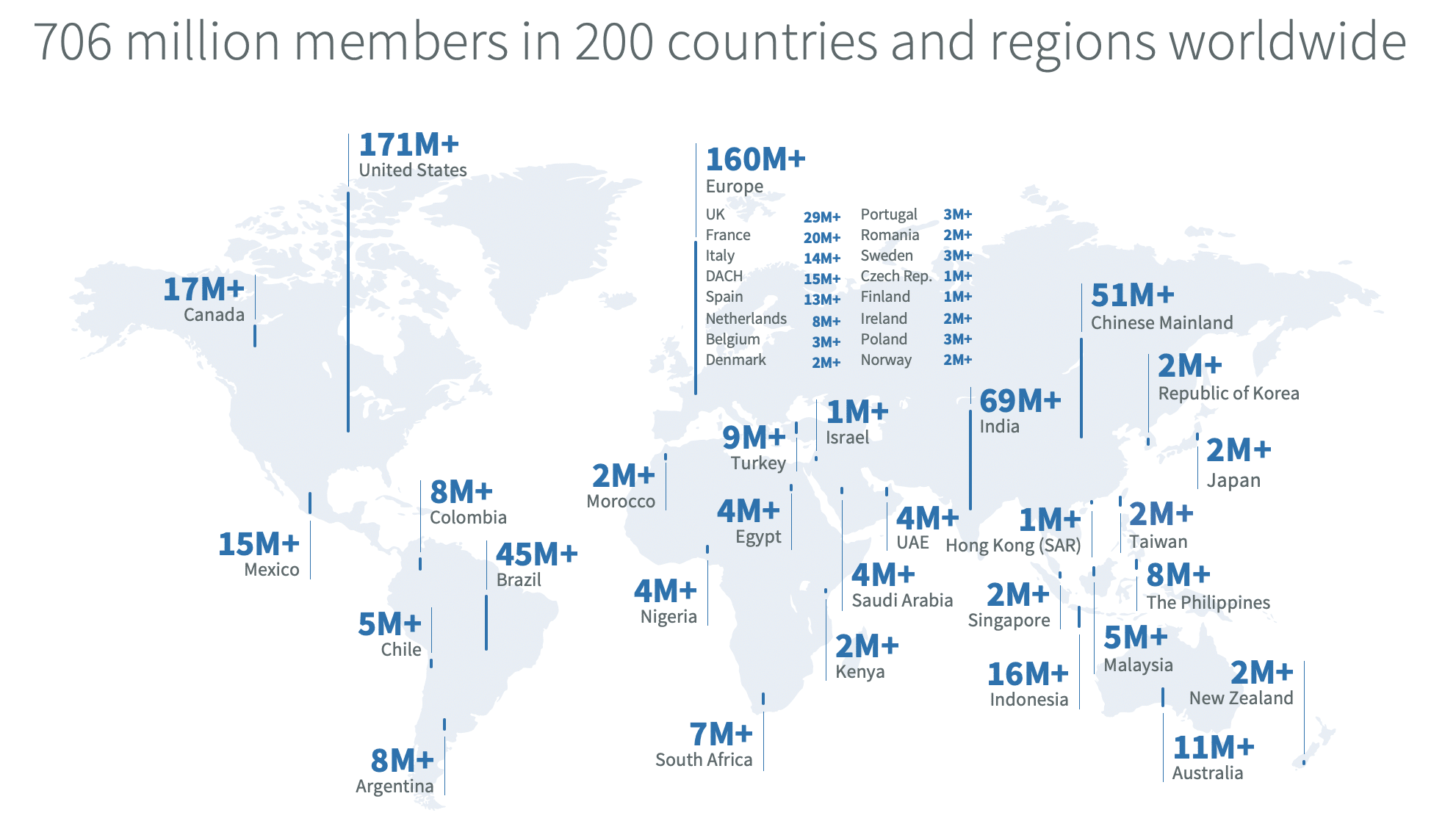 The power of social media for professional usage is continuously growing and the case for employee advocacy is clear. This article discusses why starting employee advocacy is crucial and how you can create a program from scratch.
The benefits of employee advocacy
When employees speak positively about your business on social media, they're advocating on your behalf. This isn't a nice-to-have strategy: your brand's content gets 24 times more reach when employees share it on your behalf. Understand the benefits of employee advocacy to make a case for it with your leadership and employees.
1. Increase brand awareness and reach
Social media gives you a direct line to your customers but engaging with these customers isn't easy. Social media managers can find it difficult justifying the time and money spent on social media, mostly when their branded channels attract less engagement than personal channels.
Employee advocacy amplifies your reach on social media. Branded messages get 561% more reach through your employees and their networks.
Genuine comments from your employees come off as more authentic to customers. Your audience has an easier time believing your employee's experience than a generic message from your branded channels.
Plus, employee advocacy helps you tap into the power of your employees' collective social network. Reach not only your followers but your employees' connections in the process.
2. Attract better talent
It costs your business 6-9 months' worth of an employee's salary to find their replacement. Aside from causing weeks of confusion, employee turnover costs your business a significant amount of money.
A good employee advocacy program encourages retention by attracting better talent. Good employees want to work at an open, collaborative business, and employee advocacy on your social media shows just that.
Plus, your competitors are probably doing employee advocacy already. If you want to continue attracting top talent and filling positions more quickly, you need an employee advocacy program.
3. Boost thought leadership
Thought leadership is difficult to quantify but organizations that invest in advocacy programs see a 79% increase in online visibility.
Advocacy programs turn employees into industry experts. Grow your brand by creating internal influencers who share valuable content targeting industry peers. Employee advocacy gives a face to your brand and attracts more visitors to your site through valuable content.
Plus, employee advocacy is more affordable than many marketing tactics. Leads from employee advocacy are seven times more likely to convert—and employee advocacy programs cost just a tenth of what you pay for promoted social posts.
Instead of pushing out more branded content that gets zero engagement, amplify your efforts and forge meaningful customer relationships with an employee advocacy program.
8 steps to building an employee advocacy program
It's not enough to ask employees to reshare or post on social media. To have the most successful employee advocacy program, you'll need a structured plan.
Just 10% of leaders have an actual plan for employee advocacy—get ahead of the curve and encourage long-term adoption with these eight employee advocacy best practices.
1. Start with the basics
Employee advocacy programs can't be a Band-Aid for other problems in your business. You need a healthy, trusting culture already in place for employee advocacy to work.
After working with dozens of customers to help embrace employee advocacy, we've found a strong correlation between company culture employee advocacy, which is why engaged employees are the prerequisite for advocacy on social media.
Ensure your employees are fully engaged and have a sense of enthusiasm when speaking about your company. It starts with a strong company culture because engaged employees are more likely to advocate for your brand.
Your executive leaders also need to buy into the idea of employee advocacy. They need to know the benefits of social media for the company and fully support the initiative. Executive support gives validity to the program from the start which increases employee adoption. Without leadership buy-in, an employee advocacy program just won't have the support it needs to get off the ground.
2. Set goals for employee advocacy
Once you're confident that your company will support employee advocacy and have leadership buy-in and determine the program's key deliverables. What are your goals for employee advocacy? Which metrics will back up your plans? How will you measure results?
Every brand's goal is different, and they typically fall under three prominent use cases, thought leadership, social selling, and talent acquisition. For each specific use case, you might want to different goals, such as:
Increase website traffic.
Boost overall social media engagement
Generate more qualified leads.
Increase brand awareness.
Win new customers.
Use the SMART goal-setting framework to set goals you'll achieve. For example, instead of saying, "Our goal is to get more followers," your SMART goal would say, "We want to increase our website traffic from social media by 100% within six months." That goal is much easier to quantify and measure—which you'll need to justify to determine ROI.
Remember to set up proper attribution from the start. Check your UTM parameters and analytics tools to make sure your reporting and data collection are firing correctly. These numbers will be necessary for determining your program's success, so always double-check your attribution.
3. Write very clear program guidelines
When employees first start to use social media, they may feel a bit overwhelmed. There will be some employees that are hesitant about how or what to post. Occasionally, you might get a few employees that unintentionally go "rogue" on social media as well.
Whether employees post outdated content or share misspelled messages, clear and concise guidelines will be a lifesaver for your brand image.
Write very clear social media policies and best practices for your employees to ensure they share appropriate, valuable content.
Your social media guidelines should:
What not to say or share (for example, cursing or confidential information).
What topics are not allowed, like politics or religion.
Which hashtags to include in every post.
Which social networks are allowed.
You don't want employees inadvertently sharing negative or outdated posts on social media. The best way to fix a PR nightmare is to prevent it from the start with very clear and concise written guidelines that everyone understands.
4. Start with a pilot program
Don't dive headfirst into a company-wide employee advocacy program just yet. It's best to start with a pilot program to understand your actual employee adoption and iron out any problems before rolling it to more employees.
Start with a select group of social-savvy employees. In most cases, you'll find your best advocates within customer-facing roles such as marketing, sales, and talent acquisition. Tap your 20-100, most engaged and enthusiastic employees for the pilot program.
For example, Gainsight recognized how vital social media and content marketing were for their thought leadership. Initially, they launched a pilot program to understand how employees would respond and the results. After one year, they gathered enough anecdotal data on how effective employee advocacy was for their brand that they decided to scale to 300 employees.
Learn how Gainsight scaled their employee advocacy initiative after testing the waters with a pilot program.
Share your employee advocacy guidelines with the pilot group, clarify your processes, and measure their progress. Try running the pilot program for a few months so you can gather enough data. Review the results at the end of the program to adjust and continue optimizing if needed and then roll it out to a much broader employee base.
5. Train employees on how to use social media
While it's easy to assume everyone understands and enjoys social media, many of your employees probably don't. Employee advocacy programs perform much better with trained, informed employees who feel empowered and comfortable sharing social media.
Train employees on what to post, your social media guidelines, and how to share content. Offer the content via a live workshop but also through recorded videos or webinars that employees can watch on-demand.
Suppose an employee ever has questions about how to use the platform or the guidelines. In that case, they can refer to their training materials instead of contacting your social media team for every problem.
6. Encourage participation
But training alone doesn't encourage employee participation. Your social media team needs to find a way to encourage and reward employees for participating in the program.
Instead of mandating participation or punishing employees who never post on social media, give positive reinforcement.
You can try rewarding employees through:
Gamification. Create a leaderboard and points system to make advocacy more engaging.
Shoutouts. Give verbal recognition to engaged employees during your weekly meeting.
Awards. Everyone likes feeling appreciated; give recognition to your most active advocates to encourage participation.
Lean into the intrinsic benefits of employee advocacy, too. For example, over 87% of employees say advocacy has expanded their network—that's a significant upside for their career.
7. Curate content to help your employees
Employee advocacy guidelines are a good starting point but they don't help employees craft better content. Brands can encourage more employee engagement by curating a list of pre-approved social content.
Not every employee has the capacity to create their content. Although some employees will fully embrace content creation, the most productive approach would be to curate employees' content.
You don't need to provide posts written verbatim but a library of industry insights, branded content, and company announcements encourage consistent sharing.
Just make sure your content is interesting for employees' social networks. If their accounts become a spam feed for your products and services, your program simply won't succeed. Set your employees up for success with valuable content, like how-tos guides, informative webinars, industry insights, and more.
8. Measure and continue optimizing
Remember the goals you set at the beginning of your program? Measure your program as a whole once it's time to evaluate the goals you initially selected.
Did you hit your KPIs? What was the impact on revenue or sales? Did you make a noticeable, measurable change for the business? What unexpected positive outcomes came as a result?
Most employee advocacy programs aren't perfect from the start. Like any marketing initiative, you have to measure its results and adjust as you go.
Aside from analyzing the data, ask your employees about their personal experiences. Do they have personal anecdotes or success stories? Do they have ideas to improve it? Are there areas of friction or anything that doesn't make sense?
The constant feedback loop is critical because you never know when their perspective will help you get even more results.
Learn about the 8 metrics every employee advocacy program should measure.
Final thoughts
Employee advocacy is your marketing team's most authentic yet underutilized strategy.
When employees are bought-in, they have the potential to boost your brand's social media reach, increase engagement and connect with new customers. Launch your program from scratch with these employee advocacy best practices.
We know it's tough setting up an employee advocacy program from scratch.
Fortunately, we compiled everything you need to know about employee advocacy in one in-depth guide: The Blueprint to Employee Advocacy. Download the guide to grasp the top benefits, what to measure, and a handful of best practices.