As a Senior Customer Success Manager, I've had the pleasure of working with customers on their employee advocacy programs for nearly 5 years. From this experience I know three things for certain:
Employee advocacy has never been more necessary. The majority of companies are adapting and transforming to meet and delight their buyers online.
Savvy marketers are developing multi-channel approaches and are leveraging social media more than ever.
Most people who manage employee advocacy programs are doing this on top of all the other marketing efforts they're managing.
Given that employee advocacy has become a bigger priority among competing marketing initiatives–time is the ultimate currency. The question then is how can you save time and still get the results you want from employee advocacy?
1. Focus on what makes the biggest impact
Today's digital marketer is busy, like "barely-has-time-to-stop-and-eat-lunch" busy. So I recommend you focus your time with employee advocacy on what will produce the biggest impact.
Your employee advocacy program lives and dies by the content. Having fresh content in your library on a regular basis is what has the biggest impact on the health of your employee advocacy program. If you only have a few minutes to dedicate to your employee advocacy program each week then focus on content.
For example, if your goal is demand generation then focus on pulling in the content that will drive these results the most such as white papers, webinars, eBooks. If your goal is build thought leadership then focus on curating third-party and industry content on specific niche topics. The content in your employee advocacy library should directly align with your organization's content strategy and goals.
When you only have time to add a few pieces of content a week, make sure it's the content that aligns to your expected impact.
2. Schedule Time for Content Creation
In my opinion, the best way to save time is to make time.
The hours in a day go quick. If there is one thing I know, when you put content creation for your employee advocacy program at the bottom of your to-do list, it will continue to get bumped.
My recommendation is to schedule a recurring task reminder for 10-15 minutes once or twice a week to create content. This not only helps to create a time and placeholder for you to create content but it also gives you a gentle reminder in case you forgot. Win-win!
I typically recommend scheduling this time in the morning before the day gets away from you. Aim to schedule this around when your other blog content or assets are usually scheduled to go live. This ensures that you can recreate that content and make it available for the team to share shortly after the content is live.
3. Bulk Create Content
One of my favourite features to show new program admins is our Inbox feature. It allows an admin to pull in content from different social channels such as LinkedIn page or Twitter account into PostBeyond. The best part of this feature is that you can bulk create content by pulling in multiple posts at a time. I once clocked it and was able to create 10 pieces of content in 10 minutes.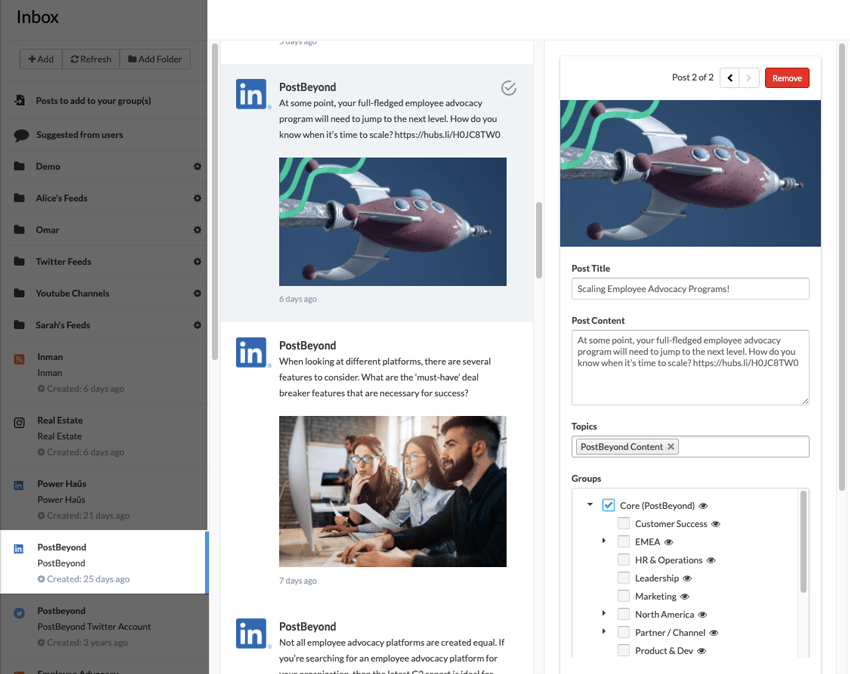 Another way to save even more time with Inbox is to curate from third-party publications. Identify three to four different publications that you trust for high-quality and relevant content. Make sure to pull those channels into Inbox and make it a habit to regularly curate content from these sources weekly. This saves time having to source this content manually each week.
4. Divide & Conquer
My final tip is to not do it alone! The best way to save time is to delegate and distribute the responsibility so it's not overwhelming for one person. For programs over 100 users, we recommend having 3-5+ content creators to help curate content.
As you build out your content creation team, I recommend that you assign "swim lanes" for each of your content creators. They will know which sources of content they are responsible for and how many pieces you'd like to see each week. This helps hold them accountable and ensures no accidental duplication of content in your library.
If you don't have access to other team members to help curate content then leverage the Content Suggest content feature. Content suggestions allows your team members to contribute content suggestions for you to quickly approve and push into the library for others to share. It's a great way to get more content without having to spend more time hunting for it. You can even set up a competition to incentivize users to suggest content.
Ready to save some time?
Work smarter not harder to get great results from your employee advocacy program. Remember it can be as simple as getting help, having a clear content strategy and getting into a routine.
What other time saving tricks do you use?