We've updated this post on employee advocacy examples with new tips that leverage audience and platform preferences for 2023.
An effective employee advocacy strategy can amplify your best marketing campaigns and provide a human touch to each social post. No doubt, the employee advocacy examples we'll showcase in this post will spotlight the potential of such a program.
But employee advocacy programs don't guarantee success. It's possible to have an employee advocacy platform and not see the needle move.
Several key factors determine the success of employee advocacy including executive support, content strategy, metrics and engaged employees.
To build an effective employee advocacy program, you can take inspiration from the brands that have fully embraced social.
We look at 13 employee advocacy examples that show you how social-savvy employees can tell your brand story and lead conversations. We'll highlight how these brands got enthusiastic participants, built creative approaches, and stirred audience attention.
13 Employee Advocacy Examples To Take Inspiration From in 2023
1. Gainsight
First up on our list of employee advocacy case studies is Gainsight, who primarily uses employee advocacy to promote thought leadership among their employees.
They're a great example because every employee believes in the power of social media including their CEO, Nick Mehta. He has an active social media presence and through his actions, he has set the tone for the entire organization.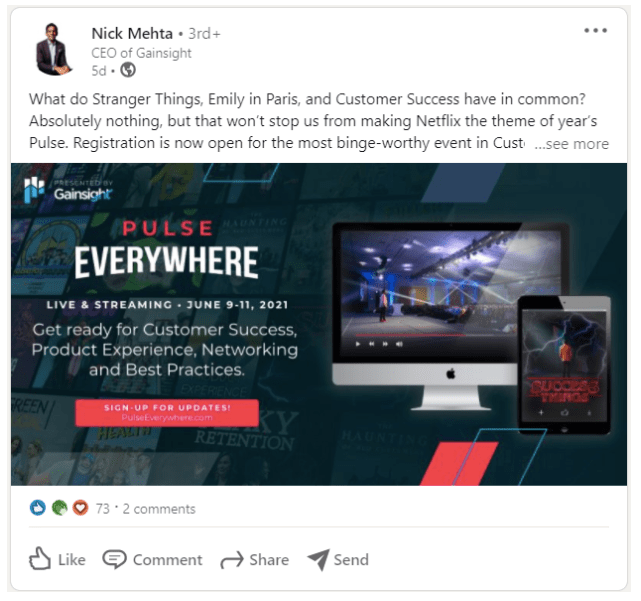 Gainsight had previously been sharing content with employees via email. It was tedious and they had no real way to measure success. With a full-fledged employee advocacy program, their press became more scalable and measurable even when the company was seeing significant growth.
By consistently encouraging employees to participate in the program, Gainsight saw 6,500 site visitors sourced from employee shares. At the same time, their potential reach increased by 1.3 million audience members.
2. Penske
Penske has been a leader in the Supply Chain and Logistics industry for a long time, partially due to its ability to adapt to new challenges and think ahead. When thinking ahead towards keeping their sales team relevant and effective, they realized something:
"We realized we had to take advantage of the fact that our audience is on social media and they're the next generation of the logistics industry," said their Director of Sales Solutions.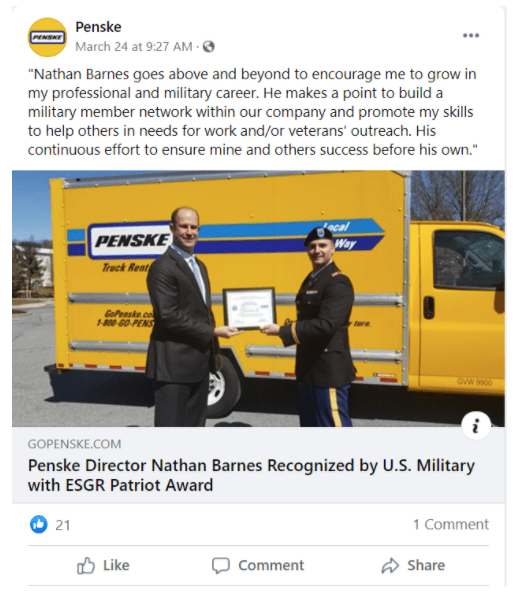 The company implemented employee advocacy as an easy way for their sales reps to share content with a younger audience.
Within their first quarter, they saw a 9,958% increase in total reach and a 333% increase in website click-throughs.
3. Randstad
Next on our list of employee advocacy case studies is Randstad, the global leader in the human resources service industry.
When Karen Pace joined Randstad's as the Director of Social and Content Marketing, she identified some key areas where the company was falling short. Ever-changing social media algorithms and the sheer number of employees and variety of teams employed by Randstad made any employee advocacy efforts wildly complicated and not as successful as they'd hoped.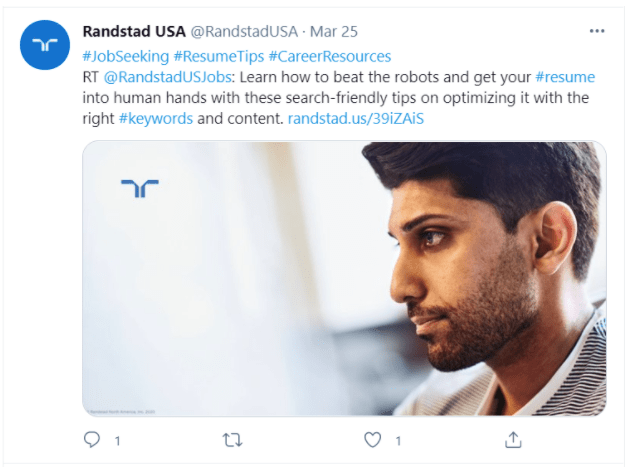 The employee advocacy process was completely streamlined after implementation. They gamified employee participation and simplified access to content, resulting in a $1.5 million earned media value.
4. Starbucks
Starbucks is another employee advocate case study to learn from. The well-known brand developed a more internal employee advocacy program represented on several different social media platforms. Within their groups on each platform, partners can make their own posts following Starbucks' guidelines.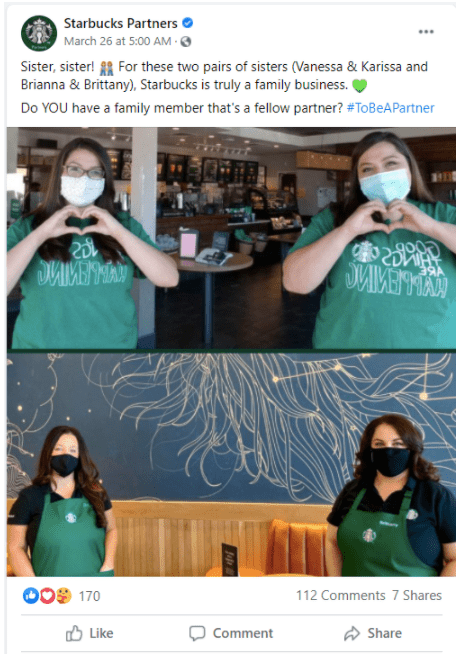 The company refers to contributing employees as "partners". They shared a sense of camaraderie and responsibility that helped them accomplish a staff turnover rate that is just 20% of the industry average.
5. GE
GE refers to their employee advocacy examples as brand ambassadorship. When looking into employee advocacy programs, they were looking for something that would allow their employees and leadership to be an informative resource for potential employees.
This need was partially spurred on by shifts in the company culture that needed to be communicated externally, as well as a need for increased transparency.
GE accomplished its goals by developing a series of training programs that changed over time to reflect shifts in social media. They worked to get buy-in from execs and other employees alike and managed to turn the campaign into an important recruiting tool.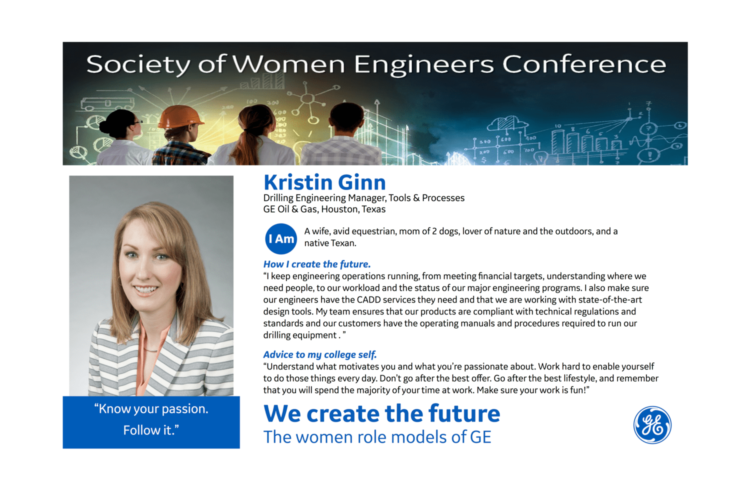 An additional benefit of the program was helping current employees to think about their "why." Why work for GE? The employees were meant to share this information on social media, but the company believes that making employees aware of their passion and purpose early on will also help reduce turnover.
6. BCG
Boston Consulting Group had no shortage of shareable, high-quality content—but it didn't seem to be reaching its full potential audience. The company needed a simple and effective way for their employees to get this content out to their own followers. BCG recognized that its consultants possessed a much larger audience than the brand had on its own.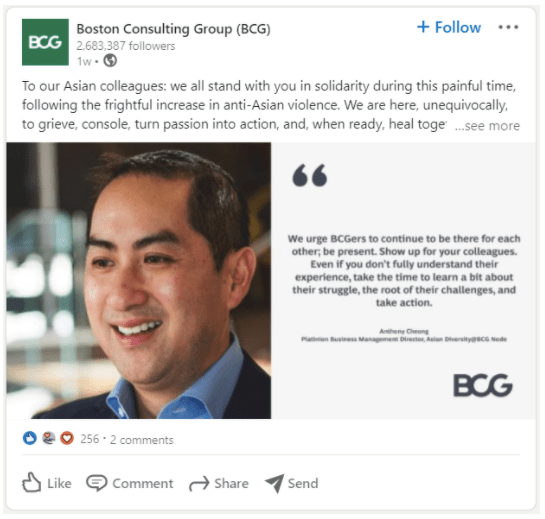 BCG consultants were already familiar with LinkedIn so they easily explored to employee advocacy. Their goal was to take the least amount of effort for consultants to share content. With all of their content centralized, BCG employees were sharing nine times as frequently, greatly aiding the brand in their goal of becoming a more social company.
7. NVIDIA
Next on our list of employee advocacy examples is one of the fastest-growing technology companies, NVIDIA.
Like others, the company was looking for a way to curate a vast library of shareable content organized in an accessible way. However, they were distributing shareable content via emails for a long time. The process was frustrating because they weren't able to track impact.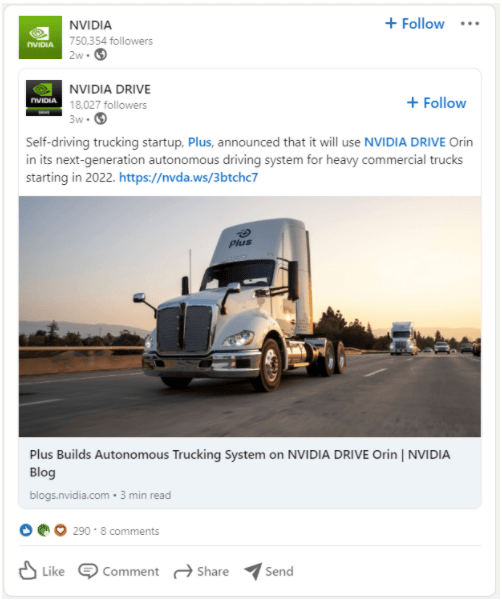 Employee advocacy allowed NVIDIA's workforce to share content more easily, but it also allowed the company to see the impact that such sharing had. This led to a cycle in which employees shared more content because they could see the impact that it had and know it was worth doing.
8. Dynatrace
Employee advocacy programs are nothing without measurable results. It's hard enough to get executive buy-in, and much more so if it won't support your corporate goals.
Things were no different for Dynatrace as John Rocker, their social media manager, sought out to implement an employee advocacy program that could deliver an impact on results that truly mattered.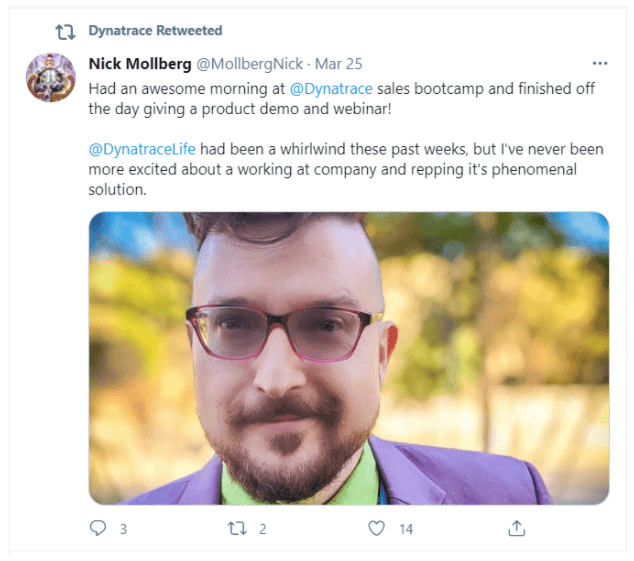 Within the first 30 days, the platform had already seen a 73% adoption rate, with team leaders regularly reaching out to ask him to add their team members to the platform. Not only that, Dynatrace was able to correlate social sharing to more impactful marketing metrics such as website traffic, webinar registrants, new leads and website conversions.
Rocker particularly appreciated the ability to track impact by the user. Such consistent feedback made it even easier to gain employee buy-in on a new platform.
9. Merck
Another trend among these employee advocacy examples is the huge benefit of improving the hiring process. John Graham Jr. of Merck recognized the importance of such a program when analyzing just how limited the talent pool is for pharmaceutical companies.
Getting existing employees on board helps present a strong and enticing front for those limited applicants, making it easier to bring in the best and brightest.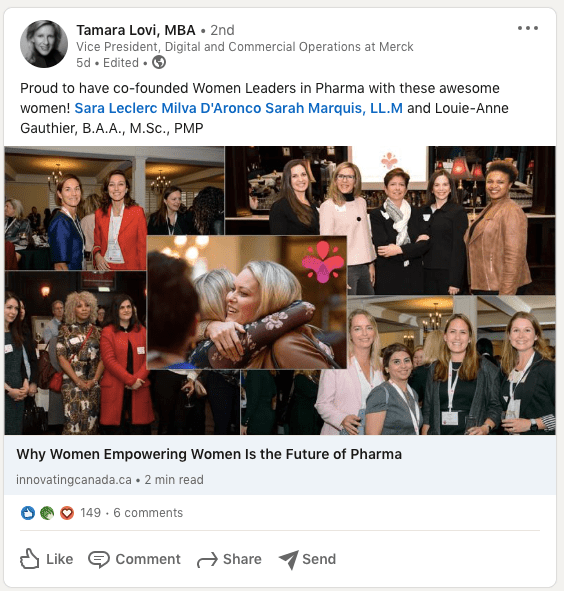 Graham says that each Merck employee has a story and that he's responsible for giving them a platform to share. By streamlining access and making content shareable, he allows these employees to write the story themselves. Merck's employees make the necessary connections so that others can see how they, too, might fit into Merck.
10. Shopify
Next up on our list of employee advocacy case studies is Shopify.
Unlike other employee advocacy examples, Shopify doesn't curate an extensive library of branded content for employees to share. The branded content exists, but they focus their energy on asking their employees to be the expert and speak for themselves.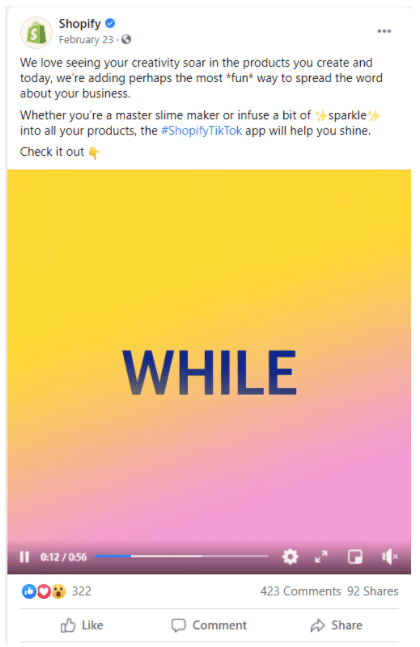 This allows their employees to create their own spaces as experts in the field and allows Shopify to provide further training opportunities rather than content alone.
11. Cockroach Labs
It doesn't take a long time for employees to promote your company culture. In this Cockroach Labs employee advocacy example, the good vibes started showing in the first week! In fact, it was the experience before getting hired that motivated Shivam to make this post.

The point is that your HR or People Ops team spent years crafting a stellar recruiting, hiring, and on-boarding process for your company. Let your industry's top job seekers know that they'll get positive and impactful experiences with your company from the first point of contact.
Cockroach Labs' employee advocacy program touches across many areas, from amplifying the employer brand to employee engagement (by encouraging employees to share and even create content), and much more. The company has generated over 1.97 million in reach. Consider employee engagement software as a means to mobilize your team to take on employee advocacy.
12. Jamf
Rising leaders play a huge role in driving conversations and defining narratives. So, why not cultivate those leaders internally in your organization?
This is why we love this employee advocacy example from Jeni Asaba at Jamf. Sure, it doesn't involve Jamf's own blog or other marketing assets. But it showcases Jeni's thought leadership and her rise as a customer advocacy expert.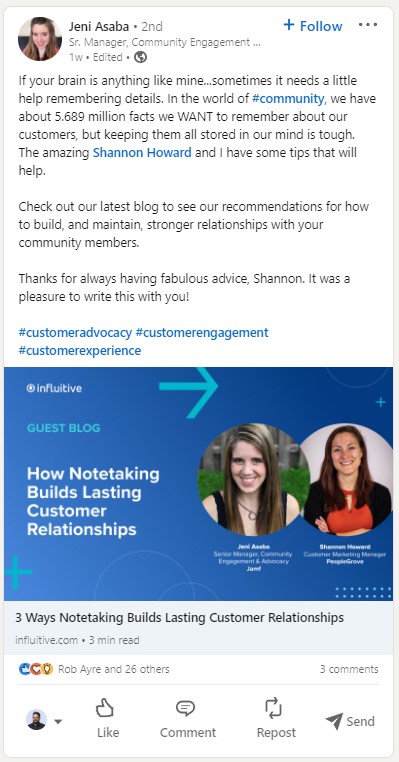 When your target audiences see your employees as leaders, they'll feel good about putting their business in your hands. Why? Because they know that your employees are passionate problem solvers who'll take their businesses to the next level.
13. Influitive
As our final employee advocacy example shows, it's a great step to cast the spotlight on your employees in your own branded content.
In this case, Influitive's VP of Customer Marketing and Advocacy, Ari Hoffman, is a trailblazer and thought leader in his space. Influitive made sure its customers and partners knew that by having Ari lead webinars, interviews, and events. He's also heavily featured on the company blog, especially with guides on customer advocacy.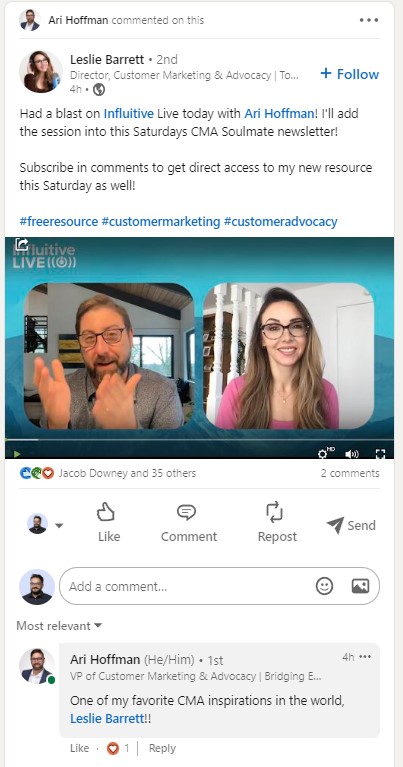 First, it makes your message so much more authentic because it comes directly from actual people. Professionals don't aspire to be like brands, but other people, like thought leaders who they could put a name and face to when they think about their problems.
Second, this gives your employees a real incentive to share your content. You're helping them build their personal brands. In turn, it's in their interest to get that content in front of as many people as possible.
Final Thoughts on These Employee Advocacy Examples
Employee advocacy isn't about getting your workforce to spam social media with content. As more brands adopt employee advocacy, it's imperative to think about your use case and what success means.
If you're in a competitive job market, enable your employees to share a unique perspective on company culture like Merck.
If your employees aren't sharing content, enable your executive to become active first and the organization will follow like Gainsight.
Or if your sales reps are interacting with younger and social-savvy customers then enable your sellers with content like Penske.
Perhaps your employees are already consultants and you need a way to amplify their subject matter expertise like BCG.
Learn from your industry peers in the various approaches they've taken. Allow yourself to explore employee advocacy to see if they can solve some of your biggest organization's challenges.
Want to dig deeper into employee advocacy? Check out our definitive guide. 
Frequently Asked Questions (FAQ)
Why is employee advocacy important?
According to Olapic, 76% of people trust content shared by individuals more than content shared by brands. By not making use of your employees as trusted and informed voices, you're missing out on a much larger audience.
On a corporate level, an employee advocacy program supports your employees through personal brand building and bolstering their expertise. This recognition is an important part of decreasing turnover and strengthening your employees' professional growth.
What are the benefits of employee advocacy?
Before spending the time and effort to implement employee advocacy, it's helpful to know how the benefits.
While employee advocacy has many benefits, the easiest to see is often:
The increased brand credibility stems from the fact that people trust people more than they trust corporations. Employees advocating on behalf of a brand lend a more human face to the company and builds long-term trust.
Employee advocacy amplifies marketing efforts by allowing content from a brand to reach an exponentially larger audience. In fact, branded content reaches 561% more audience members when shared by an individual rather than the brand itself.
Simply stated, employee advocacy increases revenue because employers spend time investing in and trusting in employees. When the company culture improves, revenue increases by about 33%.
What is an Example of Employee Advocacy?
An example of employee advocacy is when an employee carries your brand's message through their activities both online and offline. Today, most employee advocacy activity occurs on social, but even there, it takes many forms. It can involve LinkedIn posts, video testimonials, quotes in blogs, and much more. However, the key for 2023 and beyond is to drive your advocacy work using the ideas and voices of your employees as much as possible.